Metal cutting disc AD 230 M in a special offer pack of 5
230 mm depressed-centre design for economical cutting of metal, structural steel or cast materials
Professional cutting disc in accordance with EN 12413
With a circumferential speed of 80 m/s, metal cutting discs are just as fast as a racing car at 288 km/h. Reason enough to rely on brand cutting discs of professional quality when selecting the accessories for your hand-held angle grinder. That's why you should opt for Trotec's tried and tested metal cutting disc AD 230 M.
The AD 230 M, which is compatible with all hand-held angle grinders, is a powerful metal cutting disc of Trotec brand quality complying with EN 12413 and approved with an MPA test certificate. Thanks to grain size 30, hardness Q and a cutting width of 3.2 mm for a longer lifetime and high resilience, it is the ideal solution for economical cutting of metal and sheet metal.
The abrasive used on the AD 230 M is corundum specially suited for metal, structural steel and cast materials. Corundum is the fourth hardest mineral in the world and – in addition to its high degree of hardness – it is characterized by an enormous toughness. That is why it is particularly well suited for high cutting performance.
The fibre-reinforced synthetic resin bonded fabric keeps the corundum abrasive grains of the metal cutting disc AD 230 M at an ideal distance from each other and thus guarantees best material properties for tough use and economical dry cutting at a high circumferential speed of up to 80 m/s.
Due to the depressed-centre design of the AD 230 M, the disc's structure is additionally reinforced, which contributes to an improved and stabilised guidance for straight cuts.
A few practical benefits:
Professional cutting disc in accordance with EN 12413
Trotec brand quality with MPA test certificate (Materials Testing Office)
Corundum abrasive specially suited for metal, structural steel and cast materials
Grain size 30 (coarse) – ideal for fast and economical cutting work
Hardness Q (hard) – ideally suited for metal
All cutting discs in depressed-centre design with fibre-reinforced synthetic resin bonded fabric (BF) for a high degree of stability
Suitable for hand-held angle grinders (e.g. suitable for Trotec PAGS 10‑230)
All important properties in the quick overview:
standard equipment
optionally available
not available
Buy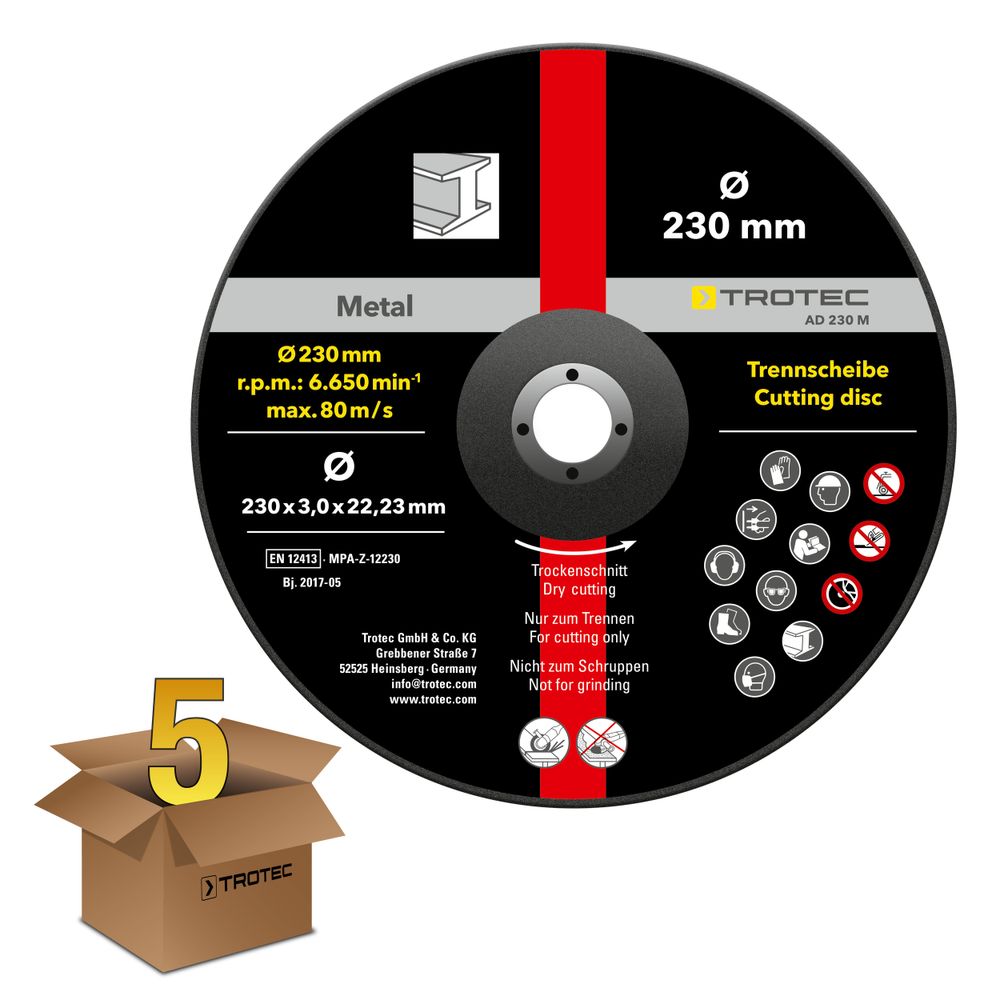 Technical data
Technical data
General information
Article number
6.225.001.211
standard equipment
optionally available
not available