Flexpower multi-device battery
One battery for several devices – the innovative battery exchange system from Trotec
Multi-device battery system – can be combined with several of Trotec's cordless power tools
If the label says Flexpower, you will find versatility. Using electrical appliances from Trotec with Flexpower batteries you will not only benefit from the maximum freedom of movement during operation without any annoying cords – no, on top of that, the Flexpower batteries can be flexibly combined with other battery-driven devices from our product range.
Thanks to Flexpower you can do without unnecessary batteries and chargers – and the search for a suitable battery has also come to an end. Simply change the device, not the battery. Flexpower puts a stop to the unnecessary amount of various exchangeable batteries; the combination option with an ever increasing number of tools allows you flexibility at all times so you can carry on your projects energetically!
Premium branded batteries for full power without ceasing
By now, lithium-ion batteries are widely distributed, after all they come without memory effect and self-discharge. Plus these batteries can be disconnected from the charger and used right away without it affecting the battery's lifetime. But "lithium ions" is a generic term used for batteries of various qualities and made of diverse electrode materials; including those with a perceptibly weakening performance once the battery charge decreases.
With the Flexpower multi-device battery system Trotec supplies only lithium-ion NMC batteries (lithium nickel manganese cobalt oxide). No exceptions. These high-quality branded NMC batteries are characterized by their high energy density and charging voltage lasting until the end. Compared to conventional lithium-ion batteries the performance of our Flexpower batteries does not decrease even as the discharge increases.
Consequently, you benefit from lasting maximum power even with an almost empty battery. During longer operation only the battery charge decreases, never their performance – that is the added value of Trotec's premium branded batteries!
A few practical benefits:
Multi-device battery system – can be combined with several of Trotec's cordless power tools
Rechargeable lithium-ion NMC battery cells for maximum energy density
No memory effect, always ready for use owing to the lithium-ion technology
Smart energy management preventing self-discharge
Branded batteries with very high current carrying capacity – ideal for devices with a high energy demand
3-stage LED indication of the charging status integrated directly in the battery
Flexpower multi-device battery 16 V, 2.0 Ah
More volts, more power – it's that simple. While other suppliers often equip their devices with batteries with only 10 or 14 V, the 16 V in this example provide you with noticeably more power. Compared to customary models with 1.5 Ah, the higher charging capacity of 2 Ah in practice ensures device runtimes extended by up to 33 % – and the advanced NMC technology guarantees full power until the end.
And if the battery has been run down, you can use our quick chargers to fully charge it again within about an hour.
standard equipment
optionally available
not available
Flexpower multi-device battery 20 V, 2 Ah
Owing to additional power reserves this prime 20 V battery formidably outperforms its 18 V competitors. After all, a little extra power never hurts – and to make sure this power is available from start to finish without any signs of weakness the Li-ion battery employs the advanced NMC technology. This guarantees full power until the end without a drop in performance as the discharge process continues.
Unlike standard batteries with no more than 1.5 Ah this Flexpower battery with 2 Ah permits runtimes longer by up to 33 % and it can be fully charged again within an hour.
standard equipment
optionally available
not available
Flexpower multi-device battery 20 V, 4 Ah
This power pack is the performance leader in the Trotec Flexpower portfolio. He who is not fully satisfied with 20 V of power alone, can further benefit from the substantially increased endurance of this prime battery. A charging capacity of 4 Ah enables device runtimes increased by the multiplier factor 1.5 – as compared to standard batteries with only 1.5 Ah – and, mind you, the operating time is still twice as long as that of our Flexpower batteries with 2 Ah.
Less time is required for the charging process, seeing as this prime battery can be recharged to 100 % with the quick charger in only 90 minutes.
standard equipment
optionally available
not available
standard equipment
optionally available
not available
Flexpower multi-device battery 16 V, 2 Ah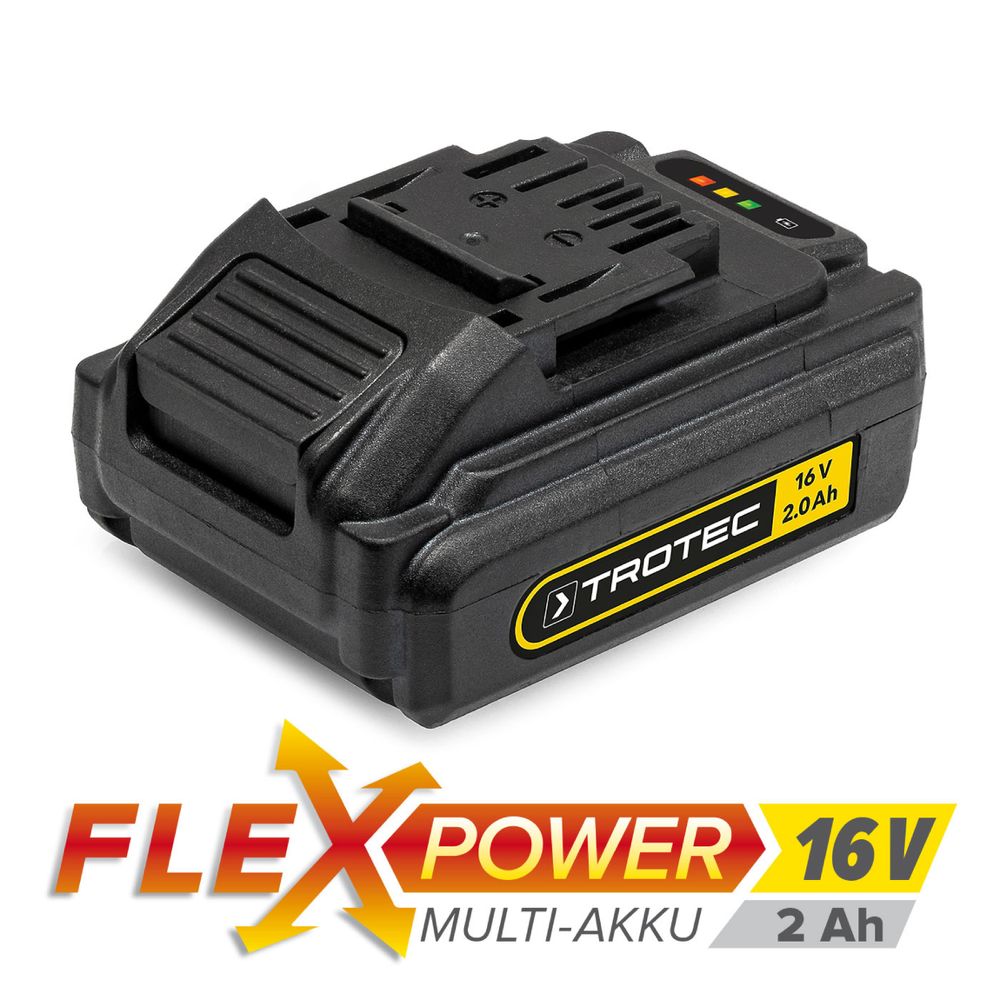 Technical data
General information
Article number
6.200.000.205
Rated voltage [V]
16
Battery capacity (Ah) [Ah]
2
Battery type
Li-ion
Charging time [h]
1
Dimensions
Length (packaging excluded) [mm]
100
Width (packaging excluded) [mm]
73
Height (packaging excluded) [mm]
48
Weight
(packaging excluded) [kg]
0.38
standard equipment
optionally available
not available
Flexpower multi-device battery 20 V, 2 Ah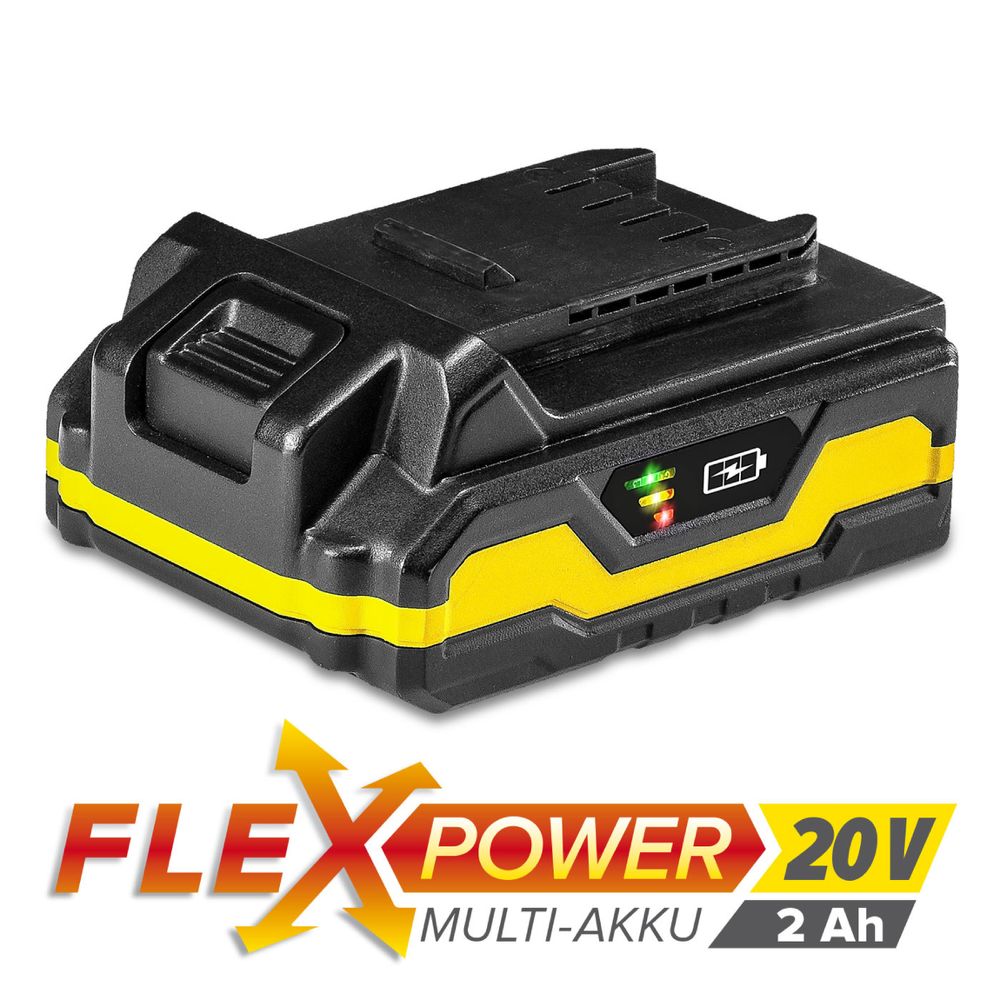 Technical data
General information
Article number
6.200.000.303
Rated voltage [V]
20
Battery capacity (Ah) [Ah]
2
Battery level indication
3-stage
Battery type
Li-ion
Charging time [h]
1
Dimensions
Length (packaging excluded) [mm]
122
Width (packaging excluded) [mm]
83
Height (packaging excluded) [mm]
52
Weight
(packaging excluded) [kg]
0.42
standard equipment
optionally available
not available
Flexpower multi-device battery 20 V, 4 Ah
Technical data
General information
Article number
6.200.000.320
Rated voltage [V]
20
Battery capacity (Ah) [Ah]
4
Battery level indication
3-stage
Battery type
Li-ion
Charging time [h]
1.5
Dimensions
Length (packaging excluded) [mm]
122
Width (packaging excluded) [mm]
83
Height (packaging excluded) [mm]
70
Weight
(packaging excluded) [kg]
0.7
standard equipment
optionally available
not available