Professional extension cable 230 V (16 A) – Made in Germany
20 meter extension cable - 230 V, 16 A, H07RN-F 3G2.5
No China or hardware store goods
This high-quality, extremely robust 230 volt extension cable, is not only characterized by the proven Trotec quality on the outside. The yellow cable sheathing offers reliable protection on every construction site, and thanks to the printed Trotec logo you will always and everywhere recognize the cable - for increased theft protection!
But this cable also has a lot to offer in terms of inner values: made of German quality manufacturing with protection class IP44, it convinces with its careful workmanship.
The type designation "H07RN-F" stands for a robust rubber hose cable.
No China or hardware store goods! The oil and acid resistant neoprene rubber fulfills the BG regulations for construction sites and is suitable for ambient temperatures from -25 °C to +60 °C.
The flexible rubber hose cable type "H07RN-F" is considered to be resistant. Against weather influences the sheathing brings a high durability. Resistance to UV and ozone also contributes to the service life of the rubber cable. Even when subjected to mechanical impacts such as blows, the cable remains firm.
Special equipment features
Strong in use: The 20-meter extension cable for professionals
All professional extension cables in direct comparison:
So that you can find exactly the right professional extension cable for you, here you have the opportunity to compare them all clearly with each other.
Models that you do not want to include in the comparison can simply be clicked away.
Advantages for the practice:
Cable length 20 m
Input voltage 230 V
Nominal current 16 A
Cable cross-section 2.5 mm²
Plug and coupling CEE 7/7
Cable type H07RN-F 3G2.5
Type of protection IP44
Solid rubber plug and coupling
Safety contact coupling with sealing cap
Made in Germany
standard equipment
optionally available
not available
Shop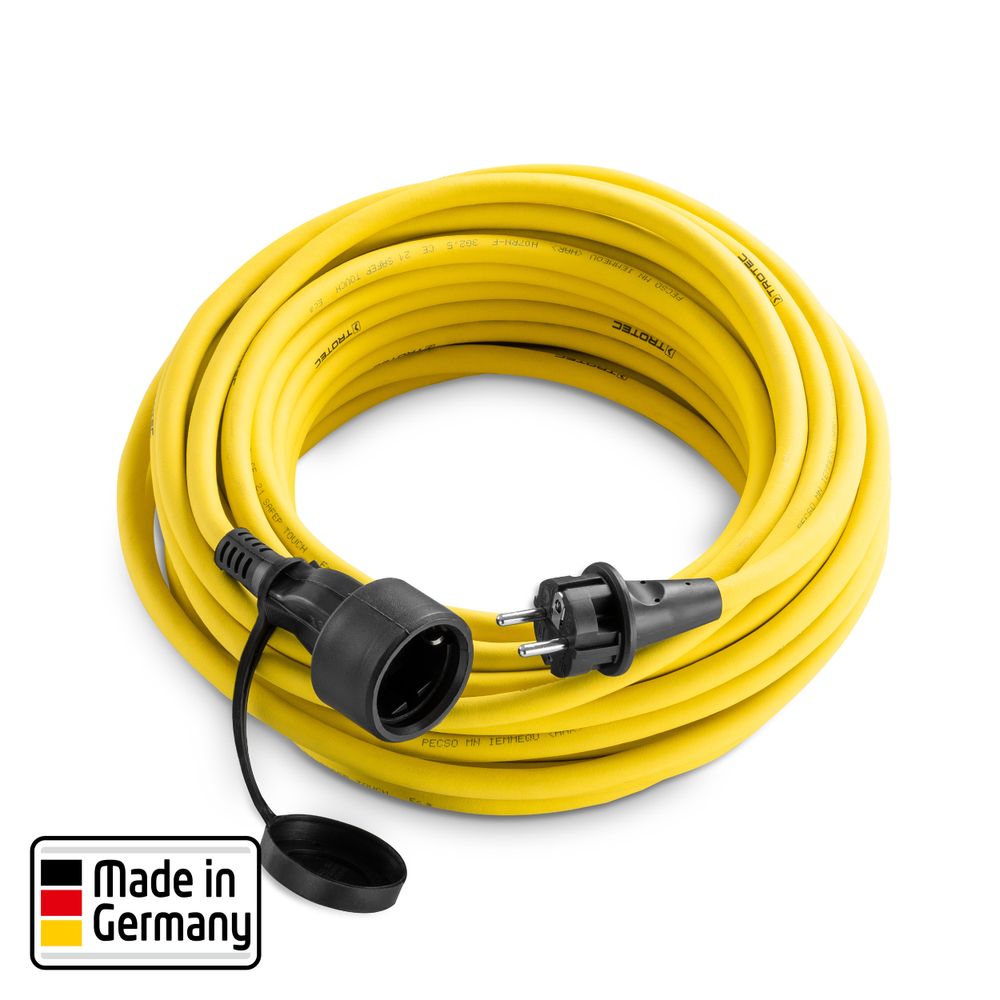 Daily rent:
2.40 £ incl. VAT per day
Daily rent:
2.00 £ plus VAT per day
Technical data
Technical data
General information
Article number
7.333.000.376
Cable specification
Length [m]
20
Cross-section [mm²]
2.5
Number of strands
3
Type
H07RN-F
Plug and coupling
Connection plug
CEE 7/7
Electrical data
Input voltage [V]
230
Nominal current consumption [A]
16
Type of protection
IP 44
Ambient conditions
Min. temperature range [°C]
-25
Max. temperature range [°C]
60
Equipment
Solid rubber plug and coupling
Safety contact coupling with sealing cap
standard equipment
optionally available
not available