282-piece accessory kit for multi-function tools
The maxi kit for rotation tools with a comprehensive selection of attachments for grinding, drilling, separating, engraving, milling and lots more
The right tool attachment for every task
With the 282-piece accessory kit from Trotec and a fast-rotation multi-function tool or a rotation tool you are ideally equipped to perfectly execute a variety of precise detail tasks! The wide range of attachments and accessory parts makes the optimally arranged tool bit case an ideal choice for meeting the various requirements and materials posed to do-it-yourself enthusiasts, model builders, precision engineers, jewellery workshops, opticians, artists or hobbyists.
An excellent choice for tasks on the job or at home
The high-quality accessory kit with its robust packaging covers a huge variety of possible work assignments: Grinding, drilling, separating, milling, engraving, cleaning, deburring and polishing. And all this for almost any sensitive and hard materials like hardwood and softwood glass and fibreglass, steel, stainless steel, metal, iron, brass, gold and silver, stone, porcelain, ceramic, fired clay, plastics or leather. Especially if you wish to perform demanding precision work, this multifunctional professional kit from Trotec is your number one choice.
The 282-piece accessory kit is the perfect supplement for a variety of commercially available multi-function tools or rotation tools and for the Trotec multi-function tool PMTS 01‑230V.
The complete contents at a quick glance:
1 Grinding stone
6 Aluminium oxide grinding stones (corundum)
4 Silicon carbide grinding stones
6 Aluminium oxide abrasive wheels (corundum)
6 Silicon carbide abrasive wheels
1 Lamellar wheel
60 Abrasive wheels
32 Abrasive belts
1 Rubber emery wheel
10 engraving bits (diamond-tipped)
3 HSS stainless steel milling cutters
3 Bristle brushes
3 Stainless steel brushes
3 Brass brushes
7 Felt polishing attachments
1 Cloth polishing wheel
1 Polishing paste
110 Cutting wheels
(80 standard- and 30 high-performance cutting wheels)
6 fibreglass cutting wheels
1 Diamond cutting wheel
6 HSS stainless steel twist drills
(2 x 1.2 mm, 2 mm and 3 mm each)
3 Mandrels for cutting/abrasive wheels
1 Mandrel for felt discs
2 Grinding mandrels
4 Collet chucks for drill bits
(1.5 mm / 2.3 mm / 2 x 3.2 mm)
1 Wrench
In total 282 accessory parts clearly arranged in the transport case
The accessories in detail
The 282-piece accessory kit for multi-function tools offers you the matching attachments for numerous possible applications. In the following we'll describe the individual attachments and accessory parts sorted by possible applications:
Ideal for milling or engraving
10 Engraving bits (diamond-tipped)
The kit contains 10 different diamond-tipped engraving bits for rougher to very filigree engraving tasks. The engraving bits can be used for materials of wood, ceramics, glass, metal, leather as well as further materials. 
3 x HSS stainless steel milling cutters
The HSS stainless steel milling cutters with a straight groove thread, V-grooved thread and ball head are suited for steady grooving or milling out as well as making recesses and indentations. All milling cutters are suitable, for example, for wood, metals or plastics.
Polishing to a high finish
3 x Bristle brushes
The various brush heads efficiently clean and polish jewellery, cutlery and metallic surfaces – also in combination with the polishing paste.
3 x Stainless steel brushes
The 3-piece stainless steel wire brush kit is perfect for cleaning and derusting different materials.
3 x Brass brushes
The brass wire brushes are softer for cleaning than stainless steel brushes and treat the surfaces of soft metals such as gold, copper or brass with care – apart from jewellery and accessories, these also include door handles, specific vehicle parts and electrical contacts.
7 x Felt polishing attachments and 1 x Textile polishing wheel
With the polishing heads and the polishing wheel of felt you can clean most metals as well as wood, stone, tiles, ceramic, glass, marble, granite and plastics without any problems. Dust is reliably removed even from the smallest gaps and old, tarnished jewellery, for instance, shines with a new brilliance. The cloth polishing wheel can be universally used – for example for metal sheets and steel, acrylic glass and glass fibreglass-reinforced plastic.
1 x Polishing paste
For polishing metal and plastic surfaces with felt or textile attachments to a high finish, we recommend using the polishing paste. It removes the oxidation film and can get rid off small defects on the surface.
Always cutting a fine figure
110 x Cutting wheels (80 x standard, 30 x high-performance wheels)
With the dark grey cutting wheels, thin wood, sheet metal or plastics can be cut with precision. Also thin, protruding screws or nails can be cut off.
6 x Fibreglass cutting wheels
With the fibreglass cutting wheels you can machine the same materials as with the cutting wheels mentioned above – however, these wheels are additionally reinforced with fibreglass so as to meet higher performance requirements.
1 x Diamond cutting wheel
The perforated diamond cutting wheel, for instance, is perfectly suited for cutting stones, jewellery stones, ceramic, glass and metals.
Everything for grinding, sharpening and drilling
1 x Grinding stone
The rectangular silicon carbide grinding stone serves to sharpen the blade or to deburr tiles-, glass- or ceramic edges.
6 x Aluminium oxide grinding stones (corundum) and 6 x Aluminium oxideabrasive wheels (corundum)
The high-quality corundum grinding attachments offer a high resilience with regard to hard material. Therefore they are predestined for grinding, sharpening, smoothing and deburring stone, ceramics or different metals.
4 x Silicon carbide grinding stones and 6 x Silicon carbideabrasive wheels
The high-quality green silicon carbide grinding attachments are even harder than corundum and are a good choice for materials like stone, ceramic, glass or metal.
1 x Lamellar wheel
You can use the lamellar wheel for example to remove scratches from metallic surfaces. 
60 x Grinding wheels
The grinding wheels consist of an especially resilient material and thickened paper. They can be used for woodwork, for processing metal, glass, plastics, rubber and leather, and for the removal of rust.
32 x Abrasive belts
With the abrasive belts different materials like hardwood and softwood, metal and fibreglass can be reliably processed even in the smallest space - e.g. also for smoothing edges that are rounded from the inside and outside. The abrasive belt is simply attached to the corresponding abrasive belt mandrel (included in the kit).
1 x Rubber emery wheel
The rubber emery wheel is suitable for smoothly grinding and polishing metallic objects.
6 x HSS twist drill bits
The ground HSS twist drill bits of stainless steel drill holes of 1.2 mm, 2 mm and 3 mm into wood, thin metals or plastic.
Mandrels and bits for ideal stability
4 x Mandrels for polishing discs, cutting discs and abrasive wheels
The mandrels serve to insert the polishing bits of felt and textiles as well as the cutting wheels and abrasive wheels.
2 x Grinding mandrels
The grinding mandrels allow for the use of the abrasive belts enclosed.
4 x Collet chucks (1.5 mm, 2.3 mm and 2 x 3,2 mm)
For the insertion of the twist drill bits and for the use of further tool bits, 4 collet chucks are included in the kit.
1 x Wrench
To provide for a quick change-over of the tool bits, a universal wrench for commercially available multi-function tools is already enclosed.
Especially if you are dealing with demanding precision work where high accuracy is required, the multifunctional all-rounder is a class of its own. The rotation tool is the perfect assistant for filigree handwork, restoration work involving small parts, handicraft and precision work in the sector of model construction, or for cleaning chromium and painted surfaces. The Trotec multi-function tool PMTS 01‑230V is ideally suited for grinding, drilling, separating, milling, engraving, cleaning and polishing workpieces of wood, metal, stone, plastic, ceramic, glass or leather.
A tool kit for working with wood, metal, jewellery, plastics, leather, ceramics and glass
No matter whether you need it for hobby applications, at work in the office or for DIY handicraft work and home applications: With the 282-piece accessory your multi-function tool is perfectly equipped for mending jobs, model construction, handicraft work, decorations or repairs – the applications of the maxi kit are almost infinite.
Milling
In the sector of creative handcraft with wood, ceramics or tiles these high-quality milling cutters are perfect for milling out moulds or grooves as well as for recessing or scooping out jewellery or precious metals in the jewellery workshop.
Engraving
Almost any everyday object can be refined by means of the diamond-tipped engraving bits. For example, engrave initials into a leather wallet, decorate leather belts and handbags, or personalize cups, wine glasses and zippo lighters by engraving a name. Artistic glasswork is also a task mastered with the highest precision by the engraving bits.
Cutting / separating
Cutting skirting boards, separating thin plastic tubes, or shorted ducts for power supply lines and network cables – these and many other tasks are mastered by means of the cutting discs supplied. In the sector of model construction the cutting wheels provide for clean cuts into wood, gypsum, plastics as well as metals, and even harder materials can be reliably cut or separated using the fibreglass and diamond high-performance cutting discs.
One hundred tool bits for numerous applications
Polishing / cleaning / derusting
Plastics and precious metals like gold or silver will shine with a new brilliance in a flash when you use the numerous polishing bits. Blunt chrome parts on bicycles, cars and motorcycles can also be excellently polished. The stainless steel brushes will remove small rust stains on your car. With equal ease, tools, machinery parts or garden lamps can be partially refurbished if they have started to rust in the course of time. Wherever the rust may eat away – with the stainless steel brushes and brass brushes you'll be able to tackle it.
Drilling
If you have to drill holes into wooden boards and strips, into plasterboard, sheets as well as metal plates – for example for fixing or suspending things, or to feed through cables – with the HSS stainless steel twist drills you always have the right tool at hand.
Grinding / sharpening
By means of the grinding bits, blunt garden tools can be sharpened again with equal ease as knives, scissors or other blades in the household or the workshop. For smaller painting jobs we recommend using the abrasive belts and abrasive wheels for preparing the area to be painted. Scratched surfaces and unsightly marks on old furniture can be removed and smoothed in no time. With the same ease, rock or ceramic can be machined, and tiles, glass or other brittle materials can be deburred.
A few practical benefits:
All important features at a glance
A few practical benefits:
282-piece multi-purpose accessory kit for a variety of applications
Especially extensive selection of tool bits for cutting, grinding, polishing, drilling, engraving, sharpening or cleaning
Suitable for a large variety of different materials such as wood, metal, plastics, ceramic, glass, leather, and many other materials
High-quality materials for a long service life
Suitable for Trotec PMTS 01‑230V and almost all commercially available multi-function tools and rotation tools
Including a storage box with a practical handle
standard equipment
optionally available
not available
Buy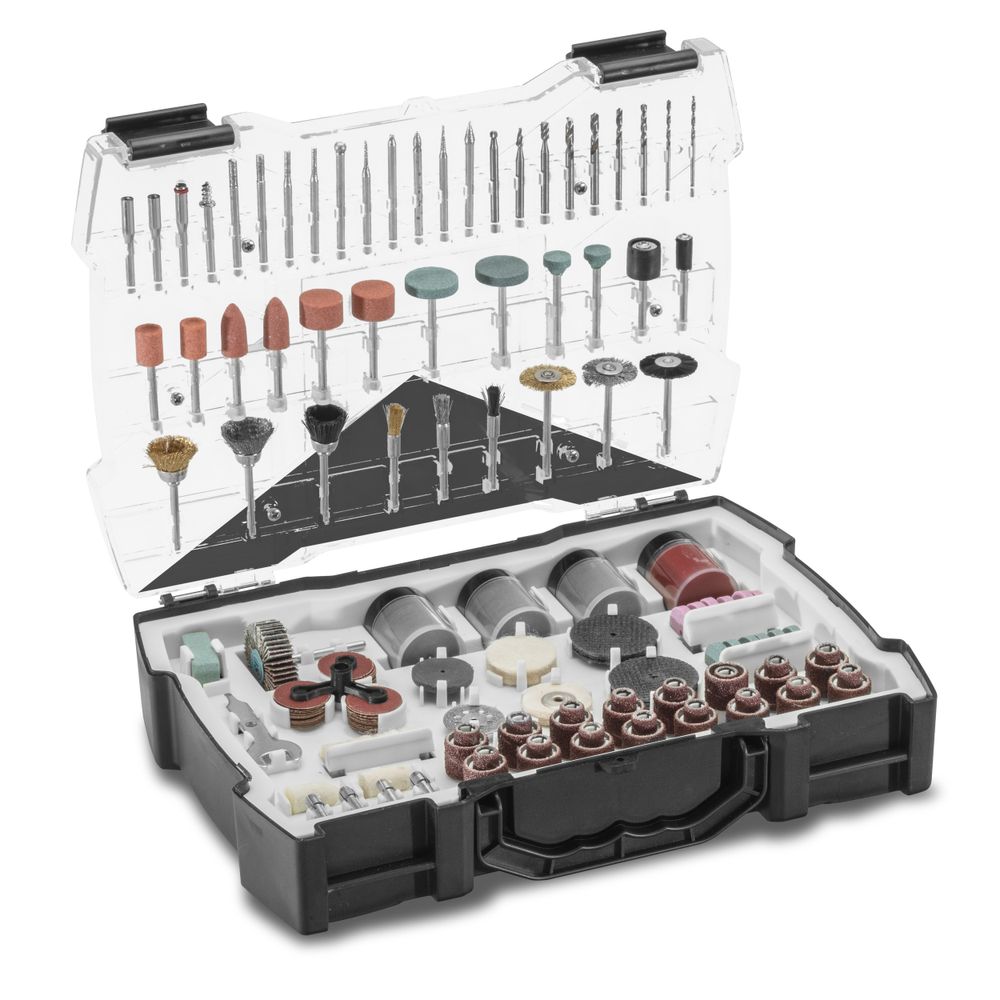 Technical data
Technical data
General information
Article number
6.210.000.301
standard equipment
optionally available
not available