Cable drum PVD2
PVD – the best cable drum for sure: flexible for indoor and outdoor use, ideal for construction sites, workshops or industrial areas
Professional power distribution to go
Mobile cable drums solve a seemingly simple problem: whenever the way to the nearest socket is too far away or there are fewer sockets available than electrical appliances planned for use at the place of work, using a cable drum is simply the best solution.
But does a seemingly simple solution fit to a seemingly simple problem? In any case, the range of cable drums seems unmanageably large, the price fluctuations are sometimes considerable, and many offers look very similar at first sight. That's why it's definitely worth taking a second look ...
Drum roll for the PVD2 cable drum: high-quality, functional, safe
When it comes to the power connection, it's always best to play it safe and therefore to opt for a robust PVD cable drum in proven Trotec quality – for instance the cable drum PVD2:
With a maximum power input of 3.6 kW on a total of three splash-proof and dust-proof safety sockets, the PVD2 with its IP54 enclosure offers not only safe possibilities for continuous use indoors and outdoors and with its 25-metre connecting cable a very large operating range. In addition, the PVD2 is also provided with numerous equipment details which allow for an even greater application comfort and reliability.
Practically usable, practically indestructible
Even over long distances, the ergonomic carrying handle facilitates transporting the PVD2 to the operating site where it can be safely positioned thanks to the broad support points. If a change of location is to take place or for the warehouse, two integrated plug holders provide for additional storage of the plugs, and together with the locking brake arranged in the centre, trip hazards caused by unwinding cables are a thing of the past.
And because the PVD2 is equipped with an especially stable crank to ensure optimum handling, the connecting cable with its length of 25 metres can be quickly and easily wound and unwound at the site of operation.
In the wound off state, three individually exchangeable safety sockets offer you the possibility of connecting electrical devices with an overall power of max. 3.6 kW. Each individual dust-proof and splash-proof socket is equipped with a sealing edge and self-closing spring-loaded folding cover.
Together with the thermal protection switch and recesses in the drum for the purpose of drainage, the PVD2 offers you maximum safety.
With the PVD2, professionals are never on the wrong track
The robust PVD2 has been specially developed and equipped for professional applications in rough operational environments. Jamming sockets or sluggish plugging in and unplugging are out of place here. This is why we have deliberately dispensed with a child protection mechanism for the sockets of these cable drums.
Cable drum PVD2 – safely equipped
A few practical benefits:
Cable drum of high-quality plastics with IP54 type of protection,
a 25-metre connecting cable and three safety sockets
Convenient carrying characteristics due to ergonomic handle
Additional safety due to thermal protection switch
Drainage through openings in the drum
Stable crank for optimum handling
Buy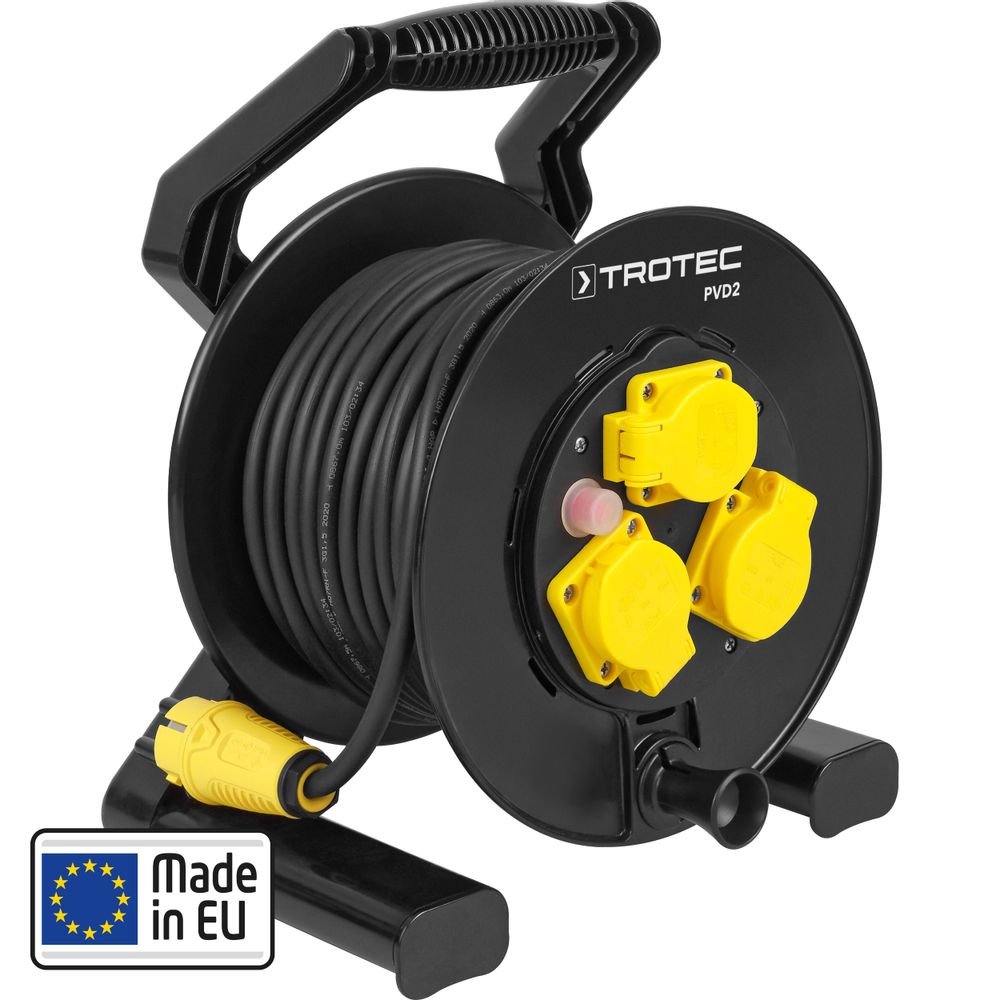 Details
Technical data
General information
Article number
7.333.000.367
Electric connection
Connection plug
CEE 7/7
Number of safety sockets
3
Cable length [m]
25
Cable cross-section [mm²]
1.5
Max. power, rolled up [W]
1,300
Max. power, unreeled [W]
3,600
Rated voltage [V]
250
Nominal current consumption [A]
16
Safety feature
Type of protection
IP54
Ambient conditions
Storage - min. temperature [°C]
-30
Storage - max. temperature [°C]
50
Functions and features
Thermal circuit breaker
Crank
Braking system
Plug storage spaces
Berührungsschutz
Mobility
Carry/transport handle(s)
Feet
Housing design
Plastics
Weight
(packaging excluded) [kg]
8
standard equipment
optionally available
not available
Alternative products
Loading...