Infrared radiant heater IR 2570 S
Powerful 2,500 watts of instant heat in 3 heating levels. Silent, clean and odourless.
Pleasant feel-good temperatures outdoors all around the year
Not only in the summer the terrace or balcony is the perfect place to enjoy the fresh air outdoors under a starlit sky. Even in the transitional periods of spring and late summer, when the weather is cool for the most part, this extended living space can be turned into a pleasantly heated feel-good oasis with the infrared radiant heater IR 2570 S to escape from everyday stress at the touch of a button. In the catering trade the radiant heater with its powerful 2,500 watts, which can be aligned precisely thanks to its inclination angle adjustable by 45°, furthermore provides for seats with pleasant temperatures in the roofed outdoor area, at comparatively low heating costs.
Clean soft heat – without any noise, odours and dust circulation
Compared to conventional radiant heaters, the infrared radiator IR 2570 S only features minimum heat loss and does not require any resources like for example oil, gas or other fuels. This not only protects the environment! The ambient air remains free from unpleasant combustion odours and since the radiant heater can furthermore do without a noisy fan, no dust is raised either. Ideal for allergy sufferers and people with sensitive respiratory tracts. Pleasant warmth for breathing freely. Without any unwelcome side effects!
Uncomplicated use as wall-mounted and floor-mounted appliance
The soft heat of the IR 2570 S that is perceived as agreeable by the skin is provided to you immediately after switching on the device. The heating capacity that is selectable in three stages (850 W, 1,650 W, 2,500 W) can be adjusted optionally via the control panel on the side or via the remote control supplied. The radiant heater that is protected against dust and spray water from all sides with IP34 protection is suitable for wall mounting in roofed outdoor areas. The wall holder required for fastening is already included in the scope of delivery. Optionally the radiant heater can be mounted on a telescopic tripod, which is available as accessory part, and in this way positioned even more flexibly as a free-standing model, additionally increasing the effective range of the radiant heater with its width of 900 mm - temporarily also in roofed outdoor areas.
PRODUCT BROCHURE
Whether on the terrace or balcony - all relevant information about our infrared radiant heaters can also be found in the product brochure. Download the PDF directly here.
Programmed to provide maximum comfort: 24-hour timer
With the 24-hour timer the switch-off time of the radiant heater can be conveniently programmed in steps of 1 hour. In this way you won't have to waste a thought about switching off the device. The device will switch off fully automatically and in an energy-saving fashion after the preset operating time!
Direct heat following the natural principle of the sun
The high-quality heating quartz element of the IR 2570 S generates warmth following the natural principle of the sun (infrared heat). This is particularly energy-efficient, since a great deal of the energy input is converted directly into heat. Not the ambient air is heated by the infrared radiant heater, instead it is objects and persons in the immediate surroundings of the radiant heater that absorb and store the warmth before they again release it to the environment in the form of secondary radiation. The result is even and targeted heat distribution in the area that is subjected to the radiation, without any cold corners.
Special equipment features of the IR 2570 S
Cosy warmth wherever it is needed ...
All infrared radiant heaters in direct comparison:
To find the radiant heater which exactly meets your requirements, please consult the concise overview of all radiant heaters from Trotec, which we're providing to you here so that you can compare them directly to each other.
Models which you do not wish to include in your comparison can be easily dismissed with only one click.
A few practical benefits:
Infrared heat without preheating
Even and targeted heat distribution
Clean, condensation-free, odourless and free from noise
No dust circulation, therefore suitable for allergy sufferers
3 heating levels, up to 2,500 watts
1 quartz element
24-hour timer
LED display
Robust aluminium housing
Adjustable inclination angle of 45° - with a large effective range
For wall mounting or attachment on a telescopic tripod
Infrared remote control
Operating indicator light
Including wall holder
Energy-efficient
Guidebook providing practical knowledge tips for infrared heating
Here you'll find some practical knowledge tips with regard to infrared heating for private applications and applications in the catering trade. A complete, reader-friendly overview of installation tips, the functional principle, an overview of products, and the most important facts — provided by Trotec, your heating expert!
Continue directly to the guidebook "Practical knowledge tips for infrared heating" ...
Overview of the maximum heating range to be covered by a 2,500 watt infrared radiant heater:
Application area
Recommended
heating capacity per m²
Area that can be
covered by an infrared heater
with 2,500 W
outside
Sheltered:
approx. 150 W/m²
approx. 17 m²
No shelter:
approx. 250 W/m²
approx. 10 m²
You can proceed as follows to calculate the heating capacity (in watts) required for your room size:
Formula:  m² x W/m² = W
room size (m²) x recommended heating capacity per square metre (W/m²) = required heating capacity of the infrared radiator (W)
Sample calculation: For a well insulated room sized 25 m² we recommend the following heating capacity:  25 m² x 100 W/m² = 2,500 W
Practical accessories for the infrared radiant heater IR 2570 S:
IR telescopic tripod
By means of the telescopic tripod the infrared radiant heater is easily positioned Install the tripod and just extend the telescopic segment to the desired height and fasten it there. Thanks to the telescopic tripod the infrared radiant heater can also be used as a free-standing model.
standard equipment
optionally available
not available
Buy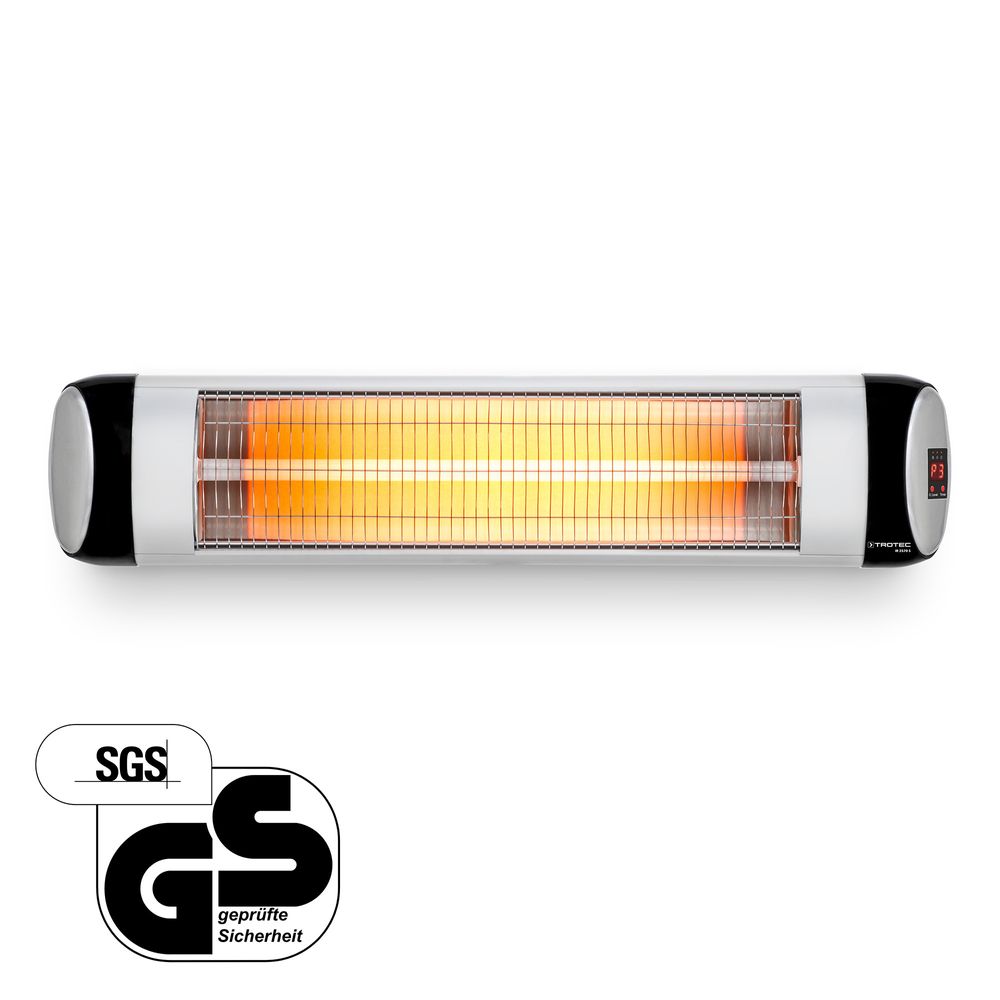 Technical data
Technical data
General information
Article number
1.410.003.122
Heating capacity
in [W]
2,500
Level 1 [kW]
0.85
Level 2 [kW]
1.65
Level 3 [kW]
2.5
Level Max. [kW]
2.5
Effective range
in [m²]
17
Electrical values
Mains connection
220 - 240 V, 50 Hz
Nominal current consumption [A]
10.9
Electric connection
Connection plug
CEE 7/7
Cable length [m]
1.8
Housing design
Aluminium
Safety feature
IP type of protection
IP34
Control panel
Bedienknöpfe
Digitalanzeige
LED display
Dimensions
Length (packaging excluded) [mm]
90
Width (packaging excluded) [mm]
900
Height (packaging excluded) [mm]
200
Weight
(packaging excluded) [kg]
3
Equipment, features and functions
Functions and features
Infrared remote control
ON/OFF switch
Inclination [°]
45
Operating control lamp
Timer function
Adjustable multi-stage thermostat
Immediate heating due to direct infrared heat
No dust circulation (suitable for allergy sufferers)
Odourless and silent operation
Wall mounting
Ceiling mounting
Tripod
Tripod
Installation on the umbrella stand
Tripod
standard equipment
optionally available
not available
Alternative products
Loading...