Infrared radiant heater IR 2000 S
Cosy warmth – carefully targeted, consistent and direct
Pleasant feel-good temperatures outdoors all around the year
Consistently soothing warmth. And carefully targeted precisely to the point without the need for time-consuming preheating. The infrared radiant heater IR 2000 S produces warmth following the natural principle of the sun. Equipped with three modern quartz heating rods, it provides the immediate surroundings with cosy warmth from the very first moment and owing to the adjustable inclination angle the generated heat can be aimed precisely.
In addition to "Off" , the radiator offers three heating levels (650 W, 1,300 W and 2,000 W) to meet all kinds of individual requirements. You can easily change these heating levels by means of the practical pull switch.
With the licence for allergy sufferers
Like all infrared radiant heaters of the IR-S series, the IR 2000 S, too, converts a great deal of the energy input into direct heat, which in comparison to a hot air blower increases the performance of the quartz radiator in terms of energy-efficiency. Another standard feature of the series than the clean, silent and odourless heat supply is its suitability for allergy sufferers – seeing as the device gets by without fan, no dust is raised.
The IR 2000 S can quickly and easily be attached to a wall or telescopic tripod – for start-up the connection cable of the device is simply plugged into the nearest socket. As per protection class IP34, the appealing exterior protects the device against splashes of water.
PRODUCT BROCHURE
Whether on the terrace or balcony - all relevant information about our infrared radiant heaters can also be found in the product brochure. Download the PDF directly here.
The IR 2000 S impresses with practice-oriented details:
Cosy warmth wherever it is needed ...
All infrared radiant heaters in direct comparison:
To find the radiant heater which exactly meets your requirements, please consult the concise overview of all radiant heaters from Trotec, which we're providing to you here so that you can compare them directly to each other.
Models which you do not wish to include in your comparison can be easily dismissed with only one click.
A few practical benefits:
Infrared heat without preheating
Even and targeted heat distribution
Clean, non-condensing, odourless and free from noise
No dust circulation, thus suitable for allergy sufferers
3 heating levels, up to 2,000 watts
3 quartz elements
Splash-proof, protection class IP34
Adjustable inclination angle with a wide effective range
Suitable for wall mounting
Integrated suspension device
Energy-efficient
Overview of the maximum heating range to be covered by a 2,000 watt infrared radiant heater:
Application area
Recommended
heating capacity per m²
Area that can be
covered by an infrared heater
with 2,000 W
outside
Sheltered:
approx. 150 W/m²
approx. 14 m²
No shelter:
approx. 250 W/m²
approx. 8 m²
You can proceed as follows to calculate the heating capacity (in watts) required for your room size:
Formula:  m² x W/m² = W
room size (m²) x recommended heating capacity per square metre (W/m²) = required heating capacity of the infrared radiator (W)
Sample calculation: For a well insulated room sized 25 m² we recommend the following heating capacity:  25 m² x 100 W/m² = 2,500 W
Optimum room temperature control with the socket thermostat BN30
Just install it in the socket and connect it to the heating or cooling device on the socket thermostat BN30, and you can have your heating or cooling unit automatically switched on and off by the BN30 depending on the temperature. The socket thermostat available as an accessory is individually adjustable within a temperature range from 5 °C to 30 °C.
Radio thermostat BN35 with timer switch for the socket
With the radio thermostat BN35 you can easily determine at which room temperature your heating or cooling unit will switch on or off using the remote control. The BN35 set consists of a radio-controlled socket and a radio thermostat. Simply plug the radio-controlled socket in between a wall outlet and your heating or cooling unit. Place the radio thermostat within approx. 20 metres in the place where the room temperature is to be measured. As an alternative, time-controlled regulation can also be carried out.
Benefit from the Trotec brand quality guaranteeing high value, safety and functionality. Via the registered GS mark the inspection authority Intertek certifies that, if used foreseeably and as intended, the device does not pose a risk to the health and safety of the user.
standard equipment
optionally available
not available
Buy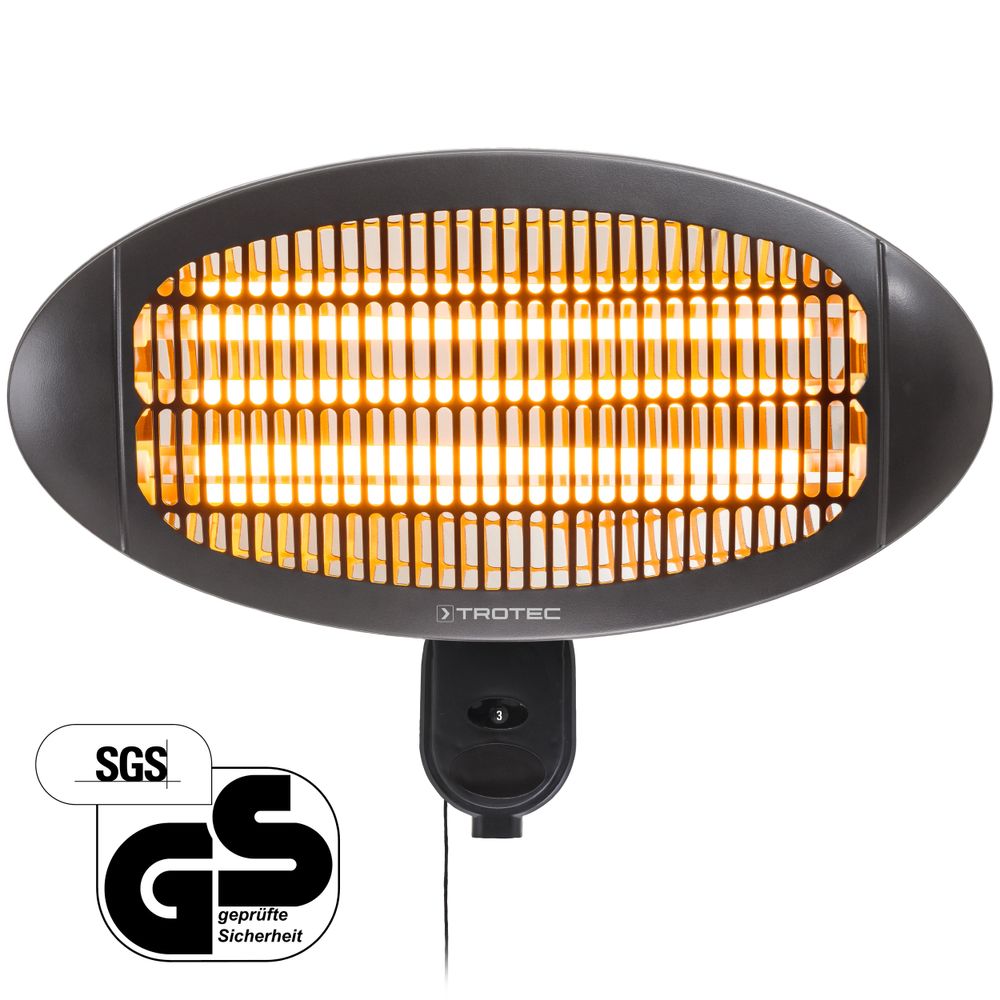 Technical data
Technical data
General information
Article number
1.410.003.110
Heating capacity
in [W]
2,000
Level 1 [kW]
0.65
Level 2 [kW]
1.3
Level 3 [kW]
2
Level Max. [kW]
2
Effective range
in [m²]
14
Electrical values
Mains connection
220 - 240 V, 50 Hz
Nominal current consumption [A]
8.7
Power input [kW]
2
Electric connection
Connection plug
CEE 7/7
Cable length [m]
1.8
Housing design
Aluminium
Safety feature
IP type of protection
IP34
Control panel
LED display
Dimensions
Length (packaging excluded) [mm]
160
Width (packaging excluded) [mm]
500
Height (packaging excluded) [mm]
370
Weight
(packaging excluded) [kg]
1.5
Equipment, features and functions
Functions and features
Infrared remote control
Inclination [°]
45
Operating control lamp
Number of heating levels
3
Timer function
Adjustable multi-stage thermostat
Immediate heating due to direct infrared heat
No dust circulation (suitable for allergy sufferers)
Odourless and silent operation
Wall mounting
Ceiling mounting
Tripod
Installation on the umbrella stand
Tripod
standard equipment
optionally available
not available
Alternative products
Loading...