Design radiant ceiling heater IR 1510 SC
Modern 1,500 W infrared radiant ceiling heater with carmine red umbrella reflector, three heating levels and remote control for the terrace, balcony or outdoor catering
Feel-good warmth and colour for cold days and outdoor areas
Pleasant warmth is indispensable for an atmospheric ambience on the terrace at home, on the balcony, in the tent or garden pavilion. Stop making outdoor time dependent on outdoor temperatures. The modern infrared radiant ceiling heater IR 1510 SC ensures summer temperature in outdoor areas all year round – even in cool spring or autumn weather. With its striking oriental red reflector umbrella, the design radiant heater for uncomplicated ceiling mounting is a real eye-catcher attracting all eyes while at the same time assuming a decorative function in modern environments.
Noticeable warmth and additional turnover for gastronomy and commerce
Thanks to its splash-proof design in compliance with IP34 type of protection, the infrared heater made of weather-resistant aluminium is also recommended for roofed seating and lounge areas in the outdoor gastronomy of cafés, bars, food trucks or restaurants. This way the lucrative outdoor season starts even earlier, which causes a noticeable increase in customers and turnover.
3-level feel-good warmth – conveniently via remote control
With three selectable heating levels (500 W / 1,000 W / 1,500 W) the comparatively low-glare halogen heating element of the IR 1510 SC provides just as much cosy feel-good warmth as the weather and individual heating needs require. The heating capacity can be controlled conveniently and easily via the handy infrared remote control.
Nice and warm all around
The large reflector (42.5 cm) of the modern ceiling heater supplies an area of up to 10 m² with evenly radiated 360° all-round heat that can be felt immediately on the skin and surfaces. Since infrared heaters, unlike gas-operated heaters with a flame, do not heat the ambient air first, the cosy infrared heat finds it target immediately even in strong winds – without any unpleasant odours or noises. With this functional principle, an infrared radiant heater is 100 % low in emissions and considerably more energy-saving than other heating technologies. Weighing only 2.5 kg, the ceiling heater can be mounted on the ceiling, on terrace roofing or tent frames in just a few steps using the 50-cm stainless steel chain, without requiring the assistance of a technician and only requiring a minimum of space. A close-meshed grid protects the heating rods from curious children's fingers and accidental touching. The best prerequisites to enjoy even more time and long evenings under the open sky together with your loved ones or friends – at summerlike feel-good temperatures.
Exactly the right infrared radiant ceiling heater for every demand:
PRODUCT BROCHURE
Whether on the terrace or balcony - all relevant information about our infrared radiant heaters can also be found in the product brochure. Download the PDF directly here.
Ready-for-assembly complete set:
enjoy cosy warmth in no time
The infrared radiant ceiling heater is supplied with all attachment pieces required for quick and safe ceiling mounting. Power is connected without installation effort via a 1.85-m power cable with a shock-proof plug (CEE 7/7) for European sockets.
The scope of delivery includes:
2 x carabiner hooks
1 x fastening chain (50 cm)
3 x cable tie
Direct heat following the natural principle of the sun
The halogen infrared tube of the IR 1510 SC generates heat according to the natural principle of the sun. This is particularly energy-efficient, since a great deal of the energy input is converted directly into heat. The infrared radiant heater does not heat the ambient air, instead it is objects and persons in the immediate surroundings that absorb and store the warmth before they again release it to the environment in the form of secondary radiation. The heat is distributed by a fan that operates noiselessly and without raising dust, thus allowing even allergy sufferers and asthmatics to breathe freely the immediate vicinity of the radiant heater.
Uncomplicated instant heat for a variety of outdoor applications
Whether as a heat source for the balcony at home, the roofed terrace, the open party tent, the garden pavilion, or as a customer service in outdoor catering: The high-quality design radiant ceiling heater IR 1510 SC creates visual highlights and provides pleasant and even 360° all-round heat in cool outdoor temperatures. The infrared heat develops instantly after you have switched on the device via the on/off switch with operating control lamp. Those who have ever enjoyed the pleasant and cosy infrared heat underneath the carmine red ceiling heater will not want to miss this comfortable feeling again.
Special equipment features of the IR 1510 SC
Cosy warmth wherever it is needed ...
All infrared radiant heaters in direct comparison:
To find the radiant heater which exactly meets your requirements, please consult the concise overview of all radiant heaters from Trotec, which we're providing to you here so that you can compare them directly to each other.
Models which you do not wish to include in your comparison can be easily dismissed with only one click.
A few practical benefits:
Infrared heat without preheating
High-quality halogen infrared tubes
Even warmth from all sides for up to 10 m²
3 heating levels: 500 W / 1,000 W / 1,500 W
IR remote control and on/off switch with operating control lamp
Splash-proof (protection type IP34) for roofed outdoor areas
Protective grid preventing contact of the heating tube
Stylish oriental red housing of anodized aluminium
Just attach, connect and enjoy the warmth
Clean, condensation-free, odourless and silent
No dust circulation, therefore suitable for allergy sufferers
Energy-efficient
Guidebook providing practical knowledge tips for infrared heating
Here you'll find some practical knowledge tips with regard to infrared heating for private applications and applications in the catering trade. A complete, reader-friendly overview of installation tips, the functional principle, an overview of products, and the most important facts — provided by Trotec, your heating expert!
Continue directly to the guidebook "Practical knowledge tips for infrared heating" ...
standard equipment
optionally available
not available
Buy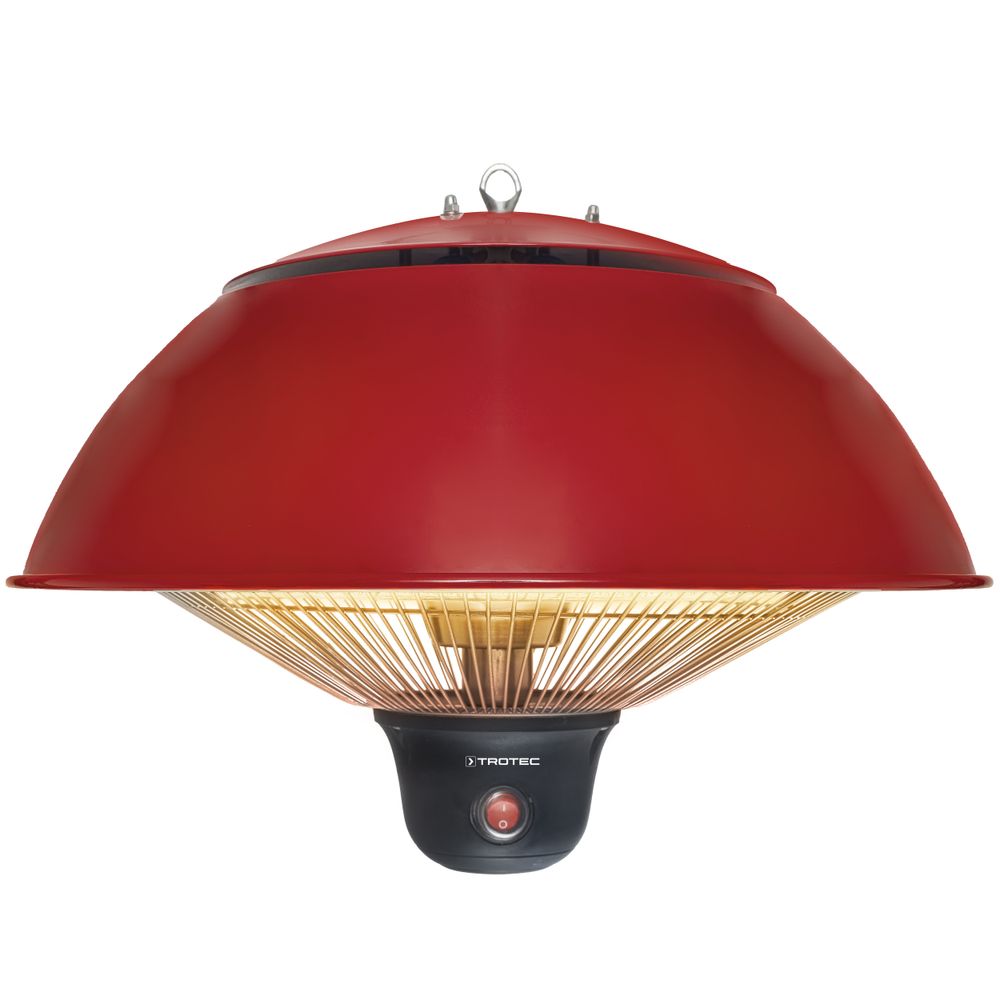 Technical data
Technical data
General information
Article number
1.410.003.811
Heating capacity
in [W]
1,500
Level 1 [kW]
0.5
Level 2 [kW]
1
Level 3 [kW]
1.5
Level Max. [kW]
1.5
Effective range
in [m²]
10
Electrical values
Mains connection
220 - 240 V, 50/60 Hz
Nominal current consumption [A]
6.5
Electric connection
Connection plug
CEE 7/7
Cable length [m]
1.85
Housing design
Aluminium
Safety feature
IP type of protection
IP34
Control panel
LED display
Dimensions
Length (packaging excluded) [mm]
425
Width (packaging excluded) [mm]
425
Height (packaging excluded) [mm]
300
Weight
(packaging excluded) [kg]
2.5
Equipment, features and functions
Functions and features
Infrared remote control
ON/OFF switch
Operating control lamp
Timer function
Adjustable multi-stage thermostat
Immediate heating due to direct infrared heat
No dust circulation (suitable for allergy sufferers)
Odourless and silent operation
Wall mounting
Ceiling mounting
Tripod
Installation on the umbrella stand
standard equipment
optionally available
not available
Alternative products
Loading...