CERAMIC FAN HEATER TFC 19 E
For feel-good temperatures on cold days – and from a device in elegant pillar design
Thermostat-controlled switch-on/off
As autumn approaches, the temperatures slowly decrease. During the night we can cuddle up under a warm duvet, but at breakfast the switched-off central heating system can hardly go unnoticed. It's cold!
Lucky is the person who has made according provisions in form of a ceramic fan heater of the TFC series. With its modern PTC ceramic heating element the device radiates the welcome warmth evenly and yet at lightning speed.
The visually appealing TFC 19 E in its slim pillar design and matt black housing harmoniously integrates in the living environment. You may have to look twice to recognize it as a heater at all.
The elegant TFC 19 E heats living and office spaces, conservatories and even summerhouses quickly and quietly. Two selectable heating levels (1,200 W / 2,000 W) provide enough power to supply even larger spaces with the more than welcome instant heat blown in by the integrated fan. This process is further enhanced by the on-demand 70° oscillation function available in both heating levels. This pivoting mechanism succeeds in distributing the warm air in the room even more quickly and effectively.
Quick and agreeable warmth
Unvarying feel-good temperatures accomplished by just one turn of the hand
The room thermostat controls the desired room temperature fully automatically as soon as it is activated via the infinitely variable rotary switch. Upon reaching the desired temperature the fan heater is automatically switched off and the operating light goes out – until falling just below the set target temperature, then heating will resume. This brief drop below the target temperature can go completely unnoticed, the room even remains more or less the same temperature during this switch-off.
An all-round clean affair with no unpleasant odours
Zero-emission feel-good warmth allowing you to breathe freely
Allergies have become the most common illness in our modern society. More and more people are suffering the consequences of polluted room and breathing air. Therefore, it should be protected from further contaminations in the best possible way – naturally, this is also true during the application of an electric heater. PTC ceramic heating elements have once key advantage over fan heaters with heating wire: The ceramic heating elements do not become hot enough to burn house dust, animal hair or insects. Consequently, there will be no disagreeable smells of burning, the room air remains perceptibly clean allowing allergy sufferers to breathe freely.
Safety first!
For that sense of safety
The stable base of the heater TFC 19 E in pillar design provides secure footing for every residential situation. Should the fan heater at some point be close to toppling over, the integrated tilt protection immediately switches the device off. The package of safety devices is completed by an intelligent overheating protection. Stop worrying about burnt heating wires which in case of conventional electric heaters used in continuous operation quite often lead to a complete device failure. If overheating is imminent, the TFC 19 E deactivates the ceramic heating element. Better safe than sorry.
Mobile heat generation for every room
Immediately ready for use and right at home wherever it goes
The TFC 19 E is ready for use from the get-go. Just unpack it and plug it in. That's all it takes for agreeable warmth to be spread in the room like wildfire. And if you don't want to say goodbye to this soothing warmth, you can just take the ceramic heater with you. A recessed transport handle simplifies site changes of the already light and compact device.
The tower-type ceramic fan heater TFC 19 E impresses with practice-oriented details:
Cosy warmth wherever it is needed ...
All TFC-E heating devices in direct comparison:
To find the electric heating device which exactly meets your requirements, please consult the concise overview of all electric heaters of the TFC-E series from Trotec, which we're providing to you here so that you can compare them directly to each other.
Models which you do not wish to include in your comparison can be easily dismissed with only one click.
A few practical benefits:
Quick and agreeable warmth
Silent and compact ceramic fan heater
PTC ceramic heating element
2 heating levels (1,200 W / 2,000 W)
Suitable for rooms sized up to 24 m² / 60 m³
On-demand 70° oscillation for a faster air distribution
Steplessly adjustable thermostat
Overheating protection 
Tilt protection switch integrated in the device
Suitable for allergy sufferers
Operation indicator light
Easy transport and operation
Secure footing
Energy-efficient
Optimum room temperature control with the socket thermostat BN30
Just install it in the socket and connect it to the heating or cooling device on the socket thermostat BN30, and you can have your heating or cooling unit automatically switched on and off by the BN30 depending on the temperature. The socket thermostat available as an accessory is individually adjustable within a temperature range from 5 °C to 30 °C.
Radio thermostat BN35 with timer switch for the socket
With the radio thermostat BN35 you can easily determine at which room temperature your heating or cooling unit will switch on or off using the remote control. The BN35 set consists of a radio-controlled socket and a radio thermostat. Simply plug the radio-controlled socket in between a wall outlet and your heating or cooling unit. Place the radio thermostat within approx. 20 metres in the place where the room temperature is to be measured. As an alternative, time-controlled regulation can also be carried out.
Faster air heating – more agreeable feel-good climate
Compared to the conventional heating coil technology (B) the shorter heat-up times are not the only distinguishing feature of Trotec fan heaters with PTC ceramic heating elements (A). There are also substantial process-related differences in the response behaviour of the heating elements.
Although both devices maintain the preselected target temperature (orange) in a similar manner by means of thermostat control, the respective temperature adaptation takes place at a significantly reduced speed and with greater deviations from the desired target temperature in case of devices with heating wires. The reason for this is the different conductivity behaviour of the heating elements: if current flows through the heating coils or wires, they will always retain the same temperature once they have heated up. For controlling the desired room temperature, the power supply is first interrupted, causing the coil/wire to cool down, and then re-activated by the thermostat so that the coil/wire heats up again completely before it is switched back off upon reaching the set target temperature.
This "on/off process" causes greater temperature fluctuations than with ceramic heating elements, for the material of the latter provides an integrated temperature self-regulation. The hotter PTCs get, the higher is their electrical resistivity, resulting in less current flowing through the heating element and in a reduced heating capacity, and thus in significantly lower temperature fluctuations and less switch-on and switch-off processes in thermostat-controlled operation. For this reason, ceramic fan heaters are able to create more even room temperatures for a pleasant indoor climate.
Buy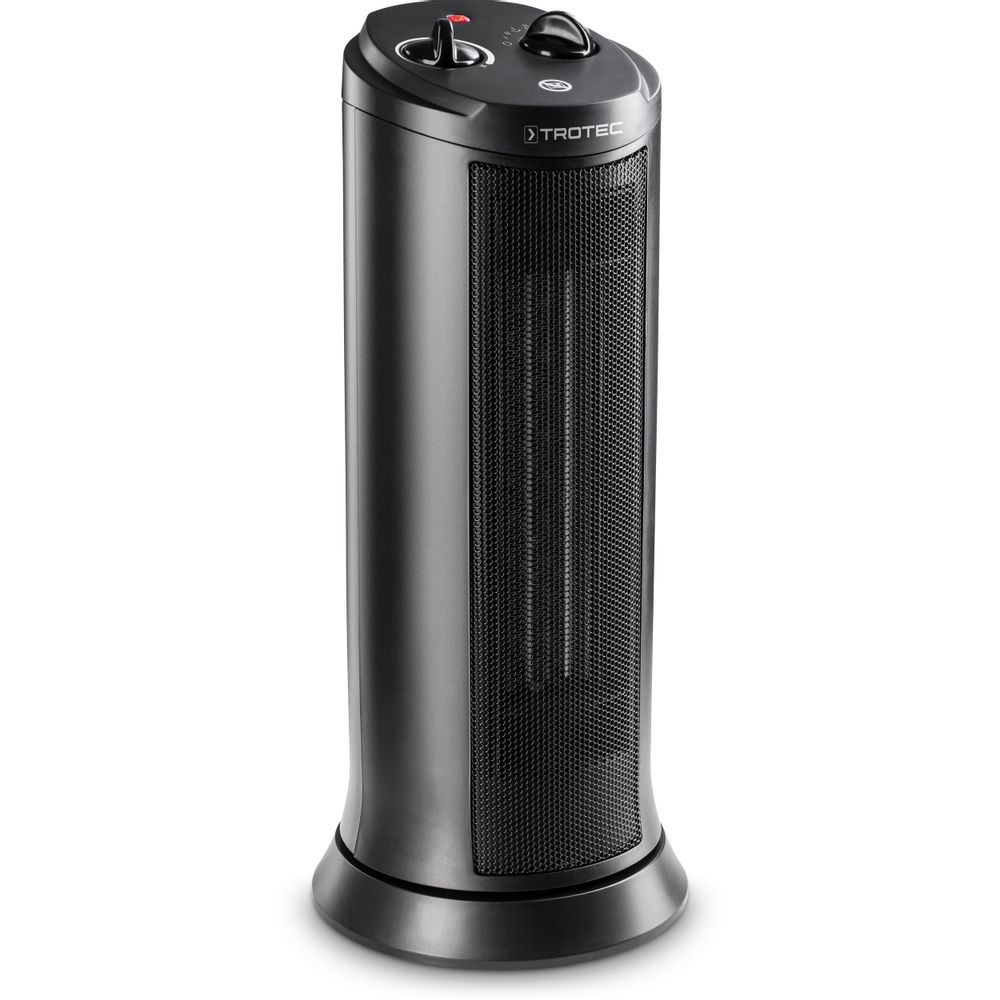 Technical data
Technical data
General information
Article number
1.410.000.661
Heating capacity
Suitable for rooms sized up to [m²]
24
Suitable for rooms sized up to [m³]
60
Level 1 [kW]
1.2
Level 2 [kW]
2
Operating range
Min. temperature [°C]
-5
Max. temperature [°C]
25
Electrical values
Mains connection
220 - 240 V, 50 Hz
Nominal current consumption [A]
8.7
Recommended fusing [A]
10
Power input [kW]
2
Electric connection
Connection plug
CEE 7/17 (shaped plug)
Cable length [m]
1.5
Functions and features
Steplessly adjustable thermostat
Operating control lamp
Tilt protection switch
Automatic switch-off upon reaching the set value
Auto restart function
Internal oscillation (°)
70°
Sound values
Distance 1 m [dB(A)]
54
Safety feature
Overheating protection
Overheating protection [°C]
85
Protection class
II
Dimensions
Length (packaging excluded) [mm]
186
Width (packaging excluded) [mm]
186
Height (packaging excluded) [mm]
440
Weight
(packaging excluded) [kg]
2
Equipment, features and functions
Mobility
Carry/transport handle(s)
Housing design
Plastics
standard equipment
optionally available
not available
Alternative products
Loading...