Design fan heater TFC 220 E
Aesthetically appealing fan heater with remote control and touchscreen for comfort warmth on cold days.
Stylish warmth of classy black glass
Cosy room temperatures on cold days without impairing the appearance of your living space which you've furnished with such great love for detail – this is a balancing act managed by the fan heater TFC 220 E with its appealing design and its features that are designed to provide for maximum comfort.
Whether you use it as an additional heater or as an alternative heating for rooms that are not connected to the central heating – when your shivering body is longing for some cosy warmth on cold days in autumn or winter, you meet this need with the 2,200 watt power of the fan heater TFC 220 E without having to wait long.
Feel-good warmth that spreads in the whole room
With the TFC 220 E you enjoy all the benefits of a cutting-edge fan heater. The cold room air is sucked in on the bottom side of the device, heated in the interior by a heating coil and is then blown out gracefully upwards into the room by a low-noise fan. The warm air rises and distributes evenly in the room with the air circulation. The substantial advantage of this heating method is that you do not have to be directly near the heating device to feel the pleasantly warm temperatures. The heated air spreads into every corner of the room.
Modern design for the heating of bedrooms, living rooms and offices
The visually appealing design heating device is recommended for the quick heating of rooms of a size of up to 26 m² or 65 m³ without being perceived as irritating in the residential ambience. Perfectly suited for heating living room and bedrooms, as on-demand heating for your hobby room, the conservatory or the garage, but also for the use as quick-response heater in the office, the sales room or in unheated storage facilities.
Energy-saving thermostat control
Every additional degree of heating capacity from the central heating produces significantly higher energy costs for you at the end of the year! Quicker and more flexible than stationary heating systems the thermostat-controlled fan heater TFC 220 E generates feel-good temperatures in the range from 15 °C to 35 °C.
The desired the desired room temperature can be optionally adjusted via the modern touch panel or using the infrared remote control supplied. The integrated thermostat of the fan heater TFC 220 E adjusts the room temperature and the energy consumption in a fully automatic fashion! When the preset temperature is reached, the heating function switches off until reheating is required.
This intelligent temperature control is not only convenient, it additionally substantially reduces the energy costs! Overheating of the room is reliably prevented. The TFC 220 E only work if this is actually required by the room temperatures!
Full equipment for connoisseurs
The TFC 220 E comes with three selectable operating modes with different heat outputs and an adapted energy consumption. Furthermore the heating device can be used as a reliable frost monitor in unheated rooms.
Comfort mode
To warm up a room quickly, we recommend setting the thermostat-controlled comfort mode with maximum heating capacity. When the desired room temperature is reached, the heater switches off until the temperature is 2 °C lower than the target temperature to then reheat again. The temperature is controlled in a fully automatic fashion! Concentrate on the important things!
Night mode
In particular for the use in the bedroom, the fan heater is provided with a night mode with a reduced heating capacity. The device is also switched on and off via thermostat control as soon as the desired temperature deviates by +/-2 °C. We also recommend the night mode to prevent cooling of a room over night. The room temperature is maintained at a constant level with an energy-optimized heating capacity.
Energy saving mode
In the energy saving mode the TFC 220 E controls the room temperature without preselectable target temperature in a thermostat-controlled and energy-saving manner to a pleasant temperature range of about 21 °C.
Reliability for a good feeling
Programmable 24-hour timer
Do not leave your room temperatures to chance or to the weather. With the 24-hour timer that can be set exactly to the minute for automatically switching the heating capacity on or off, you adapt the TFC 220 E to your individual daily routine in a fully automatic fashion. For example, you no longer have to worry that the heating device may run the whole night while you're having a cosy read or an evening watching crime thrillers. Once the switch-off time has been preset, the TFC 220 E even switches off automatically when you're already asleep.
Convincing safety
The security-related protection devices of the TFC 220 E guarantee maximum operational safety. The classy front surface of black safety glass is characterized by its especially high shock and scratch resistance and can be touched, handled and cleaned without hesitation. This makes it possible to utilize the fan heater also in households with children and animals, where playing tends to get wild at times. The TFC 220 E has a secure standing! Furthermore, the overheating protection with fan rundown function prevents damage of the heating technology in the device interior if the fan heater does tip over in the heat of the moment or is covered by carelessly strewn clothes.
Space-saving and light
Thanks to its compact dimensions and its light weight, the slim TFC 220 E can be set up and shifted in next to no time. Cosy warmth for every room!
The stylish fan heater TFC 220 E convinces in every respect, by both its compelling appearance and also with regard to its technical features. Allow yourself the luxury of feel-good temperatures throughout the whole year at an attractive price!
TFC 220 E – special equipment features
All TFC-E heating devices in direct comparison:
To find the electric heating device which exactly meets your requirements, please consult the concise overview of all electric heaters of the TFC-E series from Trotec, which we're providing to you here so that you can compare them directly to each other.
Models which you do not wish to include in your comparison can be easily dismissed with only one click.
A few practical benefits:
Silent and compact fan heater
2,200 W heating capacity
Thermostat-controlled automatic operation with target value preselection between 15 and 35 °C
Comfort mode, night mode and energy saving mode
Current room temperature indication
Timer function
Energy-efficient operation thanks to automatic switch-off upon reaching the set value
Fan rundown function
Frost monitor function
Overheating protection
IR remote control
Safety glass with touchscreen and LC display
Secure footing
Frost monitor function
Ideal for short-term property vacancies or temporarily used rooms
Using the stepless thermal control of our mobile electric heating devices you can also operate the devices in frost monitor operating mode. The heating device is then automatically activated by a thermostat to protect the rooms from frost and prevent excessive cooling. Functioning as frost guards, the electric heaters are not only ideally suited for landlords and real estate companies – they also offer benefits for private and business people, who can thus keep vacant rooms and garages free from frost. Particularly rooms, conservatories or cellars which are not connected to a central heating system can be kept warm reliably in this way.
Faster air heating – more agreeable feel-good climate
Compared to the conventional heating coil technology (B) the shorter heat-up times are not the only distinguishing feature of Trotec fan heaters with PTC ceramic heating elements (A). There are also substantial process-related differences in the response behaviour of the heating elements.
Although both devices maintain the preselected target temperature (orange) in a similar manner by means of thermostat control, the respective temperature adaptation takes place at a significantly reduced speed and with greater deviations from the desired target temperature in case of devices with heating wires. The reason for this is the different conductivity behaviour of the heating elements: if current flows through the heating coils or wires, they will always retain the same temperature once they have heated up. For controlling the desired room temperature, the power supply is first interrupted, causing the coil/wire to cool down, and then re-activated by the thermostat so that the coil/wire heats up again completely before it is switched back off upon reaching the set target temperature.
This "on/off process" causes greater temperature fluctuations than with ceramic heating elements, for the material of the latter provides an integrated temperature self-regulation. The hotter PTCs get, the higher is their electrical resistivity, resulting in less current flowing through the heating element and in a reduced heating capacity, and thus in significantly lower temperature fluctuations and less switch-on and switch-off processes in thermostat-controlled operation. For this reason, ceramic fan heaters are able to create more even room temperatures for a pleasant indoor climate.
Buy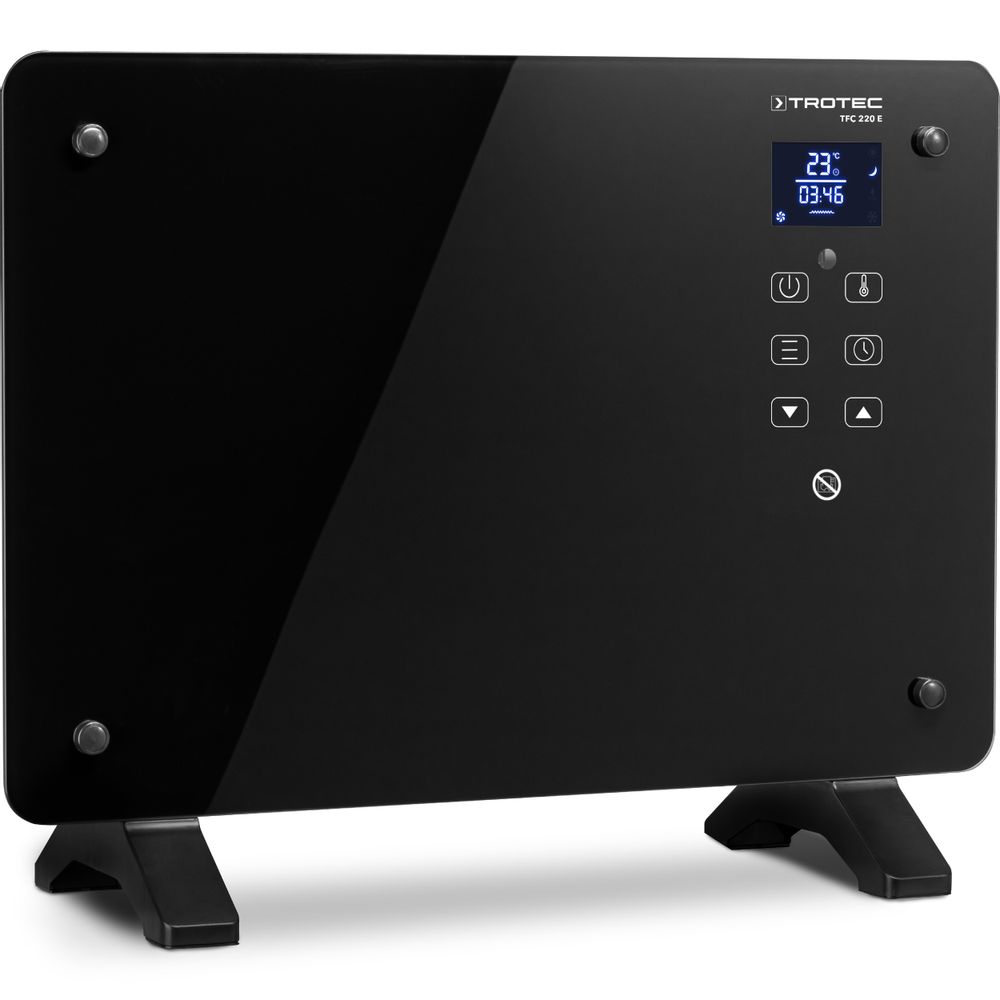 Technical data
Technical data
General information
Article number
1.410.000.690
Heating capacity
Suitable for rooms sized up to [m²]
26
Suitable for rooms sized up to [m³]
65
Level 1 [kW]
2.2
Operating range
Min. temperature [°C]
-20
Max. temperature [°C]
50
Min. room temperature setting [° C]
15
Max. room temperature setting [° C]
35
Fans
axial
Number of fan stages
2
Electrical values
Mains connection
230 V, 50/60 Hz
Nominal current consumption [A]
9.6
Recommended fusing [A]
16
Power input [kW]
2.2
Electric connection
Connection plug
CEE 7/7
Cable length [m]
1.3
Functions and features
On/off switch
LED display
Current room temperature indication
Comfort mode
Night mode
Energy saving mode
Frost monitor function
Thermostat-controlled automatic operation
Multi-stage thermostat
Automatic switch-off upon reaching the set value
Fan rundown function
Switch-off time can be preselected
Internal oscillation (°)
Safety feature
Overheating protection
Overheating protection [°C]
115
Protection class
I
Dimensions
Length (packaging excluded) [mm]
200
Width (packaging excluded) [mm]
520
Height (packaging excluded) [mm]
400
Weight
(packaging excluded) [kg]
6
Equipment, features and functions
Mobility
Feet
Recessed handles
Housing design
Sheet steel – coated
standard equipment
optionally available
not available
Alternative products
Loading...