Domestic water supply system TGP 1025 ES ES
Industrial water pump in full-stainless high-grade steel design – ideal for the use of alternative water sources for house and garden.
The cost-saving alternative to the local water supply
Make yourself independent of the local water supply and rely on the domestic water supply system TGP 1025 ES ES to save expensive drinking water from the local waterworks. Irrespective of whether you want to, for example, pump water from a cistern in the holiday home or if you want to use natural rainwater, groundwater as well as river water as cost-effective service water in your household: the use of a domestic water supply system will pay off, and you'll make a valuable contribution to protecting the environment.
Shaft wells, a rainwater reservoir, or even a brook in the garden are ideal water sources to feed water pumped self-sufficiently with the robust, full stainless steel domestic water supply system TGP 1025 ES ES into the existing domestic water pipeline network. Because only very few water applications in your household really require drinking water quality. Flushing the toilet, performing cleaning tasks, showering or operating the washing machine often only requires clear water from the alternative self-sufficient water supply system. In addition, the domestic water supply system can also be utilized in a cost-effective fashion to irrigate the garden using water that has been self-sufficiently pumped.
Corrosion-resistant stainless steel housing and strong delivery performance
The 1,000-watt stainless steel domestic water supply system pumps up to 3,300 litres of clear service water from a depth of up to 7 metres. The delivery head of up to 30 metres ensures that the water pressure is sufficient even on the upper floors. Particles sized up to 2 mm, which are possibly contained in the water, are easily passed through by the pump. Both suction and pressure connection come with an internal thread that has a diameter of 1'' or 3.33 cm (G1). The 19-litre pressure tank of stainless steel provides for a constant water pressure even if the pump is currently not working. An integrated pressure circuit monitors the tank pressure and only switches on the pump when the pressure in the tank drops below 1.5 bar, or switches it off when the pressure of 3 bar is available again. The device is switched on and off via an easily accessible switch with a protective cover.
High-quality and robust full stainless steel design
The domestic water supply system TGP 1025 ES ES, which is protected against splash water from all directions as per IPX4 type of protection, is reliably protected against corrosion by its almost full stainless steel design. The front pump head as well as the whole pressure tank are made of stainless steel. The yellow pump housing is weatherproof thanks to its coating of protective paint, the black housing parts are manufactured of impact-resistant plastic. The durable aluminium winding motor is also characterized by a high corrosion resistance and additionally offers good thermal conductivity and resilience. The high-quality ceramic face seal is another guarantor for a long lifetime, preventing premature wear of the feed pump. Moreover, the domestic water supply system is protected against overheating by the thermal protection circuit.
Pressure tank with energy-saving pressure circuit
The larger the pressure adjusting tank is dimensioned, the less frequently the feed pump will have to switch on. The 19-litre tank prevents the pump from switching on directly every time water is requested, for instance if the tap is only opened briefly. In this way, the switch-on times and the energy consumption of the domestic water supply system are substantially reduced. Moreover, this ensures a more sparing system operation with reduced wear. The noises caused by the start-up and operation of the pump are equally reduced.
Low-maintenance operation in indoor or outdoor areas
The domestic water supply system TGP 1025 ES ES is provided with a water filling hole for convenient initial filling and a discharge nozzle to drain residual water from the pressure tank. Drill holes in the pump foot allow to install the domestic water supply system stably in a fixed position in indoor or roofed outdoor areas.
Save up to 50 % of expensive tap water!
Including alternative water sources for the daily use in your home's water supply network is only reasonable – both from an ecological and economical viewpoint. After all, you can save money with every application of the pump. Not only is it much less expensive to water your garden during the summer with pumped, non-potable service water as opposed to with purchased industrial water – the alternative water supply for flushing the toilet can be ensured all year round. You can also run your washing machine on rain or well water. Self-sufficiently pumped process water can even be used as shower water in the bathroom, depending on the quality and purity of the water. And it pays!
Practical example 
With an average of 250 washing cycles a three-person household consumes more than 18,000 litres of drinking water per year. On top of this, approx. 43,000 litres of water are flushed down the toilet and 1,750 litres are used for watering in the garden. This totals up to more than 62,000 litres which represents 50 % of the average water consumption of a family of three. An enormous savings potential that can be exploited by using the domestic water supply system TGP 1025 ES ES.
And this benefits you in more than one way! Drinking water from the tap is often limy. On the one hand the minerals contained in the lime are beneficial to our health, at the same time, though, the hard water leads to limescale in household appliances thus reducing their service life. Soft rainwater on the other hand goes easy on your washing machine which extends its lifespan.
Therefore, if you are in the fortunate position of being able to "tap" a well, a cistern, or even a standing water on your own premises, you should utilize these alternative water sources with the domestic water supply system TGP 1025 ES ES with its impressive power of 1,000 watts.
Possible applications of the domestic water supply system TGP 1025 ES ES
Wells, rainwater tanks and cisterns are the most frequently used water sources for domestic water supply systems. Clear water can also be pumped from standing waters and brooks, in order to feed it to the domestic water supply network as alternative process water. The domestic water supply system TGP 1025 ES ES reduces the consumption of expensive drinking water everywhere in the house and garden where no drinking water quality is required. The larger the household or the garden to be watered, the higher the annual saving will be when it comes to your water costs.
Supply the toilet and washing machine with water that is provided free of charge
Washing machines and toilet flush mechanisms are ideally suited to utilize process water that is pumped free of charge from the domestic water supply system. Natural rainwater or groundwater furthermore contains less lime, which in particular increases a washing machine's service life. If the process water is pumped from an underground reservoir, it can also be used as shower water depending on the water quality and purity.
Clean terraces and vehicles with water pumped from your own reservoir
High-pressure cleaners and garden hoses can be easily connected to the domestic water supply system, e.g. to wash the terrace or the car with free-of-charge process water.
Irrigate your garden in a cost-effective and environmentally friendly fashion
Every common irrigation system can be connected quickly and easily to the domestic water supply system. Whether you want to use a sprinkler, a micro-drip system or a garden hose – the domestic water supply system TGP 1025 ES ES also reliably provides you with natural process water in your garden.
Perfect for the house and garden – the domestic water supply system TGP 1025 ES ES in its corrosion-protected full-stainless steel design is ideally suited as a reliable self-sufficient water supply system.
Special equipment features of the TGP 1025 ES ES
All Domestic water supply systems in direct comparison:
To find the Domestic water supply system which exactly meets your requirements, please consult the concise overview of all Domestic water supply systems from Trotec, which we're providing to you here so that you can compare them directly to each other.
Models which you do not wish to include in your comparison can be easily dismissed with only one click.
A few practical benefits:
Impressive 1000 watts of power for pumping up to 3,300 litres per hour
Maximum delivery head: 30 m, suction head up to 7 m
Integration into the existing domestic supply network possible
Ideal to provide for process water supply in the house or for the effortless irrigation of gardens
Robust pump housing and pressure tank of weatherproof stainless steel, high corrosion resistance by aluminium winding motor
Stable 1" metal threading at the suction and pressure side
High-quality ceramic face seal for a long lifetime
Maintenance-free motor with integrated thermal protection circuit activated by overheating of the device
For pumping out clear water with suspended particles sized up to 2 mm
IPX4 type of protection for the pump – splash-proof from all directions
IP44 type of protection for the mains plug – splash-proof
User-friendly thanks to the large inlet opening for easy filling of the pump
Protected against frost – residual water can be discharged conveniently via the water drain screw
Convenient on/off switch
Reduced energy consumption and wear thanks to the integrated pressure circuit
Stable pump foot with holes for easy fastening
Benefit from the Trotec brand quality guaranteeing high value, safety and functionality. Via the registered GS mark the inspection authority TÜV Rheinland certifies that, if used foreseeably and as intended, the device does not pose a risk to the health and safety of the user.
Brand quality plus cost-efficiency
Reliable, powerful and suited for the most challenging fields of application: these are some of the quality features of Trotec's domestic water supply systems. Owing to their high capacity they are able to withstand the most extreme conditions. HighPerformance for demanding applications – after all, Trotec stands for brand quality and professional solutions with an excellent value-for-money ratio!
Buy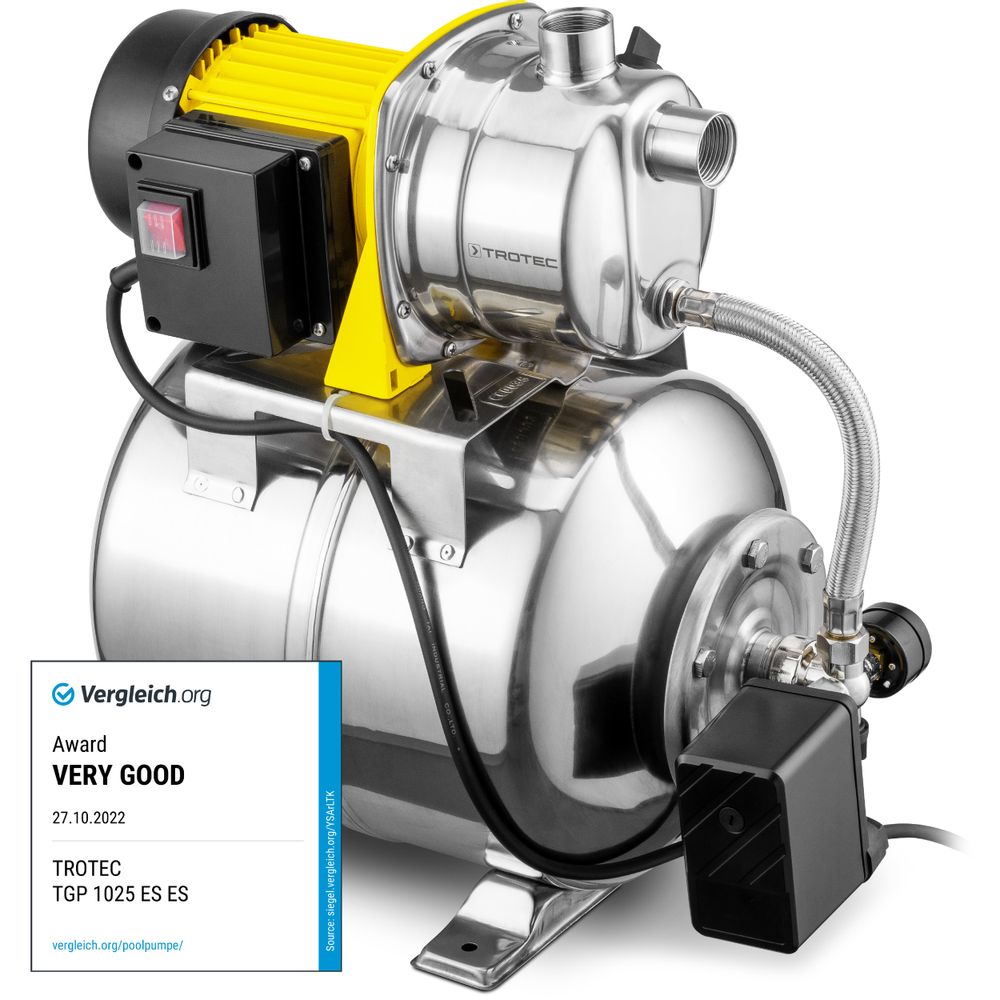 Technical data
Technical data
General information
Article number
4.610.000.192
Electrical values
Mains connection
230 V, 50 Hz
Power input [W]
1,000
Electric connection
Connection plug
CEE 7/7
Cable length [m]
1.2
Performance data
Max. conveying capacity [l/h]
3,300
Feed pressure [bar]
3
Grit of pump [mm]
2
Max. delivery head [m]
30
Max. suction height [m]
7
Automatic switch-on [bar]
1.5
Automatic switch-off [bar]
3
Automatic switch-on
Automatic switch-off
Max. water temperature [°C]
35
Pressure connection
1"
Suction connection
1"
Tank volume [l]
19
Safety feature
Type of protection
IPX4
Protection class
I
Sound values
Sound pressure level [dB(A)]
72
Sound power level [dB]
88
Uncertainty (K) [(K)]
2
Housing design
Stainless steel housing
Stainless steel pump head
Dimensions
Length (packaging excluded) [mm]
270
Width (packaging excluded) [mm]
453
Height (packaging excluded) [mm]
500
Weight
(packaging excluded) [kg]
11
Equipment, features and functions
Functions and features
ON/OFF switch
Automatic switch-on and switch-off
Auto restart, Auto stop
Energy-saving
Mechanical pressure switch
Pressure gauge
Thermal overload protection [° C]
150
Water inlet opening
Water drain screw
Backflow preventer
Stainless steel screws
Suitable for both permanent operation (>10h) or salt-water operation
Dry run protection
Overheating protection
Available
Connection at pressure tank for pressure compensation
Standard scope of delivery
Accessories scope of delivery
Carrying handles
Adapter
Suitable for hose (hose DN)
Suitable for thread
Backflow preventer
Tear-resistant nylon cord, 12 m
Filter
standard equipment
optionally available
not available
Alternative products
Loading...