Digital alarm clock with weather station BZ01
Compact 4-in-1 clock including an alarm function, indication of the time and date, inside climate control as well as a weather forecast
Time, room climate and weather for the bright-eyed
When the digital alarm clock BZ01 wakes you right on time in the morning, it already holds all the basic information for a good start to the day in store for you. With a quick glance at the easy-to-read 2.7" LCD display, you can simultaneously check the time (12 or 24 hours can be selected), the current date with the respective day of the week as well as the indoor temperature (in °C or °F) and the humidity (in %). And the weather forecast symbols additionally show you whether it's really worth getting up early. If it's not, just press the convenient snooze button, roll over and enjoy some more quality time until the next alarm sound. At home in your own four walls, when you're travelling, or at work – the multifunctional and compact digital alarm clock BZ01 with its trendy white-matte design blends in perfectly with every environment.
Relaxed alarm mode thanks to the snooze function   
Surely you want to concentrate on more essential matters than the annoying ticking of a clock. This is why all displays of the BZ01 are completely noiseless, making the digital clock on the sideboard in the living room or children's room, on the kitchen or bathroom shelf an absolutely silent timepiece. A blessing especially in the bedroom! Though because the use on the bedside table involves an integrated alarm function, an alarm signal is naturally part of the basic equipment. And if you wish to snooze on for a few moments more in the morning, one touch of the snooze button suffices. This gives you four more precious minutes of quality time before the next alarm signal warns you of oversleeping.
Even looks great as a digital wall clock
In addition to the alarm wake-up function, you can also activate an hourly alarm that can be heard beeping briefly every full hour. Too much alarm? Then you can deactivate both functions independently of each other again. And if you wish to forget for once that time is running away from us all, just switch over to the calendar mode – now the display field of the digital clock permanently shows you the current year. If you do not want to use any of the alarm clock functions, but rather use the device purely as a clock, you can also mount it on the wall – the bracket required for this is already embedded on the rear panel.
The comfort chart indicates the feel-good climate range
As illustrated in this comfort chart (according to Leusden and Freymark), we feel most comfortable at temperatures between 20 and 22 °C and a relative humidity of 40 to 60 %.
Climate conditions beyond these values are perceived as unpleasant by most people. Moreover, too high humidity levels can cause the most varied types of damage. Often, the first visible warning signs are damp articles of clothing, a musty smell and stained walls (mould stains) or sprouting potatoes in basements. For example, did you know that mould can already form at 70 % humidity – and rust at just 60 %? If it is not controlled, the humidity level in a room can fluctuate significantly and rarely reaches the ideal values on its own – and it additionally also depends on the season and climatic conditions outdoors.
With the indoor climate monitoring unit BZ01 you can easily keep an eye on the temperature and the humidity level. 
Room climate control at a glance
The current temperature and humidity level in the room have a substantial impact on how pleasant and healthy the room climate at home or at the office is. Therefore, since it pays off to keep track of those two values, the weather station BZ01 measures the current room temperature, which you can optionally display in °C or °F, and the relative humidity, and indicates them clearly on its display. The temperature measuring range is between -10 °C and +50 °C. The relative humidity level is measured between 20 % RH and 99 % RH. Furthermore, the time can be selected in 12 or 24 hours. Thanks to the integrated MIN/MAX function, the digital alarm clock saves the lowest and highest values of the temperature and the relative humidity. In this way you can find out quickly whether there have been any unwelcome deviations, for instance over night or during your holiday. Just call the maximum and minimum values at the touch of a button.
Will the weather be bright or even brighter? The weather forecast will show you
Always an eye-catcher: The weather forecast of the BZ01, which is generated on the basis of the humidity values. Because it tells us which vagaries of the weather we'll have to expect. Take one look at the easy-to-read LCD display, and the four graphically designed weather symbols will show you whether the day will be 'sunny', 'slightly cloudy', 'cloudy' or 'rainy'.
The compact and practical digital alarm clock BZ01 reliably wakes you at the desired time. Moreover, it provides you with vital information at a glance such as the date, temperature, humidity level and time and shows you a weather forecast.
Special equipment features of the BZ01
BZ01 – convenient and can be used everywhere
All climate measuring devices in direct comparison:
To find the climate measuring device which exactly meets your requirements, please consult the concise overview of all climate measuring devices from Trotec, which we're providing to you here so that you can compare them directly to each other.
Models which you do not wish to include in your comparison can be easily dismissed with only one click.
A few practical benefits:
Compact 4-in-1 clock with a display for simultaneously checking the time, date, room temperature, humidity level, and including weather forecast symbols
°C / °F temperature display can be selected
Time format can be set to 12 or 24 hours
Alarm function with snooze button
Absolutely noiseless (except for the alarm function)
Display of minimum and maximum value
LCD display with a clearly arranged measured value indication
Compact table and wall device in attractive design
Supplies helpful information on the prevention of mould formation
Optimum value-for-money ratio
Buy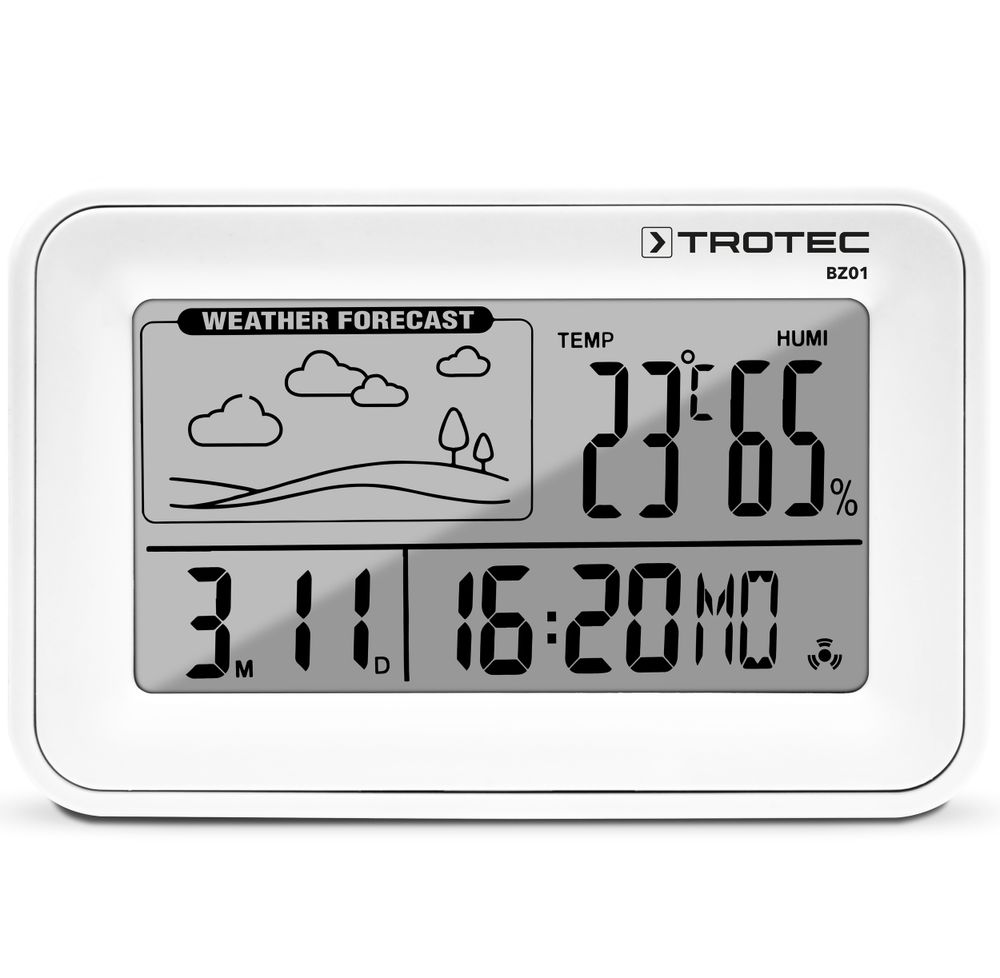 Technical data
Technical data
General information
Article number
3.510.205.000
Air temperature [°C]
Min. measuring range | Air temperature [°C]
-10
Max. measuring range | Air temperature [°C]
50
Resolution [°C]
0.1
Accuracy ± | Air temperature [°C]
1
Air temperature [°F]
Min. measuring range | Air temperature [°F]
14
Max. measuring range | Air temperature [°F]
122
Resolution [°F]
0.1
Accuracy ± | Air temperature [°F]
1.8
Relative humidity (%)
Min. measuring range | Relative humidity [%]
20
Max. measuring range | Relative humidity [%]
99
Resolution | Relative humidity [%]
1
Accuracy ± [% RH]
5
Display
LCD
Housing design
Plastics
Power supply
Internal (battery)
1 x 1.5 V AAA
Ambient conditions
Operation - min. temperature [°C]
-10
Operation - max. temperature [°C]
50
Operation approx. - max. relative humidity (non-condensing) [%]
90
Storage - min. temperature [°C]
-10
Storage - max. temperature [°C]
50
Storage - max. relative humidity (non-condensing) [%]
90
Dimensions
Length (packaging excluded) [mm]
82
Width (packaging excluded) [mm]
36
Height (packaging excluded) [mm]
55
Weight
(packaging excluded) [kg]
0.072
Standard scope of delivery
Standard scope of delivery
Measuring device
Battery(-ies)
Operating manual
Ascertainable measured values and functions
Internal sensors
Temperature [°C]
Temperature [°F]
Relative humidity [%]
Functions and features
Minimum value display
Maximum value display
Weather forecast indication
Alarm function
Alarm function
standard equipment
optionally available
not available
Alternative products
Loading...