Design thermohygrometer BZ22M
Versatile climate control and mould prevention in a timelessly elegant form
The most beautiful way to create a healthy room climate
There is no more appealing way to control indoor climate values. Whether in the commercial sector, for instance in libraries, galleries, showrooms, offices, training and meeting rooms, or in luxuriously furnished living environments – with the thermohygrometer BZ22M you always keep an eye on all important room climate data.
The BZ22M monitors as many as four values that are important for a healthy indoor climate:
Room temperature
Relative humidity
Dew point temperature
Saturation humidity
Thanks to its analogue measurement technology, the BZ22M with its cross-needle design dial and classic appearance does not need any batteries. Wherever the hair hygrometer with thermometer is used – it attracts all eyes.
Control and optimization of the heating and ventilation behaviour
The wall-mounted thermohygrometer with its high-quality appearance, enclosed in a robust stainless steel housing (Ø 130 mm), is recommended in order to permanently monitor heating and ventilation conditions. The device allows for example to detect values fallen below the dew point and related problems such as condensation and mould formation at an early stage. Similarly, temperature and humidity-sensitive indoor environments can be permanently monitored, for example to prevent corrosion in the garage or moisture damage in conservatories, guest rooms or wellness areas that are not permanently heated. This is the way to take appropriate countermeasures with targeted heating and ventilation in order to create a comfortable and healthy room climate in living rooms, bedrooms, storerooms and showrooms, offices or garages.
Precision measurement technology for the highest of demands
The thermohygrometer combines traditional measurement technology with an innovative display of the measured room climate values. The measurement data is determined and regulated inside the device by means of a bi-metal thermometer and a specially treated synthetic fibre that expands in humid conditions and contracts when it is dry. The resulting length variation is converted into a rotary motion using levers and axes and transferred to the needles in a way comparable to a clockwork.
Special scale design – displays the values and provides clarity
Thanks to its special dial design, all climate values are displayed in an easy-to-understand way and can be easily read even from a greater distance. Whereas other indoor climate measuring devices require a large number of needles and scales, the BZ22M scores with its unique cross-needle design dial.
Simple self-adjustment for permanently precise measurement results
If required, the display of the low-maintenance thermohygrometer can be readjusted by means of an integrated adjusting screw.
As many as four measured values are displayed in an easy-to-understand way on the dial in cross-needle design. This way, you create ideal conditions for keeping an optimal overview of all important climate parameters.
The visually appealing thermohygrometer BZ22M is recommended for permanent indoor climate control as well as for mould and corrosion prevention.
Special equipment features of the BZ22M
Application examples from practical experience:
All climate measuring devices in direct comparison:
To find the climate measuring device which exactly meets your requirements, please consult the concise overview of all climate measuring devices from Trotec, which we're providing to you here so that you can compare them directly to each other.
Models which you do not wish to include in your comparison can be easily dismissed with only one click.
A few practical benefits:
Four climate values on one dial: room temperature, relative humidity, saturation humidity and dew point temperature
Analogue precision measurement technology "Made in Germany".
Special cross-needle scale design
Easy to read, allowing a quick interpretation of the measured values
Adjustment option included
Buy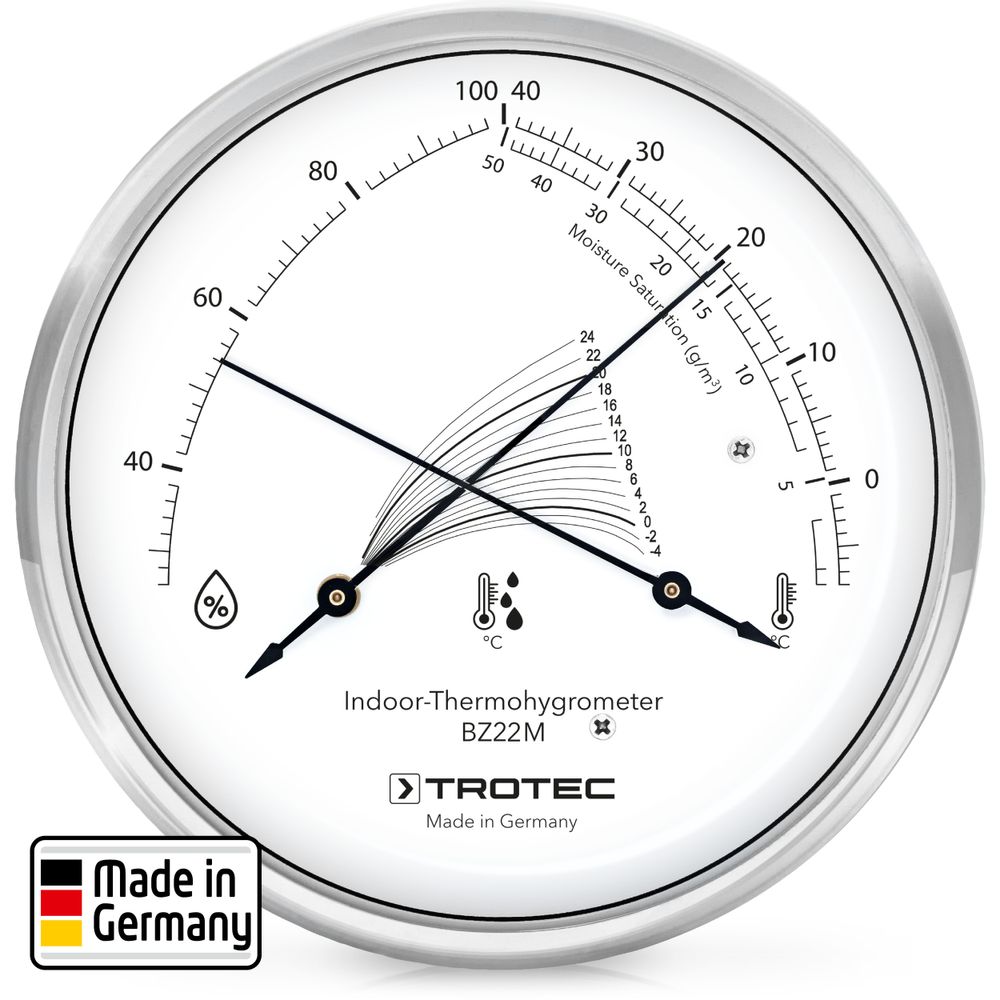 Technical data
Technical data
General information
Article number
3.510.205.019
Air temperature [°C]
Min. measuring range | Air temperature [°C]
-10
Max. measuring range | Air temperature [°C]
40
Resolution [°C]
1
Accuracy ± | Air temperature [°C]
2
Accuracy [°C]
2
Relative humidity (%)
Min. measuring range | Relative humidity [%]
20
Max. measuring range | Relative humidity [%]
100
Resolution | Relative humidity [%]
2
Accuracy ± [% r.F.]
3
Accuracy -10 °C - 40 °C - 20 % - 100 % [%]
3
Housing design
Stainless steel
Ambient conditions
Operation - min. temperature [°C]
-20
Operation - max. temperature [°C]
50
Operation approx. - max. relative humidity (non-condensing) [%]
100
Storage - min. temperature [°C]
-20
Storage - max. temperature [°C]
50
Storage - max. relative humidity (non-condensing) [%]
100
Dimensions
Length (packaging excluded) [mm]
130
Height (packaging excluded) [mm]
28
Weight
(packaging excluded) [kg]
0.185
Standard scope of delivery
Standard scope of delivery
Device
Operating manual
Ascertainable measured values and functions
Functions and features
Measurement of air temperature and relative humidity
Dew point measurement
Saturation humidity measurement
standard equipment
optionally available
not available
Alternative products
Loading...