Designer pedestal fan TVE 26 S
A class of its own – why not have high demands on quality and climate comfort
5 operating modes and timer function for the little extra of comfort
Not all fans are the same. With 26 fan stages and five different operating modes the modern, high-quality, 30 W pedestal fan TVE 26 S of the TVE series can supply first-rate refreshment. It even looks fresh – for the elegant, high-class housing design blends in beautifully with modern living or office environments.
Tailor-made refreshment meeting your individual requirements
What degree of cooling would you find agreeable? Would you prefer a strong, head-on air current that provides proper cooling? Or rather a mild, fresh breeze that blows gently through the room? Or maybe just a subtle breath or air softly distributed in the room over night? For the pedestal fan TVE 26 S and its five operating modes: it's a breeze. During normal operation the fan runs constantly at the desired fan stage which can be adjusted from level 1 to 26. In the "natural wind" mode the fan speed alternately increases and decreases creating a natural, agreeable air flow. Night mode ensures perfect sleeping comfort due to the optimally regulated air movement. After a while the device automatically reduces the fan speed.
The TVE 26 S can conveniently be operated via the infrared remote control. Without difficulty you can regulate the fan speed, change the mode of operation, activate or deactivate the oscillation function and control the timer. All settings can be made intuitively using two buttons and a setting wheel. The changes will be clearly indicated on the large and neatly arranged LED display.
When standard doesn't make the cut, the TVE 26 S can score with diversity
Particularly smart is the comfort mode. The device automatically measures the ambient temperature. Should it be below 20 °C, the pedestal fan TVE 26 S automatically switches into standby mode. Both ventilation and oscillation will be deactivated. When the ambient temperature exceeds 20 °C, the device switches back on from standby. For the application in particularly noise-sensitive surroundings the TVE 26 S is further equipped with a whisper mode.
Precise alignment for perfect cooling
Adjust the air current just as you please. The automatic 85° oscillation with switch-off function and the fan head inclinable by 20° render the TVE 26 S a flexible partner for all ventilation applications. It can be steplessly adjusted in height between 120 cm and 137 cm and its light weight and the convenient carrying handle make it very easy to transport. Due to the stylish and tilt-proof round base the TVE 26 S doesn't even begin to totter even at the highest speed level.
Well-being created at the push of a button – even fully automatically should you so desire
Coming home and feeling good at once: It works using the pedestal fan TVE 26 S and its integrated timer. The device can be adjusted to switch on and off automatically based on a previously set number of hours. It can range from 0.5 to 12 hours.
If you grant the fan a little lead time, you will be welcomed home after work by a fresh breeze. And don't worry if you doze off whilst relaxing on the couch. With the extremely economical power consumption of only 30 watts no objection shall be made for financial reasons regarding a continuous operation in the summer. Provided you have previously set the timer, the device will be switched off automatically. How convenient!
High functionality down to the last detail:
For an agreeably fresh breeze wherever it is needed ...
All fans of the TVE series in direct comparison:
To find the fan which exactly meets your requirements, please consult the concise overview of all fans of the TVE series from Trotec, which we're providing to you here so that you can compare them directly to each other.
Models which you do not wish to include in your comparison can be easily dismissed with only one click.
A few practical benefits:
Power of 30 watts
Low operating costs
26 speed levels
5 operating modes: Normal operation, natural wind mode, night mode, comfort mode and silent operation
Automatically oscillating by 85° with switch-off function
Inclination angle of the fan head adjustable by up to 20°
Steplessly adjustable in height between 120 and 137cm
Metal grid for protection at the front and rear
Fan blade diameter 40 cm
Timer function
LED display
IR remote control
Convenient carrying handle
Broad base for high stability
Low-noise operation: max. 59dB(A)
standard equipment
optionally available
not available
Buy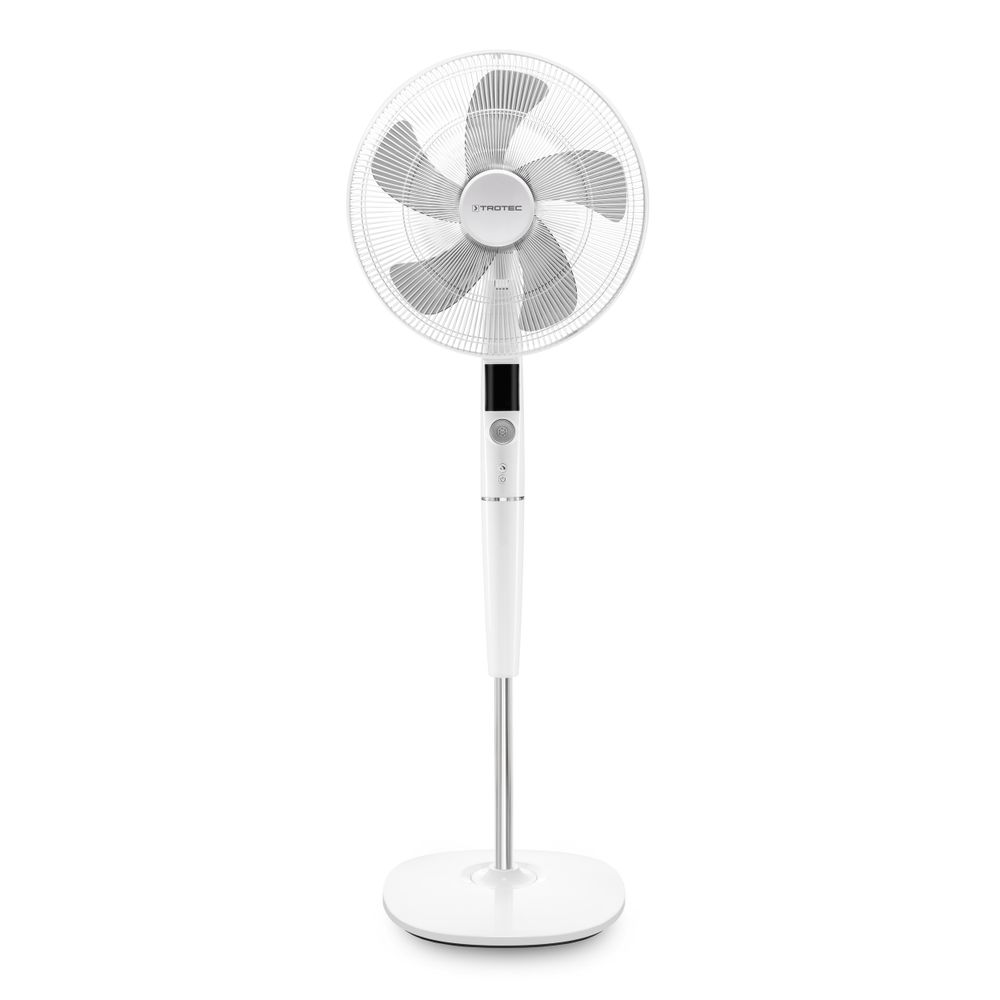 Technical data
Technical data
General information
Article number
1.510.005.046
Fan
stages
26
Number of fan blades
5
blade diameter ["]
16
blade diameter [cm]
40
Electrical values
Mains connection
220 - 240 V, 50 Hz
Power input [W]
30
Connection plug
CEE 7/16
Cable length [m]
1.5
Sound values
Distance 1 m [dB(A)]
59
Dimensions
Length (packaging excluded) [mm]
453
Width (packaging excluded) [mm]
450
Height (packaging excluded) [mm]
1,370
Weight
(packaging excluded) [kg]
7
Equipment, features and functions
Functions and features
Normal operation mode
Natural wind
Night mode
Comfort mode
Silent operation
Infrared remote control
Internal oscillation (°)
85 °
Adjustable inclination angle
Height adjustability
1.20-1.37 m
Bedienknöpfe
Mobility
Foot
Carry/transport handle(s)
Timer function
Switch-on time preselectable
Switch-off time can be preselected
Housing design
Plastics
standard equipment
optionally available
not available
Alternative products
Loading...