Construction dryer TTK 500
Powerful even at low temperatures – high-performance professional condenser dryer in robust carriage design
Universal construction dryer – newly defined
Whether water damage restoration, construction drying or keeping cool commercial spaces dry – reliable drying technology is needed for alternating use on different construction sites. Extremely tough and fail-safe with a high dehumidification performance, even at cold ambient temperatures. This is exactly what characterizes the construction dryer TTK 500 from Trotec.
This professional condenser dryer has been consistently designed to provide maximum mobility for ever-changing sites of operation and to withstand rough working conditions. This is why the TTK 500 features not only a carriage with adjustable push handle, but also large wheels with non-marking rubber tyres – all combined in a robust metal housing.
For storage or transport, the design of the TTK 500 allows the devices to be positioned closely together, so that many construction dryers can be transported to the site of operation with only one trip. In the warehouse, up to three devices can be stacked on top of one another, thus requiring even less floor space.
Effective process for high dehumidification performance of up to max. 70 l/24 h
For an effective dehumidification, the TTK 500 comes equipped with a powerful automatic hot gas defrost system based on the bypass procedure. This system only requires very short defrost phases, which increases the performance level and makes the device ideally suited for an effective dehumidification in low-temperature surroundings such as unheated rooms.
The combination of a high dehumidification performance together with a minimized energy demand and a great mobility with a low floor space requirement makes the TTK 500 the ideal dehumidification solution even at low temperatures – for continuous operations also optionally available with a hygrostat and condensate pump.
100 % construction dryer – the name says it all
It's not just a name that turns a commercial dehumidifier into a true construction dryer. The name is an obligation: the device must be able to dry large amounts of air in continuous operation, on the construction site, in cool environments. After all, construction dryers make their living in drying applications, not in the warehouse and particularly not in the workshop.
Which is why the construction dryers of the TTK series have been consistently designed for high dehumidification performance and a long lifetime. Even in continuous use on the construction site, the devices work reliably and without interruption – and if maintenance is required, it can be carried out more quickly than ever before:
Innovative central chassis – low-maintenance modular design
TTK 500 and TTK 900 MP have an innovative central chassis from which the robust metal housing can be quickly and easily removed. Ideal for service, maintenance and cleaning tasks.
And the entire electronic equipment is not only specially enclosed and thus reliably protected against harmful deposits – it is also designed in a modular fashion and all individual electronics modules are provided with maintenance-friendly plug connections. The replacement of individual modules is therefore quick and easy, even on site: unplug, replace module, plug back in – done. Maintenance-related periods of non-use can thus be reduced to a minimum.
Tried and tested technology reinvented – special equipment features of the TTK 500
Investment protection for your drying devices
Particularly during construction drying operations in summer or when drying water damages, it is very likely that climate conditions arise which may significantly shorten the lifetime of condenser dryers – regardless of the make. We as manufacturer care about the fact that for process-related reasons your condenser dryers often have to be replaced much too soon, hence we have prepared a valuable practical recommendation relating to the investment protection of your drying devices. Click here to find out more ...
Also available as stainless steel version TTK 500 ES
For dehumidification or permanent dry keeping applications in areas with special hygienic requirements or particularly reactive air environments the TTK 500 is also available as stainless steel version TTK 500 ES.
The stainless steel material features a very high corrosion resistance, is easy to clean and particularly resistant to various chemical solutions.
Just like the basic model, the TTK 500 ES, too, can optionally be equipped with an MID-compliant dual counter for operating hours and energy consumption. If required, a hygrostat can also be connected to the TTK 500 ES for automatic humidity-controlled dry keeping. A condensate pump for condensate discharge across storeys is also available for this purpose.
A few practical benefits:
Development, design, production: 100 % Trotec
High dehumidification performance – also at temperatures below 15 °C
Suitable for rooms sized up to 470 m³ for construction drying and water damage restoration
Dry keeping of rooms sized up to 940 m³
Can be used from 0 °C
Extremely powerful rotation compressor
Professional automatic hot gas defrost system based on bypass procedure
Innovative central chassis, easy to remove for fast cleaning and inspections
Particularly maintenance-friendly: plug-in electronics modules, easy to replace without tools
Stackable to save space – small storage space in the warehouse
Portable in every position – vertical or horizontal – thanks to TTK compressor technology
Robust and highly mobile – easy to handle even on difficult terrain or on stairways thanks to large wheels
Powerful, air circulating axial fan for high air circulation rates
Easily exchangeable and washable air filter
Connection for external hygrostat
Adjustable push handle – horizontal or vertical
Standard operating hours counter
Optional MID-compliant dual counter for operating hours and energy consumption
All Commercial dehumidifiers of the TTK series in direct comparison:
To find the Commercial dehumidifier of the TTK series which exactly meets your requirements, please consult the concise overview of all Commercial dehumidifiers of the TTK series from Trotec, which we're providing to you here so that you can compare them directly to each other.
Models which you do not wish to include in your comparison can be easily dismissed with only one click.
Buy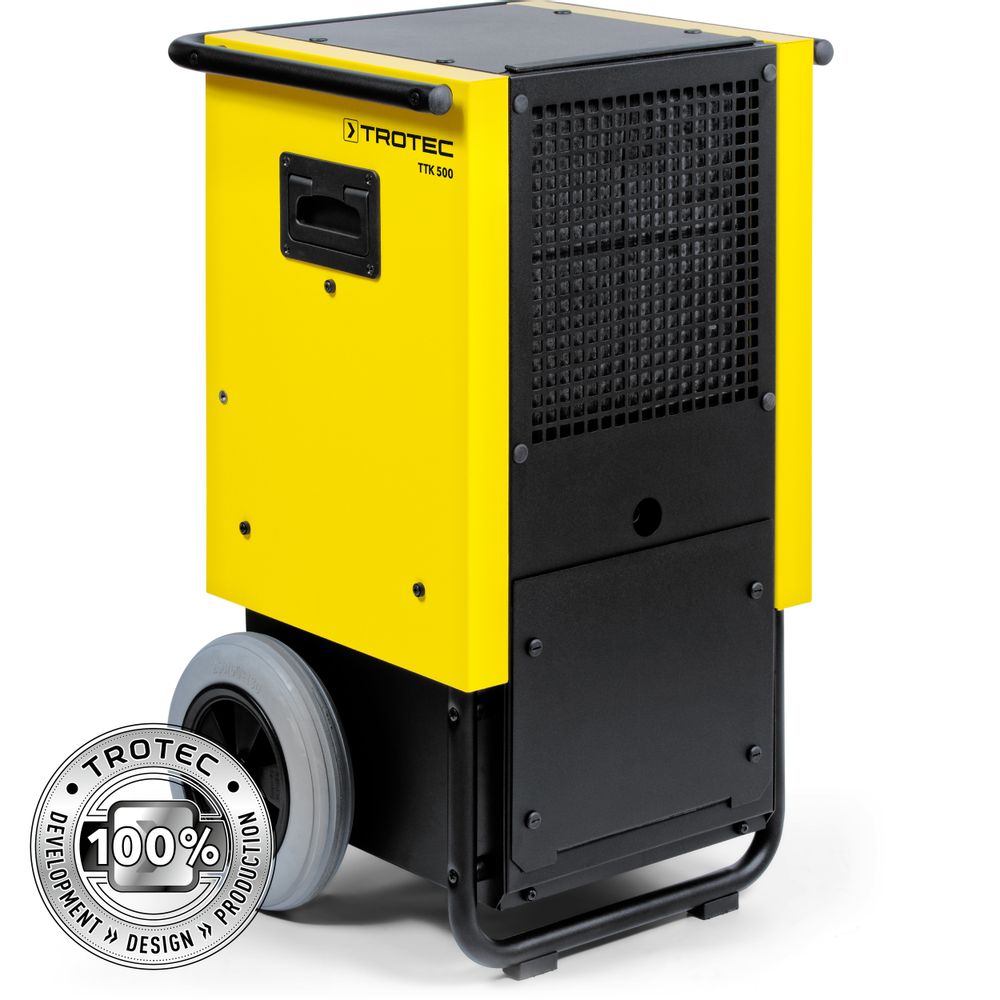 Daily rent:
10.80 £ incl. VAT per day
Daily rent:
9.00 £ plus VAT per day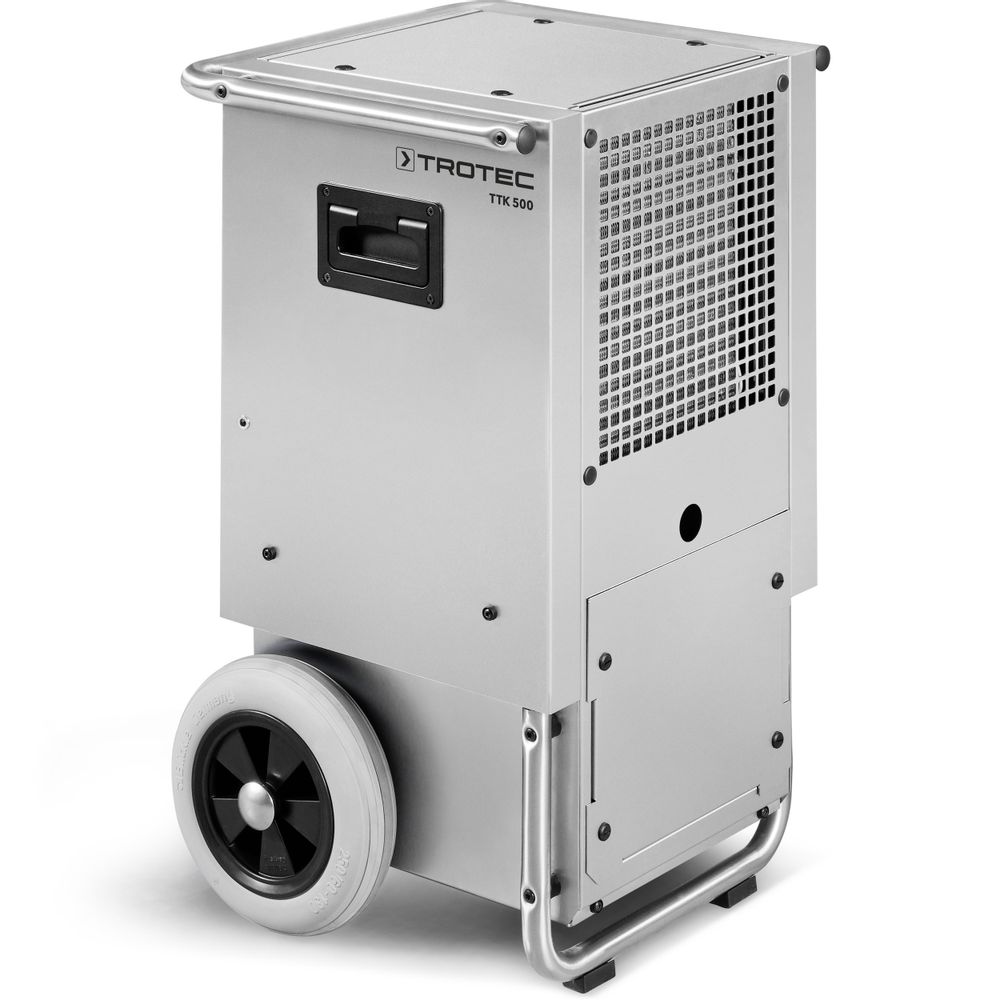 Details
Technical data
General information
Article number
1.120.000.410
Dehumidification performance
At 20 °C / 60 % RH [l/24h]
30
At 30 °C / 80 % RH [l/24h]
64
Max. [l/24h]
76
Air flow rate
Max. air volume flow [m³/h]
400
Recommended room size construction drying
m³
470
m²
190
Recommended room size dry keeping
m³
940
m²
380
Ambient conditions
Min. temperature range [°C]
5
Max. temperature range [°C]
35
Min. humidity range [% r.F.]
35
Max. humidity range [% r.F.]
90
Electrical values
Mains connection
220 - 240 V, 50 Hz
Power input [kW]
1.6
Nominal current consumption [A]
7.3
Recommended fusing [A]
10
Electric connection
Connection plug
CEE 7/7
Compressor
Rotary piston compressor
Reciprocating piston compressor
refrigerant
R454C
Amount of refrigerant [g]
650
GWP factor
146
CO2 equivalent
0.095
Pressure suction side [MPa]
0.6
Pressure outlet side [MPa]
2.2
Max. permissible pressure [Mpa]
3
Water tank
Contents in [l]
Sound values
Distance 1 m [dB(A)]
64
Distance 3 m [dB(A)]
58
Functions and features
Continuous operation
Hygrostat connection
Connection for external condensate drain
Fan rundown function
Laundry drying function
Comfort button
Selectable ionisation
Internal drying function
Night mode
Dimensions
Length (packaging excluded) [mm]
438
Width (packaging excluded) [mm]
470
Height (packaging excluded) [mm]
870
Weight
(packaging excluded) [kg]
52
Equipment, features and functions
Automatic defrost system
Hot gas
Electronic
Automatic dehumidification
Hygrostat-controlled
Program-controlled
Fan
axial
Radial
stages
1
Condensate tank monitoring
Filling level warning light to indicate a full water tank
Container available
Overflow protection with automatic switch-off
Room air filter
Readily accessible
Ionizer selectable
Cleanable
Operating hours counter
Operating hours counter
Power meter
Mobility
Wheels
Feet
Carry/transport handle(s)
Adjustable bar handle
Condensate drain
Hose connection possible
Hose included in the scope of delivery
Condensate pump
Recommended hose size [mm]
16
Housing design
Metal
Plastics
Stainless steel
Aluminium
standard equipment
optionally available
not available
Alternative products
Loading...