BQ30 particle measuring device
Air quality monitor for checking the fine particulate and CO2 burden
Particle counter for air quality measurements
Nowadays, the fine particulate burden in the air and its health effects are an essential part of public discussions. But what is it that makes fine particulates so dangerous? Fundamentally, a distinction is made between the two particle fractions PM10 and PM2.5.
PM10 includes all particles with a maximum diameter of 10 µm, and PM2.5 means all particles with a diameter of less than 2.5 µm. These particles are invisible to the naked eye. As small as they are – especially the particles of the size PM2.5 – they can reach the pulmonary alveoli. Yet more minute particles of less than 1 µm can even reach blood vessels.
In our everyday life, we are exposed to countless potential sources of fine particulates. No matter whether you are living or working next to an extremely busy road or near an industrial area – it is likely that the fine particulate burden of your breathing air is increased. In rooms and buildings where many people are situated, the CO₂content often increases above average.
But also ordinary things and tasks such as cooking, vacuuming, candle or tobacco smoke – just like the emissions from heat sources (e.g. stoves and fireplaces) – can have a direct negative effect on the indoor climate and consequently the well-being. For an increased concentration of fine particulates and CO2 in the air can not only affect the overall well-being, but also be responsible for difficulties in concentrating and insomnia as well as for various allergic reactions. On a long-term basis, the exposure to fine particulates increases the risk of developing cardiovascular and respiratory diseases, even pulmonary cancer.
Using the convenient particle measuring device BQ30 you can always keep an eye on the fine particulate, CO₂, air temperature and humidity values. This way, you can improve the room climate through fresh air supply or the effective use of air cleaners, humidifiers or dehumidifiers whenever required.
The compact, long-term air quality monitor BQ30 allows you to simultaneously detect both critical fine particulate concentrations and CO2 emissions in the air in a reliable and precise way. Additionally, the convenient all-round measuring device also measures the air temperature and humidity level.
Mobile laser particle counters are the ideal solution for monitoring, securing and assessing the air quality.
The large 3" colour LCD display of the BQ30 allows you to simultaneously read the particle mass concentration in the air, the CO2 content, the air temperature, the relative humidity level as well as the date, the current time and the battery status. Moreover, a coloured bargraph indicator reveals at one glance whether the particle burden is in the "green" range.
Displaying different shades of yellow, the air quality monitor BQ30 visually indicates that the measured values for PM10/PM2.5 particles are in the "normal" range. A red display corresponds to a "moderate" contamination. It is also possible to set individual thresholds based on the predefined limit values.
If the display colour changes to violet or purple, the predefined limit values for the particle quantity have been clearly exceeded. To improve the poor air quality in the short term, proper ventilation may be advisable. Equally, the values for the CO2 content in the air are also separately displayed with the corresponding colour gradations.
Automatic baseline calibration
The expected CO2 fresh air value is about 400 ppm (0.04 %vol) nowadays. The device assumes this value to be the lowest limit value (baseline). Over several days, a special algorithm now permanently checks the lowest CO2 value measured of the sensor over a preconfigured time interval and slowly corrects every long-term drift determined by comparison with the expected fresh air value of 400 ppm (or 0.04%vol) CO2. In normal indoor applications, the carbon dioxide level usually decreases almost to outdoor air level at some point during one week. By recording the values over a period of 8 days and then comparing the lowest value to the 400 pm point, the device determines whether or not it needs to adjust the zero point. This takes place fully automatically. The algorithm therefore makes use of the fact that the CO2 content in buildings and rooms regularly stabilises at a minimum for a certain period of time when they are not occupied. In rooms that are continuously occupied or where there is a constantly increased CO2 concentration (e.g. in greenhouses), this principle of automatic balancing therefore does not work.
Keep an eye on the house dust, fine particulate, soot and pollen concentration
The user-friendly, mobile air quality monitor detects and quantifies the mass concentrations of various fine particulates. For this purpose, the measuring device's laser technology easily captures even the smallest air contaminations of sizes PM2.5 and PM10 in micrograms per cubic metre.
Thanks to the adjustable time intervals, the BQ30 also allows for effective long-term control of the particle burden. Up to 5,000 data records can be saved, including both the PM concentrations and the date of detection. If desired, this large variety of data can be conveniently displayed as curve characteristics on the large 3" colour display.
With respect to the mass concentration of particle size PM2.5 you can define limit values preset in the BQ30 which, when exceeded, trigger an acoustic alarm signal. Additionally, a six-level colour display indicating the respective alarm levels helps you to quickly assess the current state of the particle concentration ranging between good and highly critical.
All-round measuring device monitoring your feel-good climate
Furthermore, the handy all-round measuring device simultaneously also detects other room climate parameters relevant to health, such as the CO₂burden in ppm, the air temperature ranging from -20 to 70 °C as well as the humidity level of 0 to 100 % RH. The measured PM10 and CO₂ values are displayed on an automatically alternating indication. Another three-colour indicator completes the user-friendly visualization of these two parameters in particular, indicating the air quality on a scale from good to poor. 
Its precise measurement results, wireless and untiring battery operation, low weight and compact dimensions make the air quality monitor BQ30 the perfect companion for wherever a detection of a potentially harmful fine particulate and CO₂pollution is required.
Technical details of the BQ30
All particle counter for air quality in direct comparison:
To find the particle counter which exactly meets your requirements, please consult the concise overview of all particle counters for air quality from Trotec, which we're providing to you here so that you can compare them directly to each other.
Models which you do not wish to include in your comparison can be easily dismissed with only one click.
A few practical benefits:
Long-term air quality monitor for simultaneous detection of particle mass concentration in the air
Measurement of fine particulates with a max. diameter of PM2.5 and PM10
Indication of CO2pollution, current room temperature and humidity level
Automatic Baseline Calibration
Memory space for up to 5,000 data sets
Bar graph indicator
Additional colour indicator display with automatic acoustic alarm for the quick detection of critical particle concentrations
Automatic switch-off
3'' colour display for simultaneous indication of all measured parameters
Battery and mains operation possible
Adjustable display brightness
Automatically alternating indication of all measured climate parameters
Date and time indication
Language selection
Battery status indication
standard equipment
optionally available
not available
Buy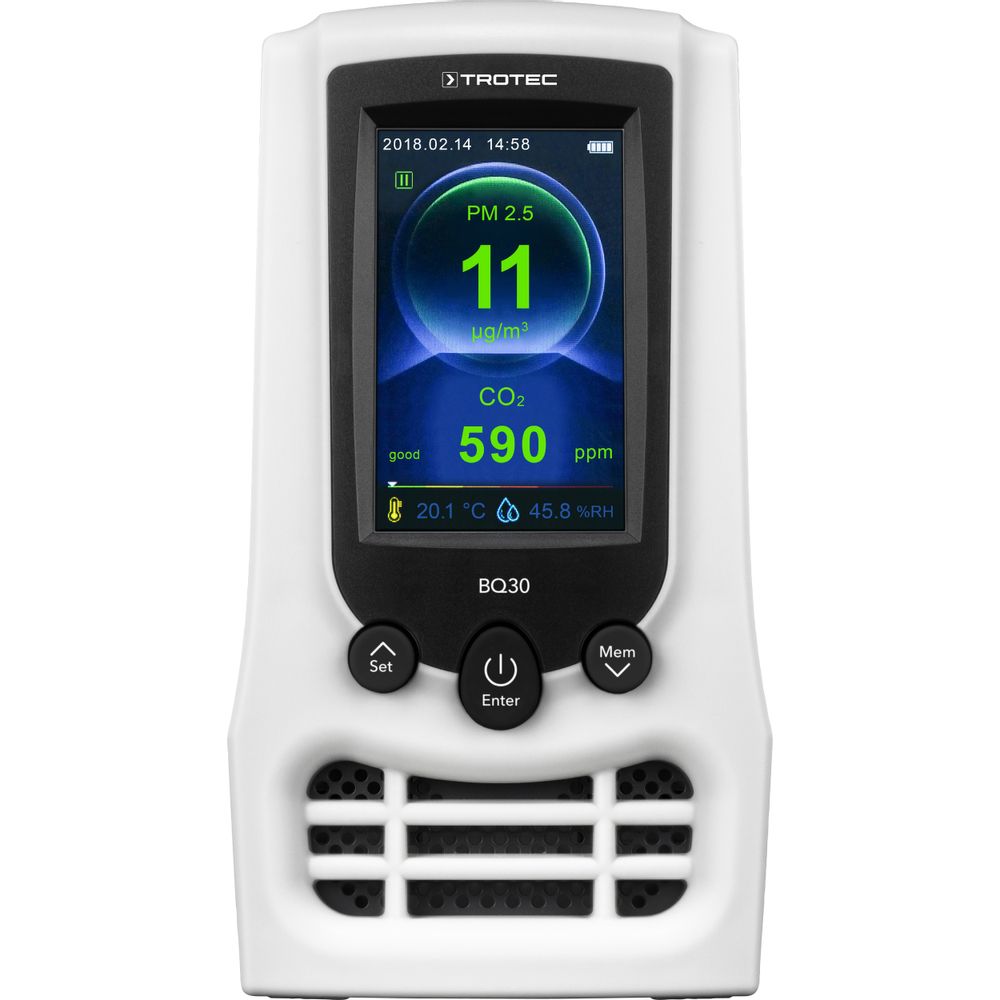 Technical data
Technical data
General information
Article number
3.510.205.098
Particle concentration
Number of channels
2
Channel sizes
2.5 µm, 10 µm
Counting modes
Cumulative
Counting efficiency
100%
Detector type
Light scattering
Particle mass conversion
Min. measuring range | Particle mass conversion [µg/m³]
0
Max. measuring range | Particle mass conversion [µg/m³]
2,000
Resolution | Particle mass conversion [µg/m³]
1
Carbon dioxide (ppm)
Min. measuring range | Carbon monoxide [ppm]
0
Max. measuring range | Carbon dioxide [ppm]
9,999
Accuracy ± | Carbon monoxide [%]
5
Resolution | Carbon monoxide [ppm]
1
Air temperature
Min. measuring range | Air temperature [°C]
-20
Max. measuring range | Air temperature [°C]
70
Min. measuring range | Air temperature [°F]
-4
Max. measuring range | Air temperature [°F]
158
Accuracy [°C]
2
Resolution [°C]
0.1
Resolution [°F]
0.1
Relative humidity
Min. measuring range | Relative humidity [% RH]
0
Max. measuring range | Relative humidity [% RH]
100
Accuracy 0 % - 20 % [%]
5
Accuracy 20 % - 80 % [%]
3.5
Accuracy 80 % - 100 % [%]
5
Display resolution [% RH]
0.1
Display
3" TFT LCD display
Memory organisation
Internal flash memory
Internal flash memory
Power supply
Internal battery (Li-ion)
Via mains voltage
Battery type
1 x 3.7 V lithium polymer battery
Ambient conditions
Operation - min. temperature [°C]
0
Operation - max. temperature [°C]
50
Operation – max. relative humidity (non-condensing) [%]
100
Dimensions
Length (packaging excluded) [mm]
85
Width (packaging excluded) [mm]
75
Height (packaging excluded) [mm]
155
Weight
(packaging excluded) [kg]
0.36
Standard scope of delivery
Standard scope of delivery
Measuring device
Lithium polymer battery
Mini USB cable
Charger (USB 5 V, 1 A)
Operating manual
Ascertainable measured values and functions
Internal sensors
Mass concentration PM2.5/PM10
CO2
Temperature [°C]
Temperature [°F]
Relative humidity [%]
Functions and features
Automatically alternating indication of all measured climate parameters
Simultaneous measurement PM2.5 and PM10
Measurement of temperature, relative humidity, CO2, configurable measuring rate, optional XY-diagram
Automatic Baseline Calibration
Visual alarm function
Acoustic alarm function
Memory for 5,000 measured values
Bar graph indicator
Date
Time
Adjustable display brightness
Automatic switch-off
Battery status indication
standard equipment
optionally available
not available
Alternative products
Loading...