Particle measuring device BQ21
Bluetooth® environmental measuring device with smartphone app for recording/evaluating pollution with particulate matter due to inhalable dust (PM10) and alveolar dust (PM2.5)
Particle measurement protects employees, customers, guests and students
Excessive dust exposure at the workplace does not only endanger the health of employees and colleagues. Inventory, products that are to be processed and technical equipment also suffer from increased particle concentrations in the room air. For this reason, many countries have established statutory limit values for fine dust concentrations. Complying with these limit values must be regularly checked, especially in the workplace, but also in schools, daycare centres, care facilities and public authorities.
Inspecting the air quality made easy BQ21 with bluetooth® connectivity
With the smart bluetooth® hand-held measuring device BQ21, you can keep an eye on the particle load in the surrounding air even over longer periods of time. The particle measuring device with a flash memory for 5,000 data sets records all health-relevant room climate parameters such as air temperature, humidity level and dust fractions (< 10 micrometres) as PM10 and PM2.5 according to the internationally acknowledged PM standard (Particulate Matter, number, size and mass concentration of particles in the air). The air pollution is displayed on the 2.0 inch colour display either numerically in micrograms per cubic metre (µg/m³) of room air or as number of particles. Moreover, a colour bar indicates the current particle burden.
Acoustic alarm signal for poor air quality
Particularly convenient: The limit values for good air quality defined by the WHO (World Health Organization) are already saved in the BQ21. If the particle load or particle concentration exceeds the WHO alarm limit, an acoustic signal will be emitted.
Evaluation and documentation including MultiMeasure mobile app
As an environmental measuring device of the latest generation, the BQ21 is 100 per cent "MultiMeasure Mobile ready" and thus prepared for all requirements of professional measurement data evaluation and documentation. Via the integrated Bluetooth® interface, the recorded measurement data is easily and conveniently transferred to a smartphone or tablet, where it can be professionally evaluated or recorded with the free MultiMeasure Mobile app.
The advantageous combination of the BQ21 and professional MultiMeasure mobile evaluation software allows you at any time to quickly and reliably draw statements about the prevailing fine dust concentration in the room air. With our professional, cloud-based software MultiMeasure Professional, a wide range of analysis options is included such as the logging function for long-term measurements, graphic evaluations, the report function and data synchronisation.
Health hazards caused by inhalable and alveolar dust
Particulate matter that is dangerous to your health is a complex combination of various particles and is divided into different fractions based on size. Dust can cause severe irritation and diseases of the respiratory tract, skin and eyes depending on the type, particle size and place of deposit.
Therefore, regular checks of the particle load in the room air is recommended in order to implement targeted solutions to reduce the particle load and to protect all present persons.
Inhalable dust (PM10) – suspended particles inhaled through mouth and nose
Dust that can be inhaled and advances right up into the nasal cavity is called inhalable dust (formerly called "coarse dust"). It defines all dust particles with an aerodynamic diameter of less than 10 µm as dust particle size PM10. This highly visible dust is mostly produced on construction sites, in the production sector or when performing craftwork and is also carried into the room when windows are open.
Alveolar dust (PM2.5) – ultra-fine alveolar suspended particles
The dust particle size PM2.5  is also known as alveolar dust and comprises ultra-fine particles with an aerodynamic diameter smaller than 3 micrometres. These ultra-fine particles are so small that they can penetrate even the smallest branches of the lungs, the alveoli (pulmonary alveoli). The best-known sources of particulate matter include emissions from combustion engines and industrial facilities, but also the abrasion of brakes and tyres on the road. This means that even modern electric cars produce harmful particulate matter.
For comparison: A human hair has a diameter of approx. 50 to 70 µm which is 5 to 7 times larger than inhalable dust and up to 28 times larger than alveolar dust.
MultiMeasure Mobile app – smart measuring data acquisition and evaluation of measuring data
With the free MultiMeasure Mobile app the captured measurement data becomes even more transparent. Just like the analysis software MultiMeasure Studio Professional 2.0 developed by Trotec for administration, analysis and report generation of measurement data on your PC, the free MultiMeasure Mobile app for Android and iOS devices also allows for professional measurement data management with a multitude of useful functions. The BQ21 hand-held measuring device and numerous other measuring devices with bluetooth® interface are automatically identified by the app and can be quickly, easily and wirelessly connected to the mobile terminal device.
The functionality of the MultiMeasure Mobile app is way beyond the simple indication of the captured measurement values. All recorded data can be displayed either numerically or in form of a chart and, by means of the logging function, can also be recorded as a series of measurements for long-term evaluation. Assigning measurement data to different projects (e.g. departments, rooms, buildings, etc.) with the app that handles a great number of clients is a child's play – including text and report templates for professional measurement data reports.
Info video on appSensors and MultiMeasure Mobile
In our video you can get a quick overview of the measurement options of the Trotec appSensors and get first insights into the functionality of the MultiMeasure mobile app. Watch it now!
Technical details of the BQ21
All particle counter for air quality in direct comparison:
To find the particle counter which exactly meets your requirements, please consult the concise overview of all particle counters for air quality from Trotec, which we're providing to you here so that you can compare them directly to each other.
Models which you do not wish to include in your comparison can be easily dismissed with only one click.
A few practical benefits:
Compact environmental measuring device for the detection of particulate matter pollution and climate data
2'' colour display for simultaneous indication of all measured parameters
Memory space for up to 5,000 data sets
Direct conversion and display of the concentrations of inhalable and alveolar dust fractions contained in the room air stated in µg per m³ of air
Additional colour indicator display with automatic acoustic alarm for the quick detection of critical particle concentrations
Automatic switch-off function
Integrated tripod connection and foot
MultiMeasure Mobile – all of the app's advantages at one glance:
Automatic identification of the BQ21 and other measuring devices with bluetooth® interface
Quick and intuitive navigation
Numerical measured value indication or else in form of a chart / matrix
Integrated report function for the documentation directly on site
PDA function for the organization of measurement data and documents
Customer management already integrated
Manifold analysis options directly in the app
Storage of measured values linked to photos
Matrix measurements, also linked to photos
Complete data synchronization with MultiMeasure Professional via cloud
standard equipment
optionally available
not available
Buy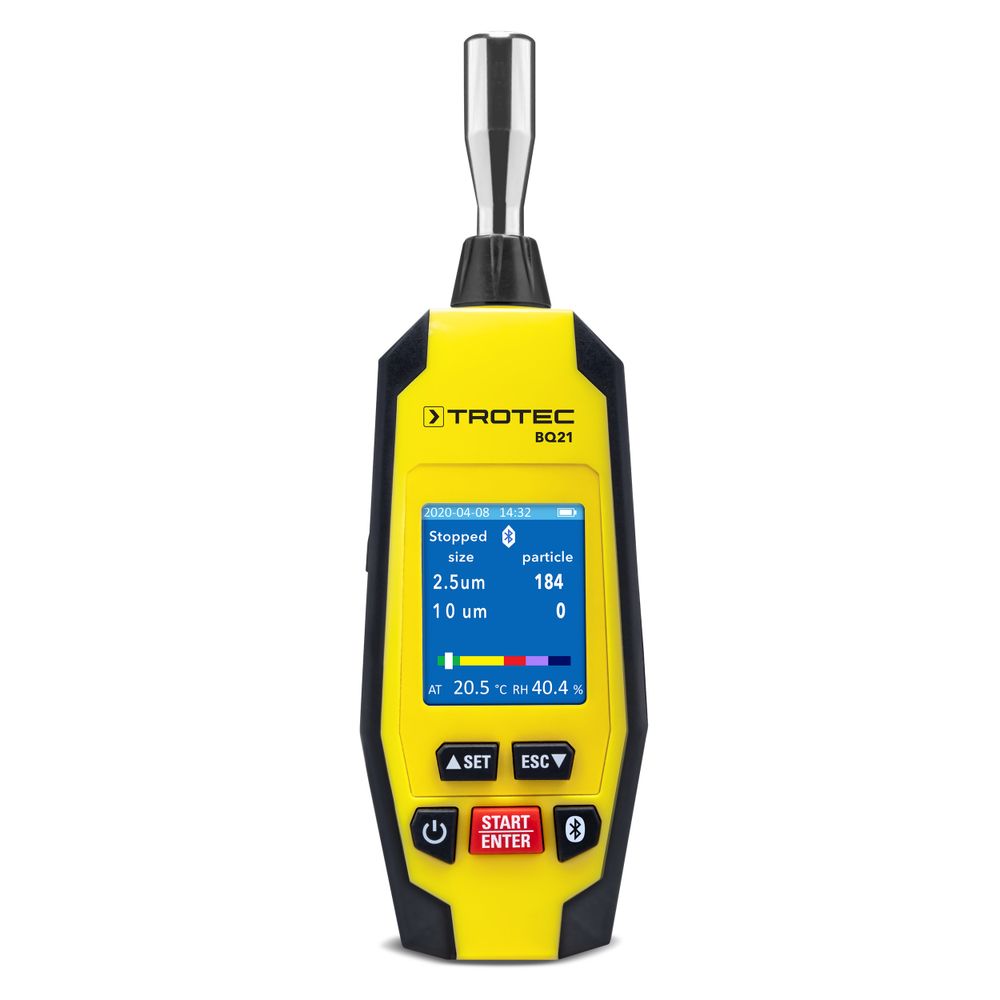 Technical data
Technical data
General information
Article number
3.510.205.095
Particle concentration
Number of channels
2
Channel sizes
2,5 µm, 10 µm
Detector type
Light-scattering measurement
Particle mass conversion
Particle mass conversion
2.5 µm, 10 µm
Min. measuring range | Particle mass conversion [µg/m³]
0
Max. measuring range | Particle mass conversion [µg/m³]
2,000
Resolution | Particle mass conversion [µg/m³]
1
Air temperature
Min. measuring range | Air temperature [°C]
0
Max. measuring range | Air temperature [°C]
50
Min. measuring range | Air temperature [°F]
32
Max. measuring range | Air temperature [°F]
122
Accuracy ± 0 °C - 50 °C [°C]
1
Accuracy ± 32 °F - 122 °F [°F]
2
Resolution [°C]
0.1
Resolution [°F]
0.1
Relative humidity
Min. measuring range | Relative humidity [%]
0
Max. measuring range | Relative humidity [%]
100
Accuracy 0 % - 20 % [%]
5
Accuracy 20 % - 80 % [%]
3.5
Accuracy 80 % - 100 % [%]
5
Display resolution [% RH]
0.1
Display
TFT colour LCD 2.0"
220 x 176 px
Memory organisation
Internal flash memory
5.000 measurements
Interfaces
Bluetooth
Power supply
Internal battery (Li-ion)
Housing design
Plastics
Ambient conditions
Operation - min. temperature [°C]
0
Operation - max. temperature [°C]
40
Operation – max. relative humidity (non-condensing) [%]
80
Storage - min. temperature [°C]
-10
Storage - max. temperature [°C]
50
Storage - max. relative humidity [%]
90
Dimensions
Length (packaging excluded) [mm]
188
Width (packaging excluded) [mm]
35
Height (packaging excluded) [mm]
52
Weight
(packaging excluded) [kg]
0.175
Standard scope of delivery
Standard scope of delivery
Measuring device
Li-ion battery (integrated)
Wire stand
Mini USB cable
Charger (USB 5 V, 1 A)
Getting started guide
Battery(-ies)
Ascertainable measured values and functions
Internal sensors
Particle concentration [n/l]
Air temperature [°C]
Air temperature [°F]
Relative humidity [%]
Functions and features
Simultaneous measurement PM2.5 and PM10
Bar graph indicator
Switching function °C/°F
Memory for 5,000 measured values
Bluetooth interface
Automatic switch-off
Time
Battery status indication
¼ inch tripod thread
Integrated foot
standard equipment
optionally available
not available
Alternative products
Loading...