Local air conditioner PAC 2600 X
3-in-1 air conditioner: air conditioning system, fan and dehumidifier – all in one
Reliable countermeasure for summer heat
The next heat wave is bound to come! For this reason you should make the according arrangements at an early stage so that you can just lean back and chill in an agreeable room climate during hot summer days. With a cooling capacity of 2.6 kW / 9,000 Btu/h the mobile comfort air conditioner PAC 2600 X is ideally suited for rooms sized 34 m² or 85 m³. With it, heated up interior spaces can be cooled down to a feel-good temperature ranging between 17 °C and 30 °C. In addition, the all-rounder comes with an adjustable two-stage fan ensuring a fresh breeze and air circulation in the room –even without activating the refrigerating compressor. The air discharge direction can easily be set via adjustable fins.
The dehumidification function of the PAC 2600 X fights the oppressive, muggy air. It withdraws the moisture and thus creates a more agreeable room climate. Moreover, dehumidification prevents unhealthy mould growth. Due to internal condensate recycling the condensation tank only rarely needs to be emptied seeing as the condensed water is reused for cooling the condenser by an intelligent recycling system. Consequently, the majority of the water evaporates. The three functions cooling, ventilation and dehumidification can be used independently which renders the device suitable for use all year round. In order to also filter out fluff, dust and animal hair from the breathing air, an easy-to-clean air filter is flush-mounted to the rear of the device.
Provides cooling at home, in the office or a hotel room – with a low power consumption
Using the mobile air conditioning system PAC 2600 X you can ban the searing heat from the house even during hot spells with record temperatures. Owing to energy efficiency category A, the ongoing consumption costs are kept at a reasonable level. In order to reduce the energy demand the device automatically ensures that the refrigerating compressor will be switched off upon reaching the preset target temperature. The device will only resume cooling when the desired temperature value is exceeded.
PRODUCT BROCHURE
Enjoy pleasant refreshment! You can also find all the relevant information about our comfort air conditioning units in the product brochure. Download the PDF directly here.
Propane (R290) as environmentally friendly refrigerant in air conditioning systems
Every year, several million tons of harmful CO2 emissions (greenhouse gas) are emitted to the atmosphere due to synthetic refrigerants. For this reason, the utilization of alternative refrigerants has become one of our key objectives. By using propane (R290) as refrigerant this air conditioner makes a valuable contribution to protecting our climate.
The natural refrigerant propane (R290) is an organic compound belonging to the group of hydrocarbons. Unlike synthetic refrigerants the environmentally friendly propane (R290) comes with neither ozone depletion potential (ODP = 0) nor a noteworthy greenhouse effect (GWP = 3).
Additional bonus for the environment: Owing to its excellent thermodynamic properties, propane (R290) is a particularly energy-efficient refrigerant thereby additionally reducing your energy costs. 
Enjoying the bright side of life – chilling in comfort
All settings can not only be made via the neatly arranged and easy-to-use LED display but also by means of the convenient infrared remote control. Owing to the intelligent Follow Me function the remote control measures the temperature at the present site and automatically sends the value to the air conditioner. Consequently, the air conditioner keeps track of the temperature along with your every move and regulates the cooling accordingly. For a yet greater user comfort the preferred settings can be saved and called up again at any time using the remote control. After a power outage the integrated memory function ensures that the device will restart with the previously selected settings.
Cooling and refreshment on schedule with the timer function 
An individual feel-good climate straight to the point: Use the 24-hour timer to programme the switch-on or switch-off time of the PAC 2600 X in a way that coincides with your daily rhythm. For instance, you can start into your work day with agreeable temperatures or use the timer to ban the heat that has built up during the day from your bedroom in time before retiring to bed for a good night's rest. The device is equipped with recessed handles and low-friction rollers permitting the quick and easy transportation into other rooms equally in need of a fresh breeze.  
Smart and alert – the night mode ensures you wake up well rested 
Using the night mode function allows you to relax and drift off to sleep in a cooled bedroom. Over time the temperature is gradually increased by 2 °C and then maintained. An automatic fan stage ensures a soothing air circulation. With merely 53 dB the cooling operation of the PAC 2600 X is fairly quiet and the light of the LED display can be switched off altogether.
Calculation of the required cooling capacity
Find out how to easily calculate the cooling capacity required for your living and office spaces.
How much power is required to cool a room? The rule of thumb: Every cubic metre of room volume requires a cooling capacity of 30 watts (1 m³ = 30 W).
Using this blanket value the required cooling capacity can be determined quickly and easily for every room size. Example: Assuming a room with 35 m² of floor space and a room height of 2.5 m ... The resulting calculation reads as follows:
Room volume calculation:
34 m² of floor space x 2.5 m ceiling height = a room volume of 85 m³

Calculation of the cooling capacity required for the room volume:
85 m³ cubature x 30 watts of cooling capacity = required cooling capacity of 2,550 watts

Conversion from watt to kilowatt:
2,550 W= 2.6 kW

Result: In a room with 34 m² of floor space and a height of 2.5 m you need an air conditioner with a cooling capacity of 2.6 kW – such as the PAC 2600 X.
This is only a rough calculation formula for living and office spaces with modern insulation (passive house standard), though. The required cooling capacity further depends on the room's "thermal load": For selecting an appropriate air conditioner, the factors of insolation, insulation, window dimensions, the number of persons as well as the heat sources play an equally important role.
You would like to find out more? Our info page "Practical knowledge concerning air conditioning" contains all the important information. By reading it you will quickly become an air conditioning expert.
AirLock window and door seals
ACCESSORY TIP: AirLock window seals prevent warm air from streaming back into the room you are trying to cool.
The warm air is discharged through an air conditioner's exhaust air hose and thus through a window into the open air. In order to keep the warm air from streaming right back into the room through the window gap we recommend using AirLock window or door seals.
The window seal AirLock 100 is suitable for windows with a maximum perimeter of up to 4 metres. The hose can be attached to any type of window (casement, bottom-hung or skylight windows). With the Velcro® tape mounting between window and frame only takes a few steps. This ensures an optimal cooling efficiency in the room and substantially reduces the consumption costs of your air conditioner.
Also perfect for floor-to-ceiling windows or balcony and patio doors.
The convenient door and window seal AirLock 1000 was specifically designed for sealing floor-to-ceiling windows or balcony and patio doors – it is the only window seal on the market that has a perimeter of up to 5.6 metres. The AirLock 1000 can be used for both one- or two-hose devices. Further information on all available AirLock versions is provided here.
PAC 2600 X – special equipment features
Cooling down in every room
All Comfort air conditioners of the PAC series in direct comparison:
To find the Comfort air conditioners of the PAC series which exactly meets your requirements, please consult the concise overview of all Comfort air conditioners of the PAC series from Trotec, which we're providing to you here so that you can compare them directly to each other.
Models which you do not wish to include in your comparison can be easily dismissed with only one click.
A few practical benefits:
Energy efficiency category A
2.6 kW cooling capacity
Three operating modes: cooling, ventilation, dehumidification
Two fan stages
Timer function
Practical LED display
Room temperature display
Easy-to-clean membrane keypad
Adjustable air discharge direction
IR remote control
Removable air filter
Air cleaning function (animal hair, fluff, dust)
Quiet operation < 53 dB(A)
All important features at a glance
Monobloc or split? One-hose or two-hose technology?
Don't get hosed by competitive statements, we provide the big picture. Before purchase make sure to get an overview of device differences, functional principles and possible applications.
Trotec, your climate expert, has compiled the most important facts in a reader-friendly overview! Direct link to the "Practical knowledge concerning air conditioning" ...
A boost of freshness: Enjoy maximum refreshment anywhere in the room!
Do you want to additionally support the effect your air conditioner has? In order to really distribute the cool air into every last corner of the room we recommend using the powerful fan TFH 2000 E with turbo spin technology. The extremely compressed turbulent air flow gushes out of the TFH 2000 E as tornado-like air column that revolves around itself and advances deep into the room. The air current breaks through warm and cold room air zones mixing it all up. The exiting air current encounters the opposite wall or the ceiling and from there is deflected to all sides.
In a constant circulation the air returns to the rear of the fan flowing along the side walls and the ceiling. It is sucked in once more to start a new cycle. This effective turbo spin method ensures maximum circulation and mixing of the room air. The temperature difference between cold air near the ground and warm air just beneath the ceiling is substantially reduced, instead the air temperature in the entire room is noticeably evened out.
Optimum room temperature control with the socket thermostat BN30
Just install it in the socket and connect it to the heating or cooling device on the socket thermostat BN30, and you can have your heating or cooling unit automatically switched on and off by the BN30 depending on the temperature. The socket thermostat available as an accessory is individually adjustable within a temperature range from 5 °C to 30 °C.
Radio thermostat BN35 with timer switch for the socket
With the radio thermostat BN35 you can easily determine at which room temperature your heating or cooling unit will switch on or off using the remote control. The BN35 set consists of a radio-controlled socket and a radio thermostat. Simply plug the radio-controlled socket in between a wall outlet and your heating or cooling unit. Place the radio thermostat within approx. 20 metres in the place where the room temperature is to be measured. As an alternative, time-controlled regulation can also be carried out.
standard equipment
optionally available
not available
Buy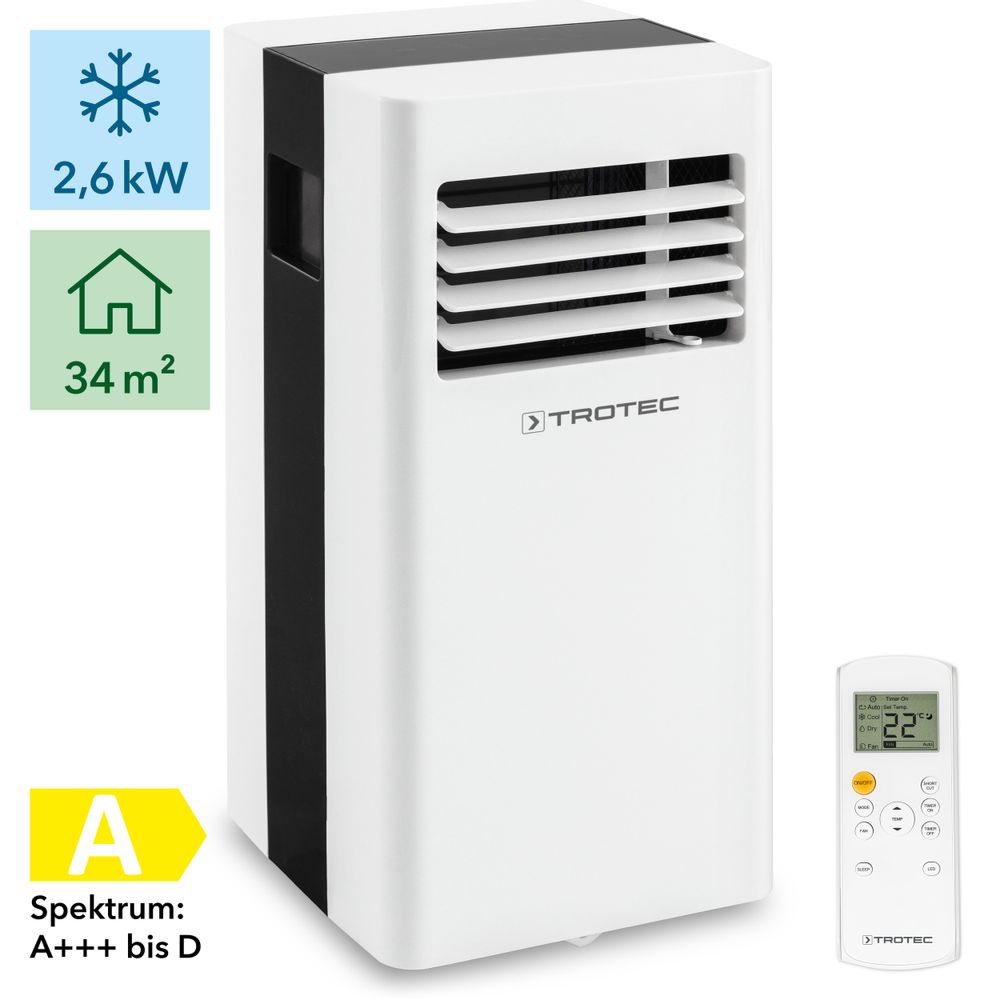 Technical data
Technical data
General information
Article number
1.210.002.020
Type
Monobloc
Split
Cooling capacity
Max. cooling capacity [kW]
2.6
Max. cooling capacity [Btu/h]
9,000
Recommended room size
m³
85
m²
34
Air flow rate
Level Max. [m³/h]
295
Fan
stages
2
Radial
axial
Dehumidification performance
Max. dehumidification performance [l/h]
2.1
Attainable room temperature
(min.) depending on operating conditions [°C]
17
(max.) depending on operating conditions [°C]
30
Cooling medium
Cooling medium
Air
Ambient conditions
Min. temperature range [°C]
17
Max. temperature range [°C]
35
Electrical values
Mains connection
220 - 240 V, 50 Hz
Power input [kW]
1.3
Nominal current consumption [A]
4.35
Recommended fusing [A]
10
Electric connection
Connection plug
CEE 7/7
Cable length [m]
1.5
Compressor
Minimum room size [m²]
9
refrigerant
R290
Amount of refrigerant [g]
170
GWP factor
3
CO2 equivalent
0.00051
Pressure suction side [MPa]
1
Pressure outlet side [MPa]
2.6
Sound values
Noise emission [dB(A)] according to EN ISO 3745:2012
63 dB(A)
Level 1 - Distance 1 m [dB(A)]
53
Exhaust air
Total length [m]
1.5 m
Diameter [mm]
150
Dimensions
Length (packaging excluded) [mm]
355
Width (packaging excluded) [mm]
345
Height (packaging excluded) [mm]
703
Weight
(packaging excluded) [kg]
25
Equipment, features and functions
Condensate draining
Exhaust air
With condensation tray
With condensate drain
With water tank
Timer function
Switch-on time preselectable
Switch-off time can be preselected
Room thermostat
Available
Room air filter
Readily accessible
Cleanable
Additional functions
Dehumidification function
Ventilation function
Automatic function
Follow Me function
Automatic fault diagnosis
Adjustable air discharge direction
Sleep mode
Fan rundown function
Auto restart function
Heating function
Turbo cooling function
Control panel
Mikroprozessorgesteuerter Betrieb
Membrantasten
LED display
Mobility
Carry/transport handle(s)
Plastic wheels
Rubber-tyred metal wheels
Non-marking full-rubber wheels
Swivel casters with parking brakes
Adjustable bar handle
Crane
Forklift
Housing design
Plastics
standard equipment
optionally available
not available
Alternative products
Loading...