Deep well pump TDP 7500 E
Powerful 1,500 W stainless steel pump (INOX) with a flow rate of up to 4,800 l/h
FREE SERVICE WATER FOR YOUR HOME AND GARDEN
Become independent of the local water supplier by using the deep well pump TDP 7500 E made of stainless steel to utilize rain or ground water and thus to save money day in and day out. Making use of pumped well water considerably reduces your consumption of expensive drinking water. With 1,500 watts of power and a delivery head of 93 metres the deep well pump TDP 7500 E transports up to 4,800 litres of service water per hour from well, water reservoir or rainwater cistern. Sustainable and cost-effective! As their name implies deep well pumps are simply made for pumping water from great depths.
One pump for a variety of applications.
The deep well pump TDP 7500 E is an economical pro tool for watering thirsty plants and large lawns with pumped service water – also from greater depths. The irrigation can optionally be accomplished by connecting a garden hose, lawn sprinkler or irrigation system. Naturally, the pump TDP 7500 E ensures a sufficient pressure and performance level for the simultaneous operation of several consumers – whether they are located in the garden or your house. For the TDP 7500 E can also be used to substantially, sustainably and permanently reduce your household expenses. Application examples for the supplementary water supply include the operation of washing machines or flushing the toilet with clear water. You can save money with each laundry load rather than sending your water meter soaring as usual.
The integrated dirt strainer of the deep well pump TDP 7500 E ensures clean water with filtered out dirt particles. On top of that, rainwater is softer and contains less lime than standard tap water which proves beneficial for washing machine and water-bearing lines and components in general.
REASONABLE FROM AN ECOLOGICAL AND ECONOMICAL VIEWPOINT
Water is and will remain a valuable resource that should be treated responsibly. Your decision to purchase a TDP 7500 E is definitely the right choice – and not just in the light of global warming and climate change. In recent years, the costs for drinking water have increased noticeably and substantially. By investing in a deep well pump you become independent of these price rises and instead make use of freely available service or ground water for your own self-sufficient water supply.
Trotec's deep well pumps are highly efficient submersible pressure pumps which – due to their special design and high-quality technology – can be used in drilled wells with a minimum diameter of 11 centimetres. For the unproblematic water transport from great depths the standard equipment contains a connection cable of 23 metres length and suspension eyes for lowering the pump into wells, cisterns, drainage shafts or similar. Like all submersible pressure pumps our deep well pumps, too, are optionally suited for either fixed installation or the mobile application at various sites.
From now on treat rising costs like water off a duck's back!
Self-pumped water saves money in the long run and the space requirements for a well of your own aren't all that grand. With a diameter of 10 cm the TDP 7500 E requires only a minimal working surface. Your garden's overall appearance remains unaffected. The investment for installing a well in your own garden (if not already present) will quickly redeem itself over the course of only a few years – depending on the individual usage intensity. Specialized well builders can help you in the planning and construction phase of your own garden well.
Prime quality and workmanship
The watertight pump housing made of stainless steel (INOX) satisfies even the highest corrosion-related requirements and protects the maintenance-free copper motor from mechanical influences when the pump is lowered into the well. The robust and durable finishing further guarantees a long-lasting operation of the pump in continuous underwater application. Designed for maximally maintenance-free operation, the TDP 7500 E comes equipped with a stainless steel dirt strainer that provides protection against the contamination with particles to a size of 2.3 mm, a check valve with backflow preventer and a thermal circuit breaker.
Convenient and sophisticated:
The 23 m underwater cable permits a convenient power supply and the external control box with on/off switch can be operated from a location that is far away from the pump's installation site. For lowering the pump using a rope the pump housing has two practical suspension eyes located at the top of the device.
MAXIMALLY SECURED, DUST- AND WATER-PROOF
When water and electricity flow through a device at the same time, state-of-the-art protective devices are a must. With a deep well pump in watertight encapsulation you are always on the safe side. The TÜV-tested TDP 7500 E is dust- and water-proof as per protection type IP68. Accordingly, the pump can be left inside the well even during periods of non-use. Thanks to protection type IP44 the splash-proof control box can also be assembled in outdoor areas sheltered from the rain.
Submersion depth, delivery head and flow rate
With a high pressure of max. 9.3 bar, a maximum delivery head of 93 metres and a submersion depth of up to 20 metres the TDP 7500 E comes optimally prepared for pumping clear water from wells, rainwater cisterns and other alternative water sources situated at great depth. Due to their compact diameter of only 100 mm the pump can be used in narrow bore hole diameters starting at 110 mm.
Special equipment features of the TDP 7500 E
Finding a suitable deep well pump that meets your individual requirements
The water consumption of a lawn sprinkler depends on the hose diameter and the feed pump's water pressure.
Here is a rule of thumb for determining at least an approximate water demand: A customary lawn sprinkler needs roughly 800 to 1,200 litres of water per hour*
*depending on the water pressure
The further up the deep well pump has to transport the water, the lower will be the water pressure and the maximum flow rate in litres per hour. For this reason you should make sure the pump you choose is sufficiently dimensioned. Calculate the anticipated water demand and then decide in favour of the TDP deep well pump that best meets your individual requirements.
The deep well pump TDP 5500 E transports up to 6,000 litres per hour which – depending on the delivery head – is sufficient for the simultaneous water supply of several sprinklers.
If you want to make use of a smaller number of sprinklers, but they are located further away from the well, we recommend the deep well pump TDP 7500 E – it achieves a delivery head of up to 93 metres. With a flow rate of 4,800 litres per hour it also permits a sufficient pressure level for the parallel operation of several lawn sprinklers.
The ideal supplement: Pressure switch for automatic pump control
With an electronic pressure switch you can control your water pump automatically without having to switch the pump on or off manually. The pressure switch monitors both the water pressure and the flow rate in the pipe and switches the pump connected on and off automatically when the tap or garden hose is used. In addition, the pressure switch protects the pump against running dry and in this way extends its service life. For our garden pumps of the TGP series we recommend using the electronic pressure switch TDP DSP as a convenient Plug & play solution. With their integrated mains power socket the Trotec garden pumps can be easily connected to the pressure switch using a mains plug. For Trotec's deep well pumps of the TDP series we offer the pressure switch TDP DS. Its open cable end is connected directly to the control box of the deep well pump and the pressure switch can control the water delivery automatically. Also choose reliable Trotec brand quality when you need a pressure switch!
All Deep well pumps in direct comparison:
To find the Deep well pump which exactly meets your requirements, please consult the concise overview of all Deep well pumps from Trotec, which we're providing to you here so that you can compare them directly to each other.
Models which you do not wish to include in your comparison can be easily dismissed with only one click.
A few practical benefits:
Impressive 1,500 watts for pumping up to 4,800 litres per hour
Maximum delivery head: 93 metres
Maximum pressure: 9.3 bar
Ideal for pumping clear water from a well, rainwater cistern or shaft
For effortless service water supply or irrigation purposes in the house (washing machine, toilet) or garden (lawn sprinklers, irrigation systems)
Pump housing made of stainless steel
Robust pressure connection with brass insert
Extremely durable thanks to rust-proof stainless steel housing and copper motor
Maintenance-free motor with integrated thermal protection circuit activated by overheating of the device
Stainless steel dirt strainer
IP68 type of protection for the pump – dust-proof and suitable for continuous underwater use
IP44 type of protection for the control box – splash-proof
External switchbox
Reliable check valve preventing backflow of the conveyed medium
2 suspension eyes for lowering the pump using a rope
23 m underwater cable
Best quality guarantee
With the TDP 7500 E you are always on the safe side, for this deep well pump is supplied in TÜV-tested quality, thus guaranteeing high value, safety and functionality.
Brand quality plus cost-efficiency
Reliable, powerful and suited for the most challenging fields of application:
these are some of the quality features of Trotec's deep well pumps. Thanks to their high capacity they are able to withstand the most extreme conditions. HighPerformance for demanding applications – after all, Trotec stands for brand quality and professional solutions with an excellent value-for-money ratio!
A suitable pump for any application scenario
A less powerful deep well pump would also be sufficient? If your answer is yes, we recommend the TDP 5500 E with a delivery head of 58 metres and a conveying capacity of 6,000 litres per hours. Depending on your individual requirements Trotec's submerged clear water pumps TWP 4005 E, TWP 7505 E and TWP 9005 E recommend themselves with a delivery head of up to 11.5 metres and flow rates ranging up to 14,000 litres per hour. With a delivery head of up to 11 metres and flow rates of up to 15,000 litres per hour the submerged waste water pumps TWP 4025 E, TWP 7025 E and TWP 11025 E from Trotec are also suitable for pumping contaminated water. With a delivery head of 42 metres and a flow rate of 3,300 litres per hour the garden pump TGP 1000 E comes optimally prepared for watering applications. Without difficulty the domestic water supply system TGP 1025 E can be integrated into an existing domestic supply network and reaches a delivery head of 30 metres as well as a flow rate of 3,300 litres per hour.
standard equipment
optionally available
not available
Buy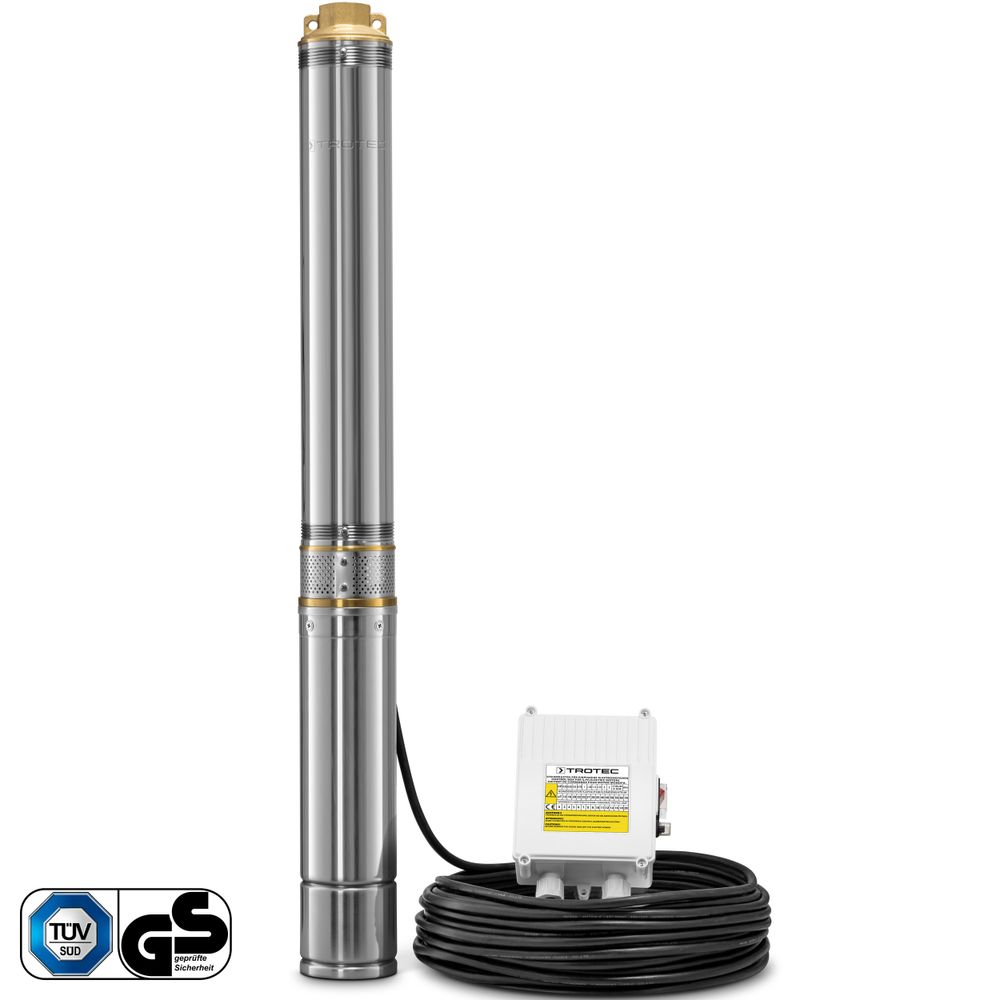 Technical data
Technical data
General information
Article number
4.610.000.215
Electrical values
Mains connection
220 - 240 V, 50 Hz
Max. power input [W]
1,500
Pump capacity [W]
750
Electric connection
Cable length [m]
23
Performance data
Max. conveying capacity [l/h]
4,800
Feed pressure [bar]
9.3
Grit of pump [mm]
2.3
Solids content in water [%]
0.25
Max. delivery head [m]
93
Number of phases
1
Max. water temperature [°C]
35
Max. submersion depth [m]
20
Minimum operating depth [mm]
930
Speed [rpm]
2,850
Min. drill hole diameter [mm]
110
Ambient conditions
Ambient temperature - min. [°C]
0
Ambient temperature - max. [°C]
35
Safety feature
Type of protection
IP68
Control box
Connection plug
CEE 7/7
Cable length control box [m]
0.94
Protection type of the control box
IP44
Housing design
Stainless steel
Functions and features
ON/OFF switch
Thermal overload protection
Thermal overload protection [° C]
100
Dry run protection
Backflow preventer – opt
Backflow preventer
Valve
Stainless steel screws
Use of a suspension cord
Suitable for both permanent operation (>10h) or salt-water operation
Continuous operation
Threaded connection
1 1/4"
Accessories scope of delivery
Adapter
Suitable for hose (hose DN)
Suitable for thread
Tear-resistant nylon cord, 12 m
Dimensions
Length (packaging excluded) [mm]
100
Width (packaging excluded) [mm]
92
Height (packaging excluded) [mm]
930
Weight
(packaging excluded) [kg]
15.5
standard equipment
optionally available
not available
Alternative products
Loading...