LED construction site spotlight PWLS 10‑30
Extra bright working light for poorly illuminated construction sites and workplaces – indoors and outdoors
Let your construction site shine bright: PWLS 10‑30
In workshops, garages, on the construction site or even in the garden at home, bright work light is indispensable for optimal work results. The PWLS 10‑30 LED construction site spotlight is made of high-quality aluminium and is equipped with a hardened glass front which serves to protect against impacts. The device provides brightly illuminated work spaces wherever lighting conditions are insufficient for performing precise work despite or due to a lack of daylight. With a powerful luminous flux output of 2,700 lm and a large radiation angle of 120°, the 30-watt construction site spotlight provides comfortable working at any time of day, even in the dark morning and evening hours.
LED construction site spotlights for any kind of application: Professional spotlights of the PWLS series
The most important criterion when selecting a construction site spotlight is its brightness. The larger the working area to be illuminated, the more lighting performance is required. For example, there is a considerable difference whether a workbench in your home workshop or an outdoor construction site is to be illuminated when dusk sets in. For this reason, Trotec offers you powerful LED construction site spotlights with different light intensities – suitable for almost all indoor and outdoor applications.
Compact lightweight device with energy-saving LED technology
Compared to conventional halogen spotlights, the PWLS 10-30 consumes up to 85 percent less power on the construction site. This is made possible by the use of state-of-the-art LED technology.
The weight of the construction site spotlight is only approx. 1 kg. Moreover, the lighting direction of the device is adjustable and a carrying handle and foot combine high light output and versatility while taking only the smallest of spaces. Thanks to its high IP65 type of protection, the spotlight is also ideally suited for outdoor use. When folded up, the lightweight device with a 1.4 m mains cable easily fits into any toolbox to bring light into the darkness when changing locations.
As flexible as your requirements – 360° adjustable illumination
No matter from which angle you look at it! Only few other devices in this price range are as conveniently adjustable as the PWLS 10-30. Whether you would like to use the device for illuminating the floor when tiling or for illuminating the ceiling when carrying out painting work – the lighting direction of the LED spotlight can be adjusted by up to 360° via two star knobs on the side. In addition, the carrying handle with insulated grip can be tilted by 75° and the foot of the device can be steplessly adjusted in order to provide secure footing.
Working precisely with TÜV-tested safety – no waiting for cool-downs
It is not uncommon to operate construction site spotlights for many hours on the construction site but the result is they will become very hot. Halogen spotlights even heat up many times more than energy-saving LED spotlights. In order to dissipate the heat, the PWLS 10‑30 is equipped with a highly developed finned heat sink at the rear of the housing. Heat is efficiently dissipated via the refrigeration unit which prevents the aluminium frame of the spotlight from heating up too much.
In the unlikely event that the device may overheat due to unfavourable construction site conditions, the spotlight is equipped with a fully automatic overheating protection. If the protective mechanism is triggered by excessive heat generation, the brightness of the LED light decreases – but the spotlight continues to provide light.
Weatherproof and impact resistant – IP65 protection type
As per IP65 type of protection, the PWLS 10‑30 construction site spotlight is protected against water jets from all directions and against the ingress of foreign objects. The robust outer housing is dust-proof and the LED front screen is made of hardened safety glass – best conditions for carrying out necessary works even in adverse weather conditions.
The LED PWLS 10‑30 LED construction site spotlight guarantees you to progress with your work while being independent from daylight. Flexibly applicable both indoors and outdoors.
Special equipment features of the LED construction site spotlight PWLS 10-30
Extra bright working light for poorly illuminated construction sites and workplaces
All work lights in direct comparison:
To find the work light which exactly meets your requirements, please consult the concise overview of all work lights from Trotec, which we're providing to you here so that you can compare them directly to each other.
Models which you do not wish to include in your comparison can be easily dismissed with only one click.
A few practical benefits
Light-intense LED work light with 48 high-performance LEDs for extra bright light with 2,700 lm
Lighting direction adjustable by 360°
Flexible handle and foot
IP65 type of protection (dust- and water-jet-proof)
Overheating protection
Colour temperature 5,000 K (daylight white)
Compact and lightweight design
Durable design thanks to high-quality aluminium
Tempered safety glass front
Less heat generation thanks to sophisticated finned heat sink
Energy-saving and environmentally friendly
Instant light without start-up delay
All important features at a glance
Compelling value-for-money ratio
When choosing a construction site spotlight so far, basically you only had two options: either good but expensive, or mainly cheap.
Trotec's PowerTools now offer a smart choice: good and cheap at the same time. For we do not only stand for brand quality where measuring devices and air conditioners are concerned, but also when it comes to power tools required for this purpose: professional Trotec solutions with an excellent value-for-money ratio!
Buy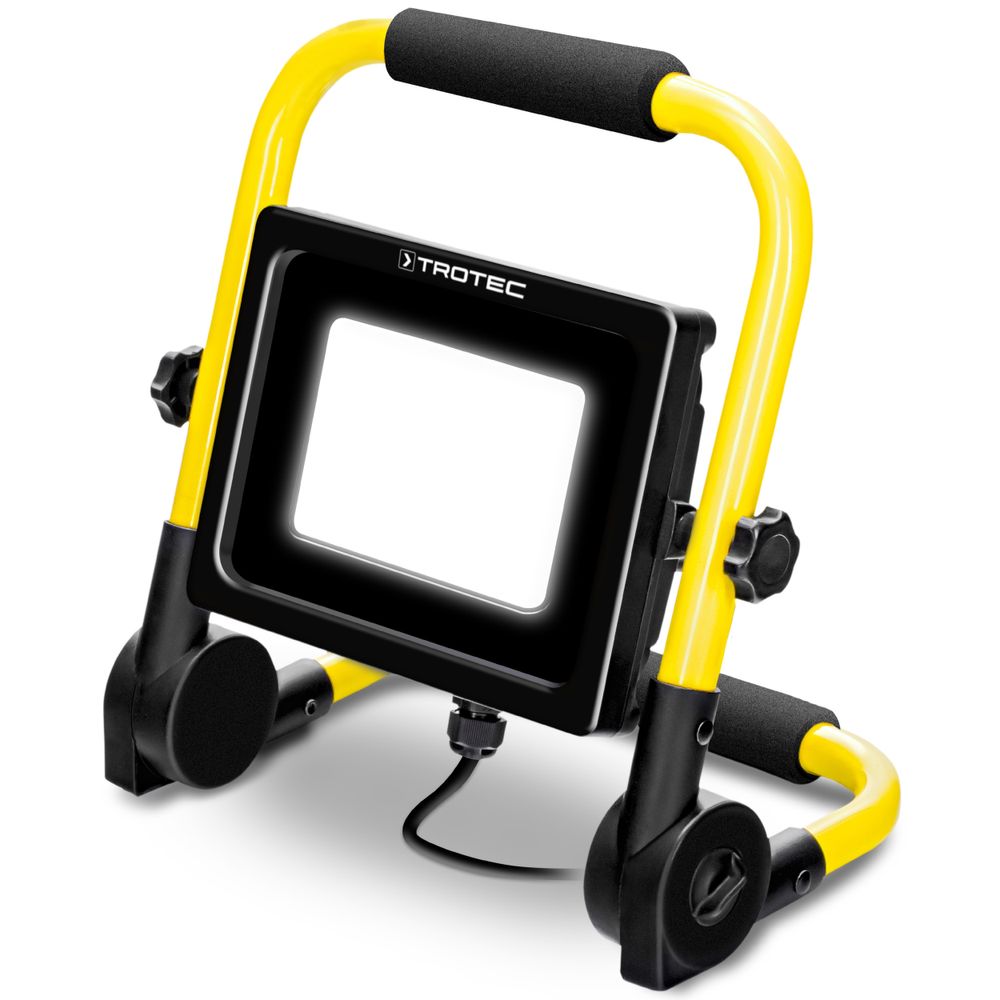 Details
Technical data
General information
Article number
4.455.000.210
Technical data
Power input Stage 1 [W]
30
Luminous flux Stage 1 [lm]
2,700
Illuminance Stage 1 [lux]
Power input Stage 2 [W]
Luminous flux Stage 2 [lm]
Illuminance Stage 2 [lux]
Colour temperature (K) [K]
5,000
Radiation angle [°]
120
Electrical values
Mains connection
220 - 240 V, 50 Hz
Cable length [m]
1.4
Connection plug
CEE 7/4
Safety feature
Type of protection
IP65
Protection class
I
Overheating protection
Ambient conditions
Operation - min. temperature [°C]
-25
Operation - max. temperature [°C]
50
Operation – min. relative humidity [% r.F.]
10
Operation - max. relative humidity [% r.F.]
90
Storage - min. temperature [°C]
-20
Storage - max. temperature [°C]
50
Housing design
Aluminium
Functions and features
ON/OFF switch
Number of LED lamp beads
48
Profiled heatsinks
Brightness levels
1
LED light, swivelling
360°
Handle, adjustable
75°
Energy-saving
Environmentally friendly
Carrying handles
Foot
Dimensions
Length (packaging excluded) [mm]
55
Width (packaging excluded) [mm]
285
Height (packaging excluded) [mm]
290
Weight
(packaging excluded) [kg]
1.5
Standard scope of delivery
Accessories scope of delivery
Belt clip
Wrist strap attachment
Transport case
standard equipment
optionally available
not available
Alternative products
Loading...