Designer air cleaner AirgoClean® 140 E/145 E
Wall-mounted air cleaners with remote control – HEPA filter + UV function to protect against viruses, bacteria, fine dust and other particles
Eliminates what's bothering you – removes 99.97 % of particles sized down to 0.3 µm from the room air
Just as innovative as the design of the AirgoClean® 140 E/145 E is its intelligent air purification system for permanent control and improvement of the room air quality. Protect your health and the health of the people around you with HEPA-filtered air that is 99.97 % free from harmful suspended particles. The AirgoClean® 140 E/145 E removes pathogenic viruses such as SARS-CoV-2 or the influenza virus, bacteria, fine dust, house dust, pollen, dust mite residues, mould spores or allergens from the room air just as reliably as cigarette smoke, smog and other unpleasant odours. Fully automatically, thanks to state-of-the-art air quality sensors. The air quality sensors of the AirgoClean® 140 E/145 E continuously monitor the room temperature and humidity as well as the air quality and microparticle load of the room air in order to clean it with an intelligently controlled air cleaning performance. The combination of triple-cleaned HEPA air, powerful air circulation (max. 330 m³/h) and three-stage ventilation with turbo mode guarantees a noticeable improvement of the air quality within a very short time.
First-class comfort with powerful HEPA filter technology
The AirgoClean® 140 E/145 E combines advanced HEPA air purification technology of the latest generation with outstanding functionality. The important room air parameters temperature, humidity, fine dust pollution and air quality are measured in real time and displayed in an easy-to-read manner. With the UV function, you can switch on a UV LED to protect the inside of the device from the formation of viruses, bacteria and unpleasant odours. This range of features, which is outstanding in this device class, is completed by three operating modes (automatic mode, night mode and ventilation), an ionisation function, a child lock, a practical IR remote control and a programmable 24h timer.
Wall-mounted power providing healthier air to live, play, learn and work
The compact air cleaners AirgoClean® 140 E and AirgoClean® 145 E are the perfect choice for private living spaces, children's rooms, playrooms, hobby or training rooms, shared offices and similar areas to clean the indoor air quietly and efficiently. Thanks to the wall mounting option, the devices (which can also be used as floor-standing units) are not in the way, but hang on the wall in a protected place. This eliminates the risk of injury, e.g. from a child tripping over the device. When it comes to choosing a colour, you are free to follow your own preferences. The elegant white AirgoClean® 140 E discreetly and unobtrusively floods the room with clean air, free from pollutants and pathogens. For those who prefer something more eye-catching, the matt black AirgoClean® 145 E makes a visual statement in the room.
Stylish wall-mounted designer device and portable mobile device in one
With the AirgoClean® 140 E/145 E, you have a free choice where to position your device. Using the wall holder included in the scope of delivery, you can turn the flat air cleaner into a visually appealing wall-mounted device requiring only a minimum of space. For free-standing use in different rooms, the room air cleaner is equipped with a practical carrying handle and a curved foot.
3-colour air quality indicator displaying the PM2.5 value
The three-stage air quality indicator of the AirgoClean® 140 E/145 E makes the otherwise invisible air quality visible. In addition to the numerical display of the PM2.5 value (number of fine dust particles < -2.5 µm), a visual indicator with colour LED lights signals the degree of purity of the ambient air:
In automatic mode, the fan speed and the associated air cleaning performance are controlled depending on the air quality:
Green

: good air quality
  PM2.5 value 0–50

Yellow

: medium air quality
  PM2.5 value 51–100

Red

: poor air quality
  PM2.5 value > 100
What is the PM2.5 value?
The PM2.5 value indicates the number of respirable fine dust particles with a diameter of less than 2.5 µm. Due to their small size, these fine particles are considered a health risk because they can penetrate deeper into the airways, the cardiovascular system and the brain, remain there and cause damage. As part of the REVIHAAP project, the WHO has come to the conclusion that fine dust can lead to arteriosclerosis, impair births and trigger respiratory diseases in children, among other things.
Automatically healthier room air, free from viruses and pollutants
Clean air is essential for a healthy life. Therefore, do not leave the air quality to chance. The air quality sensors of the AirgoClean® 140 E/145 E monitor the most important room air parameters 24/7 to reliably keep harmful microparticles and pathogens out of your environment.
Combined climate data and air quality indication with real value display of the PM2.5 value, the current room temperature and humidity
The easy-to-read air quality indicator of the AirgoClean® 140 E/145 E makes the quality of the room air as well as the number of finest suspended particles visible. The numerical display provides information about the PM2.5 value (number of fine dust particles < 2.5 µm) measured in the room air, while an optical colour LED display simultaneously indicates the degree of purity of the ambient air in three colour levels. Particularly practical is the display of the current room temperature and humidity – two important parameters for health and well-being.
Due to the continuous measurement of the highly sensitive air quality sensors, incoming pollution such as dirt, dust, particulate matter and gaseous pollutants are immediately detected and eliminated by an adapted air purification performance. The air flow rate is controlled fully automatically to filter detected suspended particles or odours directly from the room air.
Application/room size
Virus filtration SARS-CoV-2 and general
infection control (influenza, common cold, measles etc.)
 
HEPA
6 air changes suitable for rooms sized up to
Maximum
22 m2 / 55 m3
Recommendation by Trotec*
16 m2 / 40 m3
10 air changes suitable for rooms sized up to
Maximum
13 m2 / 33 m3
Recommendation by Trotec*
10 m2 / 24 m3
CADR values
Fine dust, pollen, animal hair (CADR)
Maximum
44 m2 / 110 m3
Recommendation by Trotec*
32 m2 / 80 m3
* Usually, the maximum value is advertised as the "recommended room size". In order to achieve a good combination of air pollution control and background noise, the room sizes we recommend are based on a sound level of approx. 50 dB(A).
Automatic mode and virus filtration:
Do not use the automatic mode if the device is used for virus filtration. The integrated sensors only respond to air pollution caused by fine particulates or pollen. The device cannot determine the virus load. It is possible that the automatic mode indicates a "good" air quality even though the virus load in the room is very high. For this reason we recommend using the fan stage requested by the respective specifications with regard to the circulation rate (air volume) when the device is used for virus filtration in order to reduce the risk of indirect infections.
The convenient way of enjoying clean air
All AirgoClean® air cleaners are characterized by an outstanding HEPA filter performance combined with a high air flow rate – two important criteria for cleaning the room air quickly and reliably. Moreover, the room air cleaners come with a comprehensive range of comfort features that you will only find in the devices of the AirgoClean® series in this device class.
Room climate indication
The air quality sensors of the AirgoClean® 140 E/145 E permanently record the current room air temperature as well as the relative humidity and show these room climate values on the device's front display.
Long-range remote control
With the practical IR remote control, all device functions can be conveniently and comfortably controlled and set remotely – an alternative to manual setting via the control panel.
Programmable 24-hour timer
A timer that can be set in steps of 1 hours switches the device off fully automatically after the preset time has expired. This saves energy and you do not need to worry about switching it off after you have had a hard day working remotely from home or when going to bed.
Child and pet lock
Children are curious by nature and even pets discover their environment every day anew using their fur noses. The child lock can be activated by means of a keystroke combination and protects the settings of the air cleaner from curious children's hands and hairy noses. The status of the child lock is shown on the digital display.
UV function
The air cleaner comes equipped with a UV function. In combination with the photocatalytic surface of the filter, the UV LED reduces the formation of germs, viruses and odours inside the device.
Night mode with dimmed control panel and reduced background noise
For a restful and undisturbed sleep, the control panel is dimmed when the device is set to noise-reduced night mode. The air current is adjusted to your sleeping requirements and the air flow rate is set to the lowest fan stage.
3-in-1 HEPA filter technology with ionisation function to provide for a healthy room climate
Thanks to the combined filter system with HEPA carbon and DACRON® filter technology and an additional ionisation function, fine particles, allergens and other pathogens are reliably filtered from the room air.
HEPA filter (99.97 %)
Viruses, bacteria, pollen, allergens, fine dust particles and mould spores sized down to 0.3 micrometres are removed from the room air in the HEPA filter. Due to the high filtration efficiency of 99.97 %, filters of this filter class are used e.g. in hygiene-sensitive laboratories and in the food production industry. Hence, they provide optimum conditions to turn living rooms, children's rooms and playroom, training rooms, ballet studios or meeting rooms into oases of well-being with clean, filtered, fresh indoor air.
Carbon filter (activated carbon filter)
Perfect for smokers: the additional filter consisting of carbon. In addition to pollutants, this activated carbon filter effectively neutralises tobacco odours, pet odours, kitchen and smoke odours as well as formaldehyde and solvent odours from the ambient air. For clean air – without unpleasant odours.
DACRON® prefilter
DACRON® is a designation for synthetically manufactured continuous polyester filaments, which are ideally suited as a prefilter in air purification due to their particularly allergy-neutral characteristics. The prefilters made of these synthetic fibres are particularly tear-resistant, durable and water-repellent. The synthetic fibre filter alone is able to filter odours of slight to medium intensity, coarse house dust and animal hair from the room air.
Ionisation
The filter performance is already extremely efficient, but even more increased by fully automatic ionisation. In the course of the ionisation process, negatively charged ions are released. Their static charge binds all pollen, dust, viruses and bacteria. As a result, these particles sink down to the ground where they will be immediately drawn in by the air current of the three-stage fan to be eliminated in the end. This way, the room air is cleaned even more effectively and additionally enriched with active oxygen.
Quick and simple filter change
The AirgoClean® 140 E /145 E is just as easy to operate as it is to change the pre-mounted filters, which can be done in no time. In one simple step, the device cover can be opened to visually inspect the prefilter and HEPA filter and to change them if required.
AirgoClean® 140 E / 145 E – special equipment features
Fresh, clean air – Anywhere you need it
All AirgoClean® air cleaners in direct comparison:
To find the air cleaner which exactly meets your requirements, please consult the concise overview of all air cleaners of the AirgoClean® series from Trotec, which we're providing to you here so that you can compare them directly to each other.
Models which you do not wish to include in your comparison can be easily dismissed with only one click.
A few practical benefits:
Multi-stage room air filter system with DACRON® prefilter, HEPA carbon filter (99.97 %) and ionisation
Highly efficient HEPA filtration of fine dust particles, suspended particles, pollutants, germs and odours
UV ÖED protects the inside of the device against the formation of germs, viruses and odours
Combined air quality indicator in LED colours with real-value display of fine particles (PM2.5 value)
Suited for fully automatic air purification in rooms sized up to 100 m³
Purification volume max. 330 m³/h
3 fan stages with turbo mode
2 operating modes: automatic mode with light detection and night mode
Air quality indicator incl. temperature and humidity
Compactness and high performance combined with easy operation
Uncomplicated, quick filter change
IR remote control
Timer function
Child lock
Filter indicator lights
Night mode (reduced noise emission)
Can be used as wall-mounted or floor-standing device
Low energy consumption
Suitable for allergy sufferers
You are looking for air cleaners for professional health protection for continuous commercial applications?
While the AirgoClean® One is our number 1 high-performance air purifier to produce virus-filtered clean air in smaller shops, offices, medical practices, law firms or exclusive private rooms, we recommend using our high-volume TAC high-performance air purifiers for effective air purification in highly frequented medium-sized and larger rooms. They are the world's first room air cleaners that have been developed explicitly for filtering out virus-laden aerosols in interior spaces. In addition to the mobile version for easy changes of location, all TAC models are also available as a stationary version – providing a clean design solution for clean air on the spot!
TAC high-performance air purifiers are the perfect solution for effective virus filtration in larger rooms:
standard equipment
optionally available
not available
Buy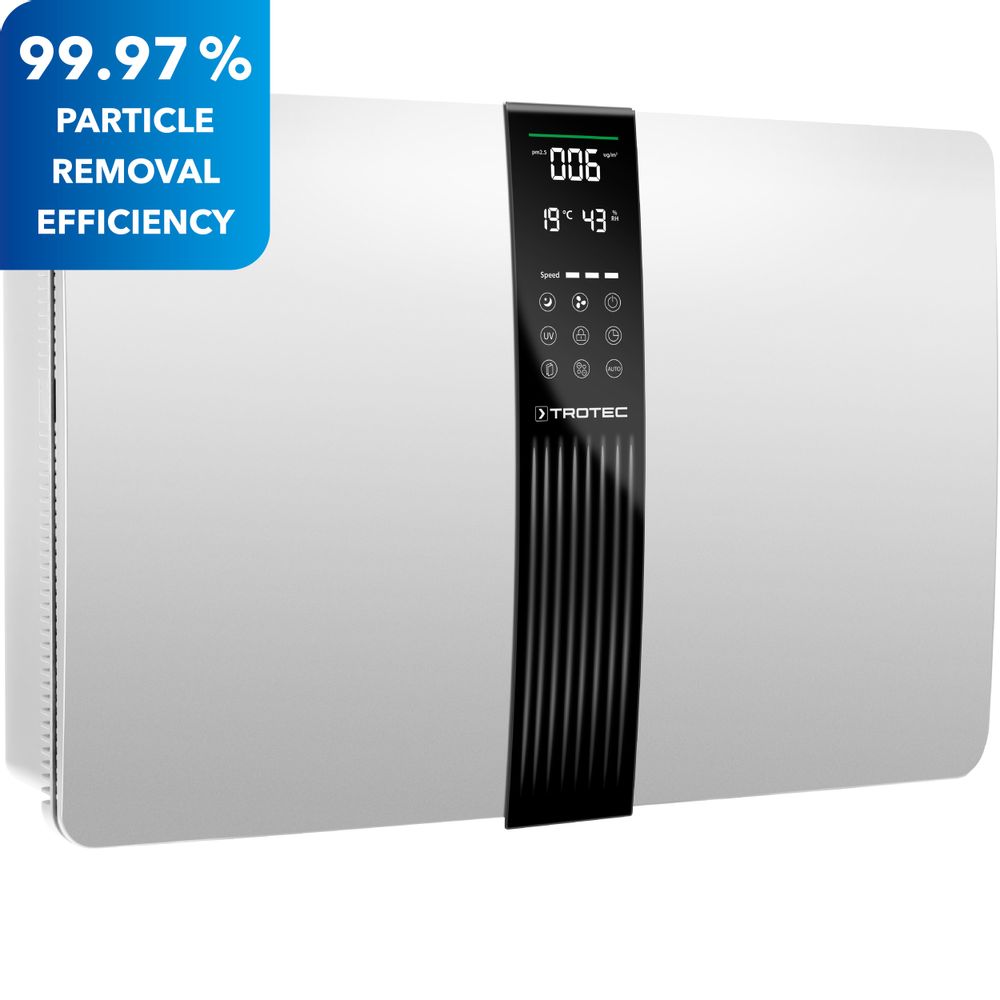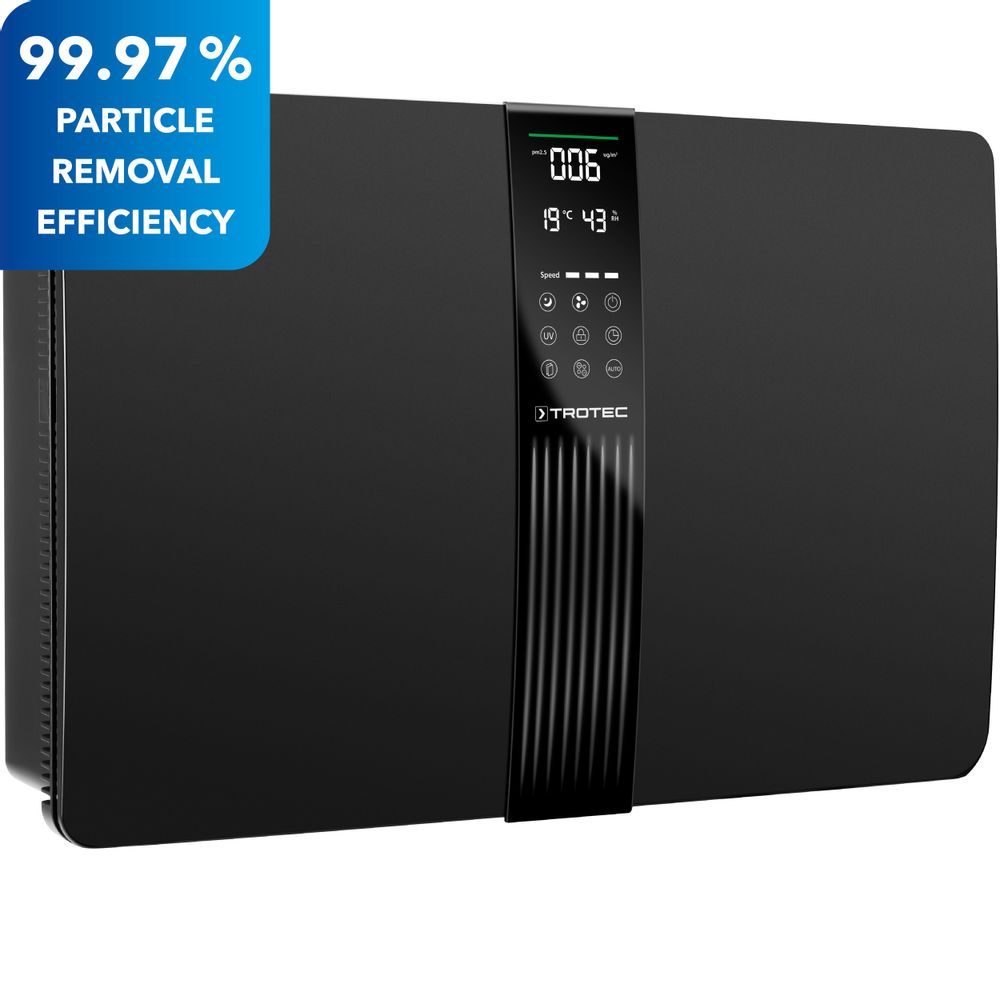 Technical data
Technical data
General information
Article number
1.580.001.031
Air flow rate
Suitable for rooms sized up to [m²/m³]
40 m² /100 m³
Level 1 [m³/h]
130
Level 2 [m³/h]
240
Level 3 [m³/h]
330
Electrical values
Mains connection
220 - 240 V, 50/60 Hz
Power input [kW]
0.085
Nominal current consumption [A]
0.37
Electric connection
Connection plug
CEE 7/17
Cable length [m]
1.8
Sound values
Level 1 - Distance 1 m [dB(A)]
34.5
Level 2 - Distance 1 m [dB(A)]
43
Level 3 - Distance 1 m [dB(A)]
50
Fan
Radial
axial
stages
3
Protection class
II
Dimensions
Length (packaging excluded) [mm]
176
Width (packaging excluded) [mm]
600
Height (packaging excluded) [mm]
404
Weight
(packaging excluded) [kg]
7.5
Equipment, features and functions
Equipment
Air quality sensor
Air quality display
On / off switch
Standby mode
Touchscreen
Operating control lamp
Dust sensor
PM2.5 detection
Temperature / humidity indication
Light detection function
Timer function
Child lock button
Ionization
Emission of negative ions
Turbo mode
UV light
Automatic operation
Night mode
Infrared remote control
Filter change indication
Main filter
Filter
Pre-filter
Synthetic fibre
HEPA filter
HEPA carbon filter
efficiency
99.97%
Mobility
Feet
Wall holder
Housing design
Plastics
standard equipment
optionally available
not available
Alternative products
Loading...