Submerged waste water pump TWP 11000 ES
Powerful stainless steel pump (max. 20,000 l/h) for pumping out and recirculating waste water indoors and outdoors
Our hero made of stainless steel for self-pumped water
None of our high-quality submerged waste water pumps of the TWP series transports more water per hour. With its resistant pump housing, the submerged pump TWP 11000 ES made of stainless steel withstands even the most extreme weather conditions. The solid submerged pump guarantees an above-average and at the same time maintenance-free service life for water withdrawal from ponds, garden wells, cisterns or rain barrels as well as for pumping out and recirculating water in swimming pools and whirlpools, flooded basements, garages and building/drainage pits. This high degree of versatility makes the TWP 11000 ES an indispensable universal helper for passionate hobby gardeners, facility managers, homeowners or craftsmen.
TWP 11000 ES: Making a difference in the house, garden and business
Thanks to its solid construction and high-performance pump technology, the submerged pump with IPX8 protection convinces with reliable performance data even in continuous operation when transporting large amounts of water. Whether pumping out swamped basements and garages, for example after heavy rainfall or floods, or pumping free service water from garden ponds, streams or rainwater cisterns to water the garden plants with free service water in the hot summer – the powerful 1,100 W submerged waste water pump TWP 11000 ES rises to every challenge. Even large amounts of waste water (containing dirt particles sized up to 25 mm) can be pumped out or recirculated with the TWP 11000 ES in next to no time.
Submerged waste water pumps of the TWP series at a glance
One of the most important criteria when selecting a submerged waste water pump is the pump capacity. Therefore, before purchasing, check whether the flow rate and delivery head are suitable for your application. For applications with lower flow rate requirements, the structurally identical model TWP 9000 ES with a max. flow rate of 15,000 l/h may be a good choice.
For tough continuous operation or preselectable switch-on/switch-off height
The powerful submerged waste water pump, which is equipped with a watertight encapsulated stainless steel pump housing, transports up to 20,000 litres of water per hour. With a convenient immersion depth of 7 metres, the TWP 11000 ES is recommended for water withdrawal from almost any kind of water reservoir. From a water level of 50 mm, the switchless submerged pump equipped with a float starts pumping until the residual water level of max. 40 mm is reached. Similarly, the submerged pump can be used in manual operation with an individually preset switch-on and switch-off height. A practical float switch lock on the pump housing allows individual adjustment of the switch-on and switch-off level within a defined range. With the float switch fixed, the TWP 11000 ES pumps water continuously.
Universal connection for hoses, pipes and plug-in systems
With the submerged stainless steel pump TWP 11000 ES you can go for "all in one" instead of "either or" when it comes to choosing the connection options. No matter whether you want to connect the pump to a garden hose, an existing piping or irrigation system – the TWP 11000 ES offers almost unlimited compatibility. The submerged pump allows the connection of hoses, tubes and plug-in systems with different diameters, with and without threaded connections. The reduction required for this is already included in the scope of delivery with various connection sizes.
Flexible all-rounder: 360° elbow with Quick-Connect connection
The convenient elbow will turn your head. With it, hose, tube or plug-in systems can be attached to the pump quickly and easily with just one movement and flexibly positioned at any angle. Simply plug it in and remove it again at the push of a button when the work is done.
Connection options of the TWP 11000 ES:
Hose connection for an inner diameter of 25 mm or 38 mm
Hose and pipe connection for internal threads G1"/DN25 or G1½"/DN40
For self-pumped water and drainage work – everywhere
The carrying handle integrated in the pump housing makes the high-quality submerged stainless steel pump extremely mobile – ideal prerequisites for use at different locations. Furthermore, the stable handle serves to attach the supplied nylon cord (10 m) to lower the submerged pump into well shafts, cisterns or other water basins in a controlled manner.
Tested for safety for long-lasting use
All submerged pumps of the TWP series are robust and durable pumps designed for continuous operation in harsh environments. The motors, which are both powerful and maintenance-free, have an integrated thermal protection circuit to gently switch off the pump technology in the unlikely event of overheating.
Extensive accessory set – already included in the scope of delivery
Why pay extra for something when it is already included in Trotec's scope of delivery? The submerged waste water pump TWP 11000 ES is supplied ready for connection including all necessary accessories:
1 x Submerged waste water pump TWP 11000 ES
1 x Reducer for hoses with inner diameters of 25 mm or 38 mm as well as hose connections with G1"/DN25 internal thread
1 x Elbow for hose connections with G1½"/DN40 internal thread
1 x Quick connection for elbow
1 x Nylon cord (10 m)
1 x Manual
Unpack, plug in and get started!
With the durable stainless steel submerged pump TWP 11000 ES you can rely on uncompromising top performance when pumping out and recirculating large quantities of water in the house, garden and business.
Special equipment features of the TWP 11000 ES
The TWP 11000 ES is extremely versatile
All submerged pumps in direct comparison:
To find the submerged pump which exactly meets your requirements, please consult the concise overview of all submerged pumps from Trotec, which we're providing to you here so that you can compare them directly to each other.
Models which you do not wish to include in your comparison can be easily dismissed with only one click.
A few practical benefits:
Impressive 1,100 watts of power for pumping up to 20,000 litres per hour
Maximum delivery head: 9 m
Ideally suited for the withdrawal, recirculation and suction of water e.g. for swimming pools, basements, rain barrels, garden ponds, small building pits, flooding
For effortless pumping of clear and waste water containing dirt and suspended particles sized up to 25 mm
Maintenance-free motor with integrated thermal protection circuit activated by overheating of the device
Automatic switch-on/-off due to steplessly adjustable float switch
Dry run protection during automatic operation
Fixing option for the float switch for automatic operation
IPX8 type of protection – protected against the ingress of water upon immersion
Universal connection for flexible coupling
Incl. 360° elbow and hose adapter
Easy hose connection thanks to Quick-Connect system
Large ergonomic carrying handle – suitable for fastening the suspension cord
All important features at a glance
Benefit from the Trotec brand quality guaranteeing high value, safety and functionality. Via the registered GS mark the inspection authority TÜV Rheinland certifies that, if used foreseeably and as intended, the device does not pose a risk to the health and safety of the user.
Brand quality plus cost-efficiency
Reliable, powerful and suited for the most challenging fields of application: those are some of the quality features of Trotec's submerged waste water pumps. Owing to their high capacity they are able to withstand the most extreme conditions. HighPerformance for demanding applications – after all, Trotec stands for brand quality and professional solutions with an excellent value-for-money ratio!
Differences between our submerged waste water pumps TWP 9000 ES, TWP 11000 ES and TWP 11025 E
| | | | |
| --- | --- | --- | --- |
| Submerged pump: | TWP 9000 ES | TWP 11000 ES | TWP 11025 E |
| Particle size | 25 mm | 25 mm | 25 mm |
| Residual water level | 40 mm | 40 mm | 35 mm |
| Quick-Connect connection for elbow | | | — |
| Inner hose diameter | 25 / 38 mm | 25 / 38 mm | 25 / 32 mm |
| Threaded connectors | 1" / 1½" | 1" / 1½" | 1" / 1½" |
| Backflow stop valve | — | — | — |
standard equipment
optionally available
not available
Buy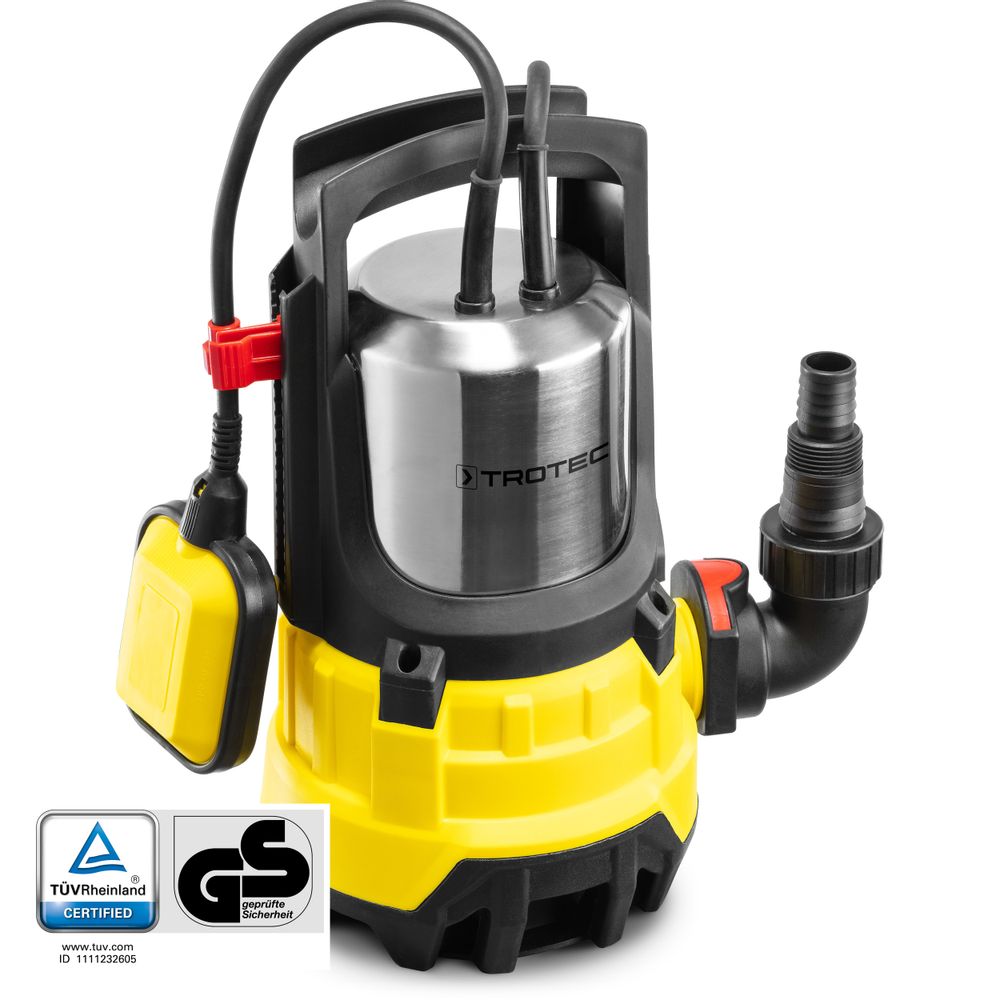 Technical data
Technical data
General information
Article number
4.610.000.066
Electrical values
Mains connection
230 V, 50 Hz
Power input [kW]
1.1
Electric connection
Connection plug
CEE 7/4
Cable length [m]
10
Performance data
Max. conveying capacity [l/h]
20,000
Grit of pump [mm]
25
Max. delivery head [m]
9
Max. submersion depth [m]
7
Minimum operating depth [mm]
50
Max. water level after suction [mm]
40
Max. water temperature [°C]
35
Safety feature
Type of protection
IPX8
Protection class
I
Functions and features
On/off switch (float switch)
Automatic
Switch-on point float switch [mm]
600
Switch-off point float switch [mm]
150
Thermal overload protection
Backflow preventer
Suitable for both permanent operation (>10h) or salt-water operation
Housing design
Plastics
Aluminium
Stainless steel
Steel
Accessories scope of delivery
Adapter
Hose connection (inner diameter)
25 / 38 mm
Threaded connection
1";1 ½"
Backflow preventer
Dimensions
Length (packaging excluded) [mm]
225
Width (packaging excluded) [mm]
225
Height (packaging excluded) [mm]
370
Weight
(packaging excluded) [kg]
6
standard equipment
optionally available
not available
Alternative products
Loading...