Water separator WA 4i MultiQube
Water separator WA 4i for combination with MultiQube insulation layer dryers
The new WA 4i is provided with an integrated micro filter system with low-maintenance magnetic lock filter compartment to take in micro filter cartridges with a threefold filter element.
This makes the WA 4i a versatile integral solution with all pre-HEPA filter stages in only one device.
Advantage: improved flow-optimized filter technology, quicker setup, decreased material and space requirements – no separate additional micro filter housings required.
With respect to insulation drying of surfaces sized up to 40 m², no other model is quite fit to hold a candle to this separator, for despite its ultra-compact dimensions the WA 4i comes fully equipped with numerous practice-oriented detailed solutions, such as a construction yet easier to maintain, TTKwic quick couplings, cable holder, residual water drainage and much more.
The water separator weighing only six kilogrammes is optimally geared to the combined use with Trotec MultiQube modules like the VE 4 MultiQube and at the same time 100 % downwardly compatible to previous models.
WA 4i micro filter cartridges with threefold filter element
Maintenance-friendly integral solution with a quick and easy exchange of only one cartridge.
It can only be inserted into the WA 4i's filter compartment in the direction of air flow, which provides even more security during application.
This way one can not only realize especially space-saving installations, the operation, control and reading of process information can also be performed much more effectively!
With a filter surface of 0.16 m² and a nominal air flow rate of 50 m³ per filter element, the WA 4i micro filter cartridge is optimally adjusted to the maximum air flow rate of the vacuum turbine of the VE 4 MultiQube compressor. The filter cartridge with a minimum flow resistance according to DIN EN 779 has filter class F8 and thus meets the requirements of a pre-filter for HEPA filtration.
– the smart quick coupling for one single central water discharge
For an effective remediation of water damage condenser dryers are usually used in continuous operation with an integrated condensate pump, which so far for each individual drying unit entailed an elaborate laying of water discharge hoses over long distances from the dehumidifier to an appropriate water drain.
Despite the ingenious construction the application of the TTKwic is extremely user-friendly: Connect the hose and you're done!
Save time and material for complicated multiple installations of condensate discharge hoses to far-off water drains and simultaneously ensure an effective and reliable permanent drying – quick, easy, clean and reliable thanks to TTKwic!
TTKwic puts an end to this:
Every WA 4i MultiQube as standard comes with two integrated TTKwic quick couplings, where condensate discharge hoses of the used dehumidifiers can be connected conveniently and expeditiously. The entire water drainage is then taking place centrally via the discharge hose of the water separator.
TTKwic: The smart quick coupling for the connection of dehumidifiers with condensate pump. One single central water discharge for all drying devices!
The TTKwic quick coupling is an especially developed pressure coupling with special valve and optimally geared to the combined use with Trotec condensate pump kits.
For water intake the valve opens exclusively with pressure load on the pump side and by means of an integrated barrier simultaneously prevents a decrease of performance of the low-pressure stream permanently and reliably.
TTKwic – Trotec exclusive!
An overview of equipment details and practical benefits:
Performance of the filter technology improved by approx. 25 % due to flow-optimized filter compartment and micro filter cartridge with threefold filter element
Two integrated TTKwic quick couplings for central water discharge for up to two connected dehumidifiers
Stainless steel demister for water separation and fine filtration
Residual water draining function
Active overflow protection owing to automatic switch-on/-off of the connected compressor
Integrated connecting cable
Cable holder
Extremely light, robust and especially low-maintenance construction
Wheels with parking brakes
Maintenance quick release fasteners
Emergency stop switch
Overflow sensor with automatic switch-off
Stackable to save space
Light material base: impact-proof and robust construction, recyclable to 100 %
Uncomplicated handling – easy to clean
PRODUCT BROCHURE
For water damage restorers: You can also find all relevant information about our insulation drying units in the product brochure. Download the PDF directly here.
Trotec: Innovation made in Germany
Take a look behind the scenes: As one of the internationally leading manufacturers of air treatment solutions, Trotec offers industrial and commercial customers innovative products for air purification, dehumidification, heating, air conditioning and ventilation. We rely 100 % on research, development, design and production in Germany for our high-performance devices. For the highest quality requirements, sophisticated system solutions and fresh ideas.
Shop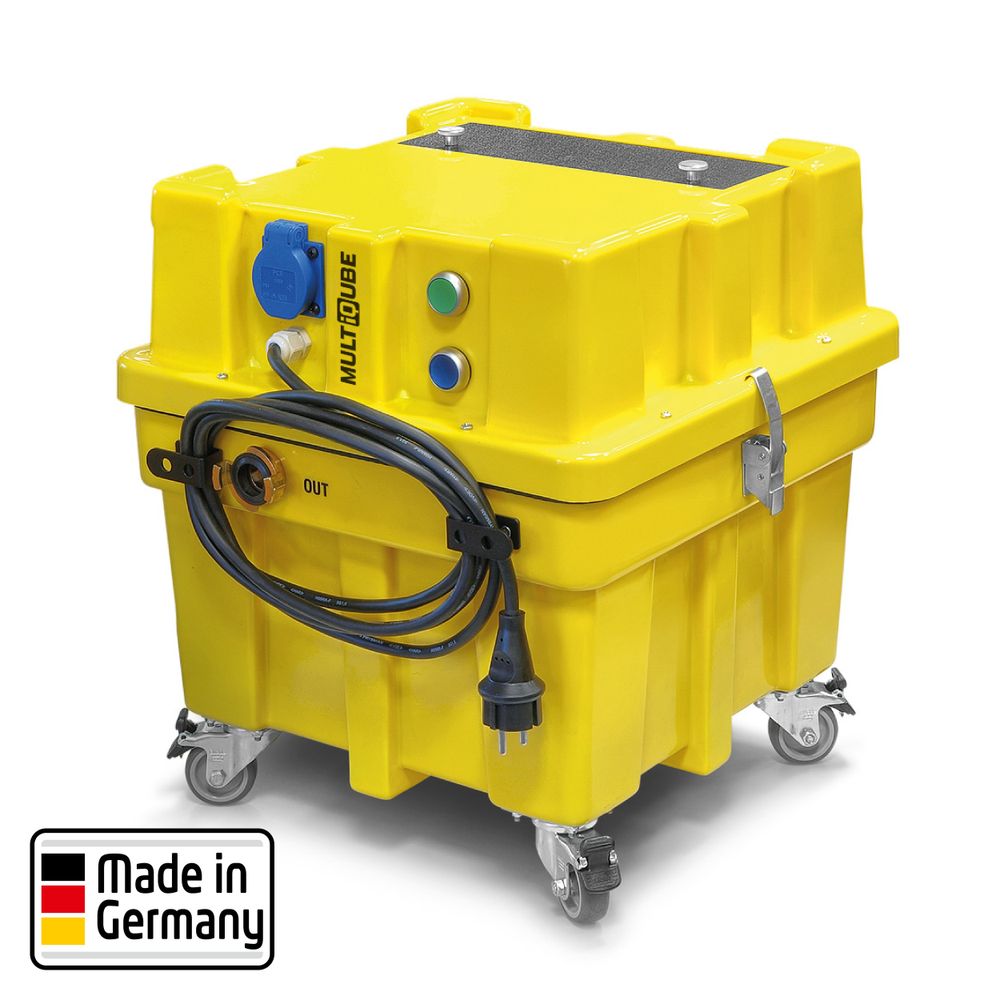 Daily rent:
10.80 £ incl. VAT per day
Daily rent:
9.00 £ plus VAT per day
Technical data
Technical data
General information
Article number
6.100.000.006
Volume
l
17
Electrical values
Mains connection
230 V, 50 Hz
Power input [kW]
0.32
Nominal current consumption [A]
Recommended fusing [A]
16
Air transport hose connector
Number of air transport hose connectors
3
Diameter [mm]
38
Fine filter
Filter class
F8
Number of fine filters
3
Internal cartridge compartment
Mobility
Carry/transport handle(s)
Swivel casters with parking brakes
Shelf life
stackable
Scope of delivery
Device
Micro filter cartridge
Dimensions
Length (packaging excluded) [mm]
420
Width (packaging excluded) [mm]
440
Height (packaging excluded) [mm]
395
Weight
(packaging excluded) [kg]
11.3
standard equipment
optionally available
not available
Alternative products
Loading...