Multiple socket outlet PV4‑MID PS
Easily handling the building site power supply in line with the regulations
Ideally equipped from the current consumption to the consumption measurement for invoicing
This multiple socket outlet that is equipped with PlugSafe is a quality product from original EU-manufacturing of robust design with which you're on the safe side in every respect when it comes to current consumption. The PV4-MID PS can be variably used for indoor and outdoor applications and facilitates the usage in accordance with MID, MessEG and MessEV.
The PV4-MID PS is intended for the operation at proper building-site power distributors and meets the requirements of BGI 608 with respect to switching devices and distributors for circuits with sockets. Please note that a BGI 608-compliant plug adapter must be used when operating the PV4-MID PS on construction or installation sites at a socket of the building's wiring with unknown protective measures.
Practice-oriented equipment
The extremely robust solid rubber housing with integrated carrying handle accommodates four safety sockets in accordance with VDE 0620-1. Furthermore, the PV4-MID PS is provided with a residual current device (RCD) and an MID-compliant* energy consumption meter – both secured beneath a transparent sealing cap that can be locked by means of an optional U-lock.
PRODUCT BROCHURE
For water damage restorers: You can also find all relevant information about our insulation drying units in the product brochure. Download the PDF directly here.
Legally required measurement and calibration obligations for water damage restoration and construction drying
In accordance with the German Measurement and Calibration Act (MessEG) and the appertaining German Measurement and Calibration Ordinance (MessEV) energy consumption meters used for billing purposes need to be calibrated or metrologically traceable to a corresponding device. MID*-compliant measuring devices meet these requirements.
In addition to the requirements of the European Measuring Instruments Directive certain consumer obligations are further applicable in Germany. For external measuring devices such as multiple socket outlets with integrated MID meter it must be ensured that no additional power consumers can be connected or the existing ones replaced by others whilst the device is in use.
The multiple socket outlet PV4-MID PS meets all requirements of MID, MessEG and MessEV
* What does MID-compliant mean?
MID-compliant counters correspond to the European Measuring Instruments Directive (MID) that defines the requirements for active power meters used for billing purposes. This for example also applies to the energy consumption measuring for recharging to insurance companies or customers. The former initial factory calibration is now replaced by the MID compliance, however, the devices have to be re-calibrated after a defined period of time – for instance after 8 years in case of electronic counters in Germany.
Safely equipped – multiple socket outlet PV4-MID PS
A few practical benefits:
For the proper use in compliance with the German Measurement and Calibration Act (MessEG)
and the German Measurement and Calibration Ordinance (MessEV)
Ideal for rough operating conditions on ever-changing construction sites
PlugSafe – socket protection suitable for sealing in accordance with the MessEG regulations
Four safety sockets with self-closing hinged covers
Residual current circuit breaker and MID*-compliant energy consumption meter secured
beneath a lockable sealing cap
Multiple socket outlet with hardwearing, solid rubber industrial housing
IP44 type of protection for use in construction sites, in wet rooms or outdoors
Oil- and UV-resistant cable (H07RN-F)
Buy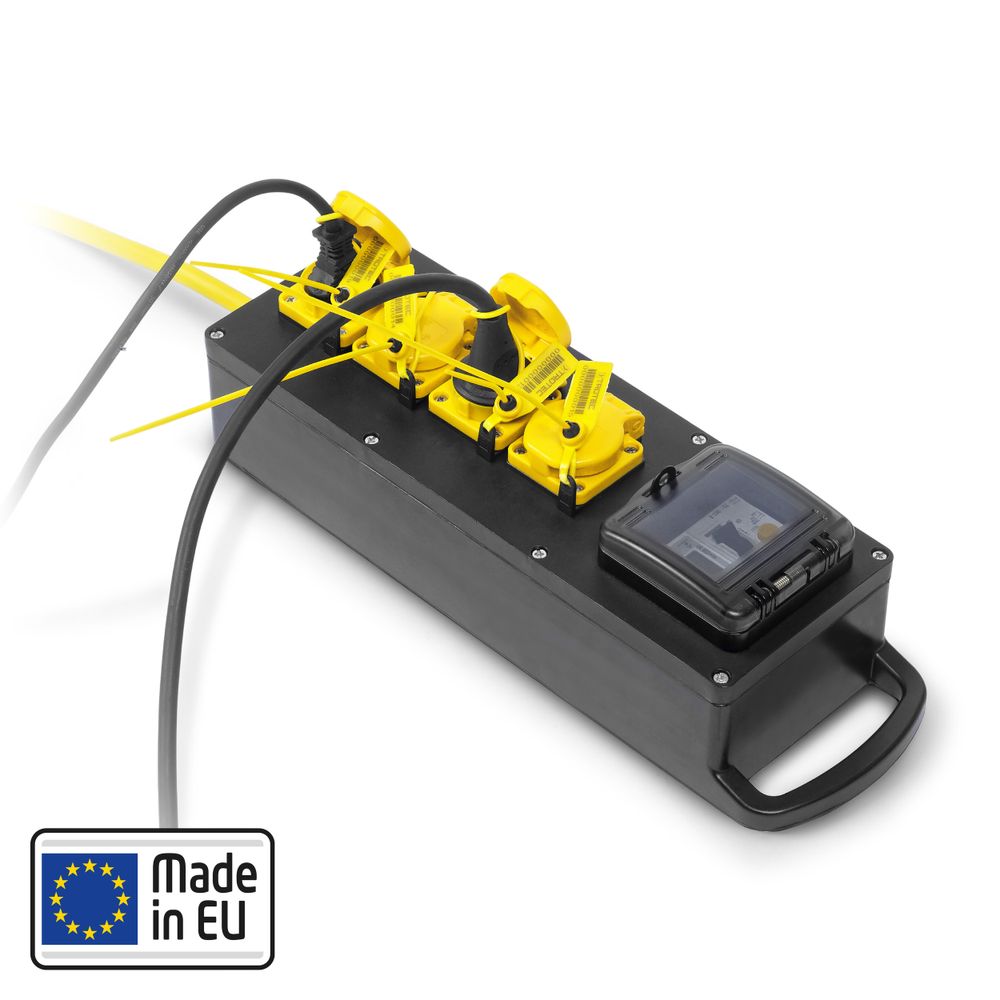 Technical data
Technical data
General information
Article number
6.100.002.085
Electric connection
Input voltage [V/Hz]
230 V AC, 50 Hz
Power input [kVA]
3.6
Max. preliminary fuse [A]
16
CEE 7/3 (Schuko socket type F)
Number of sockets
4
Connection plug
CEE 7/3 (Schuko socket type F)
Connection line
2 m, H07RN-F 3G2.5
Residual current device (RCD)
Type (RCCB)
Ttype A, pulse current sensitive
Rated current RCCB [A]
25
Rated residual current [A]
0.03
Rated voltage RCCB
230 V AC, 50 Hz
Rated diversity factor (RDF)
0.25
Active power meter
Type (MID)
MID-certified, non-resettable
Indication
6 digit LCD
Rated current [A] (MID)
0.25 A Imin, 45 A Imax, 5 A Iref
Rated voltage MID
230 V AC, 50 Hz
Accuracy class
A
Housing design
Rubber
Standards
DIN 49440-2, EN 50470-1, EN 50470-3, EN 61008-1, EN 61439-3, EN 62.262
IP44
Impact resistance
IK10 (housing), IK8 (sockets)
Ambient conditions
Operation - min. temperature [°C]
-20
Operation - max. temperature [°C]
45
Operation - max. relative humidity (non-condensing) [%]
95
Dimensions
Length (packaging excluded) [mm]
450
Width (packaging excluded) [mm]
205
Height (packaging excluded) [mm]
155
Weight
(packaging excluded) [kg]
3
standard equipment
optionally available
not available