Cordless sabre saw PRCS 10‑20V
The cordless sabre saw with a high-performance 20V/2Ah Flexpower multi-device battery designed by Trotec – for a variety of materials and high-profile cuts
Carrying out sawing tasks professionally and efficiently
A water pipe protruding from the wall, the seasonal pruning, shredding plywood or cutting boards to size – construction sites, the garden and household offer a variety of sawing tasks that can be carried out especially comfortably with a cordless sabre saw.
No matter if you want to perform straight or curved cuts, plunge-cutting, or saw off protruding pipes so that they are flush: The compact and robust cordless sabre saw PRCS 10‑20V (also referred to as a tiger saw, recipro saw or electric ripsaw) with its corresponding saw blades is perfectly suited for sawing plastics and building material as well as wood and metal.
Durable battery power – compatible with many other Trotec battery tools
The powerful and durable 20V/2Ah lithium-ion battery provides for a durable and constantly high sawing capacity, even when the battery is low. At the push of a button the 3-stage battery level indication integrated in the housing displays the battery status – even if the battery is not connected to the device. By using the quick charger included in the scope of delivery a completely discharged battery will again be ready for use after 1 hour. The 20V/2Ah Flexpower multi-device battery of the PRCS 10‑20V can also be used with other Trotec power tools. In addition, a matching additional battery can be obtained from Trotec.
Guide shoe adjustable without tools with a 30° inclination
The flexible guide shoe of the sabre saw adapts to the workpiece surface with an inclination of up to 30°. In order to make optimum use of the saw blade length and to accurately adjust the respective cutting depth, the guide shoe can be set to the desired length without having to use any tools. The cutting depth for wood with the PRCS 10‑20V is up to 100 mm, for metal it is 8 mm, and for aluminium it is 10 mm. Furthermore, the guide shoe can be fully removed, e.g. in order to make the blade exchange even easier.
Stroke adjustment suiting the material
In order to allow you to reliably saw any material, you can steplessly adjust the stroke rate – i.e. the speed of the saw blade movements – between 0 and 3,000rpm even during operation via the on/off switch: light pressure for a light stroke, full pressure for the full stroke rate. Easy and intuitive!
With these you'll get through with anything
On-demand pendulum stroke
If necessary, you can optimize your sawing work by an additional pendulum movement of the saw blade of 20 mm. This is especially reasonable if you wish your work progress to be fast. Stage 1 (pendulum movement on) is especially suitable for soft materials and for sawing wood in grain direction. For processing of very thin materials and if the cutting edges are to be fine and clean, however, we recommend switching the pendulum stroke off (stage 0).
Saw blade exchange without the need for tools
Owing to the user-friendly quick-action chuck, the saw blades can be changed in no time without any additional tools. One HCS wood saw blade (6 TPI) is already included in the scope of delivery. Of course, all ½" and S -shank universal saw blades for wood and metal as well as flexible bimetal saw blades for flush sawing go with this saw. The matching accessories offered to you by Trotec are 3 multi-piece sabre saw blade sets for a variety of different materials and requirements.
Safety first
The ergonomic U -shaped design of the handle, the rubberized soft grip inlays and the hand protection termination in the front area provide for safe, non-slip hold and strong, precise performance of the cuts. Owing to its optimum weight-size ratio, the PRCS 10‑20V features ideal handling properties in every working position. In order to provide protection against injuries, e.g. by accidental switch-on, the cordless sabre saw is equipped with a switch lock. The transport case supplied makes it possible to safely and easily carry along the power tools and their accessories, or to store them in a dust-proof place.
Convenience and performance are the compelling features
To cut a long story short: If cordless performance, high precision and pleasant comfort are important features you wish to have for your sawing tasks, the cordless sabre saw PRCS 10‑20V from Trotec is most definitely the right choice for you. Now let's get to work – the next task is already at hand!
Special equipment features of the PRCS 10‑20V
All Sabre saws in direct comparison:
To find the Sabre saw which exactly meets your requirements, please consult the concise overview of all Sabre saws from Trotec, which we're providing to you here so that you can compare them directly to each other.
Models which you do not wish to include in your comparison can be easily dismissed with only one click.
A few practical benefits:
Flexpower multi-device battery 20V 2.0 Ah – can be flexibly combined with other cordless 20V tools designed by Trotec
Material-specific working by stepless stroke control directly via switch button
On-demand pendulum stroke
Guide shoe that can be adjusted without any tools and that can be inclined by 30°
Quick-release chuck for a tool-free saw blade exchange in a matter of seconds
U-shaped control handle with soft grip inlays
Rubberized grip area at the front for extra firm grip
Perfectly balanced size-to-weight ratio for optimum handling
Suitable for commercially available S-shank saw blades or 1/2" universal shanks
Including a quick charger (1h), HCS wood saw blade (6 TPI) and transport case
All important features at a glance
Compelling value-for-money ratio
When choosing a sabre saw, so far, basically you only had two options: either good but expensive, or mainly cheap.
With the Trotec PowerTools you can now make a clever decision: good and low-priced at the same time. For we do not only stand for brand quality where measuring devices and air conditioners are concerned, but also when it comes to power tools: professional Trotec solutions with an excellent value-for-money ratio!
With 850W, the handy PRCS 10‑850 sabre saw provides an alternative as a genuine all-rounder for a variety of sawing applications.
standard equipment
optionally available
not available
Buy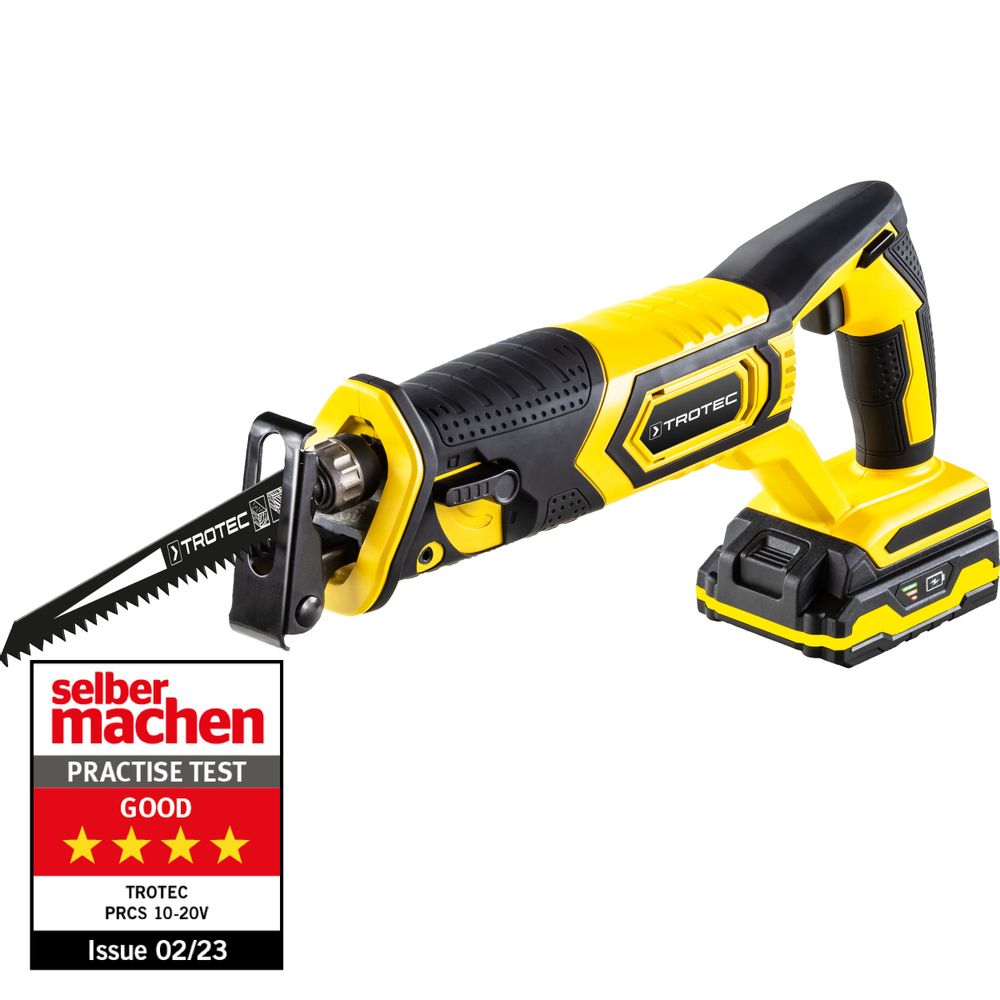 Technical data
Technical data
General information
Article number
4.431.000.110
Technical data
Stroke rate at no load (combined)
0 - 3.000 min-1
Stroke [mm]
20
Max. cutting depth (wood) [mm]
100
Max. cutting depth (aluminium) [mm]
10
Max. cutting depth (metal) [mm]
8
Electrical values
Protection class
III
Sound values according to EN 62841
Sound pressure level [dB(A)]
83.28
Sound power level [dB(A)]
94.28
Uncertainty (K) [dB]
3
Vibration information according to EN 62841
Vibration emission value (ah) Boards [m/s²]
15.55
Uncertainty (K) Boards [m/s²]
1.5
Vibration emission value (ah) Wooden beam [m/s²]
14.53
Uncertainty (K) Wooden beam [m/s²]
1.5
Electrical values battery
Battery nominal voltage [V]
20
Battery capacity [Ah]
2
Capacity indication
3-stage
Battery type
Li-ion
Battery charging time [h]
1
Charger
Mains connection
230 - 240 V, 50 Hz
Output voltage [V]
21.5
Power input [W]
65
Nominal current consumption [mA]
2,400
Connection plug
CEE 7/16
Cable length [m]
1.5
Protection class
II
Dimensions
Length (packaging excluded) [mm]
390
Width (packaging excluded) [mm]
80
Height (packaging excluded) [mm]
180
Weight
(packaging excluded) [kg]
2.4
Equipment, features and functions
Functions and features
Infinitely variable speed control (on/off switch)
Continuous operation
Speed control during continuous operation
Soft start
Tool-free exchange of accessories
Universal holder / S-shank fitting
Guide shoe adjustable without tools
Guide shoe can be inclined by 30°
Softgrip
LED light
standard equipment
optionally available
not available
Alternative products
Loading...