Heat gun HyStream 2000
Universally applicable hot air blower in a convenient pistol shape
The heat gun HyStream 2000 can be adjusted to many a working situation quickly and easily
Whether for car foliation, plastic welding, deformation of material, heat-shrink tubing, paint stripping and removal of material residues, wallpaper stripping or drying acceleration for gluing and different kinds of paint – the heat gun HyStream 2000 is a universal aid for many tasks and should thus be part of every tool kit.
The ergonomic pistol-shaped design of our all-rounder HyStream 2000 even enables longer hot air applications without fatigue – and thanks to the specially balanced weight distribution, this thermo tool can also be applied in stable stationary operation without difficulty to allow for hands-free working.
To adjust the heat gun HyStream 2000 optimally for every task, the device comes with over 60 preselectable temperature stages from 50 °C to 650 °C and a five-stage air current control. The safe permanent operation is ensured by an automatic temperature control with integrated overheating protection.
All selected performance values can be easily read from the integrated LCD display and by means of the memory function the previously selected setting will be stored even if the device is not switched on.
Be it for pinpoint or large-scale heat treatment or the well-directed deflection of heat rays to protect heat-sensitive materials – thanks to the set of attachments nozzles already included in the standard scope of delivery with the heat gun HyStream 2000 you have an ideal thermo-tool for almost every task – even as professional barbecue lighter to quickly set your charcoal thoroughly aglow.
Incl. versatile set of attachment nozzles:
All Hot air blowers in direct comparison:
To find the Hot air blower which exactly meets your requirements, please consult the concise overview of all Hot air blowers from Trotec, which we're providing to you here so that you can compare them directly to each other.
Models which you do not wish to include in your comparison can be easily dismissed with only one click.
A few practical benefits:
Ergonomic pistol-shaped design
LCD indication of the selected performance values
Air flow rate and temperature can be adjusted in multiple stages independently of one another
Attachment nozzles for many special applications already included in the scope of delivery
Safe operation due to overheating protection
Optimally suited even for stationary operation thanks to balanced weight distribution
Important features at one glance:
Our range of hot air devices
standard equipment
optionally available
not available
Shop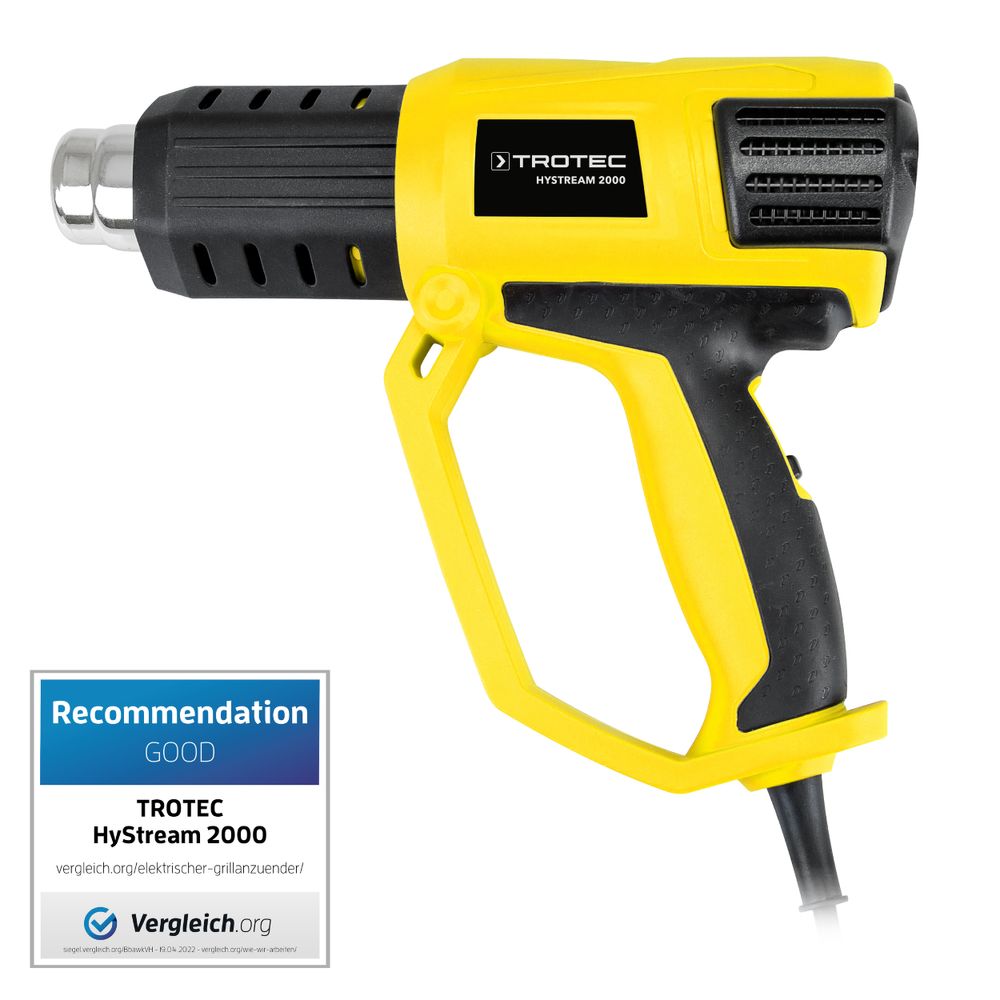 Technical data
Technical data
General information
Article number
6.100.000.057
Electrical values
Mains connection
230 V, 50 Hz
Power input [kW]
2
Electric connection
Connection plug
CEE 7/17 (shaped plug)
Cable length [m]
1.9
Safety feature
Mains connection (protective insulation)
Air flow rate
Min. air volume flow [l/min.]
250
Max. air volume flow [l/min.]
500
Min. air volume flow ] [m³/h]
15
Max. air volume flow [m³/h]
30
Fan stages
5-stage
Air pressure
Pa
Temperature [°C]
Max. temperature [°C]
650
Temperature control
in steps of 10 degrees
Dimensions
Length (packaging excluded) [mm]
255
Width (packaging excluded) [mm]
30
Weight
(packaging excluded) [kg]
0.94
standard equipment
optionally available
not available
Alternative products
Loading...