Bench grinding machine PBGS 10-120
120-watt bench grinding machine (1 x Ø 75 mm sanding disc K120/polishing disc K400) incl. flexible shaft (1 m) and 100-piece accessory kit
Multi-function tool for grinding, polishing, cutting, milling and engraving
The compact 120-watt bench grinding machine PBGS 10‑120 with combined sanding and polishing disc is the ultimate all-in-one tool for a wide range of grinding and polishing tasks in the professional workshop or hobby room. In combination with the flexible shaft and the extensive set of accessories, particularly precise milling as well as artistic engraving tasks can also be carried out. With this functional range, the multi-function tool PBGS 10-120 makes many other hand tools superfluous and creates space for new ideas when working and crafting.
No other sanding tool can be used so universally.
No matter what the concern, the bench grinding machine PBGS 10‑120 with working speeds adjustable from 0 to 11,500 rpm masters all the following tasks and more:
Sharpening tools that have become blunt, such as drill bits, milling cutters, cutting blades, scissors or knife blades on the preassembled grinding wheel (grain size 120). Polishing surfaces on the preassembled polishing disc (grain size 400). Grounding wooden or plastic workpieces or engraving glass, ceramics and leather by means of the flexible shaft with ball bearings and the matching rotation tool. Even cutting operations and removing rust spots are effortless with the high-speed drive shaft.
Fields of application for the bench grinding machine PBGS 10‑120:
Polishing
Sanding
Sharpening
Deburring
Rust removal
Engraving
Cutting
Milling
Drilling*
Safe working with secure positioning
Laterally closed guards and two swivel-mounted protective screens in front of the grinding stones always ensure safe working without flying sparks. The workpiece supports can be conveniently adjusted to the respective application or workpiece by means of a knurled screw. For a non-slip and low-vibration stand, four rubber feet are integrated into the solid base of the device. In order to firmly screw the bench grinding machine PBGS 10‑120 to a workbench or work table, a bottom plate with pre-drilled holes is already attached to the device. It is also possible to temporarily fix the machine to a vice or on a frame to use the bench grinder as a pedestal unit. A safe stand with minimum vibration development of the machine should always be ensured.
Complete scope of delivery at a quick glance:
Bench grinding machine PBGS 10-120
Flexible shaft with ball bearings (length: 1 metre)
Wrench for tool change
2 spark deflectors
2 protective glasses
2 workpiece supports
12 cutting wheels: 32 x 1 mm
40 sanding discs: 24 mm
5 abrasive belts: 13 mm, 15 mm
5 abrasive belts: 13 mm, 9 mm
5 polishing attachments: 7 mm x 25 mm
5 polishing attachments: 7 mm x 13 mm
5 x grinding heads (corundum)
5 grinding heads (aluminium oxide)
3 x milling cutters (groove, ball head, bevel)
2 engraving bits (diamond-tipped)
1 Grinding stone
3 collet chucks: 3.2 mm / 2.4 mm / 2.0 mm
1 polishing paste
2 mandrels for abrasive belts
2 mandrels for cutting/sanding discs, polishing felt
3 brass brushes
4 cleaning brushes
1 storage box
Accessories tip for the PBGS 10-120:
Maximum radius of action with the 282-piece accessory kit for rotation tools
You'll be perfectly equipped if you directly get the maxi accessory kit with 282 pieces for the Trotec bench grinding machine PBGS 10‑120, which universally matches conventional rotation tools. In this way you'll not only be provided with a well-assorted supply of spare tools at home, but, thanks to a variety of further accessories you'll also benefit from a great deal of additional options. You're for instance provided with additional silicon carbide grinding stones for processing porcelain, glass or ceramic, polishing and cleaning brushes of brush bristles, brass and stainless steel for material-compliant applications, a large diamond-tipped milling cutter set, different engraving cutters and lots more.    
The 100-piece accessory kit in detail
The 100-piece accessory kit of the bench grinding machine PBGS 10‑120 always offers you the right tool for countless application possibilities.
In the following we'll describe the individual attachments and accessory parts sorted by possible applications:
Cutting / separating
12 x Cutting wheels
With the stable cutting wheels made of fibreglass-reinforced material, thin wood, sheet metal or plastics can be cut with precision. Also thin, protruding screws or nails can be cut off.
Grinding / sharpening
40 x Grinding wheels
The abrasive wheels are made of an especially resilient material. They are perfectly suited to carry out woodwork or for grinding metal or plastics.
10 x Abrasive belts
With the abrasive belts different materials like hardwood and softwood, metal and fibreglass can be reliably processed even in the smallest space – e.g. also for smoothing edges that are rounded from the inside and outside. The abrasive belt is simply attached to the corresponding abrasive belt mandrel (included in the kit).
10 x grinding heads (corundum/aluminium oxide)
The high-quality grinding attachments made of corundum or aluminium oxide offer high resilience with regard to hard material. They are ideal for grinding, sharpening, smoothing and deburring stone, ceramics or different metals.
1 x Grinding stone
The rectangular grinding stone made of corundum serves to sharpen the blade or to deburr tiles-, glass- or ceramic edges.
Polishing / cleaning
10 x felt polishing attachments
With the polishing heads of felt you can clean most metals as well as wood, stone, tiles, ceramic, glass, marble, granite and plastics without any problems. Dust is reliably removed even from the smallest gaps and old, tarnished jewellery, for instance, shines with a new brilliance. 
1 x Polishing paste
For polishing metal and plastic surfaces with felt or textile attachments to a high finish, we recommend using the polishing paste. It removes the oxidation film and can get rid off small defects on the surface.
3 x brass brush
The brass wire brushes are softer for cleaning than stainless steel brushes and treat the surfaces of soft metals such as gold, copper or brass with care – apart from jewellery and accessories, these also include door handles, specific vehicle parts and electrical contacts.
4 x cleaning brushes
The different cleaning heads clean particularly efficiently and in poorly accessible intermediate spaces.
Milling and engraving
3 x milling cutter / 2 x diamond-tipped engravers
The carbon steel milling cutters with a straight groove thread, ball head and bevel are suited for steady grooving or milling out as well as making recesses and indentations. The 2 diamond-tipped engraving bits for rougher to very filigree engraving tasks are included. The engraving bits can be used for materials of wood, ceramics, glass, metal, leather as well as further materials.
Mandrels and bits for ideal stability
2 x mandrels for abrasive belts
The mandrels are used to hold the abrasive belts.
2 x mandrels for cutting/sanding discs, polishing felt
The mandrels serve to insert the polishing bits of felt and textiles as well as the cutting wheels and abrasive wheels.
3 x collet chucks
For the use of further tool bits, 3 collet chucks are included in the kit.
1 x Wrench
To provide for a quick change-over of the tool bits, a universal wrench for commercially available multi-function tools is already enclosed.
Flexible shaft, storage box
1 x flexible shaft, 1 metre (attachment)
A practical flexible shaft is included to also make filigree work that requires a great deal of finesse an easy task for you. In this way you can guide the tool point one-handed like a pen.
1 x Storage box
With the practical wooden storage box you always have all tool heads and accessory components handy and smartly stowed away.
Special equipment features of the PBGS 10‑120
The PBGS 10‑120 offers you manifold application options
All Grinding machines in direct comparison:
To find the grinding machines which exactly meets your requirements, please consult the concise overview of all grinding machines from Trotec, which we're providing to you here so that you can compare them directly to each other.
Models which you do not wish to include in your comparison can be easily dismissed with only one click.
A few practical benefits
120 W bench grinding machine with sanding/polishing disc (Ø 75 mm) for coarse and fine grinding
Flexible shaft (1 m) for precision work with rotation tools
Infinitely variable speed control (0 to 11,500 rpm)
Protective screens can be swivelled to protect against flying sparks
Stable construction with non-slip rubber feet – optional screw connection to the table
100-piece accessory kit in a practical wooden case
Powerful grinding performance for machining steel, non-ferrous metals, wood, plastic and paint
Can also be used for cutting and cleaning work
All important features at a glance
Brand quality plus cost-efficiency
So far, you basically only had two options when choosing a bench grinder: either good but expensive, or mainly cheap.
Trotec's PowerTools now offer a smart choice: good and cheap at the same time. For we do not only stand for brand quality where measuring devices and air conditioners are concerned, but also when it comes to power tools: professional Trotec solutions with an excellent value-for-money ratio!
Tips and notes for selecting the correct speed level
For cutting, forming, chamfering or milling grooves in the wood, and for sanding or grinding wood or metal, select a high speed.
If you wish to cut plastics or other materials with a low melting point, select a low speed.
For drilling into wood, select a low speed to prevent overheating of the tool.
For polishing, buffing and cleaning by means of a wire brush, select the lowest speed in order to prevent damage of the brush by loosening of the bristles from the mount.
For milling or drilling into non-ferrous metals, such as aluminium, copper, lead, zinc alloys, select a low speed. Additionally use a cutting oil or another suitable lubricant (not water) in order to prevent chips from settling on the cutting edges of the tool, and to prevent the tool from being overheated.
Info: Even with lower speed values, you should work without pressure. Applying higher pressure to the workpiece will not improve the result.
Alternatively, for example, use a different tool bit or another speed setting to obtain the desired result.
standard equipment
optionally available
not available
Buy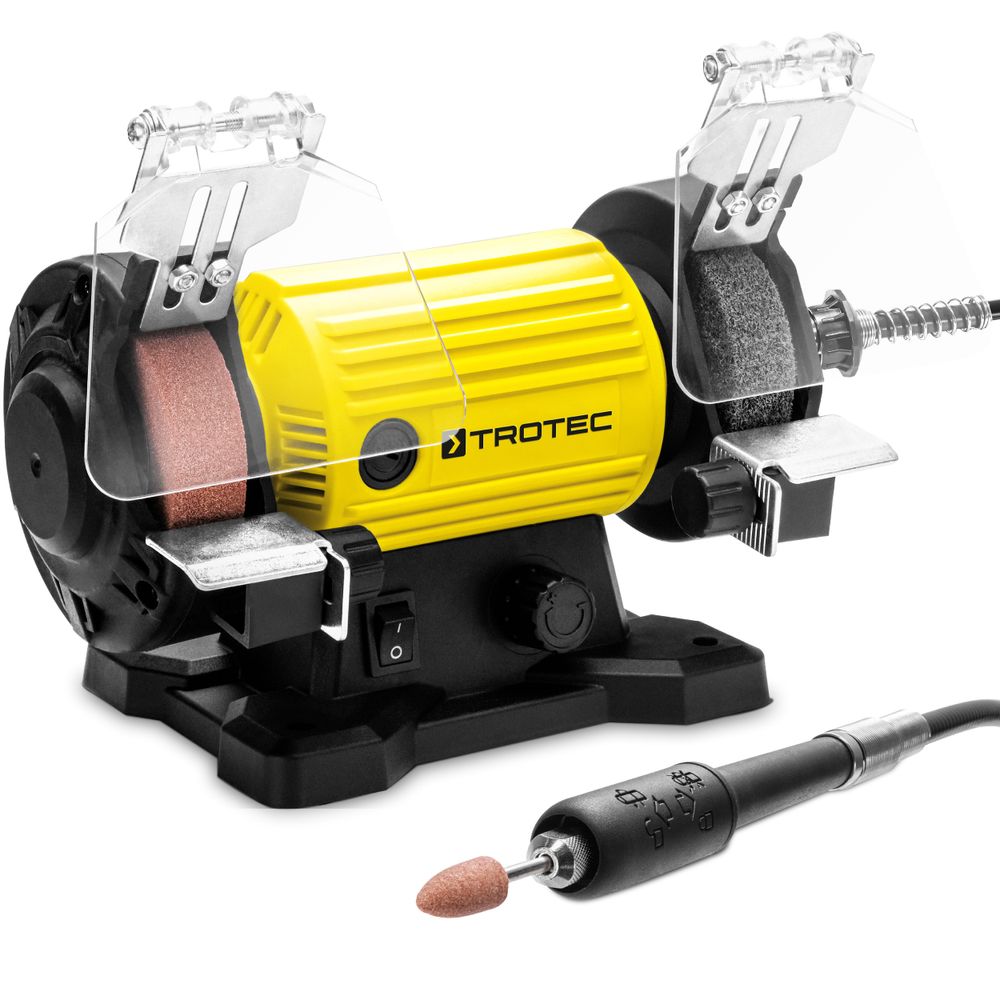 Technical data
Technical data
General information
Article number
4.450.000.040
Technical data
Power input [W]
120
Idle speed
0 - 11.500 min-1
Operating speed [m/s]
45
Abrasive wheel diameter
Ø 75
Electrical values
Mains connection
230 V, 50 Hz
Electric connection
Connection plug
CEE 7/17
Cable length [m]
2
Sound values according to EN 62841
Sound pressure level [dB(A)]
86
Sound power level [dB]
99
Uncertainty (K) [K]
3
Safety feature
Protection class
II
Technical data abrasive wheels
Outer diameter [mm]
75
Hole [mm]
10
Thickness [mm]
20
Grain size Abrasive wheel
120
Grain size Polishing disc
400
Hardness
M
Dimensions
Length (packaging excluded) [mm]
115
Width (packaging excluded) [mm]
250
Height (packaging excluded) [mm]
150
Weight
(packaging excluded) [kg]
2
Equipment, features and functions
Functions and features
ON/OFF switch
Soft start
Infinitely variable speed control
Continuous operation
Tool-free clamping system
Dry sander
Wet sander
Feet
Table mounting
Mountable dust collector
Standard scope of delivery
Accessories scope of delivery
Knurled screws
2
Nut
2 x M6
4 x M4
2 x M5
Bolts
4 x M4 x 10 mm
2 x M5 x 45 mm
Washers
4 x Ø 4 mm
2 x Ø 5 mm
Spring washer
4 x Ø 4 mm
2 x Ø 5 mm
Cutting wheels
12 x Ø 32x1 mm
40 x Ø 24 mm
Abrasive belts
5 x 13 mm, Ø 15 mm
5 x 13 mm, Ø 9 mm
Polishing felt
5 x 7 mm x Ø 25
5 x 7 mm x Ø 13
Aluminium oxide grinding head
10 x
Milling cutter
5
Cleaning brushes
4
Brass brushes
3
Mandrel
2 x for abrasive belts
2 x for polishing felt and cutting wheels
Dressing stone
20 x 10 x 10 mm
Polishing compound
1
Collet chuck
3
flexible shaft
1 m
Spark guard
2
Disc guards
2
Open-end wrench
Storage case
standard equipment
optionally available
not available
Alternative products
Loading...