Thermal imaging camera XC300
The innovative combination of comfort an efficiency
Top-class technology for mid-range prices
Price-conscious thermographers with professional needs definitely get their money's worth with the high-quality thermal imaging camera XC300 seeing as competition models with comparable equipment features easily cost twice as much.
State-of-the-art technology accommodated in an integral housing of protection type IP54 including laser distance measuring device, autofocus, 10x zoom and the unique PanoFold touchscreen, which can be rotated freely in virtually any direction and permits direct inputs by use of the touch function.
Fitted with a high-capacity Li-ion battery for extremely long measuring operations, the XC300 leaves nothing to be desired. Industrial and construction users are provided with a wide range of integrated measuring functions for precise real-time measurements in high native resolution, for recording fully radiometric real-time videos with a high-resolution detector, for infrared real image combinations, daylight images, comprehensive on-site analyses or optional voice recordings via Bluetooth – a high-quality analysis software for a conclusive documentation is already included in the standard scope of delivery.
With the variety of innovative functionalities the XC300 is optimally suited for the requirements in the construction sector and beyond that qualified for more demanding fields of application such as electrical thermography or the preventive maintenance in an industrial environment.
Ideal for building diagnostics and industrial applications
At the core of the infrared camera XC sits a high-resolution 384 x 288 infrared image detector with 110,592 independent single temperature measuring spots. Ther camera provides fully radiometric thermal images with a finely detailed depiction of even the smallest of temperature differences.
Not only can the infrared recordings be saved directly on the camera (non-radiometric) as individual images or MPEG-4 videos, optionally they can also be transferred onto a PC as fully radiometric IR video and there they can be recorded and analysed in real time employing the 50/60 Hz technology.
The robust design of the XC300 enables a long, failure-free operation even in rough construction site conditions. The XC300 comes in a shock-protected, two-component construction with IP54 type of protection and thanks to the uncooled microbolometer technology one can even do without regular maintenance work and calibrations.
High sensitivity, excellent image quality
The XC300 can measure temperatures of up to +600 °C (optionally up to +1,500 °C) and, owing to its high thermal sensitivity, visualize temperature differences of only 0.05 °C (50 mK).
The electric focus can be adjusted either manually or by means of the laser-supported automatic function, as you choose, and with the 10x digital zoom of the XC300 the measuring section can be freely selected. Optional interchangeable lenses further enhance the range of possible applications.
The integrated laser distance measuring device is particularly advantageous for all measuring operations. If it is switched on in addition, the measuring distance to the object can be read directly on the display.
In addition to the laser distance measuring device, the standard equipment of this thermography camera is completed by a real image camera with a resolution of 5 megapixels and a photo lamp as well as the laser pointer for visual targeting. Moreover, the XC300 is Trotec's first thermal imaging camera with a high-capacity Li-ion battery ensuring considerably longer non-stop measuring applications.
Convenient: Live view settings, IR video functions and measurement display via 'DuoVision Plus'
All functions of the XC300 were geared to meet the targets of user comfort and working efficiency. In case of the XC300, the setting options for the temperature range (span and level) that are customary for thermal imaging cameras of this class do not have to be set in the menu first to then be checked in the live image, but instead can be configured directly via cursor keys and you can watch the change live on screen.
The optional IR video function of the XC300 – that can be used to transfer fully radiometric infrared videos onto a PC whilst the measurement takes place where the results can then be recorded and evaluated in real time – provides ideal conditions for a very thorough analysis of the measurement results. For instance, this function permits a detailed examination of the heat-up and cooling behaviour of electronic and mechanical components or other objects over a defined period of time.
The DuoVision functions integrated in the thermal imaging camera XC300 allow for a variety of live display settings during the measurement. The picture-in-picture display function DuoVision permits a combined presentation of both pieces of image information in different overlays on top of the display of infrared and real images.
What is more, the additionally available DuoVision Plus function combines the infrared image information with high-contrast details of the visible light spectrum from the real image camera for the real-time indication of an extremely detailed thermal image fusion on the camera display.
This facilitates a much easier orientation, localization and assessment during the measurement – accordingly, damages or deficiencies can be detected and assigned at one glance. Besides a great number of other functionalities the supplied software also provides a DuoVision function for an overlay presentation of documents.
And these are not the last functionalities we have in store for you. The user can also make use of the periodic image storage function. This function enables you to record a series of thermal images with a preselectable recording frequency, e.g. every 30 minutes. With this recording interval you can optimally document the thermal long-term behaviour of an object. Furthermore you can save audio comments via headset and Bluetooth right along with the IR image.
The XC300 sets groundbreaking equipment standards in its price range:
Just swivel the monitor instead of twisting yourself into a pretzel: The unsurpassed PanoFold touchscreen can be tilted by 180° and swivelled by 270°, when closed it serves as monitor and keypad protection
Advanced real-time thermal imaging camera with a native resolution of 384 x 288 pixels (110,592 measuring spots)
Quick and precise autofocus
Integrated laser distance measuring device
High-capacity Li-ion battery – lasts more than twice as long as a standard Li-ion battery
Stepless 10x zoom – ideal to look at details even from afar
Recording of IR videos – fully radiometric as well*
* Saving fully radiometric IR videos requires the optionally available professional upgrade (software dongle)
Unsurpassed PanoFold touchscreen
The PanoFold touchscreen is a top-shelf monitor unit and can be rotated freely in virtually any direction.
Besides being used when folded inward against the device the PanoFold touchscreen can also be steplessly inclined by 180° and pivoted by 270°. Consequently, no user has to bend over or twist in any fashion just to inspect poorly accessible and not immediately visible objects. This is the function of the PanoFold touchscreen which ensures that optimum thermal images are taken even of measuring objects that are not within easy reach.
The device can also be operated directly using the touch function of the PanoFold display. When not in use, the display is simply protected by way of folding it up so that the monitor rests against the keypad.
High-quality analysis software
The software included in the XC300's scope of delivery is not only a simple transmission and display tool – along with every thermal imaging camera you also receive a professional range with numerous functions for the evaluation, organization and documentation of your measurement results.
The software's DuoVision Plus function further provides an option for the fusion of infrared and real images as contour emphasizing thermal images.
Thusly generated and stored DuoVision Plus images combine the radiometric image information with high-contrast details of the real image and hence enable better evaluations and still more professional documentations.
With upgrade option for fully radiometric IR video analyses and recordings on PC in real time
And with the optionally available real-time expansion, thermographs can transfer fully radiometric infrared videos from their XC300 onto a PC synchronously to the measurement and directly evaluate and record them there in real time using the software.
An ideal analysis option f.i. for the detailed examination of the heat-up and cooling behaviour of electronic and mechanical components or other objects over a defined period of time.
Scope of delivery and accessories
Optionally available equipment for the XC300:
Optional interchangeable lenses: 7° / 12° / 48° lens
Bluetooth interface
Bluetooth headset
Professional software upgrade (dongle) for thermographic video recordings and evaluations in real time, 3D heat distribution, export of measurement data, panoramic image creation from several individual thermal images and much more
The equipment features of the XC300 and XC600 in comparison
An overview window shows you all equipment features of the XC thermal imaging camera, pointing out the practical benefits in each case.
All thermal imaging cameras in direct comparison
Use the technical direct comparison to find out which Trotec thermal imaging camera meets your requirements best.
With the thermal imaging camera XC300 you are perfectly equipped for every task
Investigation of structural flaws
Detection of energy-related weak spots in the building envelope
Leak detection in inaccessible or covered pipes
Preventive maintenance of mechanical and electrical systems
Safety inspection of live industrial facilities
Functional check of photovoltaic installations
Electrical thermography
And many other applications
A few practical benefits:
Fully radiometric IR camera manufactured in the EU
50-Hz real-time measurement and real-time image display ensure clear thermal images of high quality
High thermal sensitivity
High geometric resolution
Precise temperature measurement in the entire picture
Dual key touchscreen control
5 megapixel digital camera for brilliant real images
Robust, shock-protected design in two-component construction with IP54 type of protection
3.5-inch PanoFold touchscreen
DuoVision Plus function for combined display of infrared and real image as contour emphasizing detail-enhanced thermogram
Integrated laser pointer
Diverse measuring functions
Optional Bluetooth voice recording
Data transmission via USB
High-quality analysis software included in the scope of delivery
Certified safety – calibration of measuring devices according to ISO standard
Being one of the leading full-range suppliers for building diagnostic and environmental measuring equipment, Trotec offers you the possibility to have all measuring devices calibrated, maintained and repaired by a single source. Using a calibrated measuring device you can avoid inaccurate measurement results and reliably protect yourself from possible recourse claims. Hence, play it safe and use our calibration service for your measuring devices: in our own laboratory, we calibrate in compliance with the ISO standard based on strictly defined measuring ranges and points. Optionally, the calibration points can also be defined individually within the specified calibration range.
Buy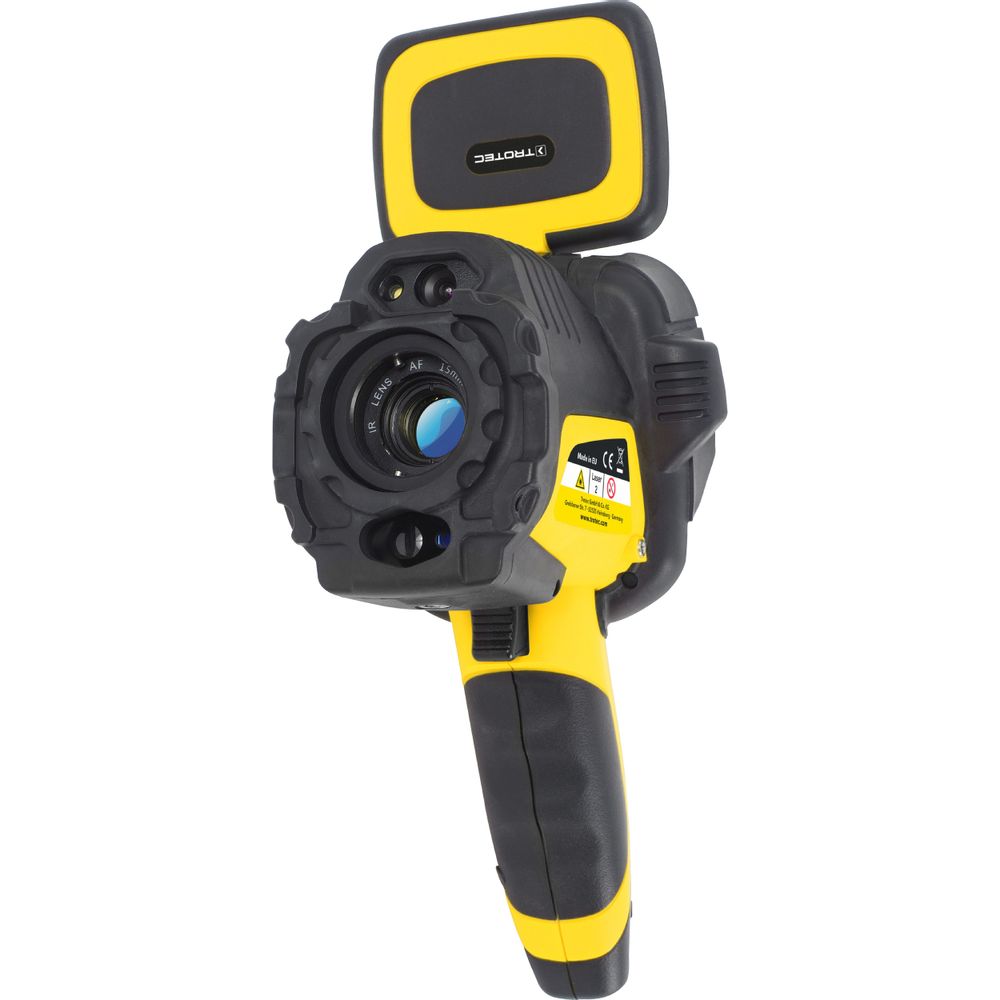 Technical data
Technical data
General information
Article number
3.110.003.043
Temperature (°C)
Min. measuring range [°C]
-20
Max. measuring range [°C]
600
Max. accuracy
± 2 °C or ± 2 % of the current measured value
Radiometric image performance
Detector type
Focal Plane Array (FPA), uncooled microbolometer
Detector resolution 384 x 288 pixels
Spectral range 8 - 14 µm
Thermal sensitivity [30 °C]
≤ 0.05°C
Image refresh rate
50/60Hz
Geometric resolution
1.1 mrad
Standard lens | Radiometric image performance
24°x18°
Minimum focal length
0.15 m
Field of vision (FOV)
24°x18°
Display
LCD 3.5"
Touch
Colour
Visual image performance (integrated digital camera)
Video norm
PAL/NTSC
Interfaces
USB (USB-C)
Composite video (video out)
Bluetooth
Power supply
Via battery (Li-ion)
Operating time
Up to 8 h
Device control
Touch
Push buttons
Memory organisation
Storage medium
Internally 16 GB (optionally 32 GB)
Radiometric file format
JPEG
Visual file format
JPEG
Ambient conditions
Operation - min. temperature [°C]
-20
Operation - max. temperature [°C]
50
Storage - min. temperature [°C]
-40
Storage - max. temperature [°C]
70
Min. humidity [%]
10
Max. humidity (non-condensing) [%]
95
Type of protection
IP54 IEC 529
Shock
25G IEC 60068-2-29
Vibration
2G IEC 60068-2-6
Laser
Type
Semiconductor AlGalnP diode
Classification
Laser class 2
Wavelength [µm]
635
Housing design
Plastics
Standard scope of delivery
Standard scope of delivery
Thermal imaging camera with standard lens
Protective cap
Temperature test certificate
Standard software package
Internal memory
Video cable
USB cable
Tripod fixing device
Ascertainable measured values and functions
Internal sensors
Surface temperature [°C]
Surface temperature [°F]
Functions and features
Motor-controlled focus
Temperature comparison function
System can be remote-controlled by use of the software
Saving of fully radiometric JPEGs
Saving of non-radiometric MPEG-4 IR videos directly on storage medium
Saving of radiometric videos – on PC via USB
Mounting via a 1/4 inch - 20 connection
Fixed focus
Distance indication to the object directly in the thermal image (in m or inch)
Auto focus
10x digital zoom (adjustable in 0.1 degrees)
Manual focus
Manual adjustment of brightness and contrast
Integrated photo lamp
Integrated distance measurement (up to 30m)
Integrated digital camera
Automatic measurement correction based on user-defined specifications regarding reflected object temperature
Automatic measurement correction based on user-defined specifications for ambient temperature, distance, relative humidity
Automatic adjustment of temperature range
Status display
Tripod mounting
Tripod
Profile analysis
Laser pointer
Automatic contrast and brightness setting
Isotherm measuring function - between upper and lower limit value
Freeze function
Energy saving mode - user-defined
Degree of emission adjustable from 0.01 to 1.0
Differential measurement
Data transmission via USB
Up to 9 movable measuring spots (8x manual and 1x automatic temperature tracking)
Image display option real image
Image display option IR image
Image display (pseudo colours, 6 colour palettes)
Area measurement 1 area
Alarm function (acoustic) when exceeding/falling below freely configurable temperature values
DuoVision Plus, combined display of IR image and contour representation (real image)
Inclinable, swivel-mounted 3.5-inch display
standard equipment
optionally available
not available
Alternative products
Loading...