Thermometer BT22WP
Bluetooth® digital thermometer with a smartphone app for temperature control in air ducts
Temperature measurement with app control and smartphone connectivity
The digital thermometer BT22WP is equipped with an ultra-thin probe which makes it an ideal device for measuring the ambient temperature of non-aggressive gases in places that are difficult to access; e.g. air ducts, ventilation shafts, and for measuring the temperature of non-aggressive liquids.
Universal temperature measurement in the room air and in liquid
Thanks to its ultra-fine temperature probe with a length of 93 mm, the BT22WP measures the temperature of air as well as non-aggressive gases and non-aggressive liquids in the temperature range between -50° C to +150 °C, when it is impossible to use conventional digital thermometers due to their design. The temperature probe made of high-quality stainless steel is stable and easy to clean. With its compact dimensions and the rod-shaped measuring probe (∅ 4 mm, L = 93 mm) the BT22WP also has the edge over conventional thermometers because of its Bluetooth 4.0 compatibility and the MultiMeasure Mobile app (Android and iOS) supplied.
Evaluation and documentation all included – thanks to the MultiMeasure Mobile app
As a Trotec measuring device of the latest generation, the digital thermometer BT22WP is prepared to meet all requirements of a professional measuring data evaluation and documentation. Via the integrated Bluetooth® interface, the measurement data recorded are transferred easily and conveniently to a smartphone or tablet, where they can be evaluated and recorded professionally using the free MultiMeasure Mobile app (Android and iOS).
In addition to the professional temperature measurement, the beneficial combination of hand-held measuring device and MultiMeasure Mobile evaluation software allows for comprehensive evaluation and documentation of the measuring data – including a variety of analysis options like for example a logging function for long-term measurements, graphic evaluations, report function and data synchronisation with our professional MultiMeasure Studio Professional software via cloud.
Quick measurement of the ambient temperature in places that are difficult to access
Whether you're a plant mechanic for heating, ventilation and air-conditioning technology, an expert or a caretaker: With the Bluetooth® digital thermometer BT22WP you're ideally prepared for all temperature measurements in air ducts and vents, in order to provide for a detection of malfunctions and undesired temperature deviations in a way that is smarter than ever. The BT22WP is equally suitable for inspecting and servicing car air-conditioning systems.
Practical, handy, simply good: Beneficial features
The lightweight 90 g BT22WP combines innovative measurement technology in its most compact form with an ease of use. When performing an individual value measurement, the measured value can be updated either via the MultiMeasure Mobile app or directly at the device simply by pushing a button. Apart from the measured value hold function, the smart hand-held measuring device can indicate minimum, maximum and average values and carry out series measurements.
The combination with the professional Multimeasure Mobile app opens up totally new possibilities in the fields of data collection, evaluation as well as reporting. One touch of a button suffices to start the measurement. With its magnetic holder integrated into the housing, the BT22WP allows for hands-free working and a secure grip on magnetic surfaces.
The scope of delivery includes:
Bluetooth® thermometer BT22WP
Free MultiMeasure app
3 x Batteries AAA 1.5 V
Practical hand strap
1 x Operating manual
Why use appSensors? Aren't there a lot of measuring apps already?
Of course there are numerous apps using the electronic components integrated in smartphones, e.g. microphone, gyroscope or camera, for measurements and derived calculations. But these components haven't been designed for precise metrological inspections, instead mainly for an optimized application on a mobile device.
Hence, the obtained results are not in the least comparable with the results achieved by sensors specifically designed for measuring applications. Besides, your smartphone may not be equipped with the suitable electronic component for every measurement task, e.g. for contact moisture measurements or non-contact temperature measurements.
Trotec appSensors on the other hand house professional sensors for precise measuring results –which is just what they were made for. So, be smart and use the clever combination of appSensor and MultiMeasure Mobile – our free app available for both iOS and Android – to carry out professional measurements.
MultiMeasure Mobile app – smart measuring data acquisition and evaluation of measuring data
With the free MultiMeasure Mobile app the captured measurement data becomes even more transparent. Just like the analysis software MultiMeasure Studio Professional 2.0developed by Trotec for administration, analysis and report generation of measurement data on your PC, the free MultiMeasure Mobile app for Android and iOS devices also allows for professional measurement data management with a multitude of useful functions. The digital thermometer BT22WP and numerous other measuring devices with Bluetooth® interface are automatically identified by the app and can be connected to the mobile terminal device quickly, easily and wirelessly.
The functionality of the MultiMeasure Mobile app is way beyond the simple indication of the captured measurement values. All recorded data can be displayed either numerically or in form of a chart and, by means of the logging function, can also be recorded as a series of measurements for long-term evaluation. Assigning measurement data to different projects (e.g. departments, rooms, buildings, etc.) with the app is a child's play – including text and report templates for professional measurement data reports.
MultiMeasure Mobile – all of the app's advantages at one glance:
Automatic identification of the BT22WP and other measuring devices with Bluetooth® interface
Quick and intuitive navigation
Numerical measured value indication or else in form of a chart / matrix
Integrated report function for the documentation directly on site
PDA function for the organization of measurement data and documents
Customer management already integrated
Manifold analysis options directly in the app
Storage of measured values linked to photos
Matrix measurements, also linked to photos
Complete data synchronization with MultiMeasure Professional via cloud
Info video on appSensors and MultiMeasure Mobile
In our video you can get a quick overview of the measurement options of the Trotec appSensors and get first insights into the functionality of the MultiMeasure mobile app. Watch it now!
BT22WP – A few practical benefits:
Compact digital thermometer for measuring the ambient temperature (measuring range -50 to 150 °C, measurement accuracy ±1 °C) in air ducts and ventilation shafts
Min/Max and data hold function
Integrated magnetic holder to allow for hands-free working
Bluetooth® connectivity for use of the free MultiMeasure Mobile app
Buy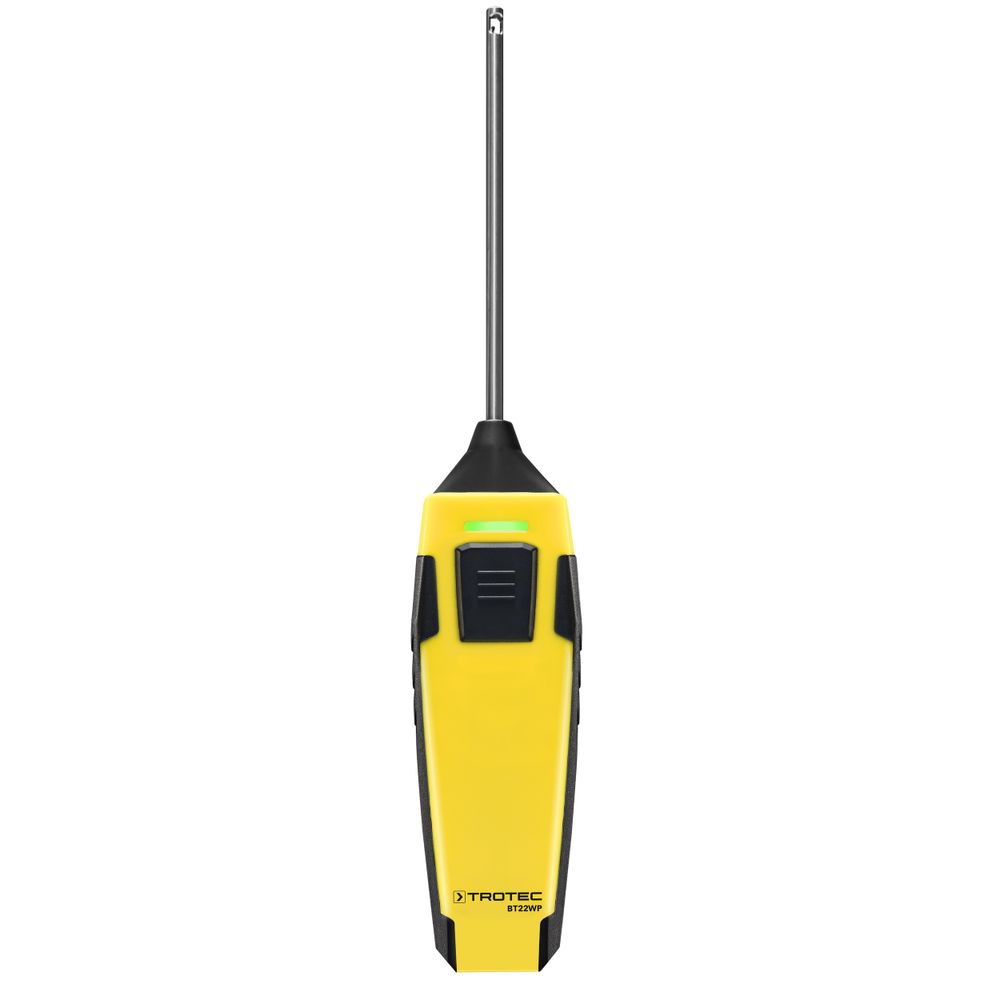 Technical data
Technical data
General information
Article number
3.510.205.009
Air temperature [°C]
Min. measuring range | Air temperature [°C]
-50
Max. measuring range | Air temperature [°C]
150
Resolution [°C]
0.1
Accuracy
±2°C (3.6°F) @ <0°C
±1°C (1.8°F) @ ≥ 0°C
Air temperature [°F]
Min. measuring range | Air temperature [°F]
-58
Max. measuring range | Air temperature [°F]
302
Resolution [°F]
0.1
Accuracy ± | Air temperature [°F]
3.6
Temperature liquids [°C]
Min. measuring range | Liquids [°C]
-50
Max. measuring range | Liquids [°C]
150
Resolution | Liquids [°C]
0.1
Accuracy
±2°C (3.6°F) @ <0°C
±1°C (1.8°F) @ ≤ 0°C
Housing design
Plastics
Bluetooth
4.0 (BLE)
Max. transmission range
10 m in open terrain
Power supply
3 x 1.5 V, AAA
Ambient conditions
Operation - min. temperature [°C]
-20
Operation - max. temperature [°C]
50
Storage - min. temperature [°C]
-20
Storage - max. temperature [°C]
60
Operation - max. relative humidity [% r.F.]
80
Relative humidity during storage [%]
10 -90% RH
Dimensions
Length (packaging excluded) [mm]
23
Width (packaging excluded) [mm]
38
Height (packaging excluded) [mm]
220
Weight
(packaging excluded) [kg]
0.09
Standard scope of delivery
Standard scope of delivery
Measuring device
Battery(-ies)
Wrist strap
Operating manual
Ascertainable measured values and functions
Internal sensors
Temperature [°C]
Temperature [°F]
Functions and features
Battery status indication
Minimum value display
Maximum value display
Average value display
Measured value hold function
Automatic switch-off
Alarm function
Representation of measurement data as chart or table
Data export
Report generation function
standard equipment
optionally available
not available
Alternative products
Loading...