BG40 gas detector
Highly sensitive, quick-response detection of even the smallest gas leaks
Quick and reliable measurement of CO concentrations in the ambient air
Storing and using combustible gases such as natural gas, methane, ethane and propane ranks among the everyday risks not to be underestimated. On these grounds, you should regularly inspect gas cartridges and LPG containers at your home or on your boat as well as gas pipelines and fittings for leakage by use of a gas detector – like the BG40.
Owing to its high sensitivity, the compact hand-held measuring device BG40 registers even the smallest of gas leaks in less than two seconds – and with a sensitivity level of <10 ppm it alerts you even to minor gas concentrations via a visual and acoustic alarm signal topped off with a vibration alert. With increasing frequency the acoustic alarm signal indicates a growing intensity of the escaping gas.
A flexible tubular probe of 40 cm (15.75") length permits the detection and identification of a leak in poorly accessible and confined spaces. The gas detector comes equipped with a backlit LCD display on which the measured ppm values can be read at any time quickly and easily even in unfavourable lighting conditions. Also indicated is the lower explosive limit in % (often abbreviated as LEL); it defines the minimum gas concentration in the air at which an explosion is possible. 
The BG40 reliably detects combustible gases such as natural gas, methane, ethane, propane, butane, hexane, ethylene, acetaldehyde, formaldehyde, toluene, p-xylene, acetone, alcohol, benzene, ammonia, steam, carbon monoxide, petrol and hydrogen sulphide. 
BG40 – Special equipment features
Highly sensitive, quick-response detection of even the smallest gas leaks
All Gas measuring devices in direct comparison:
To find the gas meter which exactly meets your requirements, please consult the concise overview of all Gas measuring devices from Trotec, which we're providing to you here so that you can compare them directly to each other.
Models which you do not wish to include in your comparison can be easily dismissed with only one click.
A few practical benefits:
Gas warning device and gas detector in one device
Visual and acoustic alarm signal as well as vibration alert
Alarm frequency in proportion to gas concentration
Large, easy-to-read display with additional indicator
Backlit LCD display
Automatic switch-off
Soft-touch function keys
1/4-inch tripod thread
Simple single-handed operation
Optimum value-for-money ratio
Semi-rigid gooseneck probe of 40cm length for the examination of poorly accessible locations
standard equipment
optionally available
not available
Shop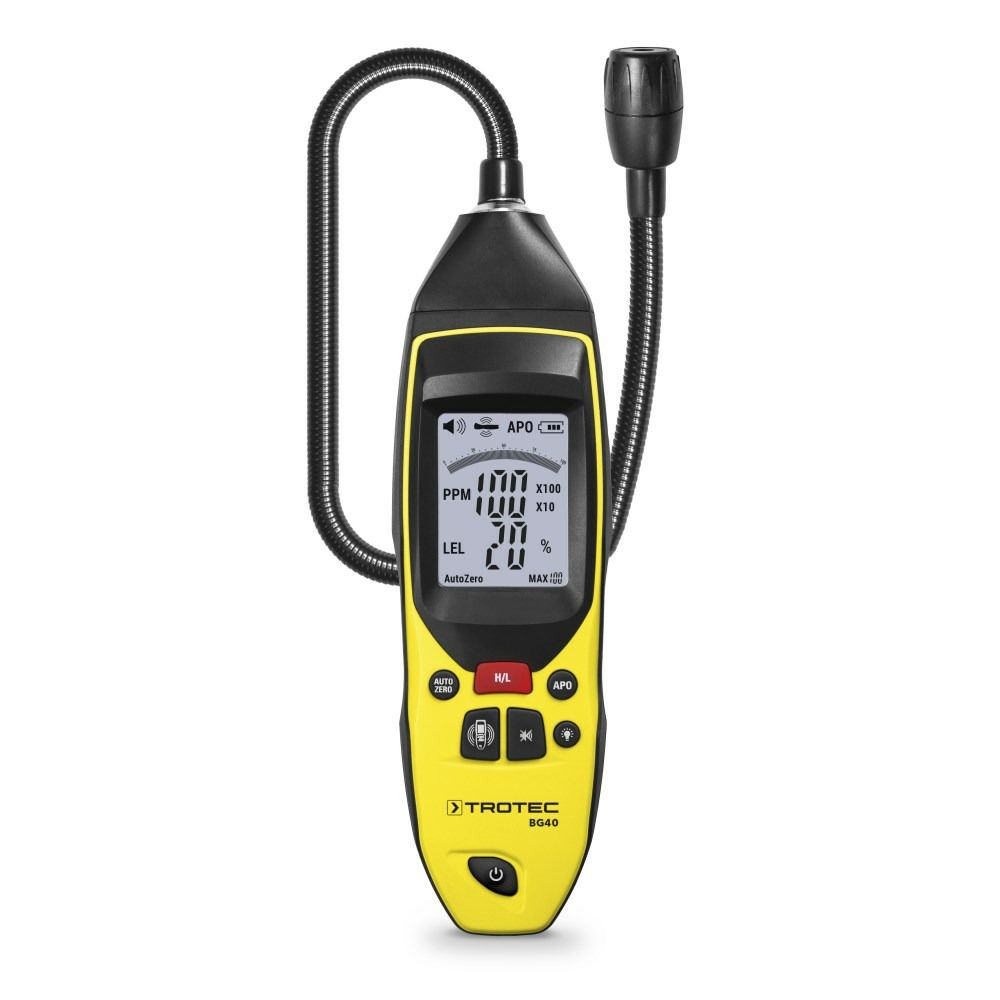 Technical data
Technical data
General information
Article number
3.510.205.068
Combustible gases
Min. measuring range | Methane [ppm]
0
Max. measuring range | Methane [ppm]
10,000
Accuracy | Flammable gases
50 ppm
Response time [s]
2
Sensitivity
<10 ppm
Standard calibration
Methane
Alarm threshold
x10:
0 up to 100 ppm, 100 up to 400 ppm,
400 up to 700 ppm, 700 up to 1.000 ppm,
x100:
0 up to 1.000 ppm, 1.000 up to 4.000 ppm,
4000 up to 7.000 ppm, 7.000 up to 10.000 ppm
Max. alarm level
x10: >1000, x100: > 10.000
Warm-up time
Approx. 40 s
Display
LCD
Monochrome
Housing design
Plastics
Gooseneck probe
Length approx. 40 cm
Operating time
approx. 8 h
Charging time
approx. 3 h
Power supply
Battery type
1 x 3.7 V Li-ion battery integrated
Ambient conditions
Operation - min. temperature [°C]
0
Operation - max. temperature [°C]
40
Operation – min. relative humidity [% RH]
10
Operation – max. relative humidity (non-condensing) [%]
85
Storage - min. temperature [°C]
-10
Storage - max. temperature [°C]
60
Dimensions
Length (packaging excluded) [mm]
45
Width (packaging excluded) [mm]
60
Height (packaging excluded) [mm]
220
Weight
(packaging excluded) - batteries included [kg]
0.428
Standard scope of delivery
Standard scope of delivery
Measuring device
Charger
Bag/holster
Operating manual
Battery(-ies)
Ascertainable measured values and functions
Internal sensors
Combustible gases
Functions and features
Visual alarm function
Acoustic alarm function (alarm frequency in relation to gas concentration)
Vibration alarm
Auto zero function
Automatic switch-off
Backlit display
Gooseneck probe (40 cm)
¼ inch tripod thread
Battery status indication
standard equipment
optionally available
not available
Alternative products
Loading...