Turbo fan TFV 10 S
The TFV 10 S turbofan provides a wide and flat air flow, especially for the drying of floors or walls
This versatile turbo fan is the ideal aid to assist in drying walls and floor after a water damage, or else to speed up the drying of screed and entire buildings or for a quicker drying of carpets after wet cleaning and shampooing.
Owing to its extremely compact dimensions, this turbo fan is suited particularly well for smaller areas or inaccessible hollows and can be used in three different installation angles (0°, 45° and 90°).
The combination of performance, robust, compact construction, high application flexibility and excellent value-for-money ratio makes the turbo fan TFV 10 S the perfect universal equipment for any business offering restoration, cleaning or craft services.
All Turbo fans of the TFV-S series in direct comparison:
To find the turbo fan of the TFV-S series which exactly meets your requirements, please consult the concise overview of all devices which we're providing to you here so that you can compare them directly to each other.
Models which you do not wish to include in your comparison can be easily dismissed with only one click.
A few practical benefits:
Robust polyethylene housing
Double-flow radial fans with extra large shaft
Operation and storage possible in several angular positions
High energy efficiency, thus equally powerful and energy-saving
standard equipment
optionally available
not available
Shop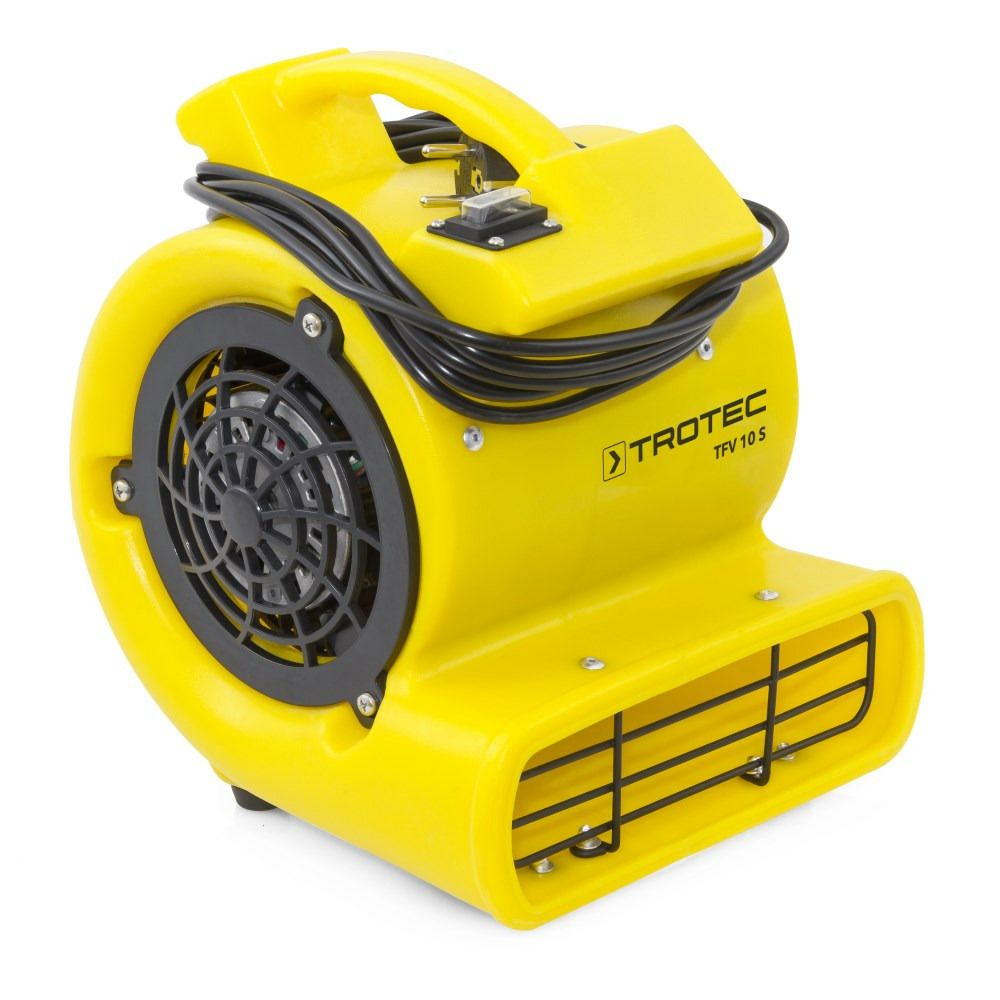 Technical data
Technical data
General information
Article number
1.510.003.011
Air flow rate
Level Max. [m³/h]
355
Air current
Blowing out
Sucking in
Fan
stages
1
Radial
axial
Air discharge velocity
Air discharge speed [m/s]
8.6
Air discharge speed [km/h]
31
Air pressure
Level Max. [Pa]
90
Transport medium temperature
max. [°C]
60
Electrical values
Mains connection
230 V, 50 Hz
Nominal current consumption [A]
0.5
Power input [kW]
0.075
Recommended preliminary fuse [A]
10
Electric connection
Connection plug
CEE 7/7
Cable length [m]
3
Safety feature
IP type of protection
22
Sound values
Level 1 - Distance 3 m [dB(A)]
61.5
Operating hours counter
Operating hours counter
Dual counter for operating hours and energy consumption (MID-compliant*)
Dimensions
Length (packaging excluded) [mm]
275
Width (packaging excluded) [mm]
300
Height (packaging excluded) [mm]
330
Weight
(packaging excluded) [kg]
3.5
Equipment, features and functions
Mobility
Carry/transport handle(s)
portable
Plastic wheels
Rubber-tyred metal wheels
Non-marking full-rubber wheels
Crane
Forklift
Shelf life
Stackable
standard equipment
optionally available
not available
Alternative products
Loading...