High-performance fan TTV 7000
High air exchange rates even in large-volume rooms: With the high-performance fan TTV 7000
Extremely robust for continuous professional use even under the toughest conditions
This high-performance fan is the first choice for all ventilation tasks in production or storage facilities or farms where large air volumes must be circulated.
Because with its air flow rate which can be shifted up in three levels to 8,500 m³/h and an impressive discharge distance of 65 metres in interior spaces, the TTV 7000 ensures high air exchange rates even in large-volume surroundings. Perfect prerequisites for instance for the auxiliary dry air circulation in warehouses.
With the matching hose adapter and several connected fan hoses the TTV 7000 conveys these large amounts of air over very long distances without difficulty.
And since this robust high-performance fan was especially designed with a high service life and reliability for the toughest practical requirements in harsh surroundings, even for the stresses and strains resulting from continuous operation in frequently changing locations, it is not only optimally suited for use in manufacturing and building industry or crafts, but also the perfect solution for every machine rental company!
One adapter – manifold fields of application
On both sides, the TTV hose adapter can optionally be connected to the fan for suction or ventilation purposes. The use of two hose adapters enables the combined application of air transport hose and dust bag to remove dirt particles.
Dust protection during restoration works
During restoration work, material processing and disposal dust is inevitable. In this context the latest studies are alarming, which suggest, that the current peak values for dust at the workplace most likely are no sufficient protection against lung cancer.
Consequently affected are inter alia employees in the construction industry, who keep inhaling respirable fine particulates – even though the material itself might not be regarded as toxic
Hence, protect your staff and yourself from dangerous fine particulates at work !
A field-tested alternative to reduce dust exposure is the removal of dirt and dust particles by suction. Trotec's washable dust bags have a transmittance of less than 0.1 %, comply with dust class M and conform to DIN EN 60335-2-69 about the use of filters in machines and appliances removing dust.
No dust – no risk :
TTV 7000 - Special equipment features
Application examples from practical experience:
All axial fans in direct comparison:
In order to find exactly the right axial fan for you, you have the possibility to compare all fans from Trotec here.
Models that you do not want to include in the comparison can simply be clicked away.
A few practical benefits:
High-performance axial fan – manufactured in keeping with high industrial standards
Extremely robust for the professional continuous operation even under the toughest conditions
Splashproof (IP55)
Space-saving stackability for transport and storage
Matching hose adapter available: The optional connection adapter serves for connecting an air transport hose or dust bag at the TTV7000 e.g. for the extraction of dirt particles by suction
Proper energy billing for existing equipment without meters?
You're using this or another electrical appliance without MID-compliant energy consumption meter of which you have to report the current consumption to insurance companies? Then the BX50 MID is the perfect solution. Just install it between the device and a fixed socket – done!
standard equipment
optionally available
not available
Shop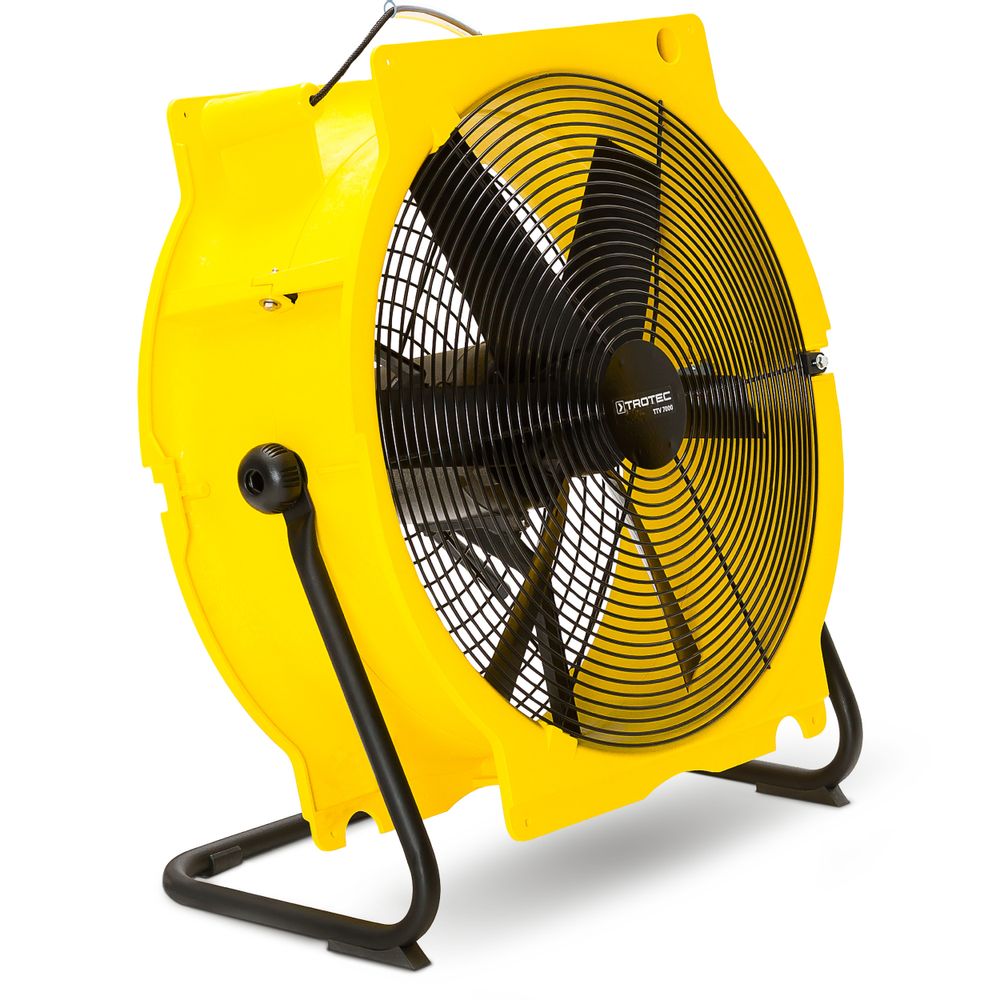 Daily rent:
10.80 £ incl. VAT per day
Daily rent:
9.00 £ plus VAT per day
Technical data
Technical data
General information
Article number
1.510.000.030
Air flow rate
Air volume Level Max. - Freely blowing [m³/h]
8,500
Air current
Blowing out
Sucking in
Fan
axial
Radial
stages
3
Air discharge velocity
Air discharge speed [m/s]
11
Air discharge speed [km/h]
39.6
Discharge distance
outside [m]
20
Inside [m]
65
Air pressure
Level Max. [Pa]
100
Transport medium temperature
max. [°C]
45
Electrical values
Mains connection
230 V, 50 Hz
Nominal current consumption [A]
1.8
Power input [kW]
0.41
Recommended preliminary fuse [A]
10
Electric connection
Connection plug
CEE 7/7
Cable length [m]
3
Safety feature
IP type of protection
55
Sound values
Distance 3 m [dB(A)]
58
Hose connection
Diameter [mm]
560
Dimensions
Length (packaging excluded) [mm]
365
Width (packaging excluded) [mm]
620
Height (packaging excluded) [mm]
620
Weight
(packaging excluded) [kg]
18.5
Equipment, features and functions
Mobility
Carry/transport handle(s)
stackable
portable
Plastic wheels
Rubber-tyred metal wheels
Non-marking full-rubber wheels
Crane
Forklift
Shelf life
Stackable
standard equipment
optionally available
not available
Alternative products
Loading...