Mobile power distributor PV32
Mobile power distribution made easy – security and ease of handling with the PV32 from Trotec
PV32 – always there and full of energy
The robust plastics mobile distributor PV32 with its IP44 type of protection is equally suitable for adverse operational environments in indoor and outdoor areas and with its two CEE sockets (32 A and 16 A, 400 V) and the three safety sockets (16 A, 250 V) can be used for a large variety of applications, for example as power current or light current distributor on construction sites, in the agricultural sector, for events, and for the industry, commercial, or camping and recreational sector.
Easy transport, space-saving storage
To ensure easy transport, the power distributor PV32 is equipped with a fold-down V2A carrying handle and a take-up facility for the 2-m connecting cable. In the warehouse, the distributors can be stacked to save space.
Special protective properties are provided by the standard residual-current-operated protective device (RCD) and the circuit breakers which are mounted in the housing cover, well protected under a visual hatch window. Furthermore, all sockets are provided with self-closing spring-loaded flap caps.
Original Trotec brand quality
With the mobile distributor PV32, you benefit from brand quality designed by Trotec. Even if some competition models seem to be very similar at the first glance, distinct differences in quality only show when you look at the details: The solid and premium quality housing of the PV32, for example, is manufactured of a special plastics material, which is characterized by its high resistance, notch impact strength, thermal stability, dielectric strength, UV resistance, chemical and weather resistance – the material used is furthermore free from cadium, red phosphorus and halogens such as fluorine, chlorine, bromine, iodine or astatine.
Plug arrangement:
1 x CEE socket 32 A, 5 p, 400 V
1 x CEE socket 16 A, 5 p, 400 V
3 x safety socket 16 A, 250 V
Residual current device:
1 x 63 A, 4 p, 0.03 A (type A 40AT)
Circuit breakers:
1 x 16 A, 3 p, C and 1 x 16 A, 1 p, C
Electrical connection:
2-m connecting cable H07RN-F 5G6 with CEE plug 32 A, 5 p, 400 V
With this equipment you are in safe hands
A few practical benefits:
Socket combination as per EN 61439
assembled with 3 CEE sockets (32 A and 16 A, 5 p, 400 V)
and 4 safety sockets 16 A, 250 V
Residual current device and circuit breakers under a visual hatch window in the housing cover
IP44 type of protection
Take-up facility for connection cable
Buy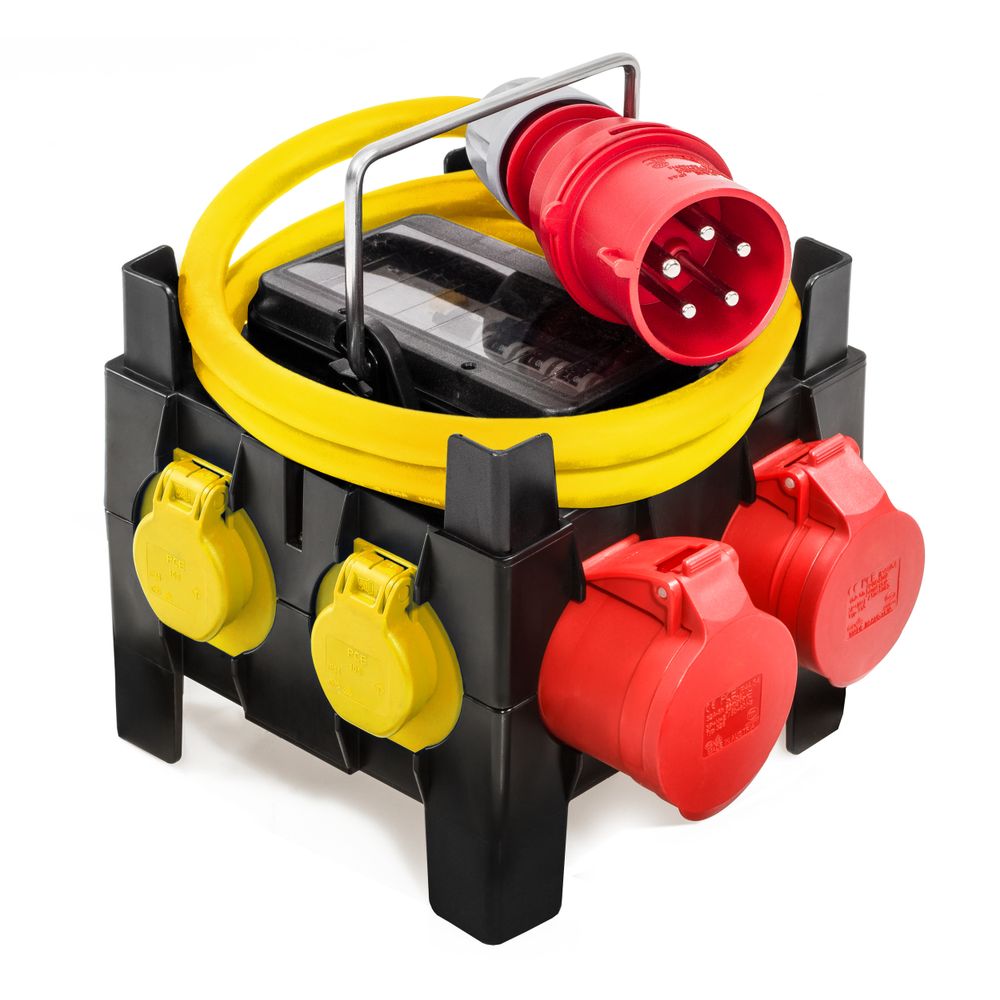 Technical data
Technical data
General information
Article number
6.100.002.076
Electric connection
Connection plug
1 x 32 A, 5-pin, 400 V, 1 x 16 A, 5-pin, 400 V
Number of safety sockets
3
Residual current device
1 x 63 A, 4-pin, 30 mA (type A, 40 A (T))
Circuit breaker(s)
1 x 16 A, 3-pole, type C, 1 x 16 A, 1-pole, type C
Connection line
H07RN-F-5G6
Cable length [m]
2
Cable cross-section [mm²]
6
Rated voltage [V]
400
Safety feature
Type of protection
IP44
Ambient conditions
Operation - min. temperature [°C]
-25
Operation - max. temperature [°C]
35
Storage - min. temperature [°C]
-25
Storage - max. temperature [°C]
35
Functions and features
Hinged inspection window for MCBs in housing cover
Fold-down V2A carrying handle
Take-up facility for connection cable
Berührungsschutz
Mobility
Carry/transport handle(s)
Feet
stackable
Housing design
Plastics
Dimensions
Length (packaging excluded) [mm]
250
Width (packaging excluded) [mm]
230
Height (packaging excluded) [mm]
210
Weight
(packaging excluded) [kg]
4.1
standard equipment
optionally available
not available