B 500 radio – State-of-the-art hygiene technology!
Radio-controlled humidification, cleaning and filtration...
The ideal humidity level
B 500 radio – State-of-the-art hygiene technology!The B 500 works according to the evaporation principle. Limescale and condensate formation cannot occur, a potential overhumidifying of the air is also ruled out.
The electronically controllable humidifier operates almost noiseless. Its very silent radial fan can be adjusted in four manual power stages or fully automatically. An integrated calibratable hygrostat controls the desired humidity. The infrared remote control enables safe humidification operation: It is impossible for unauthorized persons to change settings of the device!
Increased safety based on self-diagnosis system...
The neatly arranged operator display with user-guided menu provides information about all operational settings such as the water level, fan stage and relative humidity of the room air. The self-diagnosis system indicates the necessity of filter change and potential faults incl. error code. Due to an integrated alarm relay, fault indications can also be directly passed on to an external or central alarm system, if required.
In addition to a thorough humidification, the air is also filtrated and purified by the device and cleaned from dust. Electrostatic charge is prevented, too.
Radio sensor measurement for distances of up to 30 m
Thanks to the wireless radio sensor system even more accurate and stable measuring values can be achieved. The battery-powered sensor can be mounted unobtrusively in a suitable position within the measuring range without effort (Minimum distance to the device 2 m) – e.g. on the wall or ceiling – and ensures safe regular measuring and control of the humidifier over a distance of up to 30 metres. When the battery is low, there will be an automatically generated acoustic signal request to change the battery.
Properly moistened and tempered air prevents damages!
Loss of value due to dry air
Especially in closed, heated rooms the relative humidity often falls below the optimum value of 45 - 55 %. Furniture, antiques, paintings, musical instruments and books can be seriously damaged when the air is too dry. Electrostatically charged data storage media in call centres and computer rooms may cause expensive faults.
You can protect and preserve valuable and sensitive art objects as well as furniture with a reliable humidification and filtration of the room air!
Simple maintenance and service thanks to modular design...
The B 500's plastic housing is antistatic, acid- and lye-proof, corrosion-proof and inherently stable. Owing to the modular design, the individual components can be disassembled for cleaning and maintenance purposes without any problems or the need for tools – movable parts are covered with grids.
The device is further provided with a spill protection and switches itself off automatically in case of an empty water tank.
To reduce calcification and saline concentrates in the water, the B 500 can optionally be equipped with a manual or fully automatic rinsing unit.
Optional equipment of the B 500:
UV sterilization, automatic water supply via magnet valve, water monitor, collecting tray, safety pressure hose, safety water level sensor, automatic or manual rinsing unit employing a scavenging pump, activated carbon purifier set, air scoop.
Guidebook for the optimum protection against viruses by the use of a humidifier
As one of the world's leading companies in the field of air conditioning, Trotec has already developed highly efficient systems for air purification, air filtration and perfectly hygienically humidification in the last decades. All key data and current information with regard to the novel coronavirus SARS-CoV-2 and on how you can reduce the risk of infection for yourself, your family, your staff as as well as customers and guests can be found online in our guidebook "Humidity: Natural health protection and hygiene for the room air". Our experts will be pleased to answer your questions, also personally, under +49 2452 962-400 or via e-mail: info@trotec.de.
Optimum room humidity level in every environment
The use of the mobile humidifier B 500 significantly reduces the risk of being infected with pathogenic viruses and bacteria in the numerous public facilities and buildings of our daily life. Moreover, the B 500 creates a perfect room climate for maximum productivity and efficiency at the workplace. The B 500 can also be ideally used for the value retention of precious artefacts, scripts and exhibits.
Health protection for employees, visitors and customers
An optimized humidity level reduces the risk of infection with pathogens in public facilities with a high volume of public traffic. The humidifier B 500 reduces the number of pathogenic germs in a variety of different rooms, entrance, passage and waiting areas:
Open-plan offices, canteens
Hotels, guest houses
Retail sector
Catering trade
Hospitals, day-care hospitals
Retirement homes
Medical practices
Nurseries
Schools, nursery schools
Savings banks and credit institutions
Universities
Correctional facilities
Buildings of public authorities, administrative bodies
Sheltered workshops
Churches, meeting rooms
Car showrooms
Trade fairs, conference rooms
Cultural centres
Cinemas, theatres
Fitness studios, therapy rooms
Value retention of irretrievable art, objects and scripts
To ensure the value conservation of sensitive exhibits of wood and paper, canvases as well as historical scripts and books, a constantly optimized humidity level is necessary. The use of the humidifier B 500 prevents brittle paper, shrinkage as well as cracks and breakages in the material. The use of the B 500 minimizes disturbing dust turbulences and therefore dust deposits on the exhibits and showcases. It is perfectly suited for:
museums
exhibition halls
libraries
galleries
town archives
art collections
art storage facilities
schools of arts
Special equipment features
Examples of practical applications:
All Evaporation humidifiers in direct comparison:
To find the Evaporation humidifier which exactly meets your requirements, please consult the concise overview of all Evaporation humidifiers from Trotec, which we're providing to you here so that you can compare them directly to each other.
Models which you do not wish to include in your comparison can be easily dismissed with only one click.
An agreeable room climate ensured by the humidifiers from Trotec
Be it humidifier, evaporator or air washer – Trotec devices allow you to breathe freely after only a short period of use. Both models optimally regulate the humidity level, thus ensuring a healthier room climate and protecting your furniture, books, paintings or antiques from damage caused by too dry or too humid air.
However, to ensure safe water quality at low maintenance costs in a highly dusty and polluted indoor environment, SecoSan® Stick and LiQVit should be used in combination.
Practical benefits of the B 500 radio:
IR remote control for safe operation: The changing of set values by unauthorized persons is excluded
UV lamp for an effective sterilization of the water reservoir (accessory)
Precise radio sensor measurement for accurate humidity control
Central control panel with an overview of all operational settings
Self-diagnosis system
Integrated spill protection
Labyrinth filter system and purifier set for air cleaning
standard equipment
optionally available
not available
Shop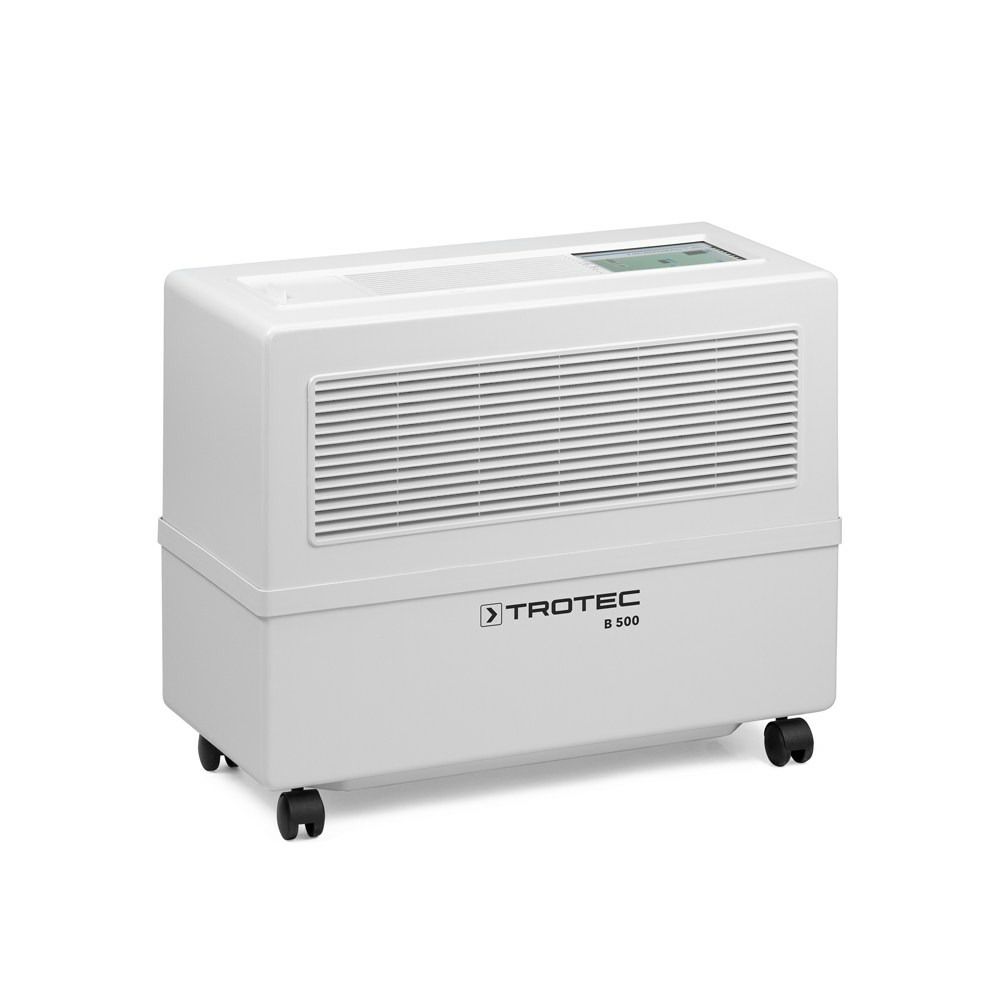 Daily rent:
26.40 £ incl. VAT per day
Daily rent:
22.00 £ plus VAT per day
Technical data
Technical data
General information
Article number
1.160.000.500
Air flow rate
Max. air volume flow [m³/h]
800
Electrical values
Mains connection
230 V, 50 Hz
Power input | Humidification [kW]
0.125
Electric connection
Connection plug
CEE 7/7
Evaporation capacity
Power Max. [l/24h]
60
Fan stages
Number of fan stages
4
Recommended room size
m³
1,050
m²
420
RH control
Radio sensor
Hygrostat, internal
Humidity sensor, internal
Water tank
Contents in [l]
50
Air filter
integrated
Sterilization
UV lamp
Control
Digital display
Electronic
Keyboard lock
Remote control
Sound values
Level min. - Distance 3 m [dB(A)]
32
Level Max. - Distance 3 m [dB(A)]
44
Housing design
Plastics
Dimensions
Length (packaging excluded) [mm]
365
Width (packaging excluded) [mm]
755
Height (packaging excluded) [mm]
620
Weight
(packaging excluded) [kg]
24
Equipment, features and functions
Mobility
Wheels
Housing colour
Housing colours
White, Light grey, Anthracite
standard equipment
optionally available
not available
Alternative products
Loading...