Professional electric heater TEH 100
Absolutely awesome not only in terms of condensation-free heat.
If you are looking for the ideal mobile heating solution for construction sites, industry and agriculture or for heating unventilated rooms with condensation-free warmth, we can highly recommend our most powerful professional electric heater of the TEH series.
The suberb first impression when beholding the tried and tested German industrial design (protected prototype) is gloriously confirmed when observing the inner values of this powerful electric heating device:
Concealed underneath the TEH 100's steel sheet construction with protective coating is an especially developed chassis, which was elaborately flow-optimized for maximum system efficiency so that focussed hot air can be streamed via hose distances of up to 15 m without turbulence losses.
Due to the focussed current of heating air and the high fan performance of max. 1,785 m³/h, even large rooms are quickly heated. Given extreme performance values of the TEH 100, the heating device is provided with an extra thermally insulated hose connection with special supporting ring, so the connected warm air hose does not lose its grip. The discharge grille integrated in the connector additionally forces a directed current of warm air.
The robust step switches of the TEH 100 enable a need-based regulation of the heating capacity for every application requirement. Step one activates the fan, while steps two to four each raise the heating capacity, up to the maximum of 18 kW.
Thanks to the identical stacking groove, the multi-stackable electric heating device can flexibly be stacked to save space during storage and transport in random combination with equally dimensioned models such as the TEH 70. During application individual heating compositions can be realized, for instance 180°-stacking installations for a combined air transport in several directions.
The wheels of the TEH 100 can be turned in all directions, making quick site changes a breeze. When stacked again and with the RollStop catch arrested in the stacking groove, the wheels give a stable hold again.
Special equipment features
Multitalented and stackable
TEH models of the same size can be stacked, but not just for transport and storage. They can also be used to form modular heating installations, for example 180 degree stacks for combined air transport in various directions.
The wheels of the larger 400 V models can be turned in all directions, making quick site changes a breeze. When stacked again and with the RollStop catch arrested in the stacking groove, the wheels give a stable hold again.
Practical knowledge guidebook – heating know-how for professional users
Benefit from first-hand manufacturer know-how: On our guidebook pages we're providing you with some detailed information regarding the different types of heaters including a functional description, focuses of application and lots more.
Continue to the practical knowledge guidebook for professional heating
A few practical benefits:
Development, design, production: 100 % Trotec
Particularly durable steel sheet construction with resistant protective coating
Flow-optimised chassis for a focussed current of non-turbulent, warm air
Flexible, four step performance control
Practical stacking groove for stable, space-saving storage and transport
Extra thermally insulated hose connectors with supporting ring for additional grip
Minimised outer sleeve heating with double-walled housing model
Very easy to maintain construction
Robust Trotec ergonomic recessed handles with an inner Grip-Clip, for the best hold while carrying
Tried and tested German industrial design – protected prototype
Stackable with equally dimensioned models
Heat requirement calculation
In a few steps to the matching heating capacity. Calculate the heat demand required for heating our rooms – with our practical online calculator.
standard equipment
optionally available
not available
Shop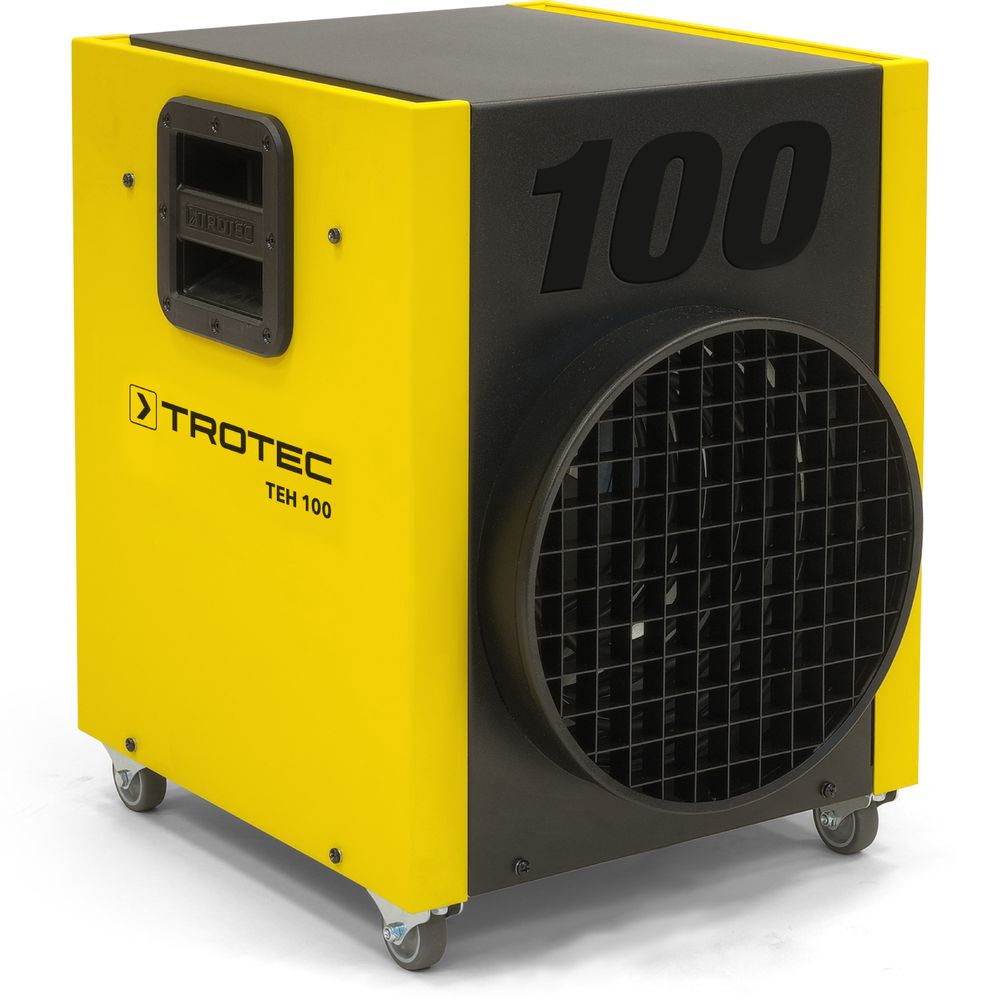 Daily rent:
12.00 £ incl. VAT per day
Daily rent:
10.00 £ plus VAT per day
Technical data
Technical data
General information
Article number
1.410.000.220
Heating capacity
Level 1 [kW]
0
Level 2 [kW]
9
Level 3 [kW]
13.5
Level 4 [kW]
18
Level Max. [kW]
18
Level Max. [kcal]
15,400
Air flow rate
Level Max. [m³/h]
1,785
Air pressure
Level Max. [Pa]
130
Temperature increase
in [°C]
38
Fans
axial
Radial
Number of fan stages
1
Electrical values
Mains connection
400 V, 50 Hz
Nominal current consumption [A]
27.3
Recommended fusing [A]
32
Power input [kW]
18
Electric connection
Connection plug
CEE 32 A, 5-pin
Provided by the customer
Cable length [m]
0.75
Functions and features
On / off switch
Sound values
Distance 1 m [dB(A)]
73
Safety feature
Overheating protection [°C]
60
Hose connection
Hose connection
Diameter [mm]
300
Max. hose length [m]
15
Dimensions
Length (packaging excluded) [mm]
465
Width (packaging excluded) [mm]
425
Height (packaging excluded) [mm]
555
Weight
(packaging excluded) [kg]
29.5
Equipment, features and functions
Operation
Multi-stage thermostat
Overheating protection
Thermostat
Mobility
Carry/transport handle(s)
Rubber-tyred metal wheels
Plastic wheels
Non-marking full-rubber wheels
Housing design
Metal
standard equipment
optionally available
not available
Alternative products
Loading...