Commercial dehumidifier TTK 650 S
Reliable technology and large drying capacity
Black-white. Tip-top.
Good and cheap. The TTK 650 S available exclusively at Trotec is of traditional EU manufacturing and demonstrates in a respectable way that a price level of the Far East is indeed compatible with robust brand quality.
Using this powerful device for drying after water damages or for construction drying you can benefit from a budget-friendly dehumidification solution without compromising in terms of workmanship and reliability.
Even frequently changing sites do not pose a problem to the TTK 650 S because thanks to the stable carriage construction with bar handle and large wheels for maximum mobility this dehumidifier can be transported quickly and easily from one site of application to the next.
Permanent mode for construction drying applications
The possibility of connecting an external condensate drain – if required with an optional condensate pump – also makes the TTK 650 S ideally suitable for longer unattended dry keeping tasks, e.g. for construction drying.
The operating switch of the TTK 650 S is protected from dust and spray water by a protective cap, and a slotted hygrostat rotary switch protects against inadvertent misadjustment of the switch position.
The professional hot gas automatic defrost system of the TTK 650 S guarantees effective dehumidification results even at low temperatures. Due to its very high dehumidification performance, this commercial dehumidifier is equipped with a direct connection for condensate discharge instead of a water tank.
The TTK 650 S is optionally also available with an integrated operating hours counter or a MID-compliant dual counter for operating and kilowatt hours.
What does MID compliant mean?
The European Measuring Instruments Directive (MID) has replaced the existing rules of national approval and subsequent calibration in some areas. As a result, all power meters, which are used for energy consumption billing, must be MID compliant in the future.
Investment protection for your drying devices
Particularly during construction drying operations in summer or when drying water damages, it is very likely that climate conditions arise which may significantly shorten the lifetime of condenser dryers – regardless of the make. We as manufacturer care about the fact that for process-related reasons your condenser dryers often have to be replaced much too soon, hence we have prepared a valuable practical recommendation relating to the investment protection of your drying devices. Click here to find out more ...
Hydrofluorolefin (R-454C) as environmentally friendly refrigerant in dehumidifiers
Every year, several million tonnes of environmentally harmful CO2 emissions (greenhouse gases) are emitted into the air by synthetic refrigerants. For this reason, the utilization of alternative refrigerants has become one of our key objectives. By using hydrofluorolefin (R-454C) as refrigerant, this dehumidifier makes a valuable contribution to protecting our climate.
The natural refrigerant hydrofluorolefin (R-454C) is an organic compound belonging to the group of hydrocarbons. Unlike synthetic refrigerants the environmentally friendly hydrofluorolefin (R-454C) comes with neither ozone depletion potential (ODP = 0) nor a noteworthy greenhouse effect (GWP = 146).
Additional bonus for the environment: Owing to its excellent thermodynamic properties, hydrofluorolefin (R-454C) is a particularly energy-efficient refrigerant thereby additionally reducing your energy costs.
TTK 650 S – special equipment features
A few practical benefits:
Development, design, production: 100 % Trotec
High dehumidification performance even at low temperatures
Robust plastic-coated metal housing
Stable carriage construction
Proper energy billing for existing equipment without meters?
You're using this or another electrical appliance without MID-compliant energy consumption meter of which you have to report the current consumption to insurance companies? Then the BX50 MID is the perfect solution. Just install it between the device and a fixed socket – done!
Fan assistance
Quicker construction drying by air circulation
The drying time can be reduced by half if construction dryers and fans are combined. In doing this, each dryer is supplemented with a fan, which significantly improves the drying performance and thus also the duration of the drying process.
The increased air circulation results in a quicker evaporation of the humidity, for the higher the flow rate at the material surface, the sooner will the drying process be completed.
The axial fans of the TTV series and TTV-S series are especially suitable to provide assistance with regard to the drying process.
Accessory tip:
External condensate pump for continuous operation
This optionally available condensate pump is compatible with all TTK-S models from Trotec and is ideally suited for longer, unattended dry keeping applications. With a pump height of up to 5 metres the condensate can be pumped from the collection container of the construction dryer into a larger container or outside. This makes it possible to let the construction dryer run in continuous operation without a full collection container interrupting the dehumidification process.
All commercial dehumidifiers of the TTK-S series by direct comparison:
To find the commercial dehumidifier which exactly meets your requirements, please consult the concise overview of commercial dehumidifiers of the TTK-S series from Trotec, which we're providing to you here so that you can compare them directly to each other.
Models which you do not wish to include in your comparison can be easily dismissed with only one click.
standard equipment
optionally available
not available
Shop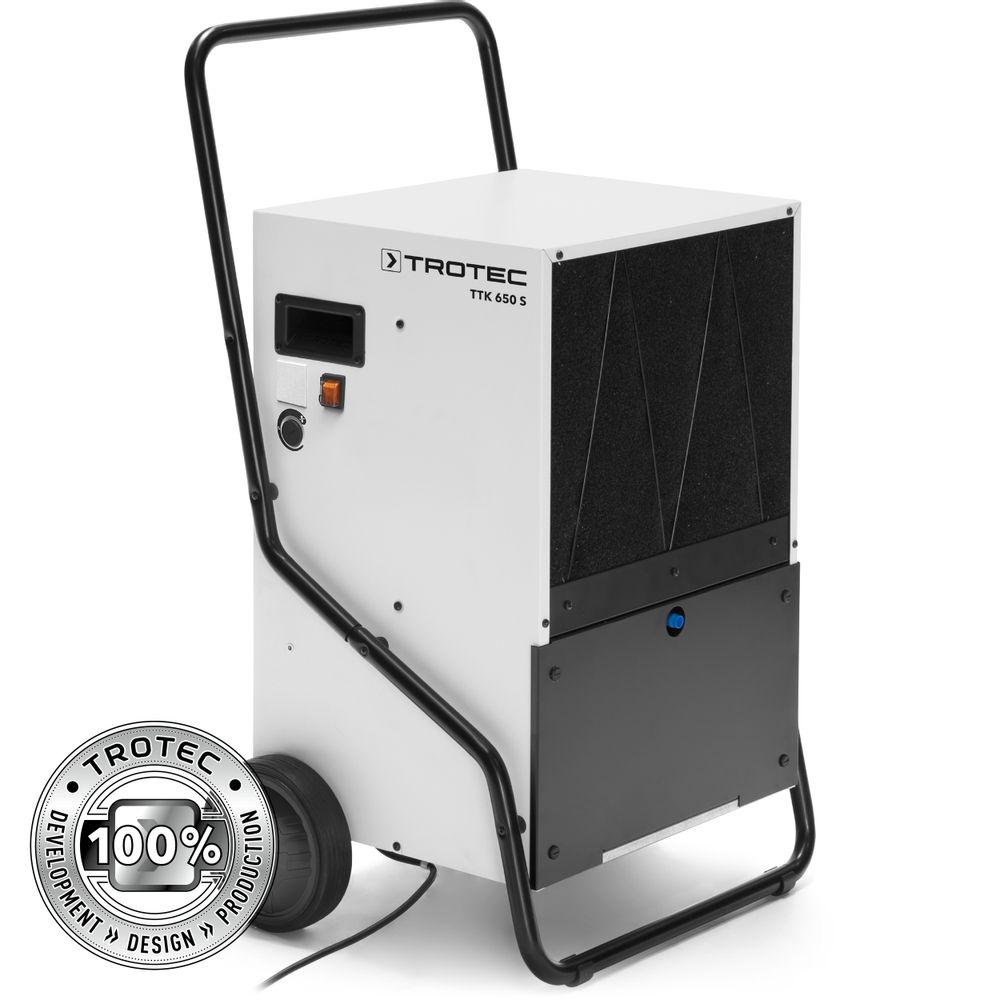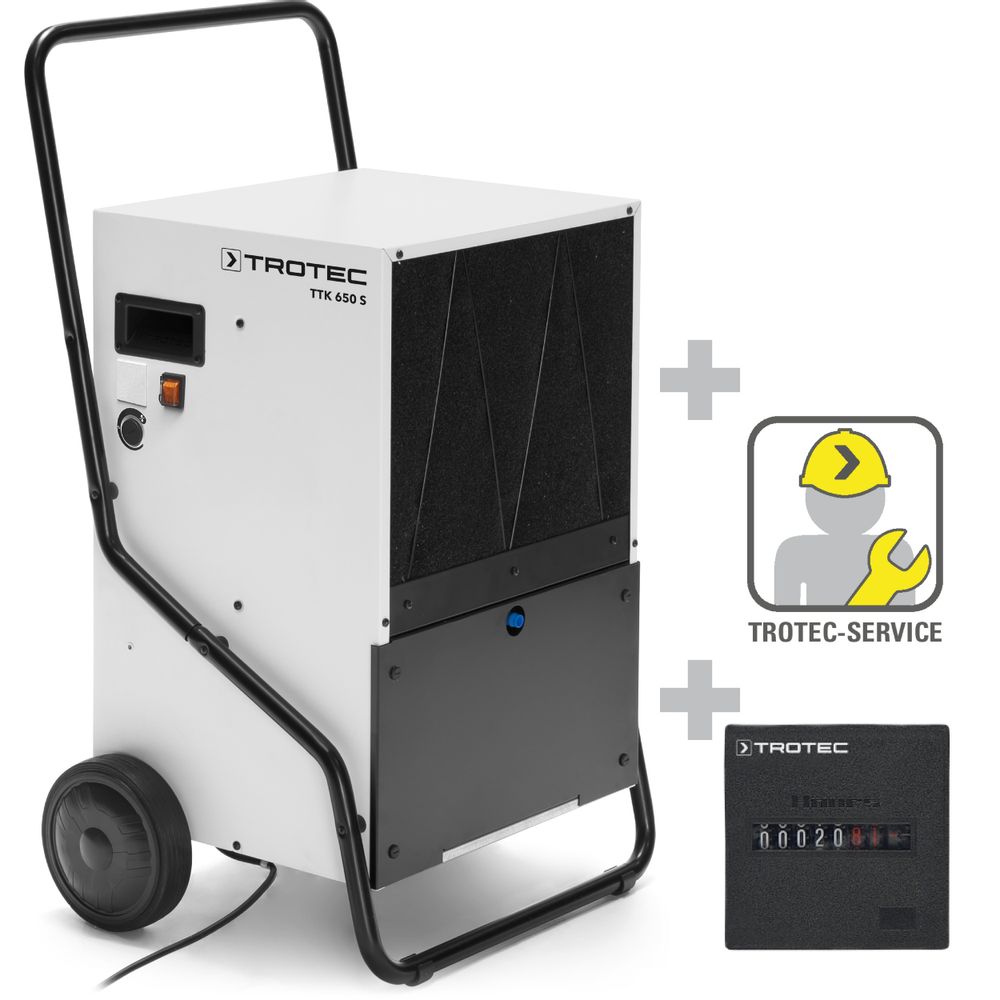 Technical data
Technical data
General information
Article number
1.120.000.171
Dehumidification performance
At 30 °C / 80 % RH [l/24h]
91
Max. [l/24h]
150
Air flow rate
Level Max. [m³/h]
1,000
Recommended room size dry keeping
m³
1,470
m²
590
Ambient conditions
Min. temperature range [°C]
5
Max. temperature range [°C]
32
Min. humidity range [% RH]
50
Max. humidity range [% RH]
90
Electrical values
Mains connection
220 - 240 V, 50 Hz
Nominal current consumption [A]
9.5
Power input [kW]
2.1
Recommended fusing [A]
16
Electric connection
Connection plug
CEE 7/7
Cable length [m]
3
Compressor
Rotary piston compressor
Reciprocating piston compressor
refrigerant
R-454C
Amount of refrigerant [g]
1,050
GWP factor
146
CO2 equivalent
0.15
Pressure suction side [MPa]
0.6
Pressure outlet side [MPa]
2.8
Max. permissible pressure [Mpa]
3
Sound values
Distance 1 m [dB(A)]
56
Functions and features
Operating control lamp
Auto restart function
Connection for external condensate drain
Memory function
Fan rundown function
Laundry drying function
Selectable ionisation
Internal drying function
Child lock
Night mode
Dimensions
Length (packaging excluded) [mm]
616
Width (packaging excluded) [mm]
511
Height (packaging excluded) [mm]
1,022
Weight
(packaging excluded) [kg]
52
Equipment, features and functions
Automatic defrost system
Hot gas
Electronic
Automatic dehumidification
Non-stop dehumidification
Analogue hygrostat
Hygrostat-controlled
Electronic hygrostat
Program-controlled
Fan
axial
Radial
stages
1
Condensate tank monitoring
Container available
Overflow protection with automatic switch-off
Filling level warning light to indicate a full water tank
Room air filter
Readily accessible
Cleanable
Ionizer selectable
Operating hours counter
Operating hours counter
Power meter
Mobility
Non-marking full-rubber wheels
Stand bar
Carry/transport handle(s)
Adjustable bar handle
Carriage design
Plastic wheels
Rubber-tyred metal wheels
Swivel casters with parking brakes
Condensate drain
Hose connection possible
Hose included in the scope of delivery
Condensate pump
Recommended hose size [mm]
15.875
Control panel
Control knobs
Digital display
Protective bar
Comfort button
Shelf life
stackable
Housing design
Steel coated
Plastics
Stainless steel
Aluminium
Metal plastic composite housing
standard equipment
optionally available
not available
Alternative products
Loading...