Hand-held vacuum cleaner VC 10 E
The powerful all-rounder for wet and dry applications
Powerful hand-held vacuum cleaner for wet and dry applications
The ergonomically designed hand-held vacuum cleaner VC 10 E presents itself cordless, untiring and with powerful suction. Used around the house, for cleaning your car or during your camping holiday:
Without the need for dust bags the VC 10 E fitted with a durable lithium-ion battery allowing 12 minutes of operating at maximum power collects dust, dirt and hair like a pro. Including liquids!
Crumbs on the floor, dust on the shelf or road dirt on the stairs. Nothing the hand-held vacuum cleaner VC 10 E weighing merely 700 grams itself can't handle! The glass of milk tipped over during breakfast is not a problem either; with 40 Watts of power the hand-held vacuum cleaner gobbles it up easily using the supplied squeegee nozzle. The collection container can hold up to 400 ml of dry dirt and 150 ml of liquid – enough room to meet all challenges emerging in kitchen, dining room, children's room, RV or office.
Any animal owner who has tested the hand-held vacuum cleaner VC 10 E will never want to do without it again! Removing animal hair is a daily chore in any household with cats or dogs. When it's time for a change of coat this task can be particularly challenging. For there will be hardly any area in the house not covered in animal hair to some extent. Lucky is the person who has a VC 10 E vacuum cleaner at hand to free furniture, floors and clothing from the vexing, omnipresent animal hair.
Ready for use at all times and bursting with energy
Used for cleaning the interior of your car the battery-powered hand-held vacuum cleaner VC 10 E can demonstrate its strengths as compared to conventional cable-connected models for which a near-by power outlet is an absolute necessity. The carpet may still be ok to reach, but corners, cracks and narrow gaps are more difficult to access in a car. Using the supplied crevice nozzle and the 1 m extension hose the manoeuvrable VC 10 E also cleans poorly accessible locations in the footwell and underneath the sets with ease.
Once the job has been done, you can store the hand-held vacuum cleaner away in its convenient wall holder with charger in order to save space. Should the battery have been drained completely, the maximum charging time amounts to approx. 6 hours. Trotec uses nothing but rechargeable lithium-ion batteries of the latest generation without memory effect or self-discharge guaranteeing maximum suction power and a long operating time.
Cleaning the device is no big deal either. The vacuum cleaner operates without dust bag, so you don't have to get new ones of the right size for replacement. Both the collection container and the integrated permanent dust filter can simply be rinsed under a running tap. An all-round clean affair!
The VC 10 E also impresses with the small details
Be prepared for any possible application scenario: get yourself a VC 10 E!
All Hand-held vacuum cleaner in direct comparison:
To find the Hand-held vacuum cleaner which exactly meets your requirements, please consult the concise overview of all Hand-held vacuum cleaner from Trotec, which we're providing to you here so that you can compare them directly to each other.
Models which you do not wish to include in your comparison can be easily dismissed with only one click.
A few practical benefits:
Development, design, production: 100 % Trotec
Powerful hand-held vacuum cleaner for wet and dry applications
7.4V lithium-ion battery (1.3Ah) without memory effect and without self-discharge
2-stage battery charging status indication
Can be cleaned quickly and easily due to easily removable container and washable permanent dust filter system
Large container with a capacity of up to 400ml of dry dirt and 150ml of liquid
Operating time of 12minutes with undiminished suction power
Crevice nozzle for poorly accessible locations
Squeegee nozzle for quick absorption of liquids
Extension hose (1m) for cleaning poorly accessible locations
Convenient wall holder with charger
Original Trotec design – protected design patent
standard equipment
optionally available
not available
Buy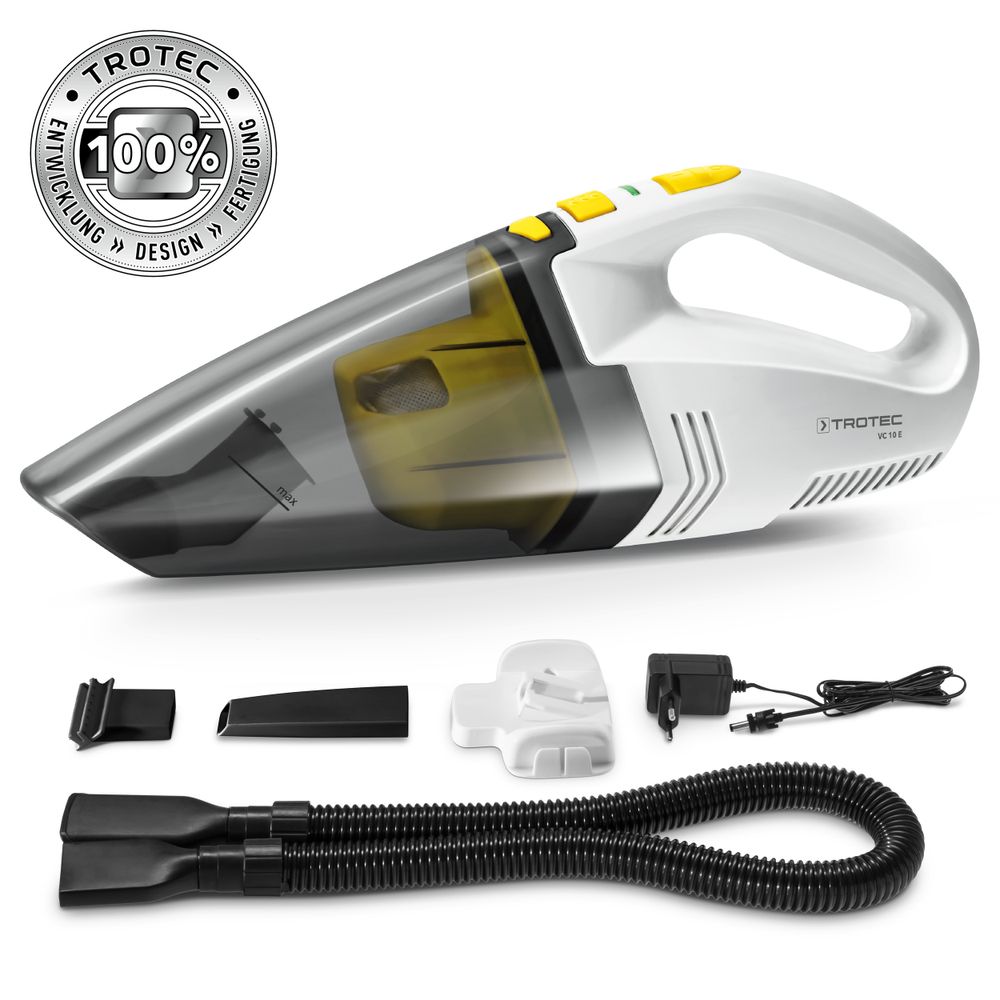 Technical data
Technical data
General information
Article number
4.655.000.010
Technical data
Power input [W]
40
Max. runtime [Min.]
12
Hose length [cm]
102
Capacity of the dust container
Dry dirt max. [ml]
400
Liquids max. [ml]
150
Sound values according to EN 60745
Sound pressure level LpA [dB(A)]
73.1
Sound power level LwA [dB(A)]
84.1
Uncertainty (K) [dB]
3
Safety feature
Protection class
II
Housing design
Plastics
Electrical values battery
Battery nominal voltage [V]
7.4
Battery capacity [Ah]
1.3
Capacity indication
Available
Battery type
Li-ion
Battery charging time [h]
6
Charger
Mains connection
100 - 240 V, 50/60 Hz
Output voltage [V]
9.6
Power input [W]
8
Nominal current consumption [mA]
300
Connection plug
CEE 7/16
Cable length [m]
1.84
Protection class
II
Dimensions
Length (packaging excluded) [mm]
90
Width (packaging excluded) [mm]
370
Height (packaging excluded) [mm]
135
Weight
(packaging excluded) [kg]
0.7
Equipment, features and functions
Functions and features
Wet vacuum cleaning function
Dry vacuum cleaning function
Discharge function
ON/OFF switch
Battery level indication
Washable dust filter
Washable HEPA filter
Standard scope of delivery
Accessories scope of delivery
Squeegee nozzle
Crevice nozzle
Extension hose
Available
Wall holder
Number of screws
2
Number of wall plugs
2
Dust filter
HEPA filter
Power adapter
standard equipment
optionally available
not available
Alternative products
Loading...