Humidifier B 400
Large-scale humidification for all applications for the commercial sector, office spaces and public buildings
A healthy room humidity level in closed rooms
The hygrostat-controlled high-capacity humidifier B 400 does away with too dry room air in office spaces, public authority buildings, nurseries, museums and similar large-scale workplaces. Whether you want to optimally humidify the entrance area of a savings bank, recreation rooms in retirement homes, corridors in the hospital, or the citizen service area of the municipal administration building: The mobile disc humidifier B 400 with its strong evaporation performance of 60 l/24h is ideal for almost unlimited air optimization of highly frequented areas sized up to 360 m² or 900 m³.
A common problem: Heating and ventilation systems dry out the room air
Modern aeration systems are indispensable in companies, buildings of public authorities and public institutions. They supply the interior spaces with fresh air, remove unpleasant odours and create a pleasant room climate. At least during summer! In the cold season, however, the continuous air changes excessively dry out the indoor air, in the winter the humidity level in rooms often drops by 20 - 30 %. The heating additionally warms up the air that is already dry. With the effect that the dust exposure in the room increases, the mucous membranes dry out and the natural defences of the body have difficulties with warding off pathogens. In particular in public areas it is therefore indispensable to provide optimal humidification to the room air. Also for the purpose of protecting risk groups such as the elderly with an impaired immune system and persons with previous diseases of the respiratory tract against the dangers of airborne germs in the room air.
Humidifier B 400: Equipped with everything that a healthy room climate needs
To provide for an equally low-maintenance and reliable continuous operation, the evaporation humidifier B 400 comes equipped with a large-volume 29-litre water tank with a filling level indication and status light, an optional permanent water connection (making a manual refill of the water tank redundant) as well as a low-noise, 2-stage fan with an automatic switch-off function, which is activated when the target value has been reached. In this way, your individually desired room climate can be optimally adjusted. Its variably applicable outlet grille and the wall spacer that is included in the scope of supply both ensure that the blown-out air optimally circulates within the room. The steplessly adjustable hygrostat control humidifies the room to the preset target value and, when the target value is reached, switches the device off until it becomes necessary to humidify the room air again.
Humidifier and air washer in one device
The permanently rotating evaporation fleece of the B 400 humidifies the room air in a perfectly hygienically fashion and, in addition, makes it permanently clean! Ideal air conditions to ensure that you can breathe freely and healthily!
Impacts of the humidity level on the infectivity of the room air
The answer to coughing or sneezing in closed rooms when you have a cold is often a disapproving frown. Understandable, since with every cough or sneeze thousands of highly infectious germs droplets (also referred to as aerosols) are emitted explosively into the ambient air and, in the worst case, are inhaled by someone sitting next to you. The use of the humidifier B 400 reduces this risk of infection! Permanent effect without the use of chemical disinfectants!
A humidity level between 40 and 60 % reduces the risk of a droplet infection
The humidifier B 400 renders germ droplets that are coughed or sneezed out inactive within seconds. The humidified room air changes the salt concentration within the germ droplet, removing the infectiousness from the actual pathogen in the conglomerate of saliva, salt and germs immediately after it has touched the room air. This means that a humidifier does not reduce the number of droplets in the air, but it significantly reduces the infectivity of these airborne aerosols!
Humidification protects the mucous membranes of the respiratory tract and strengthens the immune system
The sensitive mucous membranes of mouth and throat play a crucial role when it comes to the defence against harmful viruses and bacteria. The respiratory tract is provided with sophisticated protective mechanisms for the defence against pathogenic microorganisms, which, however, only work properly if the necessary fuel is available: moist air! If the air is too dry, this will result in dried-out mucous membranes, fatigue, tiredness and a lack of concentration. Your immune system is weakened and your productivity will decline.
The humidifier B 400 provides for a double infection protection
By using the B 400 you directly reduce the risk of infection in two ways. On the one hand, the infectivity of the suspended aerosols is almost eliminated, but secondly the mucous membranes of the respiratory tract are optimally humidified, ensuring that the body's own defence system works at full blast.
Optimum room humidity level in every environment
The use of the mobile humidifier B 400 significantly reduces the risk of being infected with pathogenic viruses and bacteria in the numerous public facilities and buildings of our daily life. Moreover, the B 400 creates a perfect room climate for maximum productivity and efficiency at the workplace. The B 400 can also be ideally used for the value retention of precious artefacts, scripts and exhibits.
Health protection for employees, visitors and customers
An optimized humidity level reduces the risk of infection with pathogens in public facilities with a high volume of public traffic. The humidifier B 400 reduces the number of pathogenic germs in a variety of different rooms, entrance, passage and waiting areas:
Open-plan offices, canteens
Hotels, guest houses
Retail sector
Catering trade
Hospitals, day-care hospitals
Retirement homes
Medical practices
Nurseries
Schools, nursery schools
Savings banks and credit institutions
Universities
Correctional facilities
Buildings of public authorities, administrative bodies
Sheltered workshops
Churches, meeting rooms
Car showrooms
Trade fairs, conference rooms
Cultural centres
Cinemas, theatres
Fitness studios, therapy rooms
Value retention of irretrievable art, objects and scripts
To ensure the value conservation of sensitive exhibits of wood and paper, canvases as well as historical scripts and books, a constantly optimized humidity level is necessary. The use of the humidifier B 400 prevents brittle paper, shrinkage as well as cracks and breakages in the material. The use of the B 400 minimizes disturbing dust turbulences and therefore dust deposits on the exhibits and showcases. It is perfectly suited for:
museums
exhibition halls
libraries
galleries
town archives
art collections
art storage facilities
schools of arts
Evaporation humidifier B 400 – special equipment features
All Evaporation humidifiers in direct comparison:
To find the Evaporation humidifier which exactly meets your requirements, please consult the concise overview of all Evaporation humidifiers from Trotec, which we're providing to you here so that you can compare them directly to each other.
Models which you do not wish to include in your comparison can be easily dismissed with only one click.
An agreeable room climate ensured by the humidifiers from Trotec
Be it humidifier, evaporator or air washer – Trotec devices allow you to breathe freely after only a short period of use. Both models optimally regulate the humidity level, thus ensuring a healthier room climate and protecting your furniture, books, paintings or antiques from damage caused by too dry or too humid air.
However, to ensure safe water quality at low maintenance costs in a highly dusty and polluted indoor environment, SecoSan® Stick and LiQVit should be used in combination.
A few practical benefits:
Reduces the risk of infection with pathogens in public spaces
Protects valuable art, scripts and paintings from drying out
Provides for sufficient humidification of the mucous membranes of the respiratory tract.
Energy-saving and therefore suitable for continuous operation
Filling level indication with status light
Optional permanent water connection
Stepless hygrostat control
Clear operating panel
Rotating evaporation fleece cleans and washes the air
2-stage fan
Automatic switch-off function
Adjustable outlet grille
Robust design of powder-coated sheet steel
Optimum air circulation by integrated wall spacer
Buy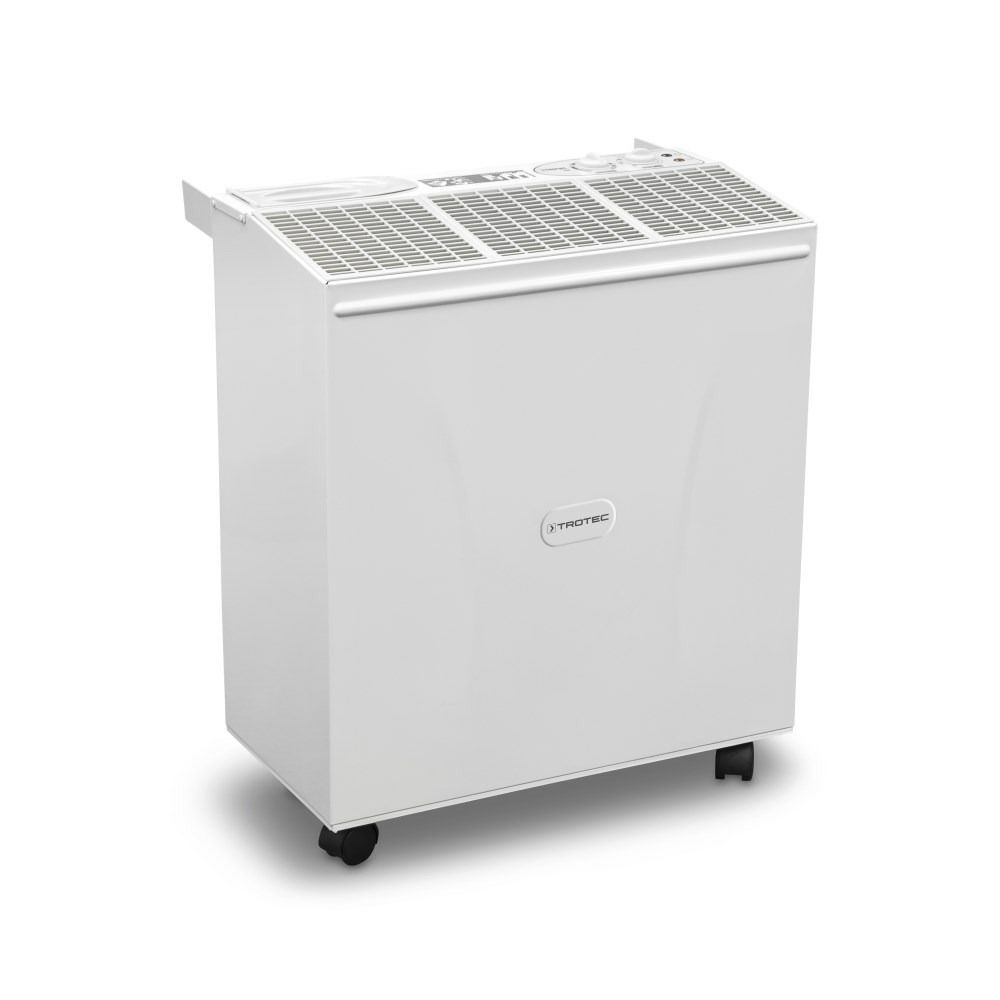 Daily rent:
14.40 £ incl. VAT per day
Daily rent:
12.00 £ plus VAT per day
Technical data
Technical data
General information
Article number
1.160.000.400
Air flow rate
Max. air volume flow [m³/h]
800
Electrical values
Mains connection
220 - 240 V, 50 Hz
Power input | Humidification [kW]
0.053
Electric connection
Connection plug
CEE 7/7
Cable length [m]
1.61
Evaporation capacity
Power Max. [l/24h]
60
Fan
Number of fan stages
2
Recommended room size
m³
900
m²
360
RH control
Hygrostat, internal
Humidity sensor, internal
Radio sensor
Water tank
Contents in [l]
29
Air filter
integrated
Sterilization
Sterilization
UV lamp
Control
Remote control
Digital display
Sound values
Level min. - Distance 1 m [dB(A)]
29
Level Max. - Distance 1 m [dB(A)]
42
Housing design
Sheet steel
Dimensions
Length (packaging excluded) [mm]
316
Width (packaging excluded) [mm]
625
Height (packaging excluded) [mm]
720
Weight
(packaging excluded) [kg]
19
Equipment, features and functions
Mobility
Wheels
Housing colour
Housing colours
White
Timer function
Automatic switch-off
standard equipment
optionally available
not available
Alternative products
Loading...