Oil-filled radiator TRH 24 E
Heating more beautifully with 2,200 watts of power and three heating levels – innovative heating fin design for cosy, comfortable warmth.
Make yourself warm and comfortable at home
The elegant black TRH 24 E oil-filled radiator is a real charmer. Always quickly on hand when you feel the need for extra warmth – for example on cooler days outside the heating season or in the transition period to the cool autumn/winter. After just 8 minutes of heating, the beautifully designed radiator radiates its maximum heat output and thus ensures comparatively fast and constantly warm temperatures in rooms up to 22 m² or 55 m³.
Feel-good warmth to comfortably lean back
An innovative heating fin design with various and precisely erected heating circuits allows for a more equal and effective heat distribution compared to conventional radiators. The surface temperature is lower on the outer side edges of the heater – without having to sacrifice heating performance. The maximum heat is mainly radiated via the internal heating surfaces. Meanwhile, the outer edges on the sides can be touched – for example, to move the device during operation by means of the recessed handle on the front of the device or to simply to lean against and enjoy.
Good to know: Modern oil-filled radiators such as the TRH 24 E are still provided with tried and tested heating fins, since this design ensures a maximum heating surface with an optimum heating capacity and effectiveness. Besides, the thermal oil used in the radiator is an excellent thermal energy reservoir, so that you can still enjoy a long lasting heat output even up to 30 minutes after the heating device has been switched off.
Thermostat controlled automatic operation keeps the heating costs under control
Enjoy cosy and warm temperatures – the TRH 24 E regulates heating power and energy consumption with its smart automatic heating function. As soon as the desired temperature level is set via the steplessly adjustable rotary control thermostat, the TRH 24 E takes over the temperature control. Once the desired temperature is reached, the oil-filled radiator switches off automatically. If the temperature falls below the value preselected, the radiator is switched on again and heats on the heating level previously set. The temperature control is effected fully automatically, the room temperature always remaining on a constant level. Positive side effect: The room can never be overheated and you do not blow unnecessary energy costs into the air.
This is how oil-filled radiators can supply warmth effectively
With their heating fins oil-filled radiators may look a lot like "normal" heaters – but quite contrary to them use electricity to heat the oil within. The so-called thermal oil is heated by electric current and gives off the heat to the room air via the heating fins. By the way, oil-filled radiators are usually equipped with heating fins because they form a larger surface, thus making the heating process very effective. Since the devices are mobile, they can be positioned in any room wherever heat is required.
The functional principle of an oil-filled radiator
Why is a radiator filled with oil and not with water? The reason for this is the fact that water expands when it is heated, and that it does not store heat quite as well. The thermal oil used in radiators, in contrast, has a much higher storage capacity. Even after the oil-filled radiator is switched off, it gives off heat for another good half an hour.
Since the thermal oil is also a good insulator, heating resistors can be directly immersed in the oil, which makes the heat exchange again more effective. Then there is also the weight, because oil is lighter than water. This makes oil-filled radiators considerably more light-weight and easy to transport.
Comfort and safety for the whole family
In households with children or pets, the safety of mobile heaters plays a crucial role. Maximum operational safety is part of the basic functional principle of the TRH E serie's oil-filled radiators!
Integrated tilt protection switch and overheating protection
Whether it is playing children, thoughtless guests or pets are romping around – the TRH 24 E with broadly designed rollers in the foot is not easily thrown off its track. If the oil-filled radiator nevertheless start to sway in the heat of the moment, the integrated tilt protection switch switches off the device automatically. In addition, a safety thermostat prevents the device from exceeding the operating temperature and thus makes sure that the device does not overheat – for example, due to clothing placed on the radiator. In these situations, too, the overheating protection immediately switches off the device.
Mobile heat source for every room
Smooth-running rollers allow for a quick and flexible change of location. Thanks to its innovative heating fin design and the recessed handles at the front, the TRH 24 E can be taken from one room to another at any time, even when it is still heating.
Modern heating technology at its finest! The TRH 24 E oil-filled radiator is convincing as a heat source for unheated rooms, as a quick heater outside the heating season and as an additional heater during the cold seasons of autumn and winter.
TRH 24 E – special equipment features
Comfortable, quick and odourless heat
All TRH-E oil-filled radiators in direct comparison:
To find the oil-filled radiator which exactly meets your requirements, please consult the concise overview of all oil-filled radiators of the TRH-E series from Trotec, which we're providing to you here so that you can compare them directly to each other.
Models which you do not wish to include in your comparison can be easily dismissed with only one click.
A few practical benefits:
2,200 W power for fast and cosy heat
3 power levels (1,000 W / 1,200 W / 2,200 W)
Effective 11 fin radiator
Short heating time: full heat output in max. 8 minutes
Heat accumulator with liquid heating medium: prolonged heat radiation even after switch-off
Infinitely adjustable thermostat
Frost monitor function
Noiseless heating
Maximum security thanks to overheating and tilt protection
Operating indicator light
Integrated rollers and recessed grip to ensure safe transport even while the device is hot
Frost monitor function
Ideal for short-term property vacancies or temporarily used rooms
Using the stepless thermal control of our mobile oil-filled radiators you can also operate the devices in frost monitor operating mode. The heating device is then automatically activated by a thermostat to protect the rooms from frost and prevent excessive cooling. Functioning as frost guards, the oil-filled radiators are not only ideally suited for landlords and real estate companies – they also offer benefits for private and business people, who can thus keep vacant rooms and garages free from frost. Particularly rooms, conservatories or cellars which are not connected to a central heating system can be kept warm reliably in this way.
Optimum room temperature control with the socket thermostat BN30
Just install it in the socket and connect it to the heating or cooling device on the socket thermostat BN30, and you can have your heating or cooling unit automatically switched on and off by the BN30 depending on the temperature. The socket thermostat available as an accessory is individually adjustable within a temperature range from 5 °C to 30 °C.
Radio thermostat BN35 with timer switch for the socket
With the radio thermostat BN35 you can easily determine at which room temperature your heating or cooling unit will switch on or off using the remote control. The BN35 set consists of a radio-controlled socket and a radio thermostat. Simply plug the radio-controlled socket in between a wall outlet and your heating or cooling unit. Place the radio thermostat within approx. 20 metres in the place where the room temperature is to be measured. As an alternative, time-controlled regulation can also be carried out.
standard equipment
optionally available
not available
Buy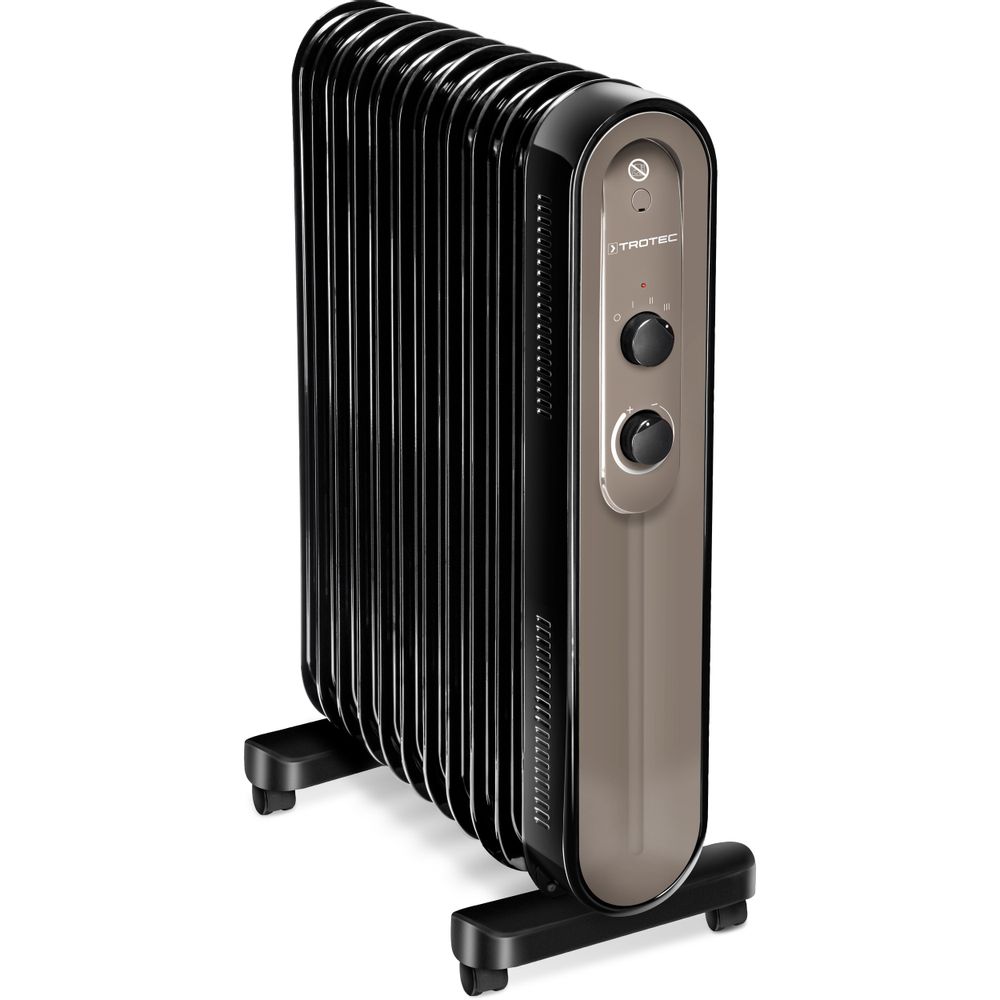 Technical data
Technical data
General information
Article number
1.410.000.717
Power
Level 1 [kW]
1
Level 2 [kW]
1.2
Level 3 [kW]
2.2
Level Max. [kW]
2.2
Effective range
Suitable for rooms sized up to [m²]
22
Suitable for rooms sized up to [m³]
55
Min. room temperature setting [° C]
10
Max. room temperature setting [° C]
30
Electrical values
Mains connection
220 - 240 V, 50 Hz
Max. power input [W]
2,200
Nominal current consumption [A]
9.5
Electric connection
Connection plug
CEE 7/7
Cable length [m]
1.8
Safety feature
IP type of protection
IP20
Protection class
I
Overheating protection
Dimensions
Length (wheeled) [mm]
442
Width (wheeled) [mm]
240
Height (wheeled) [mm]
639
Weight
(packaging excluded) [kg]
9
Equipment, features and functions
Mobility
Plastic wheels
Recessed handles
Cable winder
Functions and features
Number of heating fins
11
Automatic temperature control
Operating control lamp
Frost monitor function
Tilt protection
Thermostat-controlled automatic operation
Steplessly adjustable thermostat
Auto restart function
Housing design
Plastic/metal
standard equipment
optionally available
not available
Alternative products
Loading...