Radiant patio heater IRS 2050 E
2,000 W of cosy warmth for pleasant hours on the terrace or balcony – with 45° oscillation, remote control and 9 heating levels
More heat for more time spent outdoors
Enjoy a pleasant, cosy atmosphere during long summer nights on your terrace or balcony at home or in outdoor catering areas – the heat required for this is provided to you by the stable infrared radiant heater IRS 2050 E with adjustable 45° oscillation for optimum heat distribution. The attractive infrared radiant heater is also the ideal heating solution for relaxing, eating and celebrating in the open air during the transitional period in spring and autumn.
The stylish radiant heater in an extra slim tower design visually impresses with a satin aluminium finish, high-gloss decorative elements and a modern LED touch display. The design pedestal radiant heater can also be operated conveniently via an ultra-flat IR remote control. The programmable 24-hour timer is both comfortable and energy-saving and allows to switch the device off fully automatically after an operating time that can be set in increments of 1 hour.
Rain-proof as per IP25 type of protection
Complying with the IP25 type of protection, the water-jet-proof professional radiant heater is also ideally suited for unroofed outdoor areas. A heat output of up to 2,000 W generates pleasant instant heat on the skin without any preheating time. Ideal conditions for cosy, warm hours outdoors with your loved ones. Especially in flats without a garden, a balcony that can be used all year round is a true gain in living quality.
Make your guests feel comfortable
Whether in a private environment or in outdoor catering – with the IRS 2050 E you opt for an elegant appearance and cosy warmth for long summer evenings.
PRODUCT BROCHURE
Whether on the terrace or balcony - all relevant information about our infrared radiant heaters can also be found in the product brochure. Download the PDF directly here.
How infrared heating works
Just like the natural radiation of the sun infrared radiation, too, does not heat the air, but the objects it encounters. These then permanently emit the stored thermal energy to the environment – much like a tiled stove.
That is the difference to conventional convection heating systems generating a continuous warm air flow. The air cannot, in principle, store the warmth itself, but can only transport it to objects, which on the one hand entails high energy losses and on the other – as a result of the air circulation – raises dust. Infrared heating completely avoids both.
Well protected against rain
Rain showers cannot harm the robust radiant heater, because the high-quality aluminium housing is protected against water jets and the ingress of foreign objects with a diameter of >12.5 mm from all sides with its IP25 protection type. This also predestines the IRS 2050 for the use in open outdoor areas.
45° oscillation for even heat distribution
Nine heating levels (200 W – 2,000 W) that can be conveniently set using the remote control provide an immediately noticeable warmth on your skin and on surfaces without heating up the air first. If required, the tower with its on-demand oscillation function evenly rotates by 45° to the right and left and thus provides several groups of people sitting outside with pleasant infrared heat at the same time. The heat radiation of the IRS 2050 E was designed in a way that the infrared rays are amplified by a highly efficient reflector over the entire height of the carbon infrared tube. As a result, the heat from the heater can be felt from head to toe in the usual sitting position – making it always one step ahead of simple convectors in terms of heat comfort.
Direct heat following the natural principle of the sun
The short-wave radiant heat is generated by a high-quality carbon infrared tube. With an average lifetime of up to 5,500 operating hours the IRS 2050 E is an agreeably durable heater low in maintenance. For safe operation – even in commercial environments – the robust device has an integrated tilt protection switch-off function and a protected main switch.
The carbon infrared tube of the IRS 2050 E generates heat according to the natural principle of the sun. This is particularly energy-efficient, since a great deal of the energy input is converted directly into heat. The infrared radiant heater does not heat the ambient air, instead it is objects and persons in the immediate surroundings that absorb and store the warmth before they again release it to the environment in the form of secondary radiation. The heat is distributed by a fan that operates noiselessly and without raising dust, thus allowing even allergy sufferers and asthmatics to breathe freely in the immediate vicinity of the radiant heater.
Special equipment features of the IRS 2050 E
Cosy warmth wherever it is needed ...
All infrared radiant heaters in direct comparison:
To find the radiant heater which exactly meets your requirements, please consult the concise overview of all radiant heaters from Trotec, which we're providing to you here so that you can compare them directly to each other.
Models which you do not wish to include in your comparison can be easily dismissed with only one click.
A few practical benefits:
Infrared heat without preheating
45° oscillation for even heat distribution
9 heating levels, up to 2,000 watts
High quality carbon infrared tube - approx. 5,500 hours of light
24-hour timer for automatic shutdown
Clear LED touch display
Protected against water jets and the ingress of foreign bodies (Ø> 12.5 mm), protection class IP25
Space-saving column design with a round base
Robust aluminum housing
Infrared remote
Operation indicator light
Clean, condensation-free, odorless and completely without noise
No dust whirling up, therefore suitable for allergy sufferers
Anti-tilt switch integrated in the device
Energy efficient
standard equipment
optionally available
not available
Buy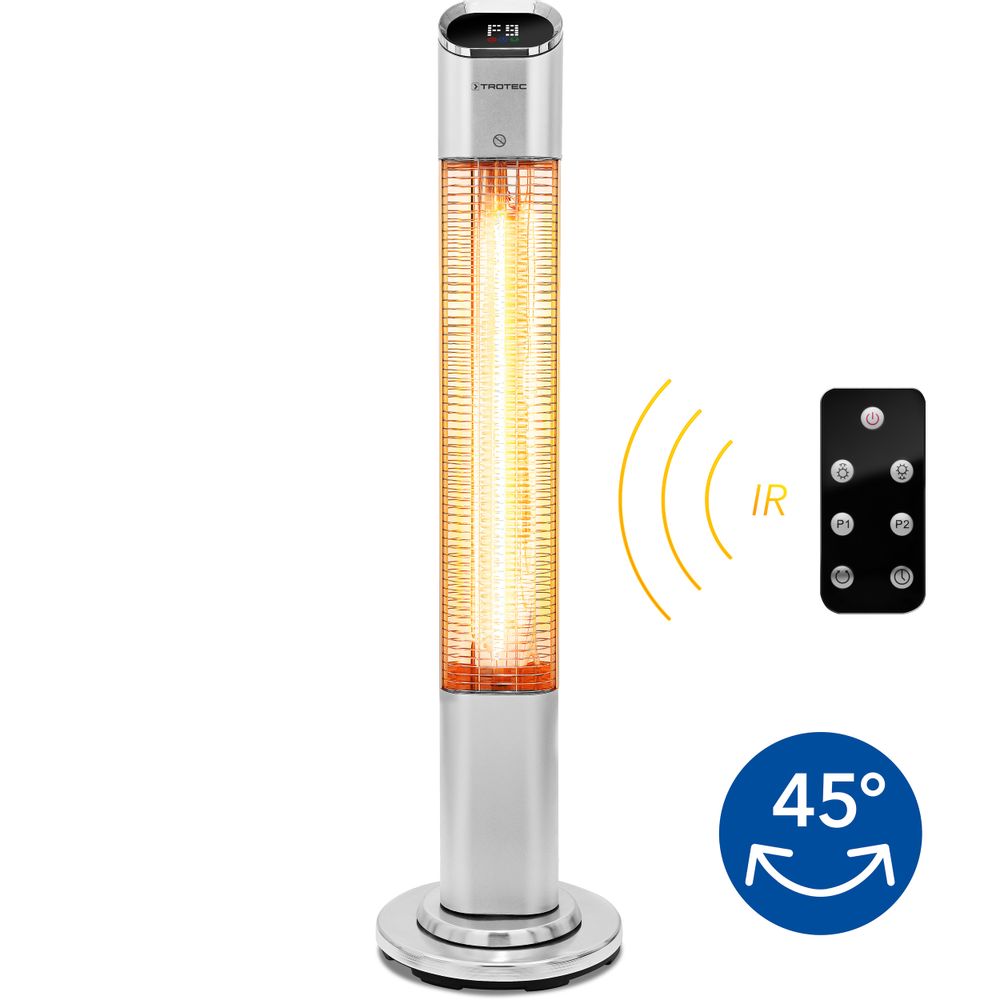 Technical data
Technical data
General information
Article number
1.410.003.921
Heating capacity
in [W]
2,000
Level Max. [kW]
2
Electrical values
Mains connection
220 - 240 V, 50/60 Hz
Nominal current consumption [A]
8.7
Recommended fusing [A]
10
Power input [kW]
2
Electric connection
Connection plug
CEE 7/7
Cable length [m]
1.5
Control panel
LED display
LED display
Touch-Bedienfeld
Housing design
Aluminium
Safety feature
IP type of protection
IP25
Dimensions
Length (packaging excluded) [mm]
300
Width (packaging excluded) [mm]
300
Height (packaging excluded) [mm]
1,000
Weight
(packaging excluded) [kg]
6
Equipment, features and functions
Functions and features
Infrared remote control
Timer function
Operating control lamp
Tilt protection
Frost monitor function
Automatic switch-off upon reaching the set value
Internal oscillation (°)
45°
Number of heating levels
9
Immediate heating due to direct infrared heat
Number of carbon fibre tube heating elements
1
No dust circulation (suitable for allergy sufferers)
Odourless and silent operation
Mobility
Foot
Recessed handles
standard equipment
optionally available
not available
Alternative products
Loading...