Design pedestal infrared radiant heater IRS 2010
Height-adjustable 2,000-watt stainless steel pedestal radiant heater with integrated LED spots, remote control and weatherproof protection according to IP55
Pleasant heat and soft light in outdoor areas
The elegant design of the IRS 2010 pedestal radiant heater for quick heating of private and commercial outdoor areas is impressive in terms of equipment, comfort and design. Whether balcony, terrace, loggia, stalls and trade stands, or guest areas in the professional outdoor gastronomy sector or hotel business – the pedestal radiant heater also stands out from the crowd with regard to its looks, heats up roofed and non-roofed outdoor areas with a two-stage infrared heating power (1,000 W, 2,000 W). In the first heating stage with 1,000 watts, the heating elements can be controlled individually via the remote control, depending the side that is to be provided with pleasant heat. In the second heating stage with 2,000 watts, both heating elements provide intensive comfort heat. Without a long preheating time because the heat is generated immediately after switching on via the remote control or the mains switch. The height of the tilt-resistant pedestal radiant heater can be adjusted between 180 and 220 cm by means of a practical twist lock. Two LED spotlights can be activated on demand to flush the surroundings with atmospheric light in addition to heat. This way, additional lighting concepts are not required which makes the IRS 2010 even more flexible in use.
Elegant design for an increased turnover in the gastronomy and commercial sector
The splash- and water-jetproof IRS 2010 pedestal radiant heater with IP55 protection combines everything that professional gastronomes expect from an economical and safe heating solution for outdoor catering areas. A close-meshed grid protects the two high-quality halogen infrared tubes (approx. 5,000 hours of light) from curious children's fingers and accidental touching. If the heater happens to sway despite its stable foot, an integrated tilt-protection device switches the device off immediately.
The housing of the pleasantly energy-efficient radiant heater is made of aluminium in silver colour and black accents on the sides. Due to the three-part telescopic rod with a solid foot, both made of high-quality matt stainless steel, the safe positioning of the IRS 2010 is ensured on all surfaces. With its modern design, an easy operation (via remote control or mains switch) and a heat output that can be selected from two stages, the IRS 2010 is recommended for heating roofed and non-roofed outdoor areas of restaurants, cafés, bars, food trucks or events. This way the outdoor season starts earlier and ensures a noticeable increase in turnover for longer.
Targeted heat all along the way
The infrared heat of the 69 cm device IRS 2010 that flows downwards supplies targeted heat to areas of up to 15 m². In contrast to conventional convectors, the IRS 2010 does not heat the ambient air first, which is extremely inefficient outdoors. The infrared heat is perceived as particularly pleasant and is immediately absorbed and stored by the skin. Thanks to this operating principle, the IRS 2010 heats noticeably more intensively and more energy-efficiently than other heating technologies – and without unpleasant odours or noises.
Radiant pedestal and ceiling heater in identical design
You like the stylish design of the pedestal radiant heater IRS 2010, but you're looking for a radiant ceiling heater? Then we have something for you: The IR 2000 C perfectly matches the mobile IRS 2010 pedestal heater but can be mounted stationary to the ceiling to provide seating and table areas with pleasant, targeted heat and on-demand LED light. Ideal for outdoor gastronomy areas or for cosy evenings on the terrace or balcony at home.
PRODUCT BROCHURE
Whether on the terrace or balcony - all relevant information about our infrared radiant heaters can also be found in the product brochure. Download the PDF directly here.
Rainproof design made of stainless guarantees safe warmth: IP55 type of protection
Rain showers or clouds of dust cannot harm the robust radiant heater, because the high-quality aluminium housing is protected against splash water and the intrusion of dust from all sides with its IP55 protection type. The high-quality telescopic rod and the stable foot are made of robust stainless steel. This also predestines the IRS 2010 for the use in roofed and non-roofed outdoor areas. Especially for professional use in the catering trade, the weatherproof housing is a real asset.
Direct heat following the natural principle of the sun
The halogen heating tubes of the IRS 2010 generate heat according to the natural principle of the sun. This is particularly energy-efficient, since a great deal of the energy input is converted directly into heat. The infrared radiant heater does not heat the ambient air, instead it is objects and persons in the immediate surroundings that absorb and store the warmth before they again release it to the environment in the form of secondary radiation. The heat is distributed by a fan that operates noiselessly and without raising dust, thus allowing even allergy sufferers and asthmatics to breathe freely in the immediate vicinity of the radiant heater.
Summer temperatures, always and everywhere
With the IRS 2010 pedestal radiant heater, you are opting for visible and noticeable professional quality. The immediate heat generation makes the IRS 2010 the optimal heat source for balconies and terraces, conservatories, catering areas, workshops, garages and similar open/semi-open areas.
The 2,000 W design radiant heater IRS 2010 convinces with its high-quality design and provides for comparatively cost-effective instant heat and a warm ambient light, if required. Infrared heat unfolds right away after having activated the device. An all-round pleasant feel-good ambience with targeted heat and outdoor LED lighting. Made possible by the IRS 2010!
Just set up, switch on, all done!
The design pedestal radiant heater IRS 2010 is mounted and ready for use in no time at all. The individual elements (heating element, telescopic tube and foot) can be connected to each other without any tools required. Power is connected via a 1.70 m power cable with a shock-proof plug (CEE 7/7) for European sockets.
Design tip: If you're in search of a radiant ceiling heater that optically matches your mobile pedestal heater IRS 2010, we recommend using the IR 2000 C model. Both infrared heaters show the same stylish design and are the perfect combination for your optically uniform terrace or balcony heating. The two heaters are also the perfect couple in the outdoor catering trade, creating a harmonious and appealing image in roofed and non-roofed outdoor areas.
Special equipment features of the IRS 2010
Cosy warmth wherever it is needed ...
All infrared radiant heaters in direct comparison:
To find the radiant heater which exactly meets your requirements, please consult the concise overview of all radiant heaters from Trotec, which we're providing to you here so that you can compare them directly to each other.
Models which you do not wish to include in your comparison can be easily dismissed with only one click.
A few practical benefits:
Infrared heat without preheating
High-quality halogen infrared tubes (approx. 5,000 hours of light)
Even heat distribution for up to 15 m²
Two-stage heating capacity (1,000 W, 2,000 W)
Integrated LED spots
IR remote control
Mains switch with operating control lamp
Protection type IP55 – water-jet-proof professional device, rainproof from all directions
Protective grid preventing the heating tubes from being touched
Tilt protection with automatic switch-off function
Height adjustable between 180 and 220 cm
Elegant design: Reflector made of high-quality aluminium, telescopic rod and stable foot made of stainless steel
Clean, condensation-free, odourless and silent
No dust circulation, therefore suited for allergy sufferers
Energy-efficient
Guidebook providing practical knowledge tips for infrared heating
Here you'll find some practical knowledge tips with regard to infrared heating for private applications and applications in the catering trade. A complete, reader-friendly overview of installation tips, the functional principle, an overview of products, and the most important facts — provided by Trotec, your heating expert!
Continue directly to the guidebook "Practical knowledge tips for infrared heating" ...
standard equipment
optionally available
not available
Buy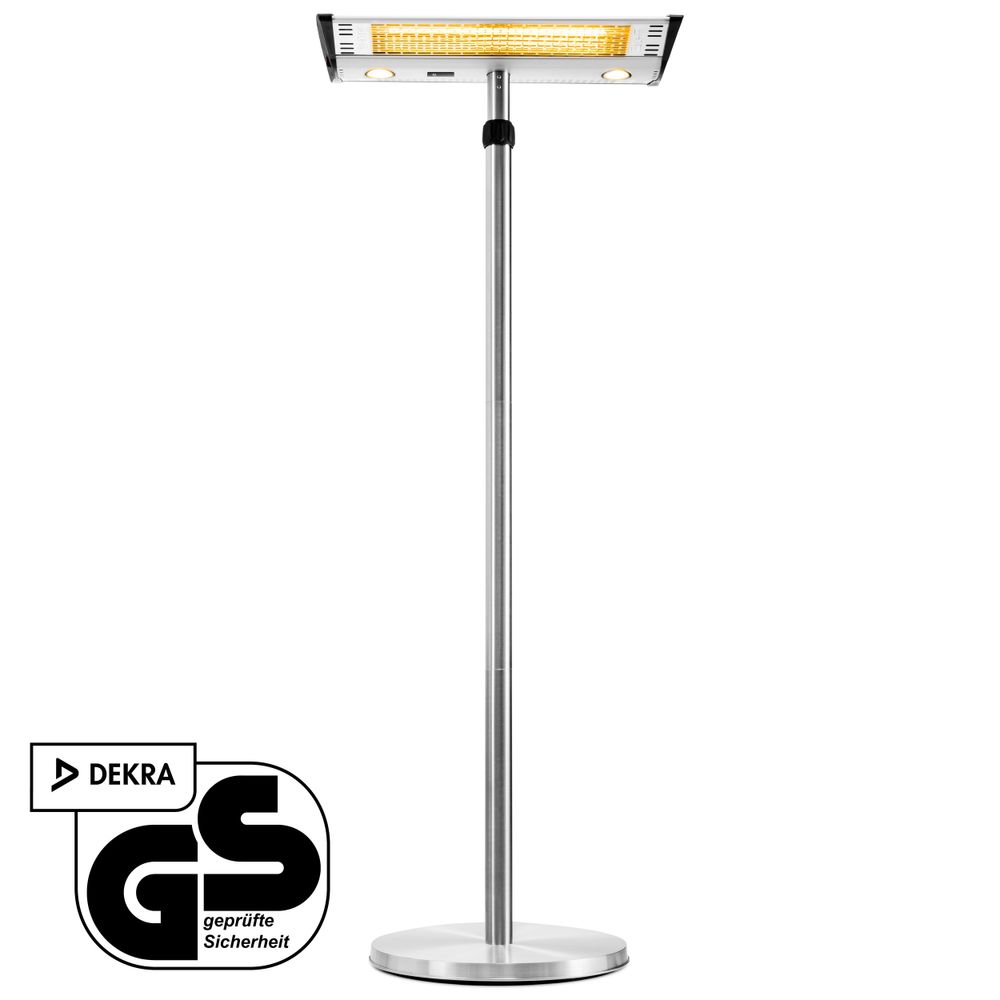 Technical data
Technical data
General information
Article number
1.410.003.925
Heating capacity
Level 1 [kW]
1
Level 2 [kW]
2
Electrical values
Mains connection
220 - 240 V, 50/60 Hz
Nominal current consumption [A]
8.6
Recommended fusing [A]
10
Power input [kW]
2
Electric connection
Connection plug
CEE 7/7
Cable length [m]
1.75
Control panel
LED display
LED display
Touch-Bedienfeld
Housing design
Aluminium
Safety feature
IP type of protection
IP55
Dimensions
Length (packaging excluded) [mm]
385
Width (packaging excluded) [mm]
690
Height (packaging excluded) [mm]
2,200
Weight
(packaging excluded) [kg]
20
Equipment, features and functions
Functions and features
LED element
Infrared remote control
Tilt protection
Internal oscillation (°)
false
Number of heating levels
2
Immediate heating due to direct infrared heat
Number of halogen heating elements
2
Thermostat-controlled automatic operation
Automatic temperature control
No dust circulation (suitable for allergy sufferers)
Odourless and silent operation
Current room temperature indication
Mobility
Feet
standard equipment
optionally available
not available
Alternative products
Loading...