INFRARED RADIANT HEATER IRD 2400
Elegant heating solution without light emission
Even and targeted heat distribution
We recommend using the infrared radiant heater IRD 2400 wherever there is a need for elegant solutions for the additional heat distribution in architecturally sophisticated interior spaces and outdoor areas. Where conventional devices are fitted with a visible, brightly illuminated heater tube, this radiator can generate the comforting infrared heat by means of a covered stainless steel heating coil enclosed in aluminium – the heat source is shielded from view.
Since the IRD 2400 emits its radiation energy mainly in the medium- and long-wave infrared spectrum, it can distribute heat in an even and targeted manner without heating the ambient air.
The device also proves to be a superior product for use out of doors, seeing as it comes with IP55 type of protection which makes it dust-, splash- and water-jet-proof. Accordingly, the device is ideally suited for use in outdoor areas that are sheltered from the wind such as balconies and terraces. As such, it can be applied in the catering trade but also in interior spaces, e.g. in indoor swimming pools, marquees, conservatories or rooms that are only used sporadically.
With the innovative and aesthetically pleasing design of the elegant aluminium housing the infrared radiant heater is clearly the first choice – both for use in the refined catering trade or in a neat private ambience.
Owing to its simultaneously minimalistic and classy design the device fits in seamlessly with any environment and, moreover, resembles the key to an inherently consistent lighting concept. For the additional bright red light of "normal" IR radiators would be utterly disturbing when it doesn't match the present lighting concept.
PRODUCT BROCHURE
Whether on the terrace or balcony - all relevant information about our infrared radiant heaters can also be found in the product brochure. Download the PDF directly here.
A stylish and conveniently equipped infrared radiant heater
With its heating capacity of 2,400 W the high-performance infrared radiant heater provides cosy warmth both indoors and outdoors, it can be set to 3 heating levels – using an IR remote control if desired – so as to cover an extensive heating range. The inclination angle that can be adjusted by 45° further enhances the effective range. The IRD 2400 generates heat in a clean, condensation-free, odourless and noiseless way without raising dust – which makes it suitable for allergy sufferers.
A 24-hour timer, the operation indicator light and an LED display complete the equipment of the maintenance-free IRD 2400. The infrared radiant heater require very little maintenance, since there is no need to exchange tubes. An appropriate holder for mounting the device to the wall or ceiling is included in the scope of delivery.
Product video for IRD 1200 / IRD 1800 / IRD 2400 / IRD 3200:

Feel-good warmth for outdoor areas sheltered from the wind – Find out more about the infrared radiant heaters IRD 1200 / IRD 1800 / IRD 2400 / IRD 3200 in our product video.

Watch it now!
The IRD 2400 impresses with practice-oriented details:
All infrared radiant heaters in direct comparison:
To find the radiant heater which exactly meets your requirements, please consult the concise overview of all radiant heaters from Trotec, which we're providing to you here so that you can compare them directly to each other.
Models which you do not wish to include in your comparison can be easily dismissed with only one click.
A few practical benefits:
Appealing solution for architecturally sophisticated interior spaces and wind-protected outdoor areas 
IR-B and IR-C provide cosy warmth without light emission
Even and targeted heat distribution
Clean, non-condensing, odourless and free from noise
No dust circulation, thus suitable for allergy sufferers
Splash- and water-jet-proof, protection class IP55
3 heating levels, up to 2,400 watts
Aluminium design housing
24-hour timer
LED display
Adjustable inclination angle with a wide effective range
Suitable for mounting on walls and ceilings
Infrared remote control
Operation indicator light
Wall and ceiling holder included
Overview of the maximum heating range to be covered by a 2,400 watt infrared radiant heater:
Application area
Recommended
heating capacity per m²
Area that can be
covered by an infrared heater
with 2,400 W
outside
Sheltered:
approx. 150 W/m²
approx. 16 m²
No shelter:
approx. 250 W/m²
approx. 9 m²
You can proceed as follows to calculate the heating capacity (in watts) required for your room size:
Formula: m² x W/m² = W
room size (m²) x recommended heating capacity per square metre (W/m²) = required heating capacity of the infrared radiator (W)
Sample calculation: For a well insulated room sized 32 m² we recommend the following heating capacity: 32 m² x 100 W/m² = 3,200 W
Protection type IP55: provides protection against water, humidity and dust
Infrared radiant heaters are available in many different versions for indoor and outdoor use. An important criterion for device selection is whether or not your radiant heater may be exposed to water or plenty of dust at its site of assembly or installation. If an infrared radiant heater is mounted in the bathroom, for instance, it operates at high humidity levels. Moreover, depending on the site of installation, water jets may reach the housing in some way or other. An infrared radiant heater installed on your terrace should be able to withstand occasional downpours. Heaters used in the workshop, however, should be protected against dust to a certain extent.
The IP55 type of protection promises that dust cannot settle within the housing and that the radiant heater can withstand water jets from all sides. The robust design permits both the installation on balconies or terraces and the use at winter sports events. Owing to their dust protection these radiant heaters can also be used in industrial buildings.
standard equipment
optionally available
not available
Buy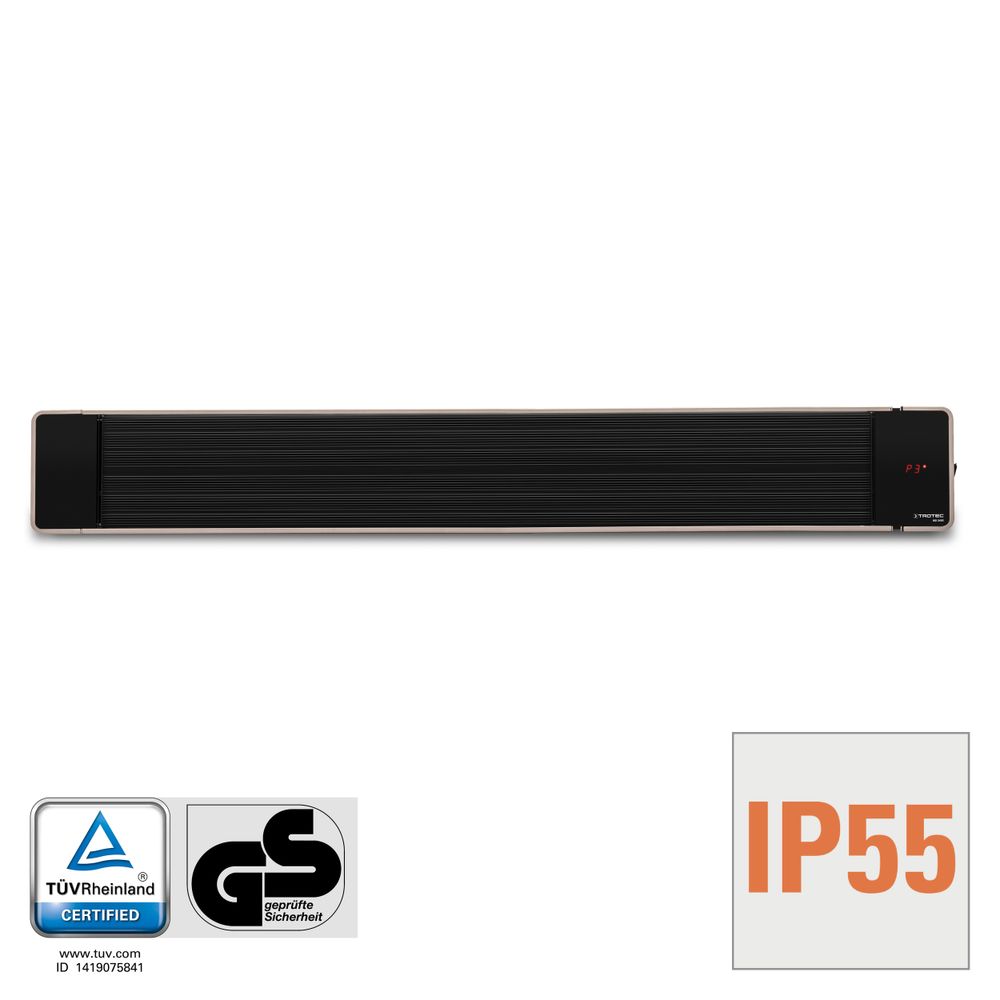 Technical data
Technical data
General information
Article number
1.410.003.330
Heating capacity
in [W]
2,400
Level Max. [kW]
2.4
Effective range
in [m²]
16
Electrical values
Mains connection
220 - 240 V, 50/60 Hz
Nominal current consumption [A]
10.4
Power input [kW]
2.4
Electric connection
Connection plug
CEE 7/4 (Schuko plug type F)
Cable length [m]
1.8
Housing design
Aluminium
Safety feature
IP type of protection
IP55
Control panel
LED display
Dimensions
Length (packaging excluded) [mm]
55
Width (packaging excluded) [mm]
1,460
Height (packaging excluded) [mm]
200
Weight
(packaging excluded) [kg]
11.5
Equipment, features and functions
Functions and features
Infrared remote control
ON/OFF switch
Inclination [°]
45
Operating control lamp
Number of heating levels
3
Timer function
Immediate heating due to direct infrared heat
No dust circulation (suitable for allergy sufferers)
Odourless and silent operation
Wall mounting
Ceiling mounting
Tripod
standard equipment
optionally available
not available
Alternative products
Loading...