INFRARED RADIANT HEATER IR 3050
Remote control, width of 96 cm, 3 heating levels up to 3,000 watts – for pleasant infrared warmth with light-reduced low-glare heating elements
MILD SUMMER EVENINGS ALSO IN WINTER
Do you want to enjoy your favourite spot in the open on the balcony or the terrace even in the cooler or cold seasons, or make the open-air season in your gastronomic business a "full-year season" in no time?
With the professional design aluminium radiant heater IR 3050 by Trotec you can further extend outdoor times and enjoy them in a relaxed fashion without feeling chilly. Whether it is spring, summer, autumn or winter – infrared radiant heaters Are perfectly suited as an effective source of warmth to still sit outside even at lower temperatures.
For a barbecue atmosphere all year round
From private use to commercial purposes for cafés, restaurants, hotels, events or beer gardens – the powerful IR 3050 provides for pleasant warmth in all outdoor areas on the large scale. This is because it transports its heat rays evenly and exactly to the places where they are required. In this way, you can create a cosy atmosphere of well-being at all times by using one or even several infrared radiant heaters.
IR 3050 with low-glare − the professional device with 3 heating levels and remote control
The heat intensity of the heating specialist with its length of 96 cm can be easily and conveniently adjusted by remote control in 3 different heating levels: 1,000 watts, 2,000 watts or powerful 3,000 watts. The odourless and noiseless heat radiation is provided to you directly and without preheating. Owing to the cutting-edge low-glare infrared ray technology, the IR 3050 works with a light reduction of 80 percent. Detailed information regarding the low-glare principle will be provided to you below.
By the angle of inclination that can be swivelled by 30° the heat rays can be aligned specifically to the place where you wish to sit or lie. The IR 3050 also has a lot to offer when it comes to its appearance: the noble and slim design of the rain-proof infrared radiant heater perfectly blends in with any environment − and in a very elegant style.
PRODUCT BROCHURE
Whether on the terrace or balcony - all relevant information about our infrared radiant heaters can also be found in the product brochure. Download the PDF directly here.
Well protected against rain and dust
Rain showers or clouds of dust cannot harm the robust radiant heater, because the high-quality aluminium housing is protected against splash water and the intrusion of dust from all sides with its IP65 protection type. This also predestines the IR 3050 for the use in open outdoor areas. In order for you to get started right away, mounting brackets, screws and dowels for wall mounting are already included in the scope of delivery. Please note that the IR 3050 is not suited for ceiling installation.
Whether you're dealing with narrow spaces that are difficult to access or if the radiator is placed at a great height – with the remote control included in the scope of delivery you can easily switch the radiant heater on and off from your place or adjust the heating levels. The operating control lamp on the device indicates whether the device is switched on.
Infrared heat produced on the model of nature
The radiation emitted by the sun does not heat the ambient air, but only the solid bodies which it hits. The professional device IR 3050 works according to the same principle: In contrast to convection heaters and fan heaters the infrared rays emitted do not heat the air, but the objects and persons that they reach. Humans then sense an agreeable warmth on their skin and clothes. From solid bodies such as tables, benches, floors or walls, the infrared heat is both reflected and absorbed. The energy absorbed is steadily emitted again by the warm objects, even if the radiant heater has already been switched off. Since infrared heat production furthermore is a clean and condense-free process without any dust turbulences, this heating solution is also perfect for allergy sufferers.
It is a clear fact that the external factors such as draught, area size and distance to the radiant heater play a crucial role where the thermal sensation is concerned. The larger the distance to the radiator, the larger the area illuminated will be, however, the heating intensity will steadily decrease. With its 3,000 watts, the infrared heater IR 3050 is suitable for areas of 12 m² to 20 m². The area to be heated should be sheltered from the wind, since the warming effect may otherwise be neutralised by the air flow. To help you estimate which heating capacity you need to meet your requirements, we're providing the calculation assistant to you below.
LOW GLARE: 100 % WARMTH, 80 % LIGHT REDUCTION
Infrared radiant heater without low-glare technology not only produce warmth, but also a bright and intensive orange-reddish light. The two short-wave infrared tubes of the IR 3050, however, reduce the brightness of the light by 80 percent. In this way, the operating range is not illuminated as brightly − and all this with a 100 percent heating capacity.
Atmospheric lighting
Heating tubes with low-glare technology produce a higher proportion of invisible infrared light. In addition, a special pipe coating is provided, focussing the infrared radiation and reducing scattering losses. Lighting concepts for romantic candle-light dinners on the patio or atmospheric party lighting in outdoor gastronomy are therefore influenced less by the reduced light emission of the low-glare radiant heater.
Economical use
The high-quality low-glare infrared tubes directly convert the major part of the electrical power supplied into infrared radiation. They are therefore extremely energy-efficient and guarantee a long lifetime of approx. 6,000 operating hours at a consistent heating capacity.
Notice: Even if the low-glare tubes at first glance almost emit the same intensive reddish light as conventional infrared tubes, they nevertheless give off 80 percent less of visible light. The reduced brightness rather conveys the appearance of a candle light atmosphere.
Connection tip: Current peaks in the millisecond range may occur temporarily during switch-on of the radiant heater. At a power of 3,000 watts, this may cause circuit breakers of the 16A-B category to trigger. Therefore, please use a safety fuse
(overcurrent protection device) or a type C circuit breaker.
SPECIAL EQUIPMENT FEATURES OF THE IR 3050
Infrared radiant heater IR 3050: Cosy warmth on the terrace or in outdoor gastronomy
All infrared radiant heaters in direct comparison:
To find the radiant heater which exactly meets your requirements, please consult the concise overview of all radiant heaters from Trotec, which we're providing to you here so that you can compare them directly to each other.
Models which you do not wish to include in your comparison can be easily dismissed with only one click.
A few practical benefits:
Infrared heat without preheating
Even and targeted heat distribution
Clean, non-condensing, odourless and free from noise
No dust circulation, thus suitable for allergy sufferers
Heating capacity of 3,000 watts
3 heating levels adjustable via remote control: 1,000 W, 2,000 W and 3,000 W
High-class, elegant design
Weatherproof aluminium
High-quality low-glare short-wave infrared tube – approx. 6,000 operating hours with a light reduction of 80 %
IP65 type of protection – water-jet-proof professional device, rainproof from all directions
Adjustable inclination angle with a wide effective range
Can be used in open outdoor areas
Operating display via two-colour LEDs
Suitable for wall mounting
Energy-efficient
Overview of the Trotec IR series – which radiant heater is the right one for meeting your requirements?
The broadly diversified range of Trotec infrared radiant heaters will definitely offer you the right expert device for your individual and tailor-made heating application:
Infrared radiant heater IR 2050

Width: 63 cm
2,000 W
3 heating levels (750 / 1,500 / 2,000 W)
45° inclination
Low glare (80 % less light)
Rainproof (IP65 type of protection)
For 8 – 14 m² (at a distance of approx. 3 m)
Remote control
Infrared radiant heater IR 3050

Width: 96 cm
3,000 W
3 heating levels (1,000 / 2,000 / 3,000 W)
30° inclination
Low glare (80% less light)
Rainproof (IP65 type of protection)
For 12 – 20 m² (at a distance of approx. 3 m)
Remote control
Overview of the maximum heating range to be covered by a 3,000-watt infrared radiant heater:
Guidebook providing practical knowledge tips for infrared heating
Here you'll find some practical knowledge tips with regard to infrared heating for private applications and applications in the catering trade. A complete, reader-friendly overview of installation tips, the functional principle, an overview of products, and the most important facts — provided by Trotec, your heating expert!
Continue directly to the guidebook "Practical knowledge tips for infrared heating" ...
standard equipment
optionally available
not available
Buy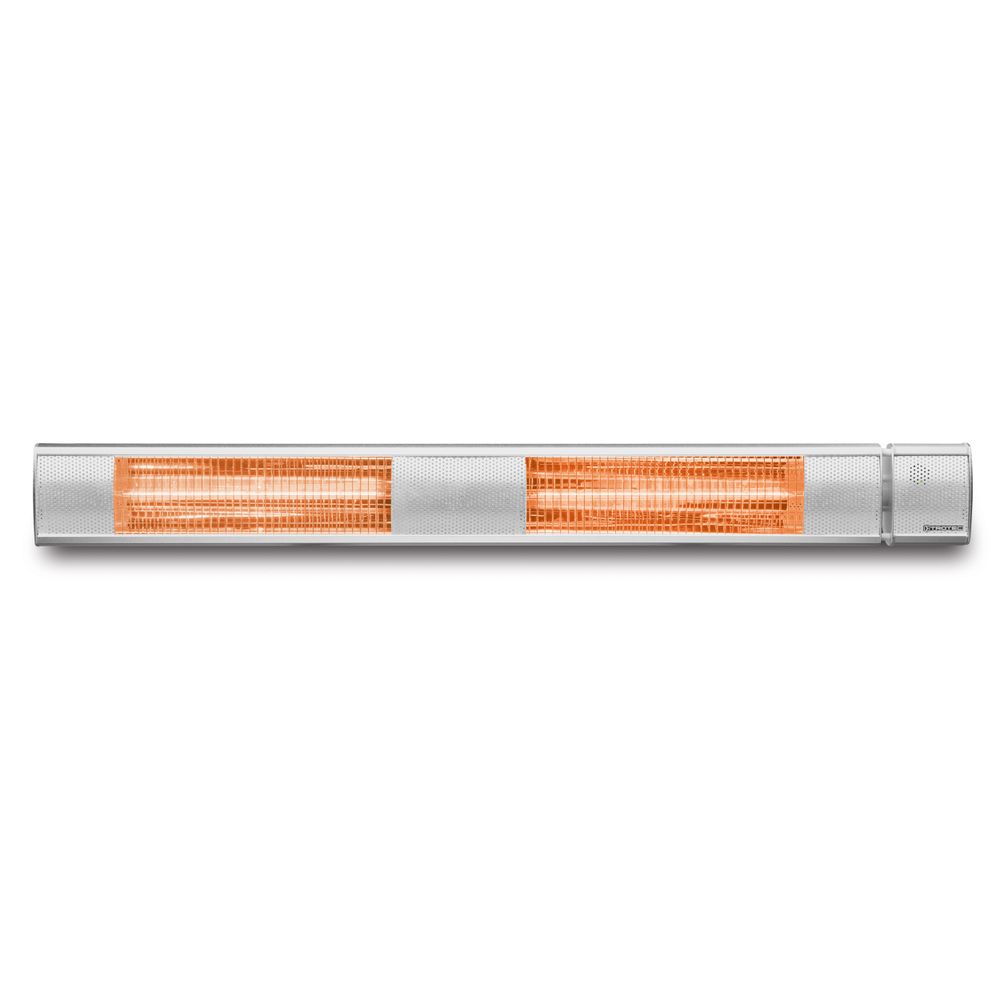 Technical data
Technical data
General information
Article number
1.410.003.221
Heating capacity
in [W]
3,000
Level 1 [kW]
1
Level 2 [kW]
2
Level 3 [kW]
3
Level Max. [kW]
3
Effective range
in [m²]
20
Electrical values
Mains connection
220 - 240 V, 50/60 Hz
Nominal current consumption [A]
13
Power input [kW]
3
Electric connection
Connection plug
CEE 7/7
Cable length [m]
1.7
Housing design
Aluminium
Safety feature
IP type of protection
IP65
Control panel
LED display
Dimensions
Length (packaging excluded) [mm]
165
Width (packaging excluded) [mm]
960
Height (packaging excluded) [mm]
105
Weight
(packaging excluded) [kg]
3
Equipment, features and functions
Mobility
Foot
Functions and features
Infrared remote control
ON/OFF switch
Inclination [°]
30
Operating control lamp
Number of heating levels
3
Timer function
Adjustable multi-stage thermostat
Immediate heating due to direct infrared heat
No dust circulation (suitable for allergy sufferers)
Odourless and silent operation
Wall mounting
Ceiling mounting
Tripod
Installation on the umbrella stand
standard equipment
optionally available
not available
Alternative products
Loading...