Infrared radiant heater IR 2400
2,400 watt powerful twin infrared heat in pleasant ruby-red light for summer temperatures outdoors – with two heating levels and remote control
Double the heating power. Easy installation.
Unimpressed by cold outside temperatures, in any wind and weather, the modern infrared twin radiant heater IR 2400 convinces in the gastronomy and commercial sector for heating terraces, balconies, sales stands as well as seating and standing areas in a space-saving way. Equipped with two high-quality infrared heating tubes and a practical remote control, the wall radiator, which can be mounted without much effort, transforms outdoor areas into summery warm feel-good oases with pleasant temperatures. Without being a trip hazard, the device cannot be harmed by any wind and weather conditions. The radiant heater with its IP55 type of protection and a high-quality brushed aluminium housing is 100 % weatherproof. Hence, the IR 2400 is recommended for year-round use in roofed and non-roofed outdoor areas.
Adjustable inclination angle for heat without scattering loss
For a straightforward installation of the IR 2400, an individually adjustable wall holder is supplied together with screws and wrench. The smart joint design allows for a fine adjustment of the radiation direction between 30° and 45°, so that the pleasant heat always arrives where it is needed.
Feel-good temperatures at the touch of a button
The twin-beam design of the IR 2400 shows that the device is a real power pack. The intensive infrared heat of the high-quality halogen heating tubes can be felt on the skin immediately after switching on and surrounds you with soothing, ruby-red light. To adjust the heat intensity as required, the IR 2400 has two heating levels with 1,200 watts and 2,400 watts of heating power. The heating levels can be selected via the control panel or the rip cord on the device, as well as conveniently via the one-button remote control supplied.
The infrared radiant heater IR 2400 is 71 cm wide and 26 cm high and floods outdoor areas of up to 16 m² with targeted instant heat, creating cosy warm summer temperatures at the touch of a button without disturbing the surrounding atmosphere with intrusive red light.
Twice the pleasant instant heat for outdoor areas. The IR 2400 infrared radiant heater provides balconies and terraces with fast infrared heat – without taking up any space.
PRODUCT BROCHURE
Whether on the terrace or balcony - all relevant information about our infrared radiant heaters can also be found in the product brochure. Download the PDF directly here.
Weatherproof design guarantees safe warmth: IP55
Rain showers or clouds of dust cannot harm the robust radiant heater, because the high-quality aluminium housing is protected against splash water and the intrusion of dust from all sides with its IP55 protection type. This also predestines the IR 2400 for the use in non-roofed outdoor areas. Especially for professional use in the catering trade, the weatherproof housing is a real asset.
Infrared heat: As pleasant and natural as the sun
The infrared radiant heater IR 2400 heats its direct surroundings according to the natural principle of the sun. In contrast to devices with heating wires, the infrared rays of the IR 2400 do not heat the ambient air but exclusively the surfaces and persons which they reach. The objects illuminated (for example furniture, wall and ceilings) absorb the heat and store it to then slowly release it again. The objects therefore serve as additional energy and heat storage units – even when the device is switched off, additionally increasing the efficiency of the infrared radiant heater IR 2400. The heat radiation generates a pleasant feeling of warm sunrays in summer on the skin.
Everyone feels temperatures in a different way. Our individual heat sensation is for example influenced by the distance to the heat source. The smaller the distance to the radiant heater, the smaller the space illuminated – the greater the distance to the radiator, the larger the space illuminated. The halogen infrared radiant heater IR 2400 with its powerful 2400 watts is suitable for surfaces in outdoor areas of approx. 10 m² to 16 m². Please observe that the area to be heated should be sheltered from the wind, since the warming effect may otherwise be neutralized by the air flow.
Our guideline for calculation which can be found below will help you to determine the heating capacity required.
As clean as nature – without any disturbing emissions
In particular allergy sufferers and people with a sensitive respiratory tract will pleasantly feel the beneficial effects of the infrared radiant heater and will no longer want to do without them. In contrast to electric heaters, the clean and condensation-free instant heat is generated without raising dust and without producing any disturbing noise or odours.
Special equipment features of the IR 2400
Cosy warmth wherever it is needed ...
All infrared radiant heaters in direct comparison:
To find the radiant heater which exactly meets your requirements, please consult the concise overview of all radiant heaters from Trotec, which we're providing to you here so that you can compare them directly to each other.
Models which you do not wish to include in your comparison can be easily dismissed with only one click.
A few practical benefits:
Infrared heat without preheating
Even and targeted heat distribution
Clean, condensation-free, odourless and silent
No dust circulation, therefore suited for allergy sufferers
2 heating levels, up to 2,400 watts of heating capacity
Infrared remote control
High-quality, elegant design
Weather-resistant aluminium
High-quality halogen infrared tubes with pleasant ruby-red light
Protection type IP55 – water-jet-proof professional device, rainproof from all directions
Adjustable inclination angle of 45° – covering a large effective range
Can be used in unroofed outdoor areas
LED display
Operating control lamp
Suitable for wall mounting
Energy-efficient
Guidebook providing practical knowledge tips for infrared heating
Here you'll find some practical knowledge tips with regard to infrared heating for private applications and applications in the catering trade. A complete, reader-friendly overview of installation tips, the functional principle, an overview of products, and the most important facts — provided by Trotec, your heating expert!
Continue directly to the guidebook "Practical knowledge tips for infrared heating" ...
Overview of the maximum heating range to be covered by a 2,400 watt infrared radiant heater:
You can proceed as follows to calculate the heating capacity (in watts) required for your room size:
Formula: m² x W/m² = W
room size (m²) x recommended heating capacity per square metre (W/m²) = required heating capacity of the infrared radiator (W)
Sample calculation: For a room sized 24 m² with very good insulation quality, we recommend the following heating capacity: 24 m² x 100 W/m² = 2,400 W
standard equipment
optionally available
not available
Buy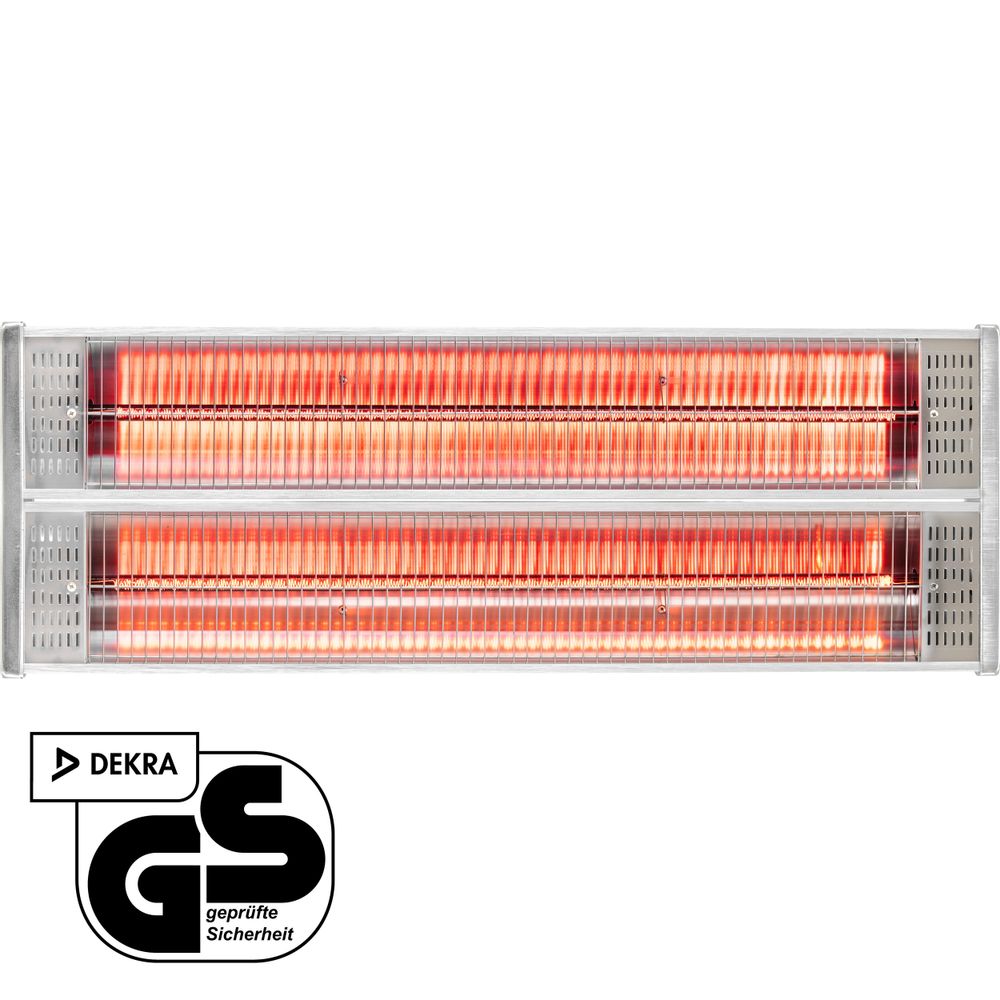 Technical data
Technical data
General information
Article number
1.410.003.217
Heating capacity
in [W]
2,400
Level 1 [kW]
1.2
Level 2 [kW]
2.4
Level Max. [kW]
2.4
Effective range
in [m²]
16
Electrical values
Mains connection
220 - 240 V, 50/60 Hz
Nominal current consumption [A]
10.4
Power input [kW]
2.4
Electric connection
Connection plug
CEE 7/7
Cable length [m]
1.8
Housing design
Aluminium
Safety feature
IP type of protection
IP55
Control panel
LED display
Dimensions
Length (packaging excluded) [mm]
260
Width (packaging excluded) [mm]
710
Height (packaging excluded) [mm]
75
Weight
(packaging excluded) [kg]
4
Equipment, features and functions
Functions and features
Infrared remote control
ON/OFF switch
Pull cord
Inclination [°]
45
Operating control lamp
Number of heating levels
2
Timer function
Adjustable multi-stage thermostat
Immediate heating due to direct infrared heat
No dust circulation (suitable for allergy sufferers)
Odourless and silent operation
Wall mounting
Ceiling mounting
Tripod
Installation on the umbrella stand
standard equipment
optionally available
not available
Alternative products
Loading...