Designer glass convector TCH 2010 E / TCH 2011 E
Stylish convection heating device for clean, noiseless warmth
Heating capacity of up to 2,000 W for clean, non-condensing and odourless heat
Heat that warms your heart and catches your eye. If you want your heat supply to be a visual highlight in the living area, we recommend you to choose this elegant eyecatcher – the convection heating device TCH 2010 E / TCH 2011 E.
The ideal – and aesthetically attractive – heating solution if you require clean and noiseless warmth in your rooms in a quick and uncomplicated manner. The front panel of this stylish design solution is made of safety glass – insensitive to scratches and particularly easy to clean.
The high-quality glass convector is incredibly easy to use via its integrated touch panel located below the large backlit LCD display. Thanks to its castors with parking brake the convector TCH 2010 E / TCH 2011 E can be flexibly positioned in the room as desired.
Even convection heat
The air inside the convectors of the TCH series is warmed up by electrically heated wires and thus rises as warm air, which creates a natural suction that makes cold room air flow into the device. This leads to a permanent circulation of warm air reaching all corners of the entire room. The heat distributes evenly and an excessive or insufficient heating of individual areas is prevented. Once the preset degree of heat has been reached, the device reduces its output while maintaining the desired temperature.
All-round equipment features for comfort-conscious connoisseurs
All you need to operate the TCH 2010 E / TCH 2011 E is a socket. Then use the touch panel to select the desired target temperature between 15 and 35 °C, which is maintained in an energy-efficient way thanks to a thermostat control. The current temperature is controlled automatically. Once the preset degree of heat has been reached, the device reduces its output while maintaining the temperature. Owing to this power save mode, only the amount of energy actually needed is consumed.
Besides the two-stage power control allowing you to adjust the heat output according to your individual wishes and seasonal heating requirements, the convector comes equipped with a reliable overheating protection as well as a timer function.
A frost monitor function prevents the room from cooling down completely during the holidays or other absences. All functions and settings can be conveniently controlled via both the touch display and the supplied remote control.
Just like all devices of the TCH series, the TCH 2010 E / TCH 2011 E uses the effect of even convection heat for operation and offers a large range of application possibilities: whether as a quick replacement for a failed main heating system, as a reliable temporary heating solution before the start of the heating period, or for heating rooms which are not connected to the central heating system.
The TCH 2010 E / TCH 2011 E impresses with many practice-oriented details:
All Convectors TCH-E series in direct comparison:
To find the Convector of the TCH-E series which exactly meets your requirements, please consult the concise overview of all Convectors TCH-E series from Trotec, which we're providing to you here so that you can compare them directly to each other.
Models which you do not wish to include in your comparison can be easily dismissed with only one click.
A few practical benefits:
Heating capacity of up to 2,000 W for clean, non-condensing and odourless heat
Infinitely variable thermal control
2 heating levels (1,000 W / 2,000 W)
Thermostat-controlled automatic operation
Automatic temperature control
Frost monitor function
Energy-efficient operation – reduces its output upon reaching the set value
Current room temperature indication
Timer function
Infrared remote control
Safety glass with touchscreen
LCD display
Overheating protection
Noiseless heating
Easy to transport thanks to integrated castors
Parking brake to prevent the device from rolling away inadvertently
Frost monitor function
Ideal for short-term property vacancies or temporarily used rooms
Using the stepless thermal control of our mobile TCH convectors, you can also operate the devices in frost monitor operating mode. The heating device is then automatically activated by a thermostat to protect the rooms from frost and prevent excessive cooling. Functioning as frost guards, the TCH convectors are not only ideally suited for landlords and real estate companies – they also offer benefits for private and business people, who can thus keep vacant rooms and garages free from frost. Particularly rooms, conservatories or cellars which are not connected to a central heating system can be kept warm reliably this way.
standard equipment
optionally available
not available
Buy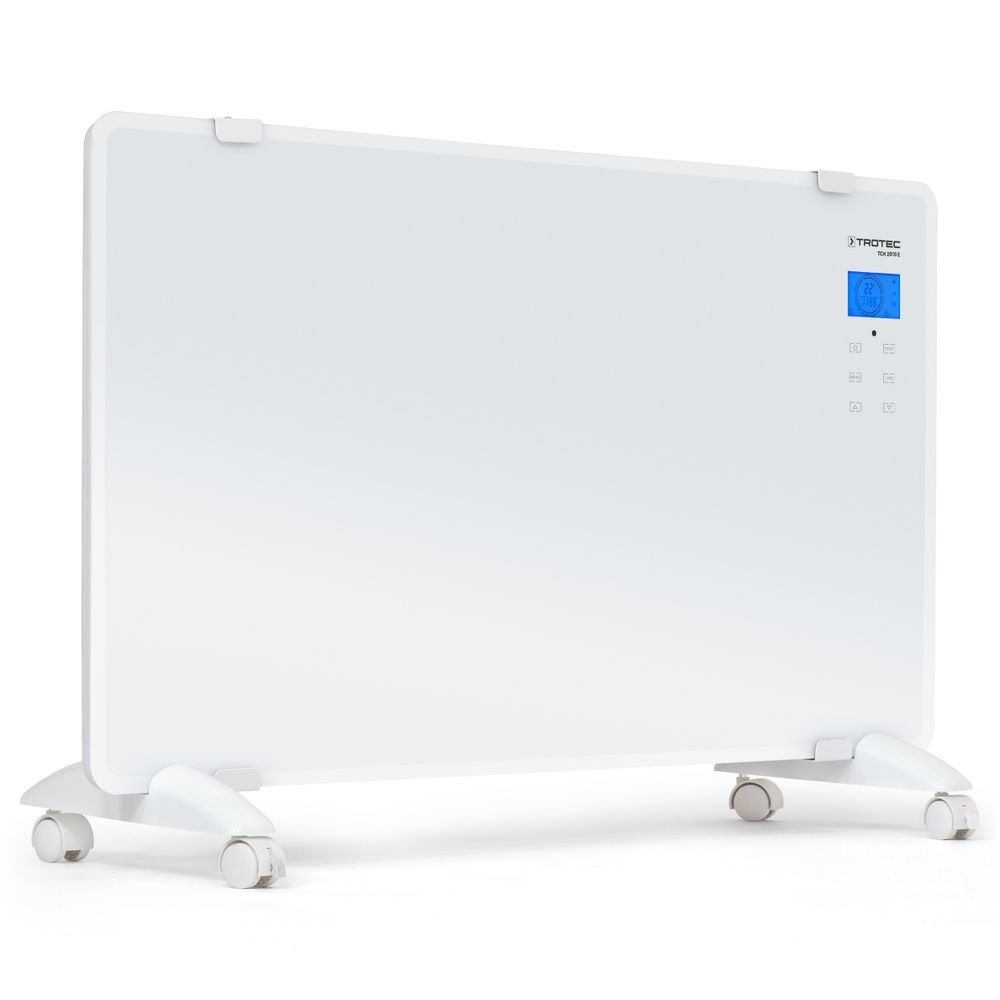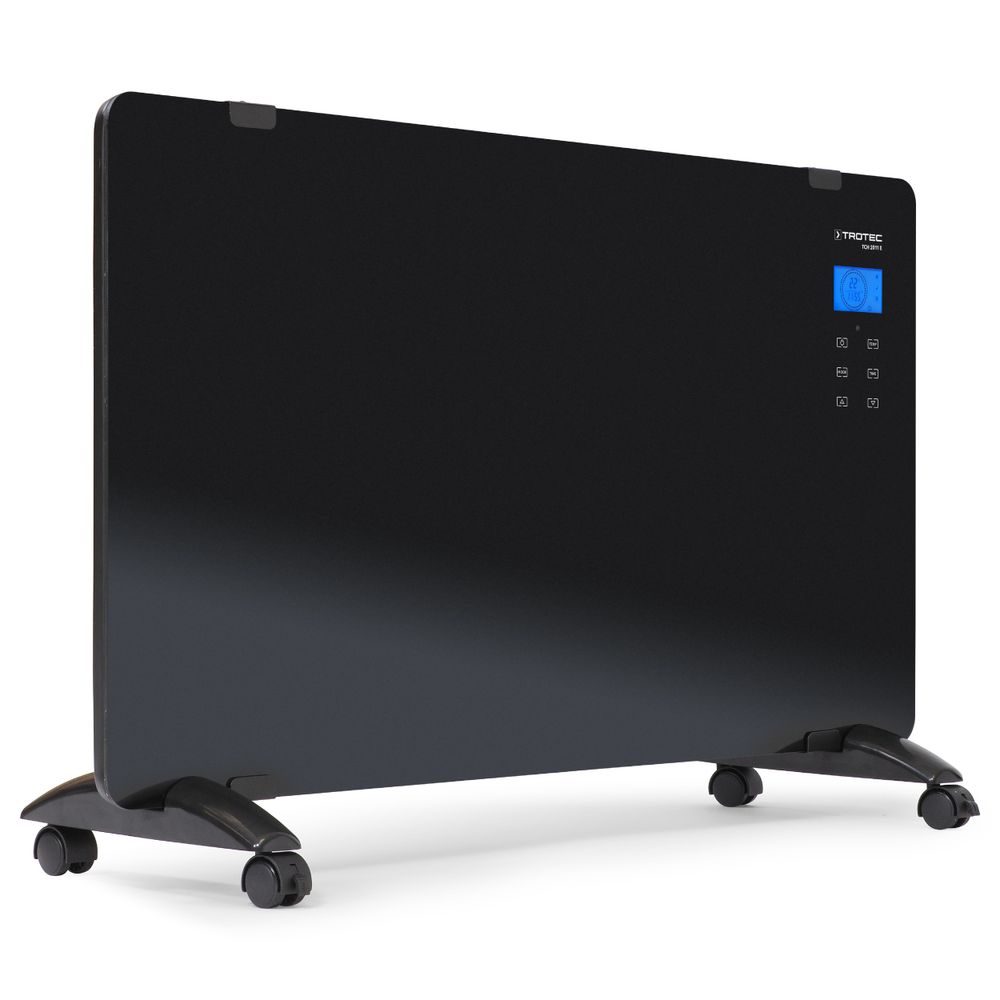 Technical data
Technical data
General information
Article number
1.410.000.531
Heating capacity
Level 1 [kW]
1
Level 2 [kW]
2
Level Max. [kW]
2
Electrical values
Mains connection
220 - 240 V, 50/60 Hz
Max. power input [W]
2,000
Nominal current consumption [A]
8.7
Safety feature
IP type of protection
IP24
Protection class
I
Overheating protection
Available
Electric connection
Connection plug
CEE 7/7
Cable length [m]
1.5
Mobility
Stand including castors
Dimensions
Length (feet included) [mm]
260
Width (feet included) [mm]
840
Height (feet included) [mm]
490
Weight
(packaging excluded) [kg]
8
Equipment, features and functions
Functions and features
Frost monitor function
Operating control lamp
Adjustable thermostat
Thermostat-controlled automatic operation
LED display
Noiseless heating
Preselectable room temperature
Current room temperature indication
Timer function
Safety glass with touchscreen
Infrared remote control
Automatic temperature control
Switch-off time can be preselected
Easy to transport thanks to integrated castors
Operation
Overheating protection
Housing design
Sheet steel – coated
standard equipment
optionally available
not available
Alternative products
Loading...