Comfort dehumidifier TTR 57 E
Easily keep an eye on the humidity level – even in unheated rooms.
High dehumidification performance
Equally impressive as the numerous application possibilities are the performance values of the light and compact 7.5 kg TTR 57 E. With a dehumidification performance of up to 9 litres per day the it reduces the room's humidity to as low as 40 %, if required.
The timelessly elegant desiccant dehumidifier TTR 57 E recommends itself as an ideal solution for the permanent dehumidification and dry keeping of even unheated rooms sized up to 20 m². When conventional condenser dryers can only achieve an insufficient or inefficient dehumidification due to the low room temperatures, the desiccant dehumidifier TTR 57 E can play to its strengths even at temperatures of as low as 1 °C. Another advantage of the tried and tested desiccation technique: The TTR 57 E requires neither compressor nor cooling agent or defrost pauses. Its operation is agreeably energy-efficient and does not generate any distracting noises.
Variably applicable – also for drying laundry
The dehumidifier TTR 57 E is excellently suited for the dehumidification of cold basement rooms, for instance to prevent damp walls and harmful mould growth. In the unheated garage the TTR 57 E reduces the humidity level so as to protect the cardboard boxes stored there or to prevent the formation of rust. In the conservatory the dehumidifier helps to fight the unwelcome condensation forming on the glass and used on boats it prevents the harmful moisture inside the cabins. The variability of the TTR 57 E is completed by a convenient assistance mode for drying damp laundry in living rooms, bedrooms or utility rooms.
PRODUCT BROCHURE
Moisture in the bathroom, basement or bedroom can lead to mold. All relevant information about our comfort dehumidifiers can also be found in the product brochure. Download the PDF directly here.
Auto restart function
In case of an unexpected switch-off due to a power interruption, the auto restart function (or "Memory function") makes the device restart with the previously selected setting as soon as the power supply has been restored. This makes the dehumidifier also suitable for combined use with a timer.
With LED colour indication of the optimum humidity level
A quick glance instantly lets you know whether the room humidity level is in the green range. The colour LED display at the device front visualizes the current humidity level in an appealing manner:


Gentle laundry drying with dehumidifiers
Apart from ambient air dehumidification, a dehumidifier can be conveniently used for drying laundry – either in an assisting way or as a full replacement for a conventional dryer. The laundry drying function (also referred to as clothes drying mode or SuperDry function) is comparable to traditional air drying outside.
Dehumidifiers offer the benefit of drying the laundry as gently as in the nature outside. Colours retain their brilliance and the life span of clothes is longer than with conventional dryers – and all this with a substantially lower power consumption.
Furthermore, even sensitive materials such as wool, silk or synthetic fibres can be dried without any problems. In contrast to pure air drying, the laundry feels much softer and more pleasant on your skin.
Laundry drying can also be performed with dehumidifiers without an additional laundry drying function. The target value of the air humidity must then be set in accordance with the desired residual humidity:
Cupboard dry: 46 % of relative air humidity
Iron dry: 58 % of relative air humidity
Skin dry: 65 % of relative air humidity
The convenient functions of the TTR 57 E at a glance
Target value preselection:
Set your desired humidity value of 40 %, 50 %, 60 % or 70 %.
Continuous operation:
In continuous operation mode the device dehumidifies continually at its maximum performance.
Function for drying laundry: 
Using the device as room air and laundry dryer you can select the following settings: cupboard dry (46 % RH), iron dry (58 % RH) or pre-dried (65 % RH).
Ventilation operation:
You can choose from 3 fan stages for drying room air circulation.
24-hour timer: 
Programme the desired switch-on or switch-off time.
Furthermore, the TTR 57 E is equipped with a filling level warning light indicating a full condensation tank, a connection for external condensation draining as well as washable activated carbon and air filters for the filtration of dust and animal hair.


The TTR 57 E combines reliable drying and plenty of comfort
Standard features
For preselectable operating modes also for drying laundry
Digital real-value display of room temperature and humidity level
Colour LED for current humidity
24-hour timer function
Auto restart function to be used in combination with an external timer
Three-stage fan
Integrated air filter and activated carbon filter for additional air purification by extraction of dust and animal hair (HEPA filter is optionally available)
Overflow protection with automatic switch-off
Connection for external condensation draining
Which device to use for which room size?
Here you find a specific performance chart for the suitability of each comfort dehumidifier. It indicates the room size in combination with an area and volume scale. Click to enlarge in a new window ...
Benefit from the Trotec brand quality guaranteeing high value, safety and functionality. Via the registered GS mark the inspection authority Intertek certifies that, if used foreseeably and as intended, the device does not pose a risk to the health and safety of the user.
Our recommendation for climate control:
The room thermohygrometer BZ05
Simultaneous display of room temperature, humidity level and time or date as well as an additional feel-good indication.
The design weather station BZ06
Simultaneous indication of room temperature, humidity level, date, time, weekday and symbolic weather forecast. Supplies helpful information for preventing mould growth.
Adsorption, condensation or Peltier dehumidifier?
Trotec, your dehumidification expert, has compiled the most important facts in a reader-friendly overview!
standard equipment
optionally available
not available
Buy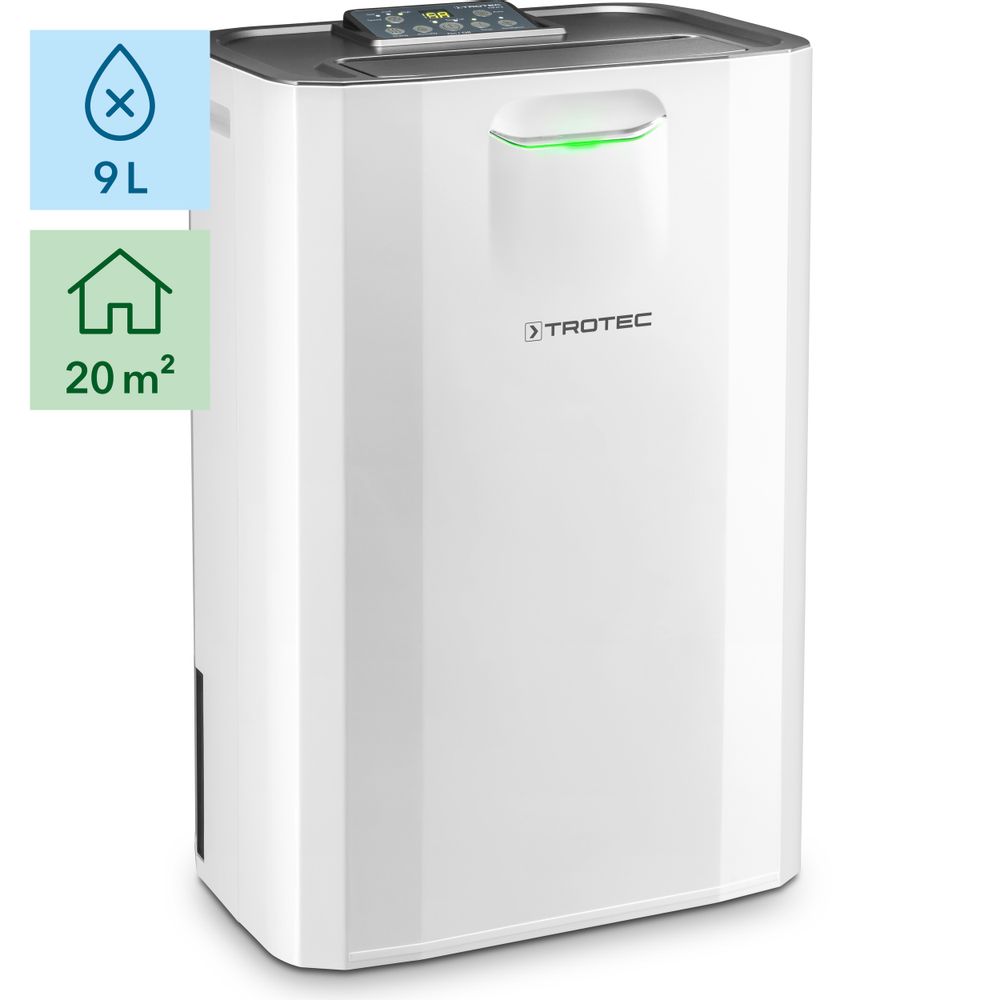 Technical data
Technical data
General information
Article number
1.120.000.065
Dehumidification performance
At 30 °C / 80 % RH [l/24h]
8.5
Max. [l/24h]
9
Air flow rate
Level Max. [m³/h]
185
Recommended room size construction drying
m³
m²
Recommended room size dry keeping
m³
50
m²
20
Ambient conditions
Min. temperature range [°C]
1
Max. temperature range [°C]
32
Min. humidity range [% RH]
35
Max. humidity range [% RH]
90
Electrical values
Mains connection
220 - 240 V, 50 Hz
Nominal current consumption [A]
3.7
Power input [kW]
0.73
Recommended fusing [A]
10
Electric connection
Connection plug
CEE 7/7
Cable length [m]
1.8
Compressor
Reciprocating piston compressor
Rotary piston compressor
refrigerant
Amount of refrigerant [g]
Water tank
Contents in [l]
5
Sound values
Distance 1 m [dB(A)]
47
Dimensions
Length (packaging excluded) [mm]
232
Width (packaging excluded) [mm]
340
Height (packaging excluded) [mm]
511
Weight
(packaging excluded) [kg]
7.5
Equipment, features and functions
Automatic defrost system
Hot gas
Electronic
Automatic dehumidification
Program-controlled
Hygrostat-controlled
Fan
Radial
axial
stages
3
Condensate tank monitoring
Container available
Filling level warning light to indicate a full water tank
Overflow protection with automatic switch-off
Room air filter
Cleanable
Readily accessible
Ionizer selectable
Timer function
Switch-on time preselectable
Switch-off time can be preselected
Functions and features
Continuous operation
Laundry drying function
Colour LED display for humidity
Display of the relative humidity level
Memory function
Automatic fault diagnosis system
Automatic operation
Fan function
Child lock
Night mode
Comfort button
Operating hours counter
Operating hours counter
Power meter
Mobility
Carry/transport handle(s)
Plastic wheels
Rubber-tyred metal wheels
Non-marking full-rubber wheels
Swivel casters with parking brakes
Adjustable bar handle
Condensate drain
Hose connection possible
Recommended hose size [mm]
11
Condensate pump
Hose included in the scope of delivery
Control panel
LED display
Bedienknöpfe
Adjustable air discharge direction
manual
Swing function
Housing design
Plastics
Metal plastic composite housing
Steel coated
Stainless steel
standard equipment
optionally available
not available
Alternative products
Loading...